Interview by Joe Montague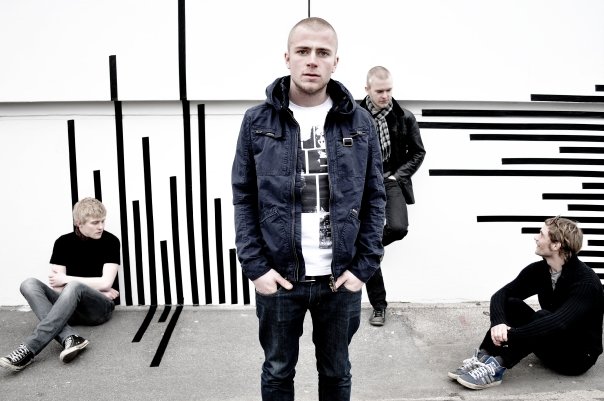 Danish Rock band A Friend In London, fronted by vocalist and primary songwriter Tim Schou, who is complimented by Esben Svane (drummer ), Sebastian Vinther (guitarist ) and Aske Damm Bramming (bassist), are about to land in Canada for the third time, as they embark on their second tour in Canada, following their initial visit in 2009, when they performed at NXNE in Toronto. During a recent interview Tim Schou revealed that while A Friend In London plans on playing crowd favorites such as; the Pop–Rock Noire song "Freddie," "The Light," which should chart well in North America and the guitar mashup, "The Way, the band also plans to unveil a few new songs.
While back home in Denmark, the music of A Friend In London has been played on the larger radio stations, Canada is just starting to discover this band and soon television audiences will as well, because A Channel and Breakfast Television have planned interviews with the band and they will be performing live.
When asked about A Friend In London's growing popularity in North America, drummer, Esben Svane replied, "Sometimes you're more interesting when you're from "across the pond." Many North Americans like Scandinavian music and /or European music in general. I think A Friend In London, could be appealing to North American music fans because Tim is inspired by John Mayer and some of the melodies could remind you of the way he (Mayer) would do it. A Friend In London has a more "rock band feel" to it though, and when we are playing in Canada, people said we sounded like Coldplay, U2 and Radiohead. So maybe there is a reminder of something North American (such as) John Mayer, but with a European rock sound."
On the flip side of that equation, Svane is quick to point out that he is a big fan of North American bands and solo artists such as; Arcade Fire, Broken Social Scene, Neil Young, Clap Your Hands Say Yeah! And Still Life Still.
Tim Schou has found the crowds in Canada to be refreshing. "Music fans in Canada seem to be more into the music (than Danish fans) and they love the music. They do what they have to do, to follow the band and to support the band, compared to at least, people in Denmark, where people are more like, 'I don't know if I am going to go to that concert, because it's raining, so I think that I am going to stay home.' That is how they tend to be in Denmark, not that they aren't musical fans, but in Canada they are more into it and they go for it the whole nine yards to follow their band. I think that is cool."
Svane adds, "We have had great experiences with Canadian audiences. Canada is an amazing place for a Scandinavian band to play because the Canadian audience is a lot different than the Scandinavian (music fan) and Canadians seem to like the Scandinavian sound a lot. Abba, Roxette and The Cardigans from Sweden have been very popular in North America as well."
The song "What A Way," begins with thundering guitars, heavy bass and lots of kick drum, before it segues into a prominent snare drum accompaniment of Tim Schou's vocals and the guitars slip more into the background.
"The song came together, because of this desire to go somewhere, to go to foreign places and to take it to another level for the four of us and that is what it is all about. It is about that unity thing. It could also be about another relationship of course," says Schou and then explains about the video, "It is a big mashup and it is a relationship between this young guy and the ballerina. It is about his desire to be with her. Then there are these really, really good dancers, so we wanted to give a picture that this song can be about everything. It is about doing everything to the fullest and taking your passion to another level."
With darker lyrics such as, "I can't stand the light / It is killing me inside," there are some music fans who have described the song as being melancholic, however, Schou suggests that the song is more about just wanting to avoid being in the spotlight.
"It is when you most of all want to crawl in your little hole and just be there," he says.
The Danish lads have been together for seven years now, and their cohesiveness is clearly evident on stage. They do not need to rely on hype or gimmicks to engage their audience, they simply play their music and they are relaxed while doing so.
"We met in 2003, and I do not know how to say this in English, but I think that it is called a continuation school or it is like a boarding school. You can choose what you want to do and at our school it was about acting, performing and playing music. I went to the acting section and they went to the music school. Then we got together and I started writing some songs. I could see that maybe I should focus more on writing songs and singing than on being an actor. The other three guys had already played together and they told me that they thought I had some really good songs and if I ever needed a band that I should just let them know. I wrote the song "Thoughts of a Boheme," and I won a competition called Danish Young Artist in 2005. The prize was to record a single with a top Danish producer. Of course I needed a band for that," Schou recalls.
As for the band's name, "We started out with calling the band my name, Tim Schou, because it started with just me and my guitar and with me writing songs. It is only about a year ago that we changed the name to A Friend in London, because we wanted this unity thing. With just my name people thought it was a solo act and we needed to bring it altogether. I write the songs, but the whole thing comes together when we are in rehearsals. I went on a solo tour in London and then one day we sat and brainstormed about what would be a good name for the band. I made a decision that I was going to stay with a friend in London and then our guitar player Sebastian said, 'Hey a friend in London, that sounds cool dude.' We kept it in our heads for a couple of days and then we thought it was great. It is also about people interacting, building bridges and being friends," as Schou explains that the name A Friend In London, gives the band more a global appeal."
That global appeal appears to be continuing to grow and it should get a boost with A Friend In London's Canadian tour in September.
Photo by: Zuhal Locan, protected by copyright ©
Interview in May 2010
Interview with Joe Montague, protected by copyright ©