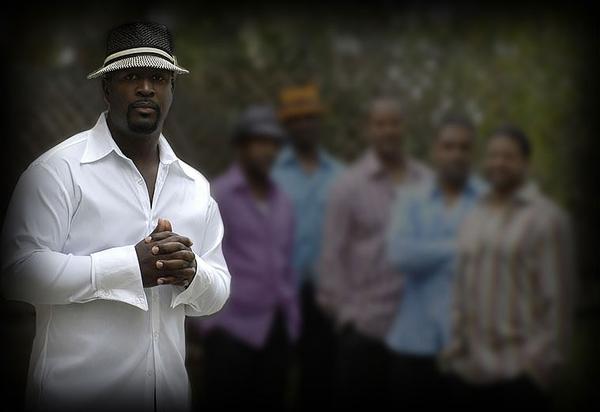 We might be amazed when a guitarist such as Eric Clapton plays a scintillating riff, or adds his elegant touch to the strings, and percussion aficionados break out in a cold sweat when drummers such as Cindy Blackman get on a roll. We might even experience bliss when a gifted trumpeter like Randy Brecker or Greg Adams blows some sweet notes, but if you have not heard Grammy Award and Dove Award winning a cappella ensemble Take 6, then you have not yet experienced pure joy. Recently, Alvin Chea the deep bass vocalist for Take 6 took a few minutes to discuss the group's current album The Standard, and to reflect on the group's legacy.
Take 6's album, dips into the American music archives and dusts off, "Sweet Georgia Brown," "Straighten Up And Fly Right," Joe Raposo's, "Bein' Green," (which long preceded Kermit the Frog),"Windmills Of Your Mind," and the gospel tune, "Shall We Gather At The River."
When asked if the majority of the songs on The Standard are far enough removed from today's younger listeners, to literally be new music to their ears, Chea replied, "I think so. I will answer it this way, with an antidote, (laughing) I used to date this girl who was probably ten years younger than me and she loved this song, "How Come You Don't Call Me Anymore?" that originally Prince wrote, but she was convinced that Aleisha Keyes wrote this thing. I was stunned that she had no idea about Prince's greatness, or his legacy. Prince was just here, much less these great songs from the thirties and forties. I think that is a lifetime ago, and we have lost a lot of the art, and a lot of that connection with this (music). I think it is (about) introducing the songs to the kids, and to people as old as in their thirties, who don't know anything about the music."
For those of you reading this piece, and who have never seen a photo of Take 6 it is important to understand that these men are not wrinkled old guys, with one foot in the grave, they are still relatively young men. That being the case, Alvin what is the attraction to these old standards?
He laughs, and then says, "I think that probably we are old souls buried in new skins. We have an appreciation for the richness, and for the heritage of jazz standards. We understand the tradition from whence it comes. We wanted to just attempt and hear our own treatments of these great songs. One of the strengths that we have always had, is in our arranging. Mark Kibble, Cedric Dent and formerly Mervyn Warren, just had this amazing ability to re-harmonize and restructure, these great melodies. We usually do it with our spirituals, or our religious tunes, but now to get a crack at some of these great jazz standards, and it is just something that our audiences have asked us to do for twenty something years. We decided to find out what it would sound like if we took on one of these things. The songs were before our time, but it is a tradition that we always wanted to tap into."
Chea says that the song, "Windmills Of Your Mind," is one tune that absolutely had to be on the album The Standard. "That is such a great arrangement. Mark Kibble's got so many colors, textures and vocal tricks, that I think this is a vocal tour de force, and I think that one of the travesties is Mark didn't get a vocal arrangement nomination for a Grammy this year. "Windmills Of Your Mind," is one tune that I think demonstrates that he is one of the greatest vocal arrangers of our generation."
"Windmills Of Your Mind," first appeared in 1968 as part of the musical score for the original movie The Thomas Crown Affair, starring Steve McQueen and Faye Dunaway. It won the Academy Award for Best Original Song, for lyricists and composers Alan Bergman, Marilyn Bergman and Michel Legrand.
"We ran into Michel Legrand in Paris, and he told us that this is the greatest arrangement of, "Windmills Of Your Mind," that he has ever heard. That was a heck of a compliment, because that song has been covered by thousands of lounge singers, all the way up to any of the great crooners. We fell in love with it, when we heard Sting do it at the end of the (new movie version of) The Thomas Crown Affair. It is a tune that has had some legs. It has great lyrics, and it is just a brilliant piece that you can appreciate on so many different levels," says Chea.
Take 6 brought an a cappella twist to Marvin Gaye's hit tune, "What's Going On," yet as good as Take 6's vocals are, it still had the potential to backfire.
"The risks are huge, the bar is set so high and even if you covered it musically wonderfully, and add your own thing, the success of the previous track, is another high bar to cross over. You are chasing the ghost of the performance. You are chasing the track record of what this song has done before, and you are chasing emotionally what it has done for people, but the rewards are great, because instantly people clue in and say, 'Ah, they are trying this one, let's see what they do with it,' so you have them. I think sometimes it can be morbid curiosity, but sometimes it can be (from the perspective of) a musicologist or an aficionado something to sink your teeth into, and settle into, because you know the melody, you know the flavor of the cake, it is just how are we going to prepare it now," Chea says.
When asked, what he liked about the way Take 6 approached, "What's Going On," Chea replied, "I like that we got out of the way. With Take 6 we definitely approach everything from an a cappella perspective, but I think sometimes a cappella can get in the way of a great arrangement, because you are forcing your style upon this great tune and vibe. I think that we allowed this tune to breathe, and we didn't try to over sing, or over produce everything. We brought in Brian (McKnight), and he did what he does so well, and I think that is just one of the things that rings true (with the song). I think also the timeliness of it, as we are mired in the Iraq situation and Afghanistan, and the last time that this song was up, we were mired in Vietnam. I think there is a political underpinning that works both then and now."
There are two other songs on The Standard, which feature outstanding performances by guest vocalists, as Aaron Neville lends his voice to, "Do You Know What It Means To Leave New Orleans," and Shelea Frazier is equally magnificent on, "Someone To Watch Over Me," which also features the always delicious trumpet of Roy Hargrove.
Alvin Chea talks about what it was like to have Aaron Neville appear on Take 6's current album. "It was great and Aaron is such a willing soul. I actually recorded two complete albums with him on his solo projects. He did a hymns project and there were four other vocalists, besides myself. We did a live studio record. He passed out the scores and we read that down from track one to track ten. That was a blast. Then again a couple of years later he turned around and did it again, except he did more (mainstream) stuff. When we talked about wanting to do something together (for this album) he said sure. Katrina had just happened, and he had relocated to Nashville. He sang his heart out."
Although there have been many superb singers over the years who have caressed the lyrics of, "Someone To Watch Over Me," including the splendid young jazz singer, Sara Gazarek, few, if any have sung it better than Shelea Frazier does.
"She is absolutely amazing and she is a young lady who can do it all. She is phenomenal. I was supposed to go in that day to produce that track, but I never made it to the studio. By the time that I got free from my schedule, they were done. They had three or four takes and all of them were stunning. She is an amazing pianist and she can play or sing any style. She has worked with Stevie (Wonder) already. I told her that it was our pleasure to work with her," says Chea.
Take 6 seems to keep getting better and after twenty-four years as a member of the vocal ensemble, Alvin Chea says that a piece of advice that the group members were given by Quincy Jones, when they were first starting out, has served them well. Jones told them, "I am going to give you the secret of longevity in your career, that is, work as hard as you work before anyone knew who you were, or who cared who you were. That is the secret to success."
Take 6 consists of, first tenors Claude McKnight and Mark Kibble, second tenors David Thomas and Joey Kibble, baritone Cedric Dent, and Alvin Chea sings bass.