It's About Time! Chrissy Faith is Spectacular!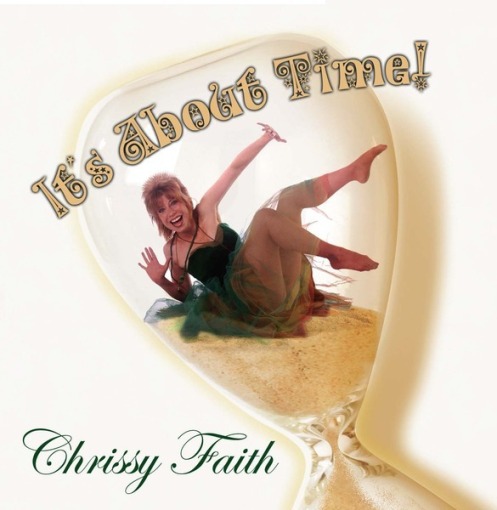 Chrissy Faith's current CD, which arrived in the mail recently was accompanied by a handwritten note that referred to her album It's About Time! as being eclectic and it certainly is, for it touches on almost as many musical grooves, moves and vibes as her music career. We have not possibly got time to do justice to Chrissy Faith's extensive and astounding career, but allow us to give you just a sampling of the people with whom she has toured and recorded. Chrissy Faith's concerts and tours include, Patti Austin, Sheena Easton, Al Jarreau, Robert Plant, Paul Simon, Neil Diamond, and Lou Reed. Can we stop now? She also served as a lead singer in one of the new configurations of the Mamas & Papas. Ms. Faith has appeared on the recordings of the Brecker Brothers, Leonard Cohen, Celine Dion, Connie Francis, Cyndi Lauper, Billy Ocean, Neil Sedaka, Todd Rundgren, David Sanborn and many others.
While all of the ten songs on It's About Time! are well worth listening to, the two that really perked up our ears are two of the six songs that Ms. Faith wrote, the title song and "The Journey." The arrangements for "The Journey," are lush, Ramsey Embick's guiro and Leo Traversa's bass guide us on our first few steps of this journey and Eddie Martinez's guitar work invites hips to sway and heads to bob. Jeff Young's Hammond B3 adds texture and Patrick Lamb's solo is incredible. Ms. Faith's poetic lyrics should be mandatory reading in English Literature classes, as she has a gift for imagery that sparks the imagination. "The Journey," is a beautiful love letter in which the singer – songwriter says to her beloved, it is not about where we are headed, as much as it is about our journey together. Chrissy Faith's vocals are imbued with warmth and sincerity and one wonders if the song may have been inspired by her love for her husband Greg Hopkins whom she married in January of 2009.
The song "It's About Time," that introduces the album is a blend of R&B and powerful soulful vocals, backed by Eddie Martinez's Carlos Santana like guitar licks. The killer combination of Chrissy Faith and Eddie Martinez convey to the listener that they are about to experience a special album, by a wonderful singer who as surrounded herself with incredible musicians. For his part, it is easy to see and to hear why, Mr. Martinez has an impressive resume that includes, David Lee Roth, Robert Palmer ("Simply Irresistible"), Meat Loaf (Bat Out Of Hell II: Back into Hell), Blondie's Farewell in Concert in 1982 at Toronto, Canada and Mick Jagger at the 1985 Live Aid concert.
Enchanting, romantic and longing, are words that one might use to describe "Blue Perfume," another original song from Chrissy Faith, as the lyrics and her phrasing paint vivid word pictures of a woman, lying in bed, turning her face to her lover's pillow, as she hears the door close, with his scent still in her bed and blue perfume hanging in the air. She desires to recreate or to perhaps hold onto those timeless moments and yet the opening line "She wakens to a closing door – the echo shakes her to the core," suggests her lover will not soon return, if ever. To say that Chrissy Faith's vocal range is impressive would be an enormous understatement and her ability to hold a note is astounding, as witnessed for five or six seconds, approaching the three minute mark of "Blue Perfume."
For the middle tracks on her album, Chrissy Faith selected The Four Tops' hit song "Reach Out, I'll Be There," written by the Motown songwriting team of Brian Holland, Lamont Dozier and Edward Holland, Jr., a Ray Charles / Rick Ward song "Light Out Of Darkness," and Brian Auger's "Happiness (Is Just Around The Bend). Having grown up within a few hours of Detroit and being nurtured on the sounds of Motown, it takes a lot for this writer to nod his head in approval whenever a Motown hit is covered, but Chrissy Faith's spectacular vocal performance is filled with passion and soul, while her energy and the masterful job of mixing and producing this song leave the listener feeling that you are at a live concert. You will not remain sitting, unless you are in your car, when you are listening to Ms. Faith sing this song, because her performance invites you to get up and dance.
Earlier on the album Chrissy Faith's voice soared and with "Light Out Of Darkness," she used the lower tones in her vocal registry, while she is accompanied elegantly on keys by Ramsey Embick. The song speaks to the themes of love, light and wellbeing.
If you enjoy the sound of tablas you will enjoy Benjy Wertheimer's percussion on the subtle environmental missive "In The Water," crafted by Chrissy Faith. If you listen carefully to Chrissy Faith's lyrics the message is clear act now to protect our water supply and yet the genius of this song is it does not come off like an activist tune. We like the groove that this song possesses and it is one of those songs that invite you to dance. Chrissy Faith recorded her own background vocals and call and response and there are some pretty funky sounding droplets of water providing the background. Ms. Faith growls out "Down, Down, Deep Down / Don't let our dreams drown," and the music blurs the lines between Blues, Jazz and Soul.
Leo Traversa builds a solid bass foundation for another Chrissy Faith original song "Keep The Fire," and Jeff Young delivers a hot organ solo during Ms. Faith's "Free." The album closes with a cover of Sean Young's "Darkness, Darkness," and once again Chrissy Faith demonstrates her vocal versatility with deeper tonality.
In brief Chrissy Faith's album It's About Time! Is comprised of ten superbly crafted songs on which Ms. Faith delivers the goods time and time again. The album however is not just about the singer, as she is complimented well, by some equally gifted musicians and Ramsey Embick's ears as the engineer, as well as mixing and mastering the album that he co-produced with Chrissy Faith, make this an exquisite musical experience.
You can listen to select samples from Chrissy Faith's album It's About Time on her reverbnation website.
Reviewed by Joe Montague
This interview is protected by copyright © and may not be reproduced in print or on the internet or through any other means without the written permission of Riveting Riffs Magazine, All Rights Reserved