Chuck Negron - Former Lead Singer For Three Dog Night - Part II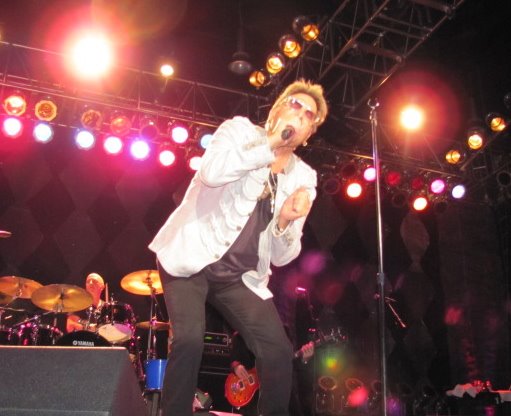 Three years later,in 1967 Chuck Negron was in Los Angeles hanging out with some friends from New York City and as they were walking down Sunset Strip, two girls pulled over in their car and invited Negron and his friends to a party for Donovan Leitch ("Sunshine Superman," "Mellow Yellow") and the Mothers Of Invention, which included Frank Zappa were playing at the party.
"I had never seen anything like The Mothers of Invention and I don't mean musically, these people looked like homeless people (he laughs) and there were some of the most beautiful women I had ever seen in my life with people who in my neighborhood would get mugged (he laughs). Even in my college, there were very few "hippyfieds." I ran into this nice guy at the party and his name was Danny Hutton. He was there with his girlfriend June. She goes, 'Oh you're from New York (he mimics her in a snooty tone).' She said I looked like a narc and I said gee thanks. The girl who picked me up said let's go to my place and then come back.' We went to her house where she was staying with some friends. One of the friends was Tim Alvarado who produced Danny's hit "Roses and Rainbows." It went to # 5 in LA and # 75 in the country, because there was no distribution (making the point that he thinks the song would have charted better otherwise). He was on Hanna-Barbera Records with his first record, and they really didn't have distribution for Pop records. Danny's producer heard my record and he said, 'man you are a great singer, but these songs are terrible,' and I said I know and I am embarrassed to play these songs. It is all I have. One thing led to another and he invites me and Judy, who he knows, because she lives there, to live in his guest house and without him I wouldn't have made it, because I was living in my car. Danny came by and he said that he had heard I was a great singer. He asked me if I wanted to do a background thing for him. He said that he had tried Stephen Stills and Neil Young and none of them could hit the notes. All of those guys were just starting to rehearse for Buffalo Springfield and they were just looking for work. I went in and I nailed it, because I had a really high range and he said wow. We went out that night and it just so happened that the band that was touring this club in Hollywood, I had worked with before, so they said ladies and gentlemen we have a great singer in the audience and they called me up. It blew Danny's mind. He said you have been on stage and stuff and I said I had been singing for years," Negron recalls the events as though it happened yesterday.
Danny Hutton also knew a singer by the name of Cory Wells, who at the time had a regular gig with the house band at Whisky A Go Go on Sunset Boulevard. It was at a time when it was the place to be seen, whether you were an artist or band hoping to get noticed or a fan or a groupie wanting to be in the center of the action. Wells' gig at Whisky A Go Go was pretty heady stuff, as Johnny Rivers previously had the gig. As Negron remembers it the club was packed with celebrities and movie stars every day of the week.
"Cory was at the hottest place in America. People were coming from all over the world on vacations and they were going to the Whisky to see all of the celebrities and Cory had the gig. Cory got two or three movies from it, Riot On Sunset Strip (1967) and he got a record deal. Unfortunately, he got into the same situation and the material was terrible. I guess they (Wells and his band) didn't write. Danny said to Cory, let's put a band together, both of us are known. They thought they needed another guy. Danny said he had the perfect guy and Cory said let me hear him. They had me come over; I sang and boom it was magic. The three part harmony was magic. We start this journey of putting songs together and we were playing for each other.
Negron says that when the three of them had difficulty agreeing on what songs they should sing, he suggested that each of them bring a song the next day when they got together. It was time for Chuck Negron to make contact with some people he had met along the way.
"I phoned Chuck Kaye (music publisher) and he said that he had some new writers and that I should come over. I just got lucky. He said that he knew Danny Hutton, "he's hot," and I told him about Cory Wells and he said, 'I used to love to go see Cory at the Whisky. That's a great idea. You guys are going to make some nice money on the club circuit and if you get a break who knows. I've got this one guy, who has a hit right now a song in Midnight Cowboy, "Everybody's Talkin'," but they aren't even approaching him as a writer and that's what he is. He's a square looking guy, Harry Nilsson.' Chuck played some songs for me and I said, this guy is really good and is voice is totally unique. I heard the song "One (Is The Loneliest Number)," and it was very melancholy. He played it to the tempo of a busy signal. I heard it and I heard it as a Rock and Roll song with three-part harmonies being sung. It is not just a mellow love song. The next day we got together and Cory pulled a song from The Rascals "If You Knew," and he sings a line from the song, "If you knew how I feel," it is a three-part harmony. Danny brought a Beatles song, actually Cilla Black had recorded it, a waltz called "It's For You." He said he wanted to change it around, to take the waltz and to find another tempo for it. At the end of the day when they heard "One," they could see that it really was different than all of this other stuff and that it was going to be a record. They asked if I had anymore songs and I said I did.
I called Chuck and he sent me to another A&R guy who played for me some Randy Newman stuff from his first album (songs) that didn't get played. I was whoa, this is unbelievable and I brought it (to Cory and Danny) and Cory said I know him, I have a record. He wrote a record for The Animals that I think is great ("Mama Told Me (Not To Come)" -1966)," he says.
Someone also brought to Negron a song by a fellow in England who was just starting out. The song was "Lady Samantha," which Three Dog Night recorded on their Suitable For Framing album and the songwriter was Elton John.
One day, Chuck Negron happened to be in the recording studio and he noticed two guys who were singing and who sounded pretty good. "When they're done the session, one guy gets off the chair (he was standing on) and he is this little guy and the other guy is about six foot five. It's Paul Williams and Jack Conrad (he laughs). I thought this is an act. It ends up that Paul is one of the guys that Chuck Kaye has, so I said Chuck send me what you have of Paul Williams (music). This is amazing. He sends me over "Family Of Man," "Out In The Country," and "We've Only Just Begun." He was sitting on this. They didn't know. They asked what I thought of the songs and if I liked them and I said yes. "Out In The Country," could show a whole side of us that would really make us more than a Rock and Roll band and we could be one of the most eclectic bands out there. We could really find an audience beyond what most bands do. I didn't know that eventually that will hurt you with someone and it did with the hipsters (who said) 'these guys are too commercial.' At any rate, you can't please all of the people and everyone is a critic. Anyway, when "We've Only Just Begun," plays they (Danny and Cory) go oh no, no that's a commercial. Originally, Paul and Jack had written that for a bank commercial and Sandy Duncan was the actress. She was the teller. The commercial was of these young couples and the song was "We've Only Just Begun, to live, white lace and promises," (he sings the words). It was a great commercial. The guys go 'We'll get creamed if we do a TV commercial. It's a local bank. This bank isn't even in Santa Barbara.' They convinced me. There are so many things they said why take a chance. We don't want to miss. I said okay. The people who beat us in the Grammy Awards for the New Artist of the Year were The Carpenters, with "We've Only Just Begun," (he laughs). Isn't that ironic? I will never forget those guys (Danny and Cory) not looking me in the eye, backstage, while we were waiting to go on and they called The Carpenters. We got two hits "Family Of Man," and "Out Of The Country," out of that.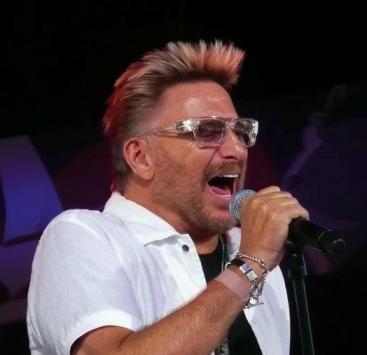 Paul (Williams) was trying to expand. You have to understand these guys were not stars yet and he and Jack Conrad were writing. Paul wanted to write his own music and to do the music too and they were no, no Paul and you know the saying, if it's not broke don't fix it. Paul contacts me and he says, 'I have a song that I did all of the music for and they don't want Jack to hear it. They don't want to break up the combo,' so I said, I'd like to hear it. It's "Old Fashioned Love Song." I went Oh My God, I'll kill this. I asked Paul to let me do the song and he (agreed). There was "Old Fashioned Love Song," and "Eli's Coming," (written by Laura Nyro). Laura Nyro was from my neighborhood (the Bronx), not far from where I grew up. She was very, very talented. She was one of my favs."
Three Dog Night was now recording two albums per year and continually touring. Friction set in between the band members and Negron characterizes it as stemming from his popularity and being the one who was receiving the most media attention. Drugs also became a significant problem with Three Dog Night. "I realized they really liked me better when I was (he pauses) stoned."
Negron recalls a time shortly after he had been in a car accident and he suffered a broken arm, broken wrist, shattered nose and his eyes were closed, when he says that the management of the Three Dog Night signed him out of the hospital, put him on a jet, despite the fact he also had a concussion. He was performing that that night on stage in Dallas, Texas.
"I looked like I had just gone twelve rounds with Mohammed Ali. My eyes were closed, I had a broken cheekbone. They (the rest of the band) stayed away from me and they didn't even come to my room to see how I was. I met (Danny and Cory) walking to the stage and there was no, 'are you okay,' (instead they said) 'What numbers can't you do?' I really thought in my heart that nobody would do this to another human being. I would have said, I don't care what you say, this man isn't working. I know I would have. I said the only one I couldn't sing was "Good Feelin; 1957," because I sing two octaves higher than Frankie Valli. I could barely stand up. I have footage of that by the way. It was terrible," he says.
Three Dog Night split up in 1976 and when they did some of the same issues of drug addiction that contributed to their demise, also continued to haunt Chuck Negron. When the band separated, I was out there on my own with nothing to do, so I got into real trouble, real addiction trouble. I moved in with a girl who was a heroin addict and we both had money. I got up to using a quarter of an ounce of heroin a day. You wouldn't think that the human body could even take that much, but it can. After two or three years of ordering food from all of the restaurants and having it brought up to us, having Bob Tomasso and his girlfriend shop for us and finally with the house in disrepair and the deck falling apart, we had to let everyone go. I looked at myself and I was a junkie and a terrible father. We had two kids and our two kids were being raised by our maid. I really grew to hate myself, because I had my issues concerning my upbringing and I came to the revelation that I was worse than my mother could ever have been. My mother never put me into jeopardy like this. I got sick one day and I went to the doctor and he quarantined the whole office. I had hepatitis, active hepatitis, so I was immediately put into a hospital and they didn't think that I was going to live. I was also on probation, so this was a real red flag for them, because the only association with hepatitis for them was intravenous needles. The guy knows I am using and he was ready to send me to prison. I'm in the hospital and my father comes by and he is really happy. I'm going, what's up dad? He says 'You are out of quarantine and that is why I am allowed in the room, but I've got good news, Danny and Cory called me and they want to reunite the band. The only thing is you have to be there at a meeting tomorrow and they have some papers they would like you to sign.' My dad couldn't face the fact that I was a junkie and I couldn't tell him dad look at me. Cory and Danny knew it. Danny had got himself back together. I said I can't make it. My father leaves and then he comes back and he says, 'I am taking you tomorrow, because they will not see you ever again if you don't come to this meeting.' I went for my father and I could barely walk, because I was so weak. We talked with the head of Concerts West Mr. Tom Hulett about doing a tour. He had just successfully brought back The Beach Boys. The Beach Boys were making a fortune doing these shows and they were making millions of dollars on their iconic name. He said we can do this with you. We will make a record, but we don't even need it. You have done so much. You need to sign this agreement that if you continue to do the drugs you will lose all of your rights. I said I'm not going to sign that, there's not even a lawyer here. They said, we have a lawyer for you. I said, he's not my lawyer and I don't even know him. I said that the only way that I will sign is if it is put in that if I need to go into rehab, I cannot be fired while I am in rehab. They reluctantly went okay. The lawyer was oh he wants help, so he put it in there. I made another record (1981) with the band called It's A Jungle Out There. It was terrible.
I was sick and they knew I was sick. I was in rehab during the week and on the weekends I was doing shows. They had a nurse taking care of me and they were dispensing drugs to me. They were giving me drugs to get through the shows and then I would go back to rehab and detox. This went on for a year, until I was down to 126 pounds. I had pneumonia and the road manager was taking me to the hospital to the emergency room and every night they were saying, this man is dying. He has pneumonia and he needs to be admitted and he needs medication. They (management) said no! Until this day, my right lung is black, it barely works, because I had pneumonia for six months and I was working. The only thing that saved me was when I got home I went into the hospital and they hydrated me and they gave me antibiotics. It's a miracle that I didn't die. We had this gig in San Diego and the head doctor called me in and he said, 'Listen I have just told your management that they had better bring an ambulance this time, because I do not know how you are going to make it. With the oxygen and the intravenous you are starting to heal, but I just cannot picture you getting through these shows. He said you're dying. (Management) said, don't worry about it, I will take care of it. (The doctor) said Chuck they are not going to do anything for you."
Negron says that in 1991, a covert action was hatched in conjunction with Alcoholics Anonymous and he was admitted to a hospital other than the one that the band and the band's management was told about. After a couple of months of Negron being sober and clean, they finally located him and served him with legal documents, while he was in rehab. He had been terminated by the band and he lost any rights that he had to Three Dog Night music. Rather than take up the legal battle he continued in rehab. In a subsequent lawsuit between Three Dog Night and Chuck Negron over different issues, Negron says, a judge ruled that he could not have been legally terminated from the band, because of the rehab clause in his contract.
In 1996 Chuck Negron released his first solo album, Am I Still In Your Heart, with the somewhat autobiographical missive "Soul To Soul." In 1996 he released a Christmas record Joy To The World, in 1999 the album Long Road Back and the double album Chuck Negron Live In Concert (2001). He then penned the book Three Dog Nightmare, for which he retains all the rights. The book became a hit with LA Times critics and it found its way onto the newspaper's Best Sellers list. He says that originally New Line Cinema was interested in doing a film based on his book, but when an initial legal dispute arose concerning the rights, New Line Cinema dropped out of the picture. A new screenplay is now being written by another party. He also wrote a second book Three Dog Nightmare: The Continuing Chuck Negron Story (2005). He has two DVDs, The Chuck Negron Story: Biography Of An Entertainer (2005) and Chuck Negron: Live and In Concert. In the live concert video one of his daughters, Charlotte, then ten years old performs with him. She was recently accepted into the California Institute of the Arts. In the live concert video Negron's stepson Barry Oakley (Jr.) plays electric bass guitar. Chuck Negron also has two other daughters Annabelle and Shaunti Ann and a son Chuckie.
Chuck Negron has been drug free for the past twenty-one years and he would tell you that is his greatest accomplishment.
Please check the Chuck Negron website for the latest news on where and when he is appearing in concert.
You can read the first part of this interview here.
Interviewed by Joe Montague Return to Our Front Page
This interview is protected by copyright © and may not be reproduced in print or on the internet or through any other means without the written permission of Riveting Riffs Magazine, All Rights Reserved