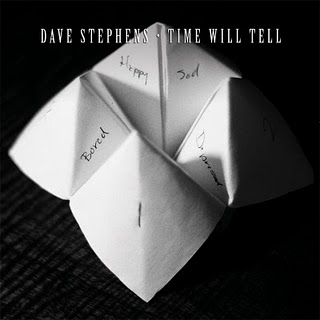 Shredder guitar, booming drum backbeats by Cody Upcraft and cynical lyrics are the staples of Time Will Tell the rock album from Long Beach, California's Dave Stephens. Vocals are not Stephens's strength but on the fourth track "Tragedy," a relationship song, about those difficult silent arguments, his voice nicely counterbalances the jagged riffs. At the song is radio friendly and musically will appeal to reformed headbangers, who are now looking for a mellower vocal rather than someone yelling at them.
"Peace of Mind," features some beautiful violin by Robert Bates and it is more upbeat, as the singer – songwriter extols "Sometimes life is good / often misunderstood," and it is a look for the silver lining type of a song, as Dave Stephens finds contentment. This song grows on you the more you listen to it and Stephens sings almost in a falsetto, while Melissa Hockenberger provides the background vocals.
The strength of the album Time Will Tell is Dave Stephens' songwriting, as he leans to rock ballads, such as "Josephine," a tragic figure in pursuit of a film career and who ends up in the world of pornography. The song chronicles the woman's fall, while the singer asks "Oh Josephine where did you go?...Where is the girl we used to know?" What we should point out concerning this song is, unless you live an incredibly insular life there is nothing in the lyrics that should offend you. In fact, one of Stephens' that is noted on his website as being explicit ("Mr. Wonderful") is in fact not in the estimation of this magazine explicit at all. Prior to reviewing this album, Dave Stephens and this writer discussed the "explicit" notation and there is neither vulgarity, nor is there anything that I have not heard saintly old ladies mutter once in a while. Stephens chose to err on the side of caution and simply out of courtesy provided the forewarning concerning one phrase.
"Dealing With The Past," is a pretty song and provides a good change of pace as the drumming is less prominent and therefore the listener gets an opportunity to appreciate another of Dave Stephens' strengths his finger work on the guitars. He plays lead, rhythm and bass on this album. The song begins with a very stripped down sound, just Stephens and an acoustic guitar and it is not until about one-third of the way through the song that we are introduced to more instrumentation. Jeff Tymoschuk contributes string arrangements, plays the Rhodes piano and can be heard on background vocals.
For the song "It's Not A Dream," the gravelly vocals of Dave Stephens are juxtaposed to some beautiful violin courtesy once again of Robert Bates and half way through the song the violin and guitars reach a crescendo.
In total eleven tracks comprise the album Time Will Tell by Dave Stephens and it closes out with another pretty tune, "Falling Away," co-written with Ricardo Vidana who also plays guitar for this song, as he did on "Peace Of Mind."

The strength of Dave Stephens music lies in the arrangements, the songwriting and his guitar playing
You can listen to Dave Stephens' album Time Will Tell on his website