Dreams Of Flying - Kimmie Rhodes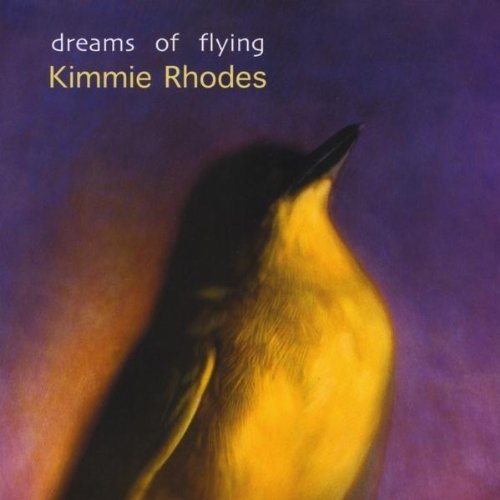 Austin, Texas based artist Kimmie Rhodes has carved out a spot for herself as one of the best songwriters on the music scene with songs that have gone platinum. Her songs have been recorded by performers such as Willie Nelson, Wynonna Judd, Amy Grant, Trish Yearwood, Mark Knopfler, Emmylou Harris, Joe Ely, Peter Frampton and Waylon Jennings. Ms. Rhodes' current album Dreams Of Flying, featuring ten of her own songs (plus one cover) and singing is beautiful in its simplicity. One gets the sense that this record was a labor of love with her late husband Joe Gracey who mixed and mastered the album and their son Gabriel Rhodes who engineered and produced the album.
The album opens with the title track, "Dreams of Flying," an easygoing acoustic guitar driven tune during which Ms. Rhodes talks about dreams and schemes and dreaming of flying away. Rather than being fanciful the song is inspirational.
For those of you wondering why we have not attached a genre label to this album it is because it does not fit snugly into a genre and that is a good thing, because it means more people will have an opportunity to enjoy this beautiful music, by one of the most gifted and nicest people in music.
"I hear a band of angels / I hear a symphony / When you are near I don't trust my ears / because you say things I can't believe / and it sure sounds like love to me," words from Kimmie Rhodes song "Like Love To Me," one of the prettiest love letters you will ever hear. Gabriel Rhodes guitar is elegant and drummer John Gardner's accompaniment is subtle. Charlie Sexton is on bass, John Mills on saxophone and Mike Thompson's keyboards are beautiful. This is a song on which the singer and all the musicians got it right. Ms. Rhodes' phrasing is tender and leaves no doubt in the listener's mind that she is singing about being in love. The song is not contrived and it does not try to pull at heart strings. This is simply a lady confessing her love to her special man.
For the fourth song, Kimmie Rhodes and Joe Ely form a duet as they cover Donovan's "Catch The Wind," while Gardner plays with brushes and a minute into the song the kick drum becomes more prominent, before the acoustic guitar accompaniment gives way to pretty keyboard playing. Unfortunately the liner notes do not tell us if we are listening to Mike Thompson or Gabriel Rhodes both of whom take their turn at keys on this album.
"Turnin' My World," is another love letter, pretty in its simplicity and the message is simply this "I don't think anyone else can make me smile the way that you do." The song that follows, "One By One," a gentle Folky Pop tune talks about how each of us experience our own unique journey through life. Kimmie Rhodes's songwriting often overshadows her vocal abilities, but songs like "One By One," showcase her pretty soprano vocals and remind us that she is also a very good singer.
The eighth track, "Unholy Ghost," provides a change of pace with its Bohemian and darker vibes, "The thief that sneaks into the dream / And shatters things with evil schemes and suicides…..the author of unhappiness and loneliness and every thought that burns the most. " Charlie Sexton lays down a superb bass foundation for the song and Gabriel Rhodes has an outstanding electric guitar solo.
The second last song on the album, "Luh Luh Love," is a fun Pop tune that moves well and invites you to sing along. We are reminded of just how versatile Ms. Rhodes is as both a songwriter and a performer. The song provides a lighthearted philosophical view on what love is and what it is not. The keyboards, courtesy of either Gabriel Rhodes or Mike Thompson and John Gardner's drumming are responsible for establishing the upbeat tempo for this song that should become a fan favorite.
If you enjoy well written songs, that are equally well produced and you are a romantic you should add the album Dreams of Flying to your collection.
This review is dedicated to the memory of Joe Gracey.
This review is protected by copyright © and may not be reproduced in print or on the internet or through any other means without the written permission of Riveting Riffs Magazine, All Rights Reserved