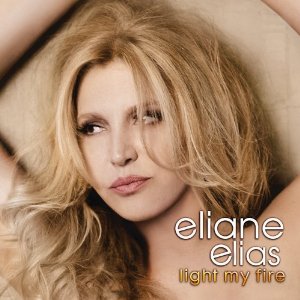 Elegant is one way to describe Light My Fire, the new album release by Brazilian pianist-singer-songwriter Eliane Elias, who while still in her teens was mentored by fellow Brazilians, singer-songwriter Toquinho and Vinicius de Moraes who co-wrote and served as the lyricist for Antonio Carlos Jobim. While heavily influenced by Jazz it would be far too limiting to describe Elias' new album as simply a Jazz recording. The elements of Pop and Adult Contemporary are evident throughout the songs.
Breathtaking is the word that comes to mind while listening to the title song, as Ms. Elias accompanies herself beautifully on piano, while bassist Marc Johnson's and drummer Paulo Braga's playing is so subtle, it is like whispering in your lover's ear. Eliane Elias' voice is seductive and her phrasing is evocative.
The second song on Light My Fire, "Stay Cool," possesses an airy, upbeat melody, incredible percussion by Marivaldo dos Santos and a stirring performance by Ms. Elias on the piano. "Stay Cool," sets the mood for an album that is romantic, at times, as she takes time flirting with, teasing and seducing the listener.
Several of the songs on this delicious album are over 4:00 in length and yet never does the listener grow weary. Quite the contrary, the listener is left wanting more, such as the lively "Toda Menina Baiana," a song on which Eliane Elias is joined by vocalists Gilberto Gil and Ms. Elias' daughter Amanda Brecker.
Although surrounded by a cast of very accomplished musicians which also includes, guitarists Romero Lubambo, Ross Traut and Gilberto Gil, drummer Rafael Barata, trumpeter Randy Brecker and flutist Lawrence Feldman, make no mistake that the centerpiece of this breathtaking recording is Eliane Elias. Eliane Elias' gentle, whispering vocals on "Made In Moonlight," serve as a beautiful love letter to the one whom the singer invites to share her heart. The words "imagination please come true, I am so in love with you," also describe the listener's experience, as it is easy to imagine looking into the eyes of that special someone, gently caressing a cheek or saying, I love you.
"More than anything else, I'm singing about love on this record in its different aspects and dimensions," says Eliane Elias.
Singing "It's all about the heart," Ms. Elias' original composition "What About The Heart (Bate Bate)," is performed in both Portuguese and English and expresses the desire to reignite the passion and romance in a relationship that has become routine and complacent. Eliane Elias explains that "Bate Bate," represents the sound of a quietly beating heart. It is difficult to imagine that this year, we will hear an album from another singer, who so aptly expresses the desires of a heart that longs for romance, in the way that Eliane Elias evokes those feelings with her vocal performance on Light My Fire.
Paul Desmond's "Take Five," is presented more with vocalese than it is with Eliane Elias singing words and yet the listener is so captivated by the beauty of her voice that if there were lyrics one suspects the song would be overstated. The percussion is subtle and Randy Brecker's trumpet is debonair. Ms. Elias' presentation of "Take Five," is enchanting.
Eliane Elias has created a musical masterpiece with Light My Fire, an album that will sweep you away to another place and time, find a special place in your heart and leave you longing for the one you love or to be in love again. The arrangements are breathtaking, the musicianship is exquisite and Eliane Elias is elegant. This is a Grammy Award worthy performance by one of the most gifted ladies on the music scene today, in any genre.
This review is protected by copyright © All Rights Reserved by Riveting Riffs Magazine