From an early age Italian singer Emy Persiani seemed destined for a career in music. She is the daughter of preeminent composer and pianist Cesare Persiani who also performed with some of Italy's most highly acknowledged artists including conductor, arranger and musician Cinico Angelini, Pippo Barzizza (composer, conductor, arranger and music director), singer and actor Alberto Rabagliati (The Barefoot Contessa, Montecarlo and Il Vedovo, The Christmas That Almost Wasn't – as Santa) and songwriter, musician and band leader Gorni Kramer.
About one of the people her father performed with Emy Persiani says, "You probably know Gorni Kramer (She sings a song in Italian). He is very famous in Italy and I don't know if he is famous in America, but it is a kind of Swing after the Second World War made (famous in Italy) and my father played piano for him.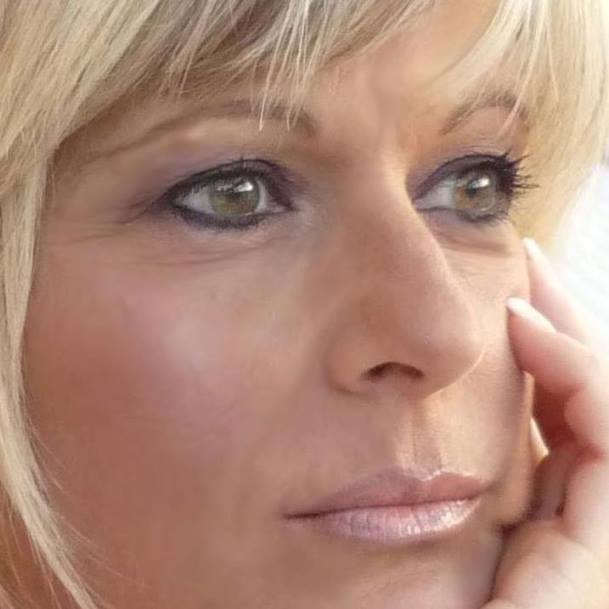 My father was a very famous pianist and when I was born my house was full of piano notes. My father was the most important figure in my family of course, first for the music and he got a diploma at The Accademia Nazionale di Santa Cecilia, which is a very famous music academy here in Rome and in Italy. He played Classical music, Chopin, Rachmaninoff, Beethoven and Mozart. He was born very early in the 20th century and fifty years before me. That is an important fact, because a lot of the heritage from, I don't if that is the right word him comes to me from the early years of the 20th century. He was a piano player between the two world wars and he was a very famous piano player after the Second World War.
(During) that period there was kind of a mirroring of the music between Italy and America. My father played lots of Swing, so he was Classical and Swing together. This influenced me very, very, very deeply," says Emy Persiani.
That influence lived on with the formation of the Italian Café Trio.
"The Italian Café Trio is something that I created in loving memory of my father, because it expressed all of my freedom in Jazz. I agree with the people who say Jazz is a kind of freedom within the rules. You have a pattern and then you immediately use all of your fantasies to break that pattern. This is something very appealing for my character, because I like very much to create and to do things differently, not in the same way every time. For (instance) to (sing) "Autumn Leaves," there will never be two "Autumn Leaves," the same, sung by different people. Every time there is the freedom of creating the note outside of the road that you normally must follow. The first time you sing the theme, the melody like it must be sung and then you create and go crazy like (here she vocalizes) and that is a really good freedom and a great sensation to do that.
That is why I really love Jazz and that is what I reserved for the Italian Café Trio, because it is just having fun together with the musicians. There is a kind of ask and answer between the piano and the voice, between the piano and the bass, between the drum and the voice. It is an exchange of happiness. Notes, yes, but it is an exchange of happy sensations.
Jazz for me is Swing mainly. There are also Jazz melodies that are sad, "Nature Boy," for example, "Mona Lisa," or "My Funny Valentine," they are very sweet and sad songs, but Jazz for me is Swing. My father was a very cheerful man, not a sad man and I want to recover that part of Jazz.
We already have so many problems to think about in real life and I think music must reserve for itself the role of carrying us away to another dimension, which of course is better than the real one otherwise you don't need music to go sad like you are. Sometimes it is also good to listen to some sad sensation to listen to your black part inside, which is not so bad in the end. Mainly in this time, I see that the Italian people want to forget the economic crisis. It is kind of a third post-war period in my opinion. Now the economy worldwide is going in the wrong way. It is going down. People want to forget all of the financial problems, the crime and the war that is around the world. When people go to shows they want to forget, they want to entertain themselves and to feel the joy. They want to get back into contact with the joyful part of themselves, because life sometimes makes you get lost.
The Italian Café Trio is a Jazz band in which I go back in a way to the music of the forties and the fifties in Italy. It is playing on two parallel streets, the music that was at the time in Italy and the music that was in America. It is very interesting how different they are. Secondly, it is a way of remembering my father and his importance," explains Emy Persiani.
I must say one thing that is very, very important. I played the piano when my father was alive and he taught me very difficult pieces of music, Classical and even modern music and with my small hands. I was seven years old and I could play Op. 69 No. 1 by Fredrich Chopin with my small hands, because he taught me how to (position) them on the keyboard. I was so happy about that I continued to play and tried to repeat some music that I heard. I trained my listening capacity.
All of the time that I passed through high school and university my father was in the other room in my house and he was playing Rachmaninoff or Chopin or whoever on the piano, while I was making my studies. It was a soundtrack for all of my life. I composed about thirty or thirty-five compositions as well, which unfortunately when my father died, all of this kind of stuff, my music, my composition and my playing the piano died with him. When he died I was traumatized badly and I (fell into) bad depression. I was very, very sad and I stopped with music.
When my father died in 1981, I was about to marry Luigi and I just waited one year to respect the moment. I had been engaged for ten years. I was very, very young. It was a very long and old fashioned engagement. We married and I forgot all about music. I became a happy mother of two wonderful children (her first child was born in 1984) and I became a teacher. My degree is in literature and foreign languages."
"I have lived three lives the first life was as a pianist and a student, the second as a mother and a teacher and the third as a teacher and a singer, which is very strange. The career and by that I mean the first time that I was paid for it was around fifteen or sixteen years ago. The reason is very important and it is not something that just happened by chance. It came out late, but it was always there. In the first part I was expressing the music that I had inside with my compositions and then I passed all of the years from 1982 to more or less 2000 (without music).
I started singing in karaoke sessions, just to have fun with friends. (They would say) you are very clever to sing, go Emy and sing, so I went and sang, but only for pleasure. I was not thinking of becoming a singer. All of the years in between passed, because I had to (come to terms with) my father's loss. Every time that I heard music I went into tears, because I always thought of him. I couldn't move forward. I couldn't overcome all of that and I put away playing the piano. Unfortunately, I forgot most of the things that he taught me. This is my biggest sorrow. I want to recover all of that.
In these years I was a teacher and mother from 1984 to 1996. My daughter was six or seven years old when I went to this karaoke bar or restaurant.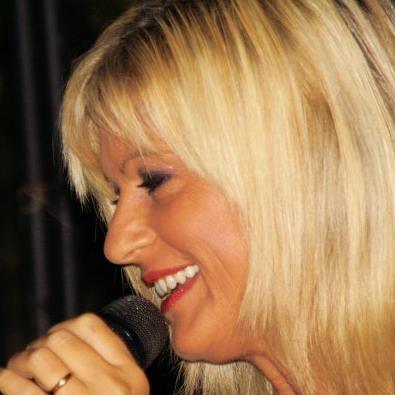 I am a singer, because of my husband. My husband had lived all of my music history. He was always surprised, because when we were engaged we went to the cinema together and when I went back home I put my hands on the keyboard and I played the soundtrack of the film that I had seen. It is a very big gift. He was amazed every time about it. That is why he has always had adoration for my musical part. He has always adored all that is music in me from the start until now. In 1987 he enrolled me, without me knowing that, underline without me knowing that to a singing contest, a karaoke contest. There were about 150 contestants and I won. (The prize was) a trip for two to the Caribbean. He enrolled me, because he saw how I transformed myself, while I was singing and he wanted to find the "old" Emy that he knew while she was playing the piano when she was sixteen years old. He was there. He wanted to recover that Emy. That's the beginning of the fairytale," she says.
Today Emy Persiani lives in the small and ancient city of Marino, Italy, which traces its origins to the first millennium. Marino is just thirteen miles or twenty-one kilometers southeast of Rome where Ms. Persiani's family roots are deep. She grew up in Rome, her parents grew up in Rome and her grandparents lived in Rome. She is proud of that heritage and part of her music repertoire is dedicated to paying tribute to the music of the Romans, including iconic Folk singer Gabriella Ferri.
About Gabrielle Ferri, Emy Persiani says, "She was not only famous in Italy, but in South America as well. Gabriella Ferri was a very spontaneous singer from the Roman tradition and she was born in Rome. She made a very important contribution to music, because she transformed Roman traditional songs into very modern (music) in the seventies.
It was a very important thing to do, because in the sixties and in the first years of the seventies when she was famous, music was still repeating the old fashioned things. Just ten years before Gabriella Ferri, we had the post-war music and she changed all of that tradition into a modern one. She was very ahead of her time.
Then there was something that happened that was very sad in her life. Musical fashion changed suddenly in the eighties, because of the technology and new sounds in music. She was not right for the times, so she lasted a very short season in the seventies and then she was abandoned by the music industry. That's why she (fell into) a very deep depression and she couldn't recover from this depression.
She had been very famous and then she stopped with the performances, exhibitions and records. Unfortunately, she took pills for depression and there is a controversy about her death. She died in 2004. The newspapers spoke of suicide, because it is more convenient for the news, for the gossip. She was probably under the effect of some medicine. She probably didn't realize that she was near a window and the window was in a house that was (located) on a cliff. Even if she had fallen from the second or third floor she probably could have saved herself if there had not been a cliff. It was impossible, because she fell down very deeply and then she died.
In my opinion she didn't commit suicide, because the day after (her death) she was to have a very important appointment for a television documentary. She wanted to go to that meeting."
Although, Emy Persiani never met Gabriella Ferri, Ferri's sister has attended a half dozen of Persiani's tribute concerts. Persiani's perception of Ferri is that of a warm hearted woman who was very passionate and one whom she describes as a complete artist, who in addition to her singing was also an accomplished poet and painter.
Two of the songs that are often associated with Gabriella Ferri and are included in Emy Persiani's tribute to her are "Barcarolo Romano" and "Sinno' Me Moro."
"(The song) "Barcarolo Romano," is one of the most traditional songs Gabriella Ferri interpreted. Many Roman singers before her gave an interpretation of "Barcarolo Romano." It is a traditional song about a love story that ends in a tragic way, because Barcarolo Romano means a Roman sailor like a (gondolier) in Venice. This man is in his boat and his job is to carry people along the river from one bank to the other and he falls in love with a girl. Eventually, they split and he leaves her. She commits suicide underneath his boat in the river.
"Sinno' Me Moro," is the desire of the female lover of not being forsaken otherwise she is going to die. "Sinno' Me ' Moro," in Roman can be translated as otherwise I am going to die or if you leave me I shall die," she says.
In 2009 Emy Persiani appeared in the lead role of a theatrical production, Solitudini that she also produced and it told the tragic love story of Italian Pop singer Luigi Tenco and one of Italy's most successful artists, Italian / French singer and actress Dalida (Yolanda Gigliotti). Persiani played the role of Dalida.
"It is a very dramatic story, because she was Luigi Tenco's lover and she committed suicide for him. This is true. They both committed suicide, but his was, because of a storm inside of his soul. He was a much tormented singer and person. She was deeply linked to Luigi Tenco, but she was very different from him. He was an outsider and she was the diva who was very famous in France and in Italy. When she sang she dressed in wonderful, brilliant dresses and she had big shows. He was the singer of the protests and rebellions. They were two very, very different people.
There is a big controversy (about whether or not Luigi Tenco committed suicide). There are some political forces pushing towards a theory that says he was forced to kill himself for political reasons. It is a very complex thing and I don't want to say things that are wrong. Anyway, he was found dead and that is what we say. She committed suicide throwing herself from the window (many) years after Luigi Tenco's death.
I produced this on the (basis) of a theatrical text composed by an author who trusted me as an actress. I had never been an actress. Someone taught me how to do it, because the person who interpreted Luigi Tenco was a singer and an actor. The show was a mixture between acting and singing. It was dramatic. It was about two people who were not watching themselves, because Dalida was talking to Luigi when Luigi had already died years before. She was alive and she was talking to his ghost. The two people on stage are one alive, me as Dalida and the other Luigi Tenco who is acting and singing, but he is a ghost. She is very intriguing. It is very challenging, because you have to look at the audience without ever looking at the other actor. I was pretending I was alone on stage all of the time. Then when I commit suicide at the end of the theatrical show I walk to the actor at the other side of the stage and take him by the hand. I sing the final song with him, because we are united again in heaven," says Emy Persiani.
In 2009 Emy Persiani was also asked to perform at the benefit concert Teatro Verdi Montecatini Terme, under the musical direction of her friend, Dutch Jazz singer Edith Alberts.
One year prior to the Tenco / Dalida theatrical production, Emy Persiani was a regular member of a television talk show that featured the host and pianist Alessandro Alessandroni (also known for the popular musical variety show Canzonissima).
She says, "Alessandro called me (to appear) as a teacher and a singer and let's say as an expert of English lyrics. Expert is a big word. Anyway, I could translate for the audience what English or American songs said. I was on this TV show with other experts, real experts, for instance who were psychologists, lawyers or people from show business and we commented on a subject each time and each week there was a new episode. Each episode had a main theme, for instance self-esteem or spring (the season) or divorce. People would talk about the subject from their point of view. It was very interesting for me to be in the double role. I had to explain the lyrics, before singing with Alessandro who was on the piano. It was a very good experience."
Another part of Emy Persiani's musical repertoire is her tribute concert to Whitney Houston.
"Whitney was the real diva. She became famous in the eighties and this is not a reason that should be forgotten, because the best part of my life was starting in the eighties. I was making a new life. I got married in the eighties, I had children in the eighties and I was having my time, as it says in the song, because I was free from the control of my mother at last. I was having a family of my own, which I adored and that I adore now. The sounds of Whitney Houston's music and the lyrics of her music are the perfect mirror of my happy period.
The second reason (for the tribute) is that I understand the lyrics and I love what she says in her songs "All the Man That I Need," just the title is a whole speech. I love many other songs. I love the spiritual songs. Like millions of people I love her way of singing. Many people say, oh you want to show your voice and that is why you choose Whitney Houston and that's not the reason. When she sang it was not, oh look at me, I am doing this note. She was looking at the people with the same love she was looking at her daughter and I share this way of behaving in my concerts. That is what I like about Whitney and that is what I wanted to share with my audience when I make the tribute otherwise it would just be an exercise, like just look at me I can go (at this point she sings some very high notes and demonstrates very good vocals), so it's a high note and what else? It is only about being warm when you sing that note and look people in the eye, because you are singing out of your soul," she says.
About sixteen years ago Emy Persiani returned to music, an important part of her life, a love that was inspired by her father and that was rekindled by her husband Luigi. During our conversation you could sense the passion as she talks comfortably now about sitting beside her father as a seven year old, while he taught her how to position her tiny hands on the keys, so she could play and later compose music that many much more experienced, formally trained and far older people than she was at the time, could not master.
Just south of Rome, Italy in the ancient city of Marino is a musical treasure just waiting to be discovered by music aficionados from other countries. Her name is Emy Persiani.
Top photo by Fabien Finocchi is protected by copyright ©, All Rights Reserved. Bottom Photo by Marco Funari is protected by copyright ©, All Rights Reserved.
This interview by Joe Montague published March 27th, 2016 is protected by copyright © and is the property of Riveting Riffs Magazine All Rights Reserved. Bottom two photos are the property of Emy Persiani
and are protected by copyright © All Rights Reserved.
Top photo is the property of Fabien Finocchi and is protected by copyright © , All Rights Reserved. This interview may not be reproduced in print or on the internet or through any other means without the written permission of Riveting Riffs Magazine, All Rights Reserved