Fashion Designer Pamela Quinzi

Pamela Quinzi, a fashion designer originally from Rome, Italy, via Milan and who now makes her home in New York City, is considered to be one of the rising young stars on the international fashion scene. Her collection of couture shoes, Kilame is popping up in boutiques in Beverly Hills and in New York City and since there are no two shoes exactly alike you can also contact Pamela Quinzi directly through her website and follow her on the official Kilame Facebook page. Pamela Quinzi also has an accessories collection, but her main focus right now is Kilame. In the past she has collaborated with some of the world's leading designers and fashion houses to design dresses, handbags and other accessories and she still does create new designs for dresses, jewelry and accessories. Kilame however is her baby and she works feverishly day and night to grow the international presence of her brand (the shoes) and it has earned her the nickname Cinderella of New York.
During our recent conversation Quinzi was in the southern part of Italy on the coast of the Adriatic Sea for a month where she works closely with manufacturers, creating new styles and in May she will be heading back to Los Angeles for the second time in 2017.
"I had been before to LA for traveling and for checking out everything, but this was the first time for the collection to be in LA

Read More
Cindy Morawetz - Fashion Designer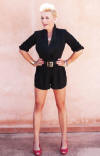 The story of German fashion designer Cindy Morawetz who established her own brand drezz2imprezz is both inspiring and amazing. With more and more celebrities wearing her dresses and jumpsuits she can now fondly look back to where even though she did not realize it at the time, it all began, in her teenage years and she can look forward to a bright future. She already has her sights set on making a big splash on the American fashion scene.
Cindy Morawetz started designing her own clothes when she was a teenager, but she very emphatically says "absolutely not," when asked if that was when she first started thinking about a career in the fashion world.
"I never had this idea, because it was only just for me and I never studied this. I only had fun doing things for myself, because everything that you could buy I did not like. If something was not done like I would have liked it, I recreated it.
My family is also very conservative, so they told me I had to study something to get good money, so after school I started to study (to be) a lawyer. It was my family's idea but I only studied for one and one-half years and I noticed this wasn't something that I could be creative doing. Absolutely not. This was the moment
Makeup Artistry of Margret Avery

For someone who never planned on a career as a celebrity makeup artist, Margret Avery has done a good job of becoming one of America's most sought after artists. A very small sample of her clients has included, Christy Turlington, Cindy Crawford, Barbra Streisand, Isabella Rossellini, Annette Benning and Naomi Campbell. Margret Avery has worked with some extraordinary photographers including, Helmut Newton, Denis Piel, Herb Ritts, Eric Boman and Irving Penn, to name but a few. She has worked with major brands such as, L'Oreal, Max Factor and Revlon.
She says, "I never thought of having a career as a makeup artist first and foremost. It never entered my mind. I came to New York City from Ohio to go to college. I went to Parsons School of Design and my major was fashion design.
I came from a lower middle class family in Ohio and there wasn't any money to put any of us six kids through college, so I had to put myself through college. I had a partial scholarship the first year and then full scholarships onward. I had to work a lot and at one point I had three part-time jobs with a full load of school. At one of the part-time jobs I met two guys who were aspiring photographers and they wanted to keep taking my picture. I felt so free in New York and being able to have this creative expression. Studying fashion design, I wore different wigs and makeup and clothes every day and it was like a game to me. It was a lot of fun. That is why they