Reviewed by Christopher McHale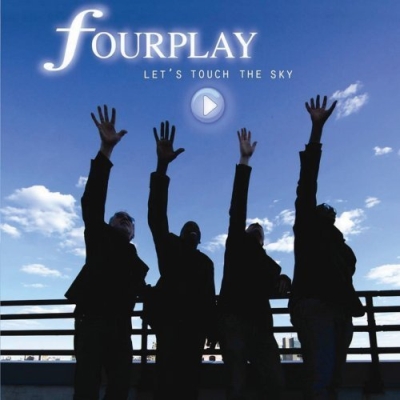 Like a soft, smooth blend of grapes, mixed to perfection to create a velvet palate of soul and groove, Fourplay is as classic as a vintage wine. It's no surprise to see the band's latest offering, Let's Touch The Sky, sitting on the charts. Fourplay was granted tenure long ago by the jazz gods. Bob James, Nathan East and Harvey Mason deliver the goods for their fans. Whether in the sonically sculpted confines of a recording studio or on the concert stages, the band continues to roam the confines of its music with a supremely confident, understated air. But recently something changed and Fourplay aficionados waited to hear the results. The results are in.
Guitar master Chuck Loeb took the coveted Fouplay guitar chair, vacated by Larry Carlton, who in turn replaced Lee Ritenour. Loeb turns out to be the right man at the right time, adding a spark to the proceedings.
The disc begins with a classic James' composition, "Let's Touch The Sky," a filmic swell of synclavier strings under a tightly shaped groove. James' touch as always is carefully cadenced. Loeb's guitar sits forward in the mix, but his choices of phrasing and his sensitive responses to James, reveals that he joins the group as an equal and a logical choice.
Chuck Loeb is placed front and center on the second track, the funky "3rd Degree," his own composition. Loeb's precise interrogation of his new band mates, results in a final sparking riff, East and Mason in lockstep as Loeb makes the final call round the melody.
In a conference of masters there will be no missteps and it is more a matter of where the conversation might turn next. The pulsing, sprightly "Pineapple Getaway," from Harvey Mason's pen, is a warm island breeze of a tune, featuring a sharply sketched solo from James, that follows the beautiful and languid ballad "More Than A Dream." Wherever the groove leads this band masterfully follows.
Of course, Nathan East is not a man to be left behind by his fellow band mates and it has always been the charm of Fourplay that the musicians gracefully and effortlessly share the spotlight. East's tune, "I'll Still be Lovin' You," features his whisper soft and candlelight seductive vocal, as he croons "In the morning I'll still be lovin' you."
"Gentle Giant," one the better compositions on the disc, is a Bob James tribute to Hank Jones. Another East tune, "A Night In Rio," quickly sets a classic Fourplay groove, and is shadowed by another breathy Nathan East vocal, this time wrapped closely by the piano. American Idol winner, Ruben Stoddard, makes a guest appearance singing the Teddy Pendergrass R&B classic, "Love TKO." No doubt there are commercial considerations at play here. The band wisely chooses to put this in motion as a standard Fourplay arrangement, not trying to overtly approach the soul territory of Teddy Pendergrass.
Perhaps the most confident writing on the disc is featured in the Bob James tune, "Golden Faders," a strong and focused melodic statement, edged in blues, with a solid popping swing. All four of these players are superb and as a writer James is the best of them all.
There is a nugget at the end of this disc, a tasty surprise waiting. Sultry, smoky Anita Baker shows up to sing the standard "You're My Thrill." Baker's voice is such an incredible instrument; she immediately focuses the band, leading these fine players into a beautiful rendition of the classic melody. The production becomes almost a tease of what the next Fourplay disc might be. Anita Baker and Fourplay? Now there is a combo forged in jazz heaven.