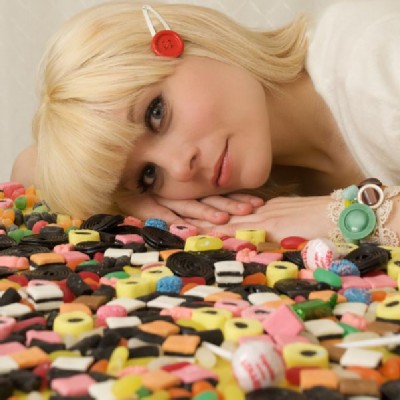 Giggling, before she talks about the song, Huld says, "The song "Tomoko," is written about a friend of mine. Since I wrote that song, I have met so many girls who have said, 'I know this girl, she is a friend of mine.' It seems that most girls have a friend like that. It's (about) the type of girl who is just a little bit better than you at everything. She's a little bit thinner and a little bit prettier She smiles just a little bit better and she eats a little bit less. It deserves a song I think. It is very much a teenage girl thing. It is a thing that I have now completely outgrown, but at the time it seemed important to write about."
Huld says, "Tomoko," definitely is a fan favorite. Somebody always moves to the front and starts singing along when I sing "Tomoko." People have seen the video on the internet. I had my good friend (in it). We lived together when we studied in London. She is a professional actor and dancer and we had her put on a skin tight suit and then had her dance in the bedroom to my song 'Tomoko." We did it in one take. People seemed to like the idea that two girls were dancing in a bedroom to a song.
"Tomoko," is like a lot of Hafdis Huld's songs, they are drawn from her life's experiences and although they do tell stories, they are not ballads in the traditional sense.
Hafdis Huld describes her formative musical training as being as, "unrock 'n' roll as you could imagine," as she sang in a children's choir and a church choir. She was also heavily influenced by the Icelandic folk music to which she listened and she credits those musical environments for teaching her about singing in harmony. She also says that the Icelandic folk stories taught her to keep her imagination alive.
"(When I write) I always start with the lyrics, because I think that it is important to know what story I am going to tell and then I find the music, the melody that supports the story that I am telling. Words are very important to me," she explains.
Huld will often collaborate with others when it comes to writing her songs, including band member Alisdair Wright (guitar, banjo, ukulele). I do like co-writing with different people, but I don't want to co-write my lyrics, because I am very specific what I want to sing about. It is my story, but I am very excited to have people with exciting musical ideas to come and co-write the music with me," she says.
When I ask the singer / songwriter about her song "Ice Cream Is Nice," she laughs and then in a voice mixed with both mystery and mischief quotes a line from her song, "Ohhhhh and monsters are not." I wrote it when I was about sixteen. It is one of those stories that I have kept with me and then when I made the album a few years later, I still wanted to include it, because even though some things about it seem quite naïve and basic, there's still an underlying story. (Her voice becomes more pronounced and she repeats the lines) "Ice Cream Is Nice and monsters are not," and if you don't want to read anything more into it fine, but if you actually listen between the lines that's very interesting as well."
In 2003 Hafdis Huld moved to England to work with an electronica band F C Kahuna and she penned and performed some of the group's songs, including, "Hayling," and "Machine Say Yes." In 2004 she returned to school, and began studying music in England.
"People have asked me about my wanting to go and study music for a bit, because it seems strange as I have been doing music since I have been fifteen. I just decided that all of my background was in electronic music and I didn't want to be stuck in that genre. I wanted to find out for myself if I could do something really different. I wanted to study about all kinds of music, blues, jazz, country and different things, so I could find out exactly what I wanted to do. I wanted to work with people who were playing live instruments and it wasn't just about fiddling knobs and mixing on stage. I wanted everything to be live. It did that for me. I kind of had the freedom to experiment with a lot of different things," she says.
The title for her new album Synchronized Swimmers is drawn from one of the songs on the album. Like her other tunes, a lot of thought went into the choosing of the words to "Synchronized Swimmers."
"It's upbeat and lovely. It's not about synchronized swimmers, but it's about finding another person who seems to be in perfect synch with you. It's kind of like swimming through life with someone and getting it right," she says.
Acoustic pop singer / songwriter Hafdis Huld and her band are getting a lot of things right these days, as they create clear, uncluttered melodies that support lyrics which are drawn from the fabric of life. Check out the Hafdis Huld website or listen to her music by clicking here.