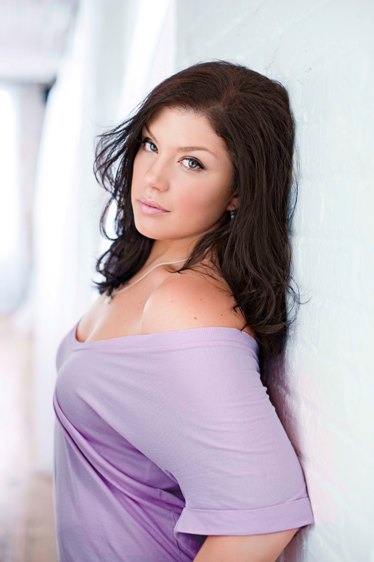 Jane Monheit combined with one of the ambassadors for Jazz music's royal family the Pizzarellis when she recorded the duet "Tonight You Belong To Me," on which John Pizzarelli also plays guitar.
"We just went in and knocked it out in about thirty seconds (she laughs). We just went in and did it. It was as easy as pie. I have known for several years that I wanted to do this song with John. I have wanted to do this. I love the tune and I especially love the version in the movie The Jerk (Steve Martin, Bernadette Peters). Bernadette Peters is one of my idols. I saw the woman in A Little Night Music, the other night on Broadway and I had to put my hands over my mouth, so I wouldn't sob out loud during "Send In The Clowns." This is how much I worship this woman. (she bursts out laughing). It is complete idol worship, so of course I know the tune ("Tonight You Belong To Me") and I have always really liked it. It is charming, adorable and warm hearted. I love music with that vibe. There are a lot of examples of that throughout my years of recording. Who better than John do to that with? He's the guy," she says.
When this writer confesses that he is not really a fan of scatting and yet there is something about Ms. Moneheit's scatting that is appealing, she gives up an unexpected response, "I don't like to do a whole lot of it. I really am not a fan of it either. Unless you are Mel Torme save it (she laughs). I am much more interested in improvising within the body of the tune and using the lyrics and all of that. If you can create a counter melody that brings the meaning out of the melody even more and that is much more interesting to me. I don't have a horn player anymore, so if there is space, I will do a little bit (of scatting) here and there. A tiny bit is great, if you have something to say. If you don't, shut-up. I can't stand any kind of soloist, instrumentalist or singer, just going on and on, and searching and searching and keeping going until they think they nailed it. Come on already. Say something, create a beautiful counter melody and whatever your style of improvisation is, just do it, but have something to say. (she laughs) I guess the type of Jazz that I really enjoy is from a slightly different era. I grew up on older stuff. I love the modern stuff too, but it is just the idea of soloing forever and ever and you are on this ridiculous journey to nowhere. Sometimes I feel that it a little bit vain. I am just not a huge fan of that. It is not that I don't love great solos and improvisation, because they are the basis of Jazz. I just feel like endless shredding, what's the point?"
The diversity in Jane Monheit's repertoire comes to the fore with the song "Everything I've Got Belongs To You," another Richard Rodgers / Lorenz Hart song, featuring violinist Mark O'Connor, who plays what country folk might describe as fiddling.
"Mark comes from that Stéphane Grappelli and Django Reinhardt (co-founders of Quintette du Hot Club de France) sort of sound. It is that time period. It is a little bit tighter than my band usually plays. You adapt to each other in musical situations and I love what Mark adds to the record and especially on "Everything I've Got Belongs To You," says Ms. Monheit indicating that during December she was appearing as a guest artist on Mark O'Connor's DVD.
Surrounding herself with old friends became the basis for the title of this CD Home, a symbol for returning to her roots.
"I wanted to make a record that focused back on my core, so the title refers to that. It also refers to the personnel on the record, who are all very important to me. In the past, a lot of record companies felt it was very important to have a lot of big names on the album and I can see why that is important, because it helps to sell records and all of that kind of stuff, but at the point that I am at, I don't think that is going to make a real difference in my record sales. Honestly, I think you make a way better product if you make it with the guys that you play with every day (she says emphatically) and you save the big names for the special guest positions. I really love my band and we are a band, it is not just a group of musicians who back me up. It is the guys that we play with every night and even the special guests are people who are friends of ours whom we have worked with a ton over the years, Mark O' Connor, John Pizzarelli. These are guys that we constantly work with. Joe Magnarelli the trumpet and flugelhorn player is a very close friend of our family and my husband grew up with him. My father-in-law did some arrangements for the record and Frank Vignola (guitar) is on the record and we work together constantly. Peter Eldridge is the only voice teacher that I ever had (they do a duet on "It's Only Smoke"). Everything about the record, the songs and me producing it, it all comes down to that (returning to her roots and calling it Home).
Jane Monheit is both realistic and positive when it comes to her career as a Jazz artist, "The business gets hard for all of us, Lord knows, especially with the economy and all of that. It's not easy, but we still get to play music for a living and no matter how tough it gets or how difficult it is out there, we still get to play music. We don't have day jobs, we're playing music and so right there that puts us at a level of lucky that we can't mess with. We realize that no matter how tough it get, things are good."