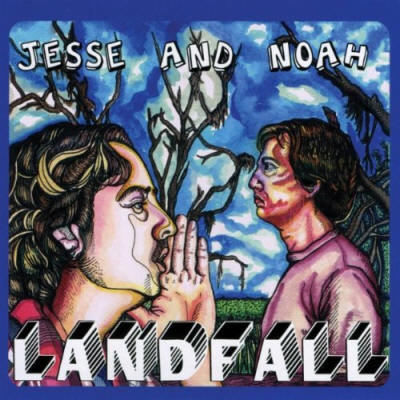 Three years ago when I first spoke to Jesse and Noah Bellamy they were burning up the Texas Country Music charts, on the strength of their third album, Nowhere Revisited, and it now looks like that was just a foretaste of what was to come. Landfall the new album from the Country duo will appeal to both classic Country Music and more contemporary Country Music fans. The album is not twangy, yet the themes are ones easily recognized in Country Music circles, as evidenced in the opening tune "Two Truck," in which the lead vocalist (Jesse) sings a line as though it is sage wisdom from daddy, "There's only three things you need to survive / A good woman, a tow truck and a colt 45."
Jesse and Noah, as the brothers simply bill themselves write good songs and they also have the good sense to identify other good writers with whom to collaborate. Only two of the twelve songs on this album do not have the Bellamy name associated with them, and they serve as bookends to this terrific musical collection. "Tow Truck," was written by Stephen Lewis Clark and Jimmy Lambert and the last song "Won't Give In," was created by Neil Mullane Finn and Brian Timothy Finn.
Listening to the easygoing, smooth vocals of Jesse Bellamy, as he harmonizes with Noah Bellamy, is in some ways reminiscent of another Bellamy duo, their father David and their uncle Howard, The Bellamy Brothers, whose song "Let Your Love Flow," still resonates with music fans today. Jesse and Noah however are not two young pups merely relying on their father and uncle's reputations to build their careers and one would hope that music fans would refrain from comparisons, because none are necessary, the new generation of Bellamy brothers are very good and deserve to stand in the spotlight by themselves. Noah Bellamy is very good on lead and rhythm guitars and those are only two of the instruments that he plays on Landfall. Noah bends a few notes on "Tow Truck," and refrains from using special effects, because his playing is strong enough that he dazzles without them.
For those of us who have or need heroes, and I know I have mine; for those of us who are looking for genuine people, to whom pretense is a word they do not include in their vocabularies, the second song 'Tryin' To Keep It Real," is the one that will hit home. A collaborative effort between Jesse Bellamy and Tim Schumacher, the song begins with Jesse singing, "I'm just trying to keep it real / Striving to be what I feel / While everybody is trying to learn the art of the deal / I'm just trying to keep it real / All my heroes had something to say / Some were made to pay / But they did things their way." Besides the message, this song is a good dance tune and it had me wishing and hoping for a partner with whom I could sail around the dance floor.
As you listen to "Waiting On An Echo," roll out, a song written by Jesse Bellamy and William Sherwood, you get the sense that you are listening to a band that is on the cusp of greatness. This is a song that talks about the risk you take, when you realize that you are in love and you say the words I love you, hoping that the other person is going to say those same words back to you. It is about the joy of putting it out there and saying this is how I feel, these are my "expectations and anticipation." It is about holding your breath, reflected in the words, "Feels like my heart is suspended in air ….looking down, a long way to fall, I throw it out there baby, it's your call." These songs are not syrupy, they are not overdone and they are not fanciful. They are real words that describe real feelings, real emotions, real fears and real hopes. The inflection in the vocals suggests these are heartfelt.
The music slows down with the fourth song "Buried In Blue Jeans," a song about granddad buried in blue jeans and sending him off the way he would have wanted it to be. It is about the desire someday to follow his lead, shun the three-piece suit and being buried in blue jeans.
The beautiful Texas waltz, "First Call After Last Call," is a love song, for those who have been together for awhile and look at their husband, wife or significant other and say that they are your "first call after my last call, the only arms that I want to fall into every night, for the rest of my life." If there are favorite wedding songs than "First Call After Last Call," ought to be the favorite anniversary celebration song. C.J. Udeen's steel guitar adds to the romantic mood and Luke Herbert's gentle percussion compliments the vocals and guitars well. This is a song about respect. It is a song about recognizing that in good relationships it takes two people to make it work well, as told through the life of a part-time rocker, who goes straight home to the woman he loves, after he has performed his last song.
Steel guitar and rhythm guitar introduce the title track "Landfall," a reflective song by Jesse Bellamy and Tim Schumacher that ponders life from the perspective of being closer to the end than the beginning. It is time for saying goodbyes, as this gentle ballad beautifully plays out. Jesse and Noah Bellamy live in Florida and grew up in the Florida Panhandle, their familiarity with tropical storms, which when they reach the shore or landfall, becomes a metaphor for the darkening skies, as life draws to a close. This is not a sad song, although it may conjure up a lump in the throats of listeners. It is a song that says I have enjoyed the ride and the realization that the end is near.
The sassy, line dancing "Dirty With A Southern Drawl," changes the pace as the last one-third of the album spins. This is a song about the woman everybody views in public as being the good and polite girl, but, boy oh boy in private, "When she lets it rip / she talks dirty with a southern drawl." Although, Jesse Bellamy's vocals are still solid, this song owes its success to the musicians who drive the bus, particularly Luke Herbert's drumming and heavier rhythm and bass guitars by Noah Bellamy.
The album ends with the Jesse Bellamy / Steve Clark song "No Expiration," a testament to undying love and the mid-tempo "Won't Give In."