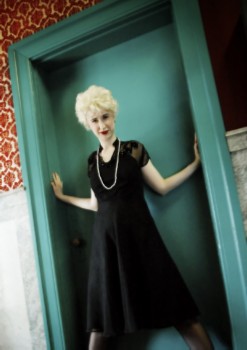 Harris turned to an old friend, Judith McDowell to direct her Vancouver performance of Pitch Blond. "I met her at the University of Victoria when I was there and I did some scene work with her. We worked together really well. She is a lovely woman. Judith is of that era, and she understands the society and the women of that era. She is also an American, and I thought (all of those things) make her a great fit to be my director. I knew that the project would serve me well, if I worked with her," says Harris.
McDowell echoes Harris' thoughts, "I'm an American, and I remember Judy Holliday's films fondly. I also lived through the McCarthy era and I was fascinated by the part that Judy Holliday played in that dark episode of American history. She was a 'dumb blond,' who was really a genius. She used her wits to do the right thing? What a great story that makes!"
The synergy between director and actress is obvious, as is their admiration for each other's work. Harris says of McDowell, "She understands how to bring out the vulnerability in me, and also some deeper connections to some deeper moments in the play. She was really helpful with those moments, the tempo of the piece, the blocking of the piece, and making it seem very natural. She really brought out the best of me in the character. That is what I like about really good directors, they know you to a certain degree, they know what your strengths are, and they bring them out even more."
For her part McDowell had this to say about Harris, "I am continually amazed by Laura's intelligence, sensitivity, and her determination to work extremely hard to achieve her goals. In all of these ways, I think that Laura channels Judy Holliday's spirit brilliantly. Through her research, Laura has found a way to embody events that give structure and meaning to the life of Judy Holliday."
When asked as to whether or not Harris finds it more difficult to play a historical figure versus a fictional character, she responded, "I think that it is more difficult, because there is a higher expectation when you are portraying a real person, that you be accurate. You need to understand their mannerisms and their voice, and you really need to know everything about them. There is a little more pressure. I think with a fictional character you have a little more license to do what you want with that character. With a real live character you want to be as true to that person as you possibly can be."
Despite the extra challenges that come with portraying historical figures, that has not deterred Laura Harris from writing, directing and producing another play, but one in which she will not be acting. This one is based on the life of American actress and talk show host, Tallulah Bankhead.
"When I wrote Pitch Blond and I was researching, Tallulah Bankhead's name came up from The Big Show radio program on which Judy Holliday appeared. Tallulah hosted The Big Show and I grew interested in her notorious reputation. However, I never really researched her until I found there was a connection with a local Victoria (Canada) historical figure, Dola Dunsmuir of the Dunsmuir family. This next play introduces a more intimate and caring relationship that Tallulah Bankhead had with Dola Dunsmuir. The two spent time in Victoria, British Columbia and Tallulah savored her time in Canada," says Harris.
In her play Pitch Blond Laura Harris may be portraying an iconic stage and film star of the forties and fifties, but that is only one half of the story, because what theatergoers are getting a chance to witness first hand is a tremendously talented young actress and playwright who is only going to get better. From May 14th to May 25th audiences in Orlando Florida will get an opportunity to see Laura Harris perform in Pitch Blond. From mid to late August Pitch Blond will be presented at Edmonton's Fringe Festival and this summer she will also be performing in Ottawa's Fringe Festival.