Liverpool's Maxi Dunn Has A Hit With The Neglected Gambit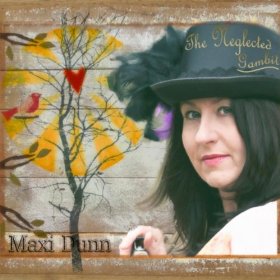 Pulling from numerous musical influences including Trip-Hop, Rock and Pop, singer – songwriter Maxi Dunn who hails from Liverpool, England has a potential chart busting song on her brand new CD The Neglected Gambit. The title song, falls somewhere between The Pretenders and Blondie, with lots of Power Pop influences. Backed by the driving guitar of fellow U.K. artist Peter Hackett who also produced the album, Maxi Dunn's vocals flat out rock, as she proclaims that she has a good heart and a soul and then she asks the question "will someone please share my love?" This is not a song that is focused on pity, but quite the opposite, it is about a woman who has come to the realization that she has a lot to offer and she is worthy of someone who is prepared to return that love in kind. This is an anthem, not a brokenhearted tune.
Ms. Dunn is an eclectic singer – songwriter and her musical choices on this album reflect that with the softer pop melody "Baby, It's So Wonderful," as the listener eavesdrops on an intimate confession of love and longing from the singer to a former lover. It is a song that recalls good memories that are revived by the sound of his voice. The acoustic guitar accompaniment on the organic "Messed Up," keeps the focus on the angst of Maxi Dunn lamenting how she messed up her life, while her lover messed up her heart. Electronic sound effects and light snare drum rolls keep the music interesting.
Whereas the upbeat tempo of "So What," hears the singer still contemplating putting the relationship behind her, the Power Pop vibe of "Make It Better," is about finally letting go emotionally, so healing can finally take place. "So What," acknowledges that there is never a right time or so it seems, to end a relationship, but this is her time to make that decision. "Make It Better," moves quickly and Maxi Dunn's understated vocal vibrato adds to her ability to evoke a strong emotional response from the listener. Throughout most of the more vulnerable songs, Ms. Dunn's vocals are full and warm, taking the edge off lyrics that often have a bite to them, so rather than coming across as bitter, cold or harsh, we discover a singer with whom most of us have been able to identify at some point in our lives.
Wind chimes, strings and a weather report introduce us to "Weather Warning," which becomes a metaphor for a stormy emotional time on the horizon. This song like many of the songs on Maxi Dunn's album The Neglected Gambit screams out for the attention of music directors at radio stations around the world. Maybe this time terrestrial radio will "get it" that there are tremendously gifted independent artists who their listeners want to hear and who frequently offer up a better sound than the vanilla flavored tunes we so often hear. "Weather Warning," is a testament to how good music can be when it is not subjected to the whims and overbearing influences of a music label.
Other good songs to listen for on the 12 track The Neglected Gambit by Maxi Dunn, are the pop "Why Do I Still Want You?" the darker toned "Tangled Tree," "Will You Forgive Me?" which invites the listener to sing along and the heartbreaking "You Took The Sunshine From My Heart."
Listen to select songs from The Neglected Gambit, not because we told you so, but because this is really good music.
This review is protected by copyright © All Rights Reserved by Riveting Riffs Magazine