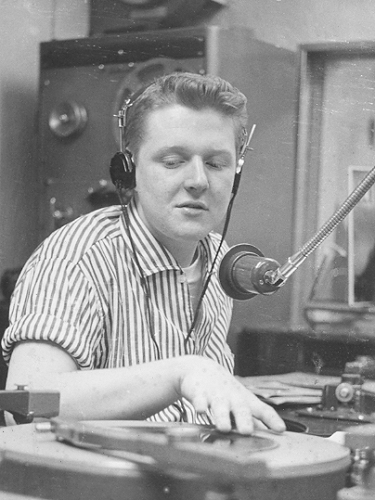 During his lifetime, legendary deejay Red Robinson, who still hosts Red Robinson's Red Rock Diner of radio station 104.9 Fun FM on Canada's west coast in Vancouver, forged friendships with Roy Orbison, Johnny Cash and many others that spanned decades and he spent considerable time and became friends with people such as Buddy Holly, Bobby Darin and Elvis. He was instrumental in bringing Elvis to Canada for his first concert and John Lennon tried to curse him off the stage during The Beatles' concert, due to a misunderstanding. During a dark time in Canadian history, not often acknowledged by Canadians, Red Robinson had to literally smuggle the music of African American artists out of record stores, because prejudice was more widespread than many Canadians would like to admit. He played that music on the radio at a time when it was not popular to do so.
It may surprise many readers to learn that there were disc jockeys who were playing Rock and Roll music before Wolfman Jack, there names were Alan Freed, Tommy Edwards (WERE, Cleveland, OH) and Red Robinson.
"In '95 they elected us to the Rock and Roll Hall of Fame, but in '97 R&R Magazine had us there and they had a special presentation that was called Dedicated To The One I Love. All of us originals were there, Arnie Woo Woo Ginsburg (WBOS and WBEX, Boston), myself, Cousin Brucie Morrow (WABC, New York City), the early guys and gals of Rock and Roll, the deejays. We started this thing on the airwaves and if it wasn't for us and certain movies that were made in that time, Blackboard Jungle with "Rock Around The Clock," on the soundtrack, it never would have happened.
When Bill Haley was here in 1956 and when I was interviewing him I said, Bill you have to be on top of the world, look at all the hits that you have had. You are huge in North America and you are big in London England. You are driving everybody crazy. He said, 'No, it is all over for us. I give us another year.' I said what are you talking about? He said there is this young good looking guy out of Memphis, Tennessee and they call him the hillbilly cat, Elvis Presley. He is good looking and he has a great presentation and he is going to take over. (Robinson laughs and says) Haley had vision. He had been around. He knew. At the time he was thirty-five or thirty-six. He knew," says Robinson.
Red Robinson started in radio at an almost unimaginable age, seventeen. "Let's take a look at high school at the time. It was King Edward High and even at the dances and proms that we had, the teachers would bring their music. It would be Glenn Miller's Orchestra and later day Ray Anthony and Ralph Flanagan. These were the second wave of big bands after the war and we would dance to all of that stuff, but it wasn't our music. There used to be a little restaurant down at the corner of Oak and Broadway, with an imaginative name, called The Oak Way (he laughs). The guy had a jukebox and on it he had a lot of Rhythm and Blues stuff by Ruth Brown and Lloyd Price and we just loved that. When the opportunity came for me to do my radio show and by the way I started my first radio show in November of 1954, but I had been hanging around the radio station on a teen show as a guest, for a year before that. I knew what I wanted and I had a vision of what I wanted to do and I pursued it. When I went there, I bought my own rhythm and blues records or I would go through the library at what was then known as CJOR. They had left all of the R&B records up in little corners. They were things that they wouldn't play and I had recognized them all from the jukebox. As soon as I started delving into magazines like Billboard and particularly Cashbox, I would tape those and put them on. This was just prior to the real launch of rock and roll. It is interesting the first real rock and roll hit as far as I am concerned and that charted on Billboard was "Crazy Man Crazy," with Bill Haley in 1953. I kept the label, which says Bill Haley and the Saddlemen. He had a swing band. Years later when I interviewed Bill I asked him where he got the idea for "Crazy Man Crazy, Go go everybody." Where did you get that? He said, 'We played colleges and that is what the cheerleaders did.' (Red laughs) In 1956 when Bill Haley and the Comets came to town it was Vancouver's first rock n roll concert and I emceed that one. "
Back on that day in November of 1954 when Red Robinson first took to the airwaves the very first song that he played was "Marie," by The Four Tunes and he wants our readers to know that even though he was a teenager at the time, "Absolutely (I picked it out). In my time, we didn't have people picking our shows, we did it. If you got ratings and sponsors followed, you kept your job. If you didn't you were thrown out on the street. I've got news for you, I like that and I would like to see more of it today. We would have more entertaining radio and we would have more personality on the air, because you had to work at it. If it wasn't for us playing the music, these people (the artists) would never have become prominent. Buddy Holly would spend time with me, because he wanted to promote his records. When Paul Anka went on the Show of Stars tour with Buddy Holly, The Everly Brothers and everybody, they came to Vancouver and they played the old Denman Auditorium. The difference in that day was, when the show was over at at night, the deejays, myself and the guys who were on the show, would go down to the corner to a restaurant called the What Spot and we had hamburgers. Can you imagine doing this with Shania Twain today? It was a wonderful era, because we were all friends. When we would bump into these people it was just like old home week," he recalls.
Robinson refers to that time as the era when Rock and Roll began to emerge from two musical styles, Rhythm and Blues and Rockabilly, which he describes as being more a country swing and the type of music where Bill Haley began his career. Robinson believes that early rock and rollers took inspiration from people such as Bob Wills and Hank Williams. "If you listen to some of Hank Williams stuff, my God they stole lines out of it," he says.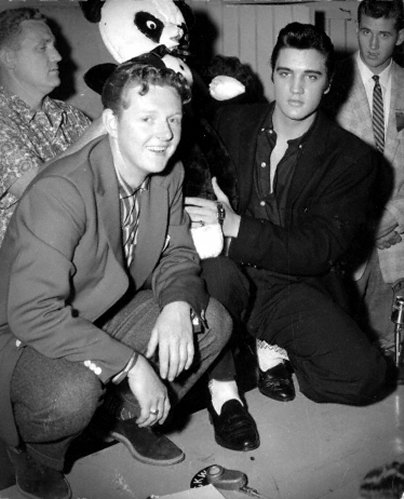 In an age when the internet did not exist and personal computers were unheard of, those in the music business relied on telephone and mail to disseminate information.
Robinson enlightens us, "In Cashbox Magazine in those days, they would have ten of us, guys who were playing solid Rock and Roll. There were ten of us in Cashbox who listed our top ten every week. How did I arrive at my top ten? I had a little thing that I put together called teletune. I had kids come in after school and answer the phones. I would say phone in and tell us what you think of this new song and then at the end of the day I would add them all up. Then I knew what to play. I was actually asking the listeners what the hell they wanted to hear (laughs). It was a top ten by my listeners. I had my personal top ten, but I would give it to the audience to pick out (their top ten). I had Buddy Holly's "That Will Be The Day," listed in my top ten in Cashbox before anyone else in North America even played the damn thing. I have an interview with Buddy Holly when he says that. We didn't have music directors saying, 'The focus group didn't go for that or 'it's not appearing on the charts in Chicago.' Who gave a damn, you did it for your local audience. One of my slogans was "The Station That Listens To You."
Red Robinson had to be creative, so he could keep abreast of the cutting edge music. He would often put in phone calls to Stark Records, a store in Bellingham Washington or he would ask his friends to pick up "new" music for him that appeared in the stores in nearby Washington State, to ensure that he kept up with both his Canadian counterparts in eastern Canada and American deejays.
It was Red Robinson's flair for identifying new talent and good music that caught the attention of the management and the owner for television station KGW in Portland Oregon, which at the time was owned by King Broadcasting and who also had KFSO and KING radio stations in San Francisco and Seattle respectively.
"I went down there and when I left (Vancouver) I had a fifty percent rating. Fifty percent of the people who had the radio on were listening to me. Why would I give it up? I wanted television experience. In January of 1959 she (the owner) hired me and I went to Portland. Part of the deal was that I would do a disc jockey show every afternoon and I would do a television show Portland Bandstand, like American Bandstand and I got some television experience out of it. When (the artists) would come into town we would have them come on. In one particular case Bobby Darin appeared on my radio show, which was being broadcast from the fair grounds in the summer of 1959. We had all of these stages set up, Bobby came by and I handed him a microphone and a headset and I said, you are my disc jockey now and I will be in the background to help you. The incredible part was he would play Ray Charles and he would sing along with Ray and then he would do impersonations of Jack Benny. It was just Darin being Darin and it was an amazing performance for about eight minutes," he recalls.
"I did shows with Gene Vincent, Eddie Cochran and the early rockers like Buddy Holly. and I have photos and interviews to back up everything. People ask me why I took a photographer and a tape recorder and they say I must have had great vision. I would love, it if that was true, but it wasn't that, I was a fan and I just wanted to have a record of what I had done. It had nothing to do with thinking, 'gee this will be worth something down the road.' I don't think young people think that way."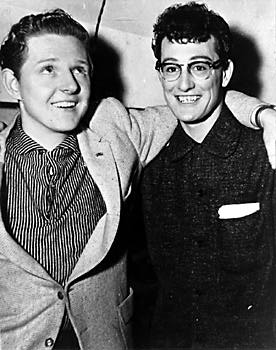 Colonel Tom Parker handpicked Red Robinson to emcee the Elvis concert in Vancouver, because Robinson had headed up a group of people who had tried to bring Elvis to the city earlier, but that was put on hold until there was tour nearby. As a result, Robinson got to spend a bit of time with Elvis as well.
"Elvis was just like a guy that I had gone to school with. There was no pretense and no conceit. He wanted to look good, but he had no conceit. He was just like a school buddy. We talked about cars, girls and movies and stuff that young guys talk about. It was humble beginnings for him and for most of us right after the war," he says.
Then there was The Beatles' concert "I had chosen one of my deejays to go do The Beatles show and he came down with mononucleosis, so I went out to do it. I did the press conference and I went out on stage. Before Elvis and The Beatles, nobody rented stadiums. Nobody was big enough, not Sinatra, not Bing Crosby. They played in front of big crowds, but they were usually army bases or something like that. I went up there and I introduced The Beatles. They did a couple of numbers and the crowd was pushing forward to the makeshift stage that was setup. The Chief of Police said to me you have to stop this. Brian Epstein said to me, 'You have never been to an English football game. These people are pushing forward and some of these people are going to get crushed and some are going to die. You have to get up there and say if you don't back off The Beatles are leaving.' I got up there on stage and I waited for the end of a song, before I walked out. As I walked out John Lennon says, 'Get the F%& off of our stage. John and I started talking and I said John look at the foot of the stage, Brian Epstein sent me up here, because the crowd is getting out of control. He said, 'Yeah, they are. Okay carry on mate.' My late son Jeffrey said to me, 'Dad no matter what else you accomplish in life, you will always be remembered as the guy who John Lennon told to F* off the stage.'
When asked if he had ever envisioned a day when he and other radio broadcasters would be selected and honored by the Rock and Roll Hall of Fame, Red Robinson replied, "No and first of all we never thought there would be a hall of fame for Rock and Roll, because I had it thrown at me that it was the evil "n" word music. I had that thrown at me when I was a kid. Imagine taking that. In Canada we are smug and we think that we didn't have those prejudices. In my book Backstage Vancouver, written with Greg Potter (there is a photo) of Louis "Satchmo" Armstrong sitting on his luggage outside a Vancouver hotel, because they wouldn't let him stay there. A lot of us didn't think Rock and Roll would last and if you get hold of my Buddy Holly interview from October of 1957 I asked Buddy, how long do you think Rock and Roll will last? He said, 'Maybe until Christmas, not much after Red.' We were all having a ball and we were enjoying it, but we didn't think that it was going to last. Who would have ever have envisioned a museum and a hall set aside to honor Rock and Roll.
Photos top to bottom: # 1 Red Robinson on air 1955 at CJOR, #2 Red Robinson with Elvis, #3 Red Robinson with Buddy Holly.
T
his interview by Joe Montague published December 17th, 2009 is protected by copyright and is the property of Riveting Riffs Magazine © All Rights Reserved. All photos courtesy of Red Robinson are
protected by copyright ©, All Rights Reserved
This inteview may not be reproduced in print or on the internet or through any other means without the written permission of Riveting Riffs Magazine, All Rights Reserved