Rick Wrigley Envisions a New Golden Age of Radio
Interview by Joe Montague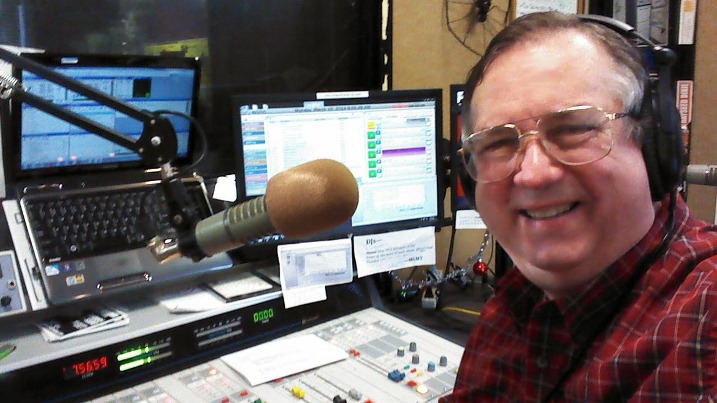 FM radio DJ and internet radio station owner Rick Wrigley is predicting that a new Golden Age in radio is about to dawn and he and his fellow DJs at Our Generation Radio, which has its head office in Columbia, South Carolina, but has DJs in other cities, fully intends to be part of that new defining period in radio. Wrigley, originally from Jacksonville, Florida, has been a radio personality for several decades, getting his start while attending the University of South Carolina, also located in Columbia, where he took to the airwaves at WUSC, now a FM station. In fact, even though Wrigley has appeared on other radio stations over the years, he has returned to WUSC on Wednesday mornings between 9 am and noon, where you can hear him broadcasting his Blues and Soul music radio show. His show can also be heard streaming online.
"I got a chance to learn it all there (while a student), DJ, news reader, Program Director, Chief Announcer, Music Director and Chief Engineer. After college, I was hired as a DJ at WCOS AM / FM. The highlight of the show was doing the Nightbeat Show live from a small radio booth at a local drive-in restaurant right in the middle of the action," says Wrigley.
From WCOS, Wrigley went behind the scenes at WIS television, working as a broadcast engineer, before eventually becoming the chief engineer for WIS Radio. He entered television broadcasting again, this time working for The South Carolina Educational Television Network, which at the time was a major content provider to PBS. He was part of the production team. PBS programs that he worked on included, Nature Scene and the William F. Buckley show Firing Line. Rick Wrigley was later involved in sports broadcasting with ABC, NBC and CBS. Now he finds himself on the leading edge of a new age in radio.
Rick Wrigley is not just a music fan who decided it would be a great hobby to have a two or three hour radio show broadcasting on the internet, Our Generation Radio is on the air 24 hours each day and broadcasting seven days each week and in addition to Wrigley, each of the on air DJs have prior experience in commercial radio and / or as performing artists.
"There have been three Golden Ages of radio and the next one is coming. There have been some articles out there in the trade magazines that are referring to this upcoming age and it will be internet based. We have to get internet radio listeners weaned from their computers. It is almost like the first Golden Age of radio, when in the 1930s (actually began in the 1920s) people listened to radio by sitting around it and staring at the speaker. When I was a kid I did that by listening to the Lone Ranger and programs like that. Now the radio is off to the side and it is on, while you are doing other things. When we can get people used to the idea that they can still listen to the station, while doing other things then we will become very ubiquitous and we will be able to reach out and penetrate the audiences," says Wrigley.
Wrigley sees a lot of similarities to the new Golden Age of radio and the way things once were for terrestrial or if you like, brick and mortar AM and FM radio stations. "The interesting thing to me is this new Golden Age of radio is going to be a lot like the previous ones where we had mom and pop radio stations that existed in the 1950s and 60s, before everything happened that allowed corporate radio to become a reality. The FCC (Federal Communications Commission) allowed the ownership of multiple radio stations in the same market and they allowed more than seven radio stations to be owned by the same company, which was the limit that we had back in the 1960s and the 70s. Now there aren't any limits."
By comparison, Wrigley notes, "Now we have all of these small internet radio stations. It has gone back to mom and pop type of operations. Our Generation Radio is a mom and pop station that is operated by a very small staff of people who are interested in doing this for the love of the music and the love of the experience. It allows them to play the music that they are interested in playing and to appeal to the type of audience that they are interested in appealing to. You will have lots of folks doing this with smaller audiences, operating a lot less expensively than things used to be and it will make for a very rich environment. As a listener you will be able to find your niche and you will be able to find people who are similar in terms of their choice in music. (It is coming back) to where it was in those old days. Each station has a unique experience. It was different. We will bring it back to where it was in those days. Each station had a unique experience. It was different. There were no two stations in the country that were exactly alike. You didn't have corporate giants in Las Vegas or Atlanta or New York, deciding what every radio station in their organizations was going to play. Every one of these radio stations was a little bit different and every one of OGR's DJs' shows is a little bit different. Back in the fifties and the sixties the morning DJ and the afternoon DJ were still playing top forties music, but the mix was not the same. The opportunity to find a DJ that mixes what you want to hear is becoming stronger and stronger (once again on internet radio). It is the opportunity to have that personality out there again. Back in the sixties, a station that I worked in was driven by audience feedback. We had the top forty list and then we had the top twenty request list. The kids would come on and they would request the songs that they wanted to hear. I used to do a show from a drive-in restaurant and the kids would come by with a piece of paper and they would ask for a song to be dedicated to so and so. That is happening in the chat room now, and it is happening on instant messenger and it is happening on facebook. When I am on the air I am on (all three) and I am getting requests. I am mixing the show, as I go along. I don't have a pre-dedicated playlist. I may have a theme that I am going to do, such as today's show which was about (Frankie Valli and) The Four Seasons who were our featured artists, but people are coming in and requesting ELO or some other artists. The beauty of this is it gives your audience the ability to interact with the playlist. That is something that hasn't been around for a long time.
If you look at internet radio there are different approaches, one of which is the person who just likes to provide music and they will get some sort of server software and they will stream songs out to the internet. If people like the songs that they play they will listen and it is basically an automated station. There is not any live activity on the station and there aren't any personalities. The approach that we take is different. We believe in the concept of a live DJ and in fact everyone who is a DJ on OGR has been a live DJ on terrestrial radio or they have been a musician in a band or in some cases they have been both. Don Baker for instance, who is on Sunday evenings has done both. Our intent is to present something that is live and what we feel is missing from radio these days. People listen to or are forced to listen to automated stations that have a very narrow or limited focus on the music that they play. For instance Classic Rock stations play rock music of the seventies, or there are stations that play oldies music, which is fifties, sixties and early seventies stuff. What we did was to look at our audience and then we decided who we wanted to program for and we settled on the Baby Boomers, as being our target audience. After that, we decided that the Baby Boomers don't like only one genre of music, but they do have very definite tastes in all genres. Our approach has been to do a multi-genre station with multi-genre programming, but the common thread that runs through it is this is the type of music that a Baby Boomer would like to hear. It is not just oldies music. We are playing music that was recorded earlier this year. For instance we play Trudie Harris' music and she is an indie artist here in South Carolina where I am located and she sings music that very definitely fits the Baby Boomer's ear. We also play modern artists such as Duffy out of Wales or Adele who is a big soul singer out of England, because it is music that a Baby Boomer would like to hear. That is the measurement that we use, because we feel if a Baby Boomer would like to hear a song, we will put it into our mix. It doesn't have to be a top forties song, because as you and I well know there is a ton of fantastic music out there that fits what the Baby Boomer would like to hear, but it isn't top forties or it isn't oldies. Another example is (singer – songwriter) Sue Leonard's music. Her music is tuned to a Baby Boomer's ears. We play music from the 1950s up to the current day. You will not hear Rap or Heavy Metal head banging music, but you will hear the lighter side of Rock and Roll, but it is not light Rock and Roll."
This past spring Our Generation Radio broadcast live from Columbia's Crawfish Festival and interviewed local Blues artist Drink Small and the Lieutenant Governor of the state of Louisiana. In August the station will be broadcasting a live concert by The Sensational Epics and it is not the first time that Our Generation Radio has broadcast a live concert.
To dispel the myths or carpetbagger (our word not his) practices that exist with some internet radio operators, Rick Wrigley wants you to know that all internet radio stations are required by law to pay royalties through SoundExchange the body that acts on behalf of artists and then distributes them appropriately. In Wrigley's mind any internet radio station that is not abiding by those laws is robbing from the artists. Earlier this year the FCC shut down a host company that was supposed to be paying royalties on behalf of its subscribing internet radio stations, because that company, although it had been billing its radio station subscribers for royalty payments, is alleged to have failed to make the same payments to SoundExchange, so the artists could receive payment for their music.
The future appears bright for internet radio stations such as Our Generation Radio, with auto manufacturers announcing models of cars equipped to receive internet radio signals and portable internet radio devices that can stream internet radio shows provided they are within the range of a Wi-Fi signal. Smart phones can be plugged into car stereo systems as well, so you can listen to your favorite internet DJ. We can envision a time when soon, just like the days when transistor radios and ghetto blasters dotted the beaches, portable internet radios will surface. For DJs like Our Generation's Cassie J. Fox, Gene Lee, Don Baker, DJ Jitar they can hardly wait for that day. Our Generation Radio will be celebrating its third anniversary in October.
This interview with Rick Wrigley was conducted on May 7, 2011
Top Photo: Rick Wrigley on WUSC; Photo 2: Rick Wrigley at WAPE in Jacksonville, Florida, 1968
All Photos courtesy of Rick Wrigley and are protected by copyright © All Rights Reserved.
All text protected by copyright and is the property of Riveting Riffs Magazine © All Rights Reserved. All images are protected by copyright © and belong to the artists and producers, All Rights Reserved