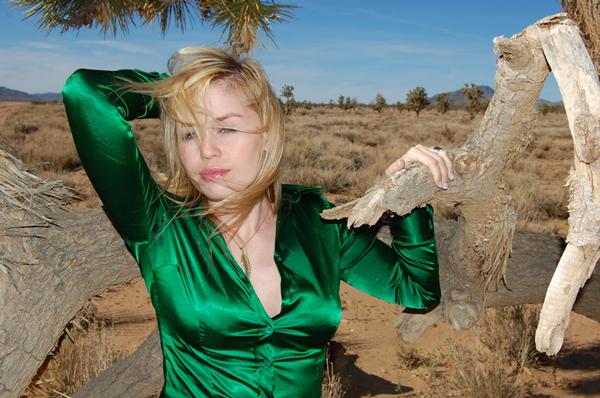 Sofia Talvik is a pop star on the rise. She has already conquered her native Sweden, won the hearts of those at Chicago's Lollapalooza music festival in August of 2008, and in March of 2009 the gifted singer / songwriter, with the breathtaking vocals, will be appearing at SXSW in Austin Texas, followed by an appearance at the Canadian Music Festival in Toronto, Canada.
Talvik, who writes all of her lyrics in English, has received strong radio play on Sweden's radio stations, and recently recorded a mini concert and interview for SR P3, which was aired on November 12th. Her current CD Jonestown is causing quite a stir on the international music scene, with her single, "My James Dean."
"The first single was, "As Summers Pass," and we released it as an experiment, because it is so different, it stands out on the album. We weren't sure if it was going to be a hit in Sweden, so we released it a couple of months early, to try it. I think that, "My James Dean," was a much bigger hit," says Talvik.
What was it about the person of James Dean, who passed away in 1955, that caused the thirty-year-old Swedish chanteuse to write a song that was inspired by him? "James Dean is like an icon for this bad guy type. He rides a motorcycle, he takes off, and you don't know when he is going to show up. He is like a dangerous kind of guy. I think that the lyrics to, "My James Dean," connect to wanting to be swept off your feet, by an exciting dangerous guy. This song is about wishing that your partner would sometimes be that guy. The song is about, this being my mistake, I thought you were my James Dean, but you weren't. That is what the song is about," she explains
Sofia Talvik's songs breathe new life into the pop music scene, at a time, when today's artists seem fixated on adopting a jaded perspective about relationships, and more specifically love. The lyrics of many of today's artists are dominated by syrupy metaphors, which suggest that the masses have not progressed beyond teenage crushes, or the words project an attitude of being jaded, and the songs accomplish nothing more than bashing the singer's former lover. Talvik's songs such as, "Lower Case Letters," takes a decidedly different approach as she tells her lover, that rather than yelling and arguing, they need to listen to what the other is saying, and talk in quieter tones. It is a song about the distance that grows between two individuals and a desire on the singer's part to return to that which once made the relationship special.
"When you are shouting at someone, it is like you are using big letters, and when you talk quietly, it is like you are talking with lower case letters. That is the meaning of the metaphor. Sometimes you just need to speak quietly, when what you really want to do is to scream at someone," she says.
Talvik says, "Lyrics are important to me, when I listen to other artists. The lyrics are what touch me, and make me want to listen more. I think that it is really important to have the lyrics in the foreground, so you can hear what I am singing about all of the time. I guess that is why it (many of her songs) sounds delicate."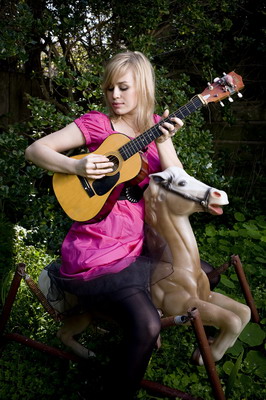 One of those delicate songs is the piano tune, "It's Just Love," a duet which she recorded for her CD Street of Dreams (2007), with noted British musician and producer Bernard Butler. Butler was the guitarist for the British pop group Suede and has played on and / or produced the projects for the Pretenders, Aimee Mann, Duffy and others. He also performed with the Cranberries. Butler was a good choice, because in Talvik's "It's Just Love," you hear melodies reminiscent of the Smiths, a band whose guitarist, Johnny Marr, Butler points to as a person of inspiration.

Commenting on the song, "It's Just Love," Talvik says, "I wrote the song, and when I did, I realized that it was a duet, and that I needed someone to sing it with me. I started thinking about who could sing it with me, and I had all kinds of names popping up in my head. A friend of mine said, 'What about Bernard Butler?' I thought that maybe I should just try asking him, so I sent him an email on myspace. He responded and wanted to hear the song. I had already recorded it here in Stockholm, with a friend of mine at his studio, so I sent over the song, he (Butler) listened to it, and he liked it. He recorded his own vocals in his studio in London and sent them back to me. Last January I released it as the first single from my second album. It was well received and I am very happy with it. I think that he is a wonderful singer. I think that Bernard Butler is a great producer, but we all would like to hear him sing more."

Why did Talvik name one of her songs and her album Jonestown, a tragedy that unfolded the year that Talvik was born? "About a year ago, I saw this documentary on TV about Jonestown and about the cult the Peoples Temple. I was really moved by this documentary. It was very moving to hear the survivors talk about how they experienced Jonestown, and how some of them watched their families die. It was really horrible. It inspired me to write this song about taking the consequences of your own actions and being responsible for your own life. It's about putting your life in someone else's hands, and thinking that it is going to be okay. The song, "Jonestown," comes out of that. It is my favorite song on the album, so I decided to name the album after the song. It is the only song on the album which was recorded live. It is stripped down and simple," says Talvik.

Talvik appeared on SR P3 Live Sessions, before a studio audience, with only two days notice. "It is the biggest radio station in Sweden. I didn't have my band with me, I had to go on all by myself, which was kind of scary, because it is aired all over Sweden and there were a lot of people listening to it. I think that it went okay. My folks were in the audience, which was nice," she says.

For her current CD Jonestown, Sofia Talvik surrounded herself with some splendid musicians and they enhance the orchestral sounds of her arrangements. Joakim Lundgren and Tobias Froberg were responsible for creating the strings arrangements. She was also joined by cellist Christian Horgren, guitarist Marcus Högquist, trombonist Kristoffer Jonsson, and multiple instrumentalists Joakim Lundgren (piano, drums, percussion), as well as, Tobias Froberg (guitar, bass, drums, percussion and keys). Henrik Ekberg appears playing bass on, "Summer Ended Yesterday."

Interview with Joe Montague protected by copyright

©