Eilen Jewell Thinks Cupid Is a Psychopath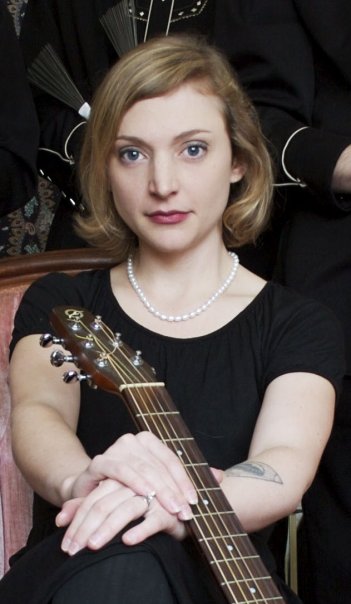 About two-thirds of the way through singer-songwriter Eilen Jewell's outstanding performance at Hugh's Room in Toronto, arguably the city's best midsize music venue, she covered an old Rock 'N' Roll song by Arthur Alexander, "Girl That Radiates That Charm," and the song serves as an apt description of the Boise, Idaho native's on stage presence. On a night that featured numerous instances of spellbinding electric guitar solos by Jerry Miller, the man in the black cowboy hat, solid drumming by Jason Beek and some old time rhythm work on the upright bass courtesy of Johnny Sciascia, it was clearly Ms. Jewell who was the star of this show, with her quirky humor, incredible vocals and her ability to clearly charm her audience.
Dressed in a long sleeveless black dress, Eilen Jewell for most of the night accompanied herself with an acoustic guitar and occasionally played harmonica, while still strumming her six-string. During her almost two hour concert, she played songs from her albums, Boundary County (2006),Letters From Sinners & Strangers (2007), Sea Of Tears (2009), Butcher Holler: A Tribute To Loretta Lynn (2010), the new album Queen of the Minor Key, and her 2008 side project, The Sacred Shakers, a Gospel album.
Eilen Jewell opened the evening with the slow, meandering "Only One," a somewhat brokenhearted lament and then she introduced the more up-tempo "Warning Signs," also from the new album, as "a creepy little number that I wrote." The lyrics have a bite to them and theme is about a guy who is cheating on his woman and she characterizes him as "evil," telling him to hit the road.
Things then got really funny or bizarre, depending upon your perspective. While introducing the sassy "Bang Bang Bang," she said, "I want to tell the truth about Cupid one city at a time. Cupid comes across as a cute little cherub and he is sweet, but the truth is he is a psychopath. I've seen him in action."
"Bang Bang Bang," is a fun quick tempo song and one that obviously Ms. Jewell has fun with while performing. It was still early in the evening, but already she had her audience falling in love with her, as she easily engaged them, using a naïve, innocent type of humor, but always with an element of quirkiness.
Eilen Jewell's versatility as a singer is one of her strengths. She is able to twang Loretta Lynn's "Deep As Your Pocket," a song that warns men to watch out for certain women who just want to use you for your money and a surprising response from one woman in the audience, became a recurrent theme for Eilen Jewell, as she kibitzed with her fans throughout her performance. Using a capo on her guitar she honkytonked "Heartache Boulevard," she performed the drinking song "High Shelf Booze," after telling a funny story about sausage smoothies (buy a ticket to her concerts to get the rest of the story). She became Bluesy with her rendition of Billie Holiday's "Fine and Mellow," a tune whose lyrics condemn a man who leaves his woman feeling lonely and unloved. This song was one of the highlights of the evening, as it was easy to become lost in Eilen Jewell's emotive vocals. There was what she describes as a honkytonk waltz, "Reckless," Reverend Gary Davis' Gospel song "Twelve Gates to the City," and the Fats Domino inspired "Fading Memory."
She rocked the house with her 2009 title track "Sea Of Tears," counted in by drummer Jason Beek and introduced with the clash of a cymbal. Eilen Jewell danced around the stage with maracas in her hands, as her band covered Chad Allan and the Expressions' "Shakin' All Over," originally written and recorded by Johnny Kidd and the Pirates (editor's note: Chad Allan and the Expressions later became The Guess Who).
For her encore Eilen Jewell performed the title song from her new album Queen of the Minor Key, a song in which the musicians pack a bit of a punch. As encores go, most of them are planned and this one may well have been as well, but even if it was not, there would have been no denying this crowd standing on their feet and demanding to hear one more song by the lady from Boise, Idaho, who on this evening charmed her way into their hearts.
Riveting Riffs Magazine would like to thank Hugh's Room for making it possible for us to review this concert. Please visit the Eilen Jewell website.
Reviewed by Joe Montague
This review is protected by copyright © and may not be reproduced in print or on the internet or through any other means without the written permission of Riveting Riffs Magazine, All Rights Reserved