The Other Side Of Nashville - Things You Did Not Know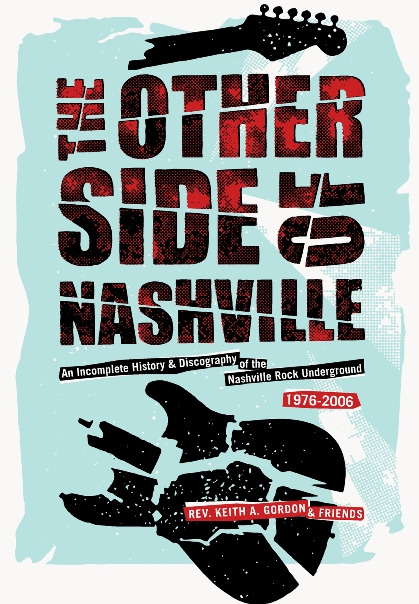 For every singer, songwriter or band that "made it" in the music business there are dozens more, who often were just as talented and did not "make it." Sometimes it has to do with the individual (s), but a lot of the time it has to with not having lady luck on one's side, timing, lack of good management and not having sufficient financial resources to sustain the long journey to becoming a more established artist. Nashville, Tennessee, has become synonymous since the early part of the 20th century, with what would eventually become Country music and also with Gospel music and seldom has attention been paid to the other genres of music that have been played live and recorded in Nashville, that is until now. Released during the month of October (2012) The Other Side of Nashville, An Incomplete History & Discography of the Nashville Rock Underground, 1976 – 2006, is a 619 page comprehensive guide to what we will refer to in this space, as the alternative music scene in Nashville. Officially the authorship of this book is credited to Rev. Keith A. Gordon (not a man of the cloth) & Friends. Mr. Gordon is however the primary author and the one to whom the music community owes a debt for his desire to see this story told. He would also be the first to tell you that he is not one to mince his words and he never has been during his writing career, which has spanned several decades and included numerous publications, including some that he has owned. He has also acknowledged that many people made this project possible, including those who contributed financially to the project and those who contributed their writing and photos.
Keith Gordon's musical journey or shall we say his journey as a music journalist began in a similar fashion to William Miller, the fifteen year old character in Cameron Crowe's 2000 feature film Almost Famous. "I was interested in music as a kid when I was eight or nine years old and by the time I was twelve, I figured out that people actually wrote about music. I started picking up magazines like Rolling Stone and Creem and Crawdaddy and I published my first publication at the age of twelve, in 1969. I lived in Erie, Pennsylvania at the time and the local newspaper went on strike, so I made a six page newspaper and I called it the Erie Monopoly, Erie's best newspaper, because it was Erie's only newspaper. There were six pages, all hand done and I did maybe a dozen copies or so to be handed out to friends and to my teacher. That was my first publishing thing and from then it just spiraled out of control (he laughs)."
Interestingly enough, Keith Gordon penned his first article for another magazine when he was fifteen years old, the same age as William Miller in Almost Famous.
Although the title of the book suggests that the sole focus is Rock music's history in Nashville, the content expands far beyond those borders. "Nashville is known to most people as the home of Country Music and through the years, as a music writer out of Nashville, I had to combat this whole hee haw image that people had (of the people of Nashville). I had a well-known editor from the nineties jokingly ask me; do you all wear shoes down there? (he mimics her laugh)…yes we wear shoes, we learned how to do that back in the sixties. (he recalls, saying) Nashville was a growing city at the time and that I had that question posed to me… (it still irks him). There were people that were well known out of Nashville, like Jason & the Scorchers (also known as Jason & the Nashville Scorchers) who had performed on a world stage, so why did they think we were a bunch of country bumpkins sitting in a corn field somewhere? That is something we had to deal with and as a writer it was particularly vexing for me," he says, while noting that he lived in Nashville for almost thirty years.
The reason that I picked 1976 as the jumping off point (for the book) is because that is when a musician named R. Stevie Moore, who was born and raised in Nashville released his first album called Phonography. We have a rather in-depth essay about the album written by a friend of mine, Nuno Monteiro, who is also a friend to Stevie. R. Stevie Moore. Phonography is what I consider to be the first shot in the Nashville Rock scene. There were guys who wanted to play original Rock music and it just didn't go over (in Nashville). There weren't a whole lot of venues in Nashville for original music at that point. You played top thirty covers or you played Country or you didn't play much at all.
R. Stevie Moore is probably best-known to underground music fans as a guy who had his own cassette club for a long time and he would advertise in the back of Trouser Press magazine. He would sell cassettes of his music and as a matter of fact we reproduced one of those ads for the book. Trouser Press was a really cool New Wave publication that ran from the late seventies thru the late eighties. It was published by Ira Robbins who also published several books including The Trouser Press Record Guide. Trouser Press introduced us to a lot of bands that were coming over from England, XTC (New Wave, 1975 – 2005), The Jam (Punk, New Wave, Mod Revival, 1970s / 1980s), and bands like that.
R. Stevie Moore released his album and it didn't do much in town, because it was quirky, intelligent and a Rock album that was completely out of place and out of time. Nothing ever happened with it, so he left town. He just moved back to Nashville a couple of years ago. He is still making music and he is pretty well-known. He has pockets of fans in France and other countries in Europe," he says.
Although Moore's album did not set the world on fire, Mr. Gordon feels that it did inspire other artists in and around Nashville to follow in his tracks.
"Phranks 'N Steins was the place for new bands to play during the seventies and the eighties in Nashville. There wasn't anywhere else that would book original music at the time and that is where Folks artists like Dave Olney (moved to Nashville in 1973) got his start. Dave Olney and his band the X-Rays were one of the early (non-Country) bands in Nashville (editor's note: Dave Olney's songs have been recorded by Emmylou Harris, Steve Earle, Johnny Cash, Linda Ronstadt)," he says.
Some of the other artists and bands discussed in The Other Side of Nashville, are Steve Anderson who founded the band Actuel, Tommy Womack and Dave Willie and Jet Black Factory. Keith Gordon remembers the seventies and eighties as a time for that part of the Nashville music scene which fell outside of the Country and Gospel boundaries, as being a period that these genres gained momentum. It was however, not without its challenges.
Keith Gordon recalls the resistance that Rock, Punk, New Wave and other types of artists received in Nashville. "They hated it, to put it quite simply. Country Music started in Nashville in the fifties when major record labels started to open their offices in (the city). In the late fifties and early sixties the recording studios started to open. RCA opened their studios and they were recording Country stars and they were bringing in people. Elvis came from Memphis into Nashville to record. By the late sixties, the Country Music community was pretty well entrenched. That was about the time that the Gospel community really began to take hold in Nashville, because all of these studios and all of these labels ended up having smaller subsidiary labels that would release the Gospel music. It became Contemporary Christian Music or what they call CCM. That whole scene blossomed, so by the time that the Rock scene started in the late seventies and early eighties both Country and Gospel was pretty well entrenched in Nashville. They just hated it, especially Jason and The Scorchers, who took Country Music and added a Punk attitude to it, with Rock guitars and Rock drumbeats. Clubs had trouble booking certain bands. In Nashville clubs were closed down. Some clubs were barely even open. The city would find different zoning problems with their codes. One thing that you have to realize about Nashville is it is the home of the Southern Baptist Convention and the United Methodists are located in Nashville. Religion is huge in Nashville. People used to call it the buckle of the Bible belt. More than a few bands had trouble with churches preaching out against them or local ministers trying to close them down or close down clubs, because of the bands. There was a Punk band called Rednecks In Pain that was very satirical and over the top and it was fronted by a guy named Donnie Kendall (also played bass), who was a great guy, but with a really wicked sense of humor. A lot of what the band did was tongue and cheek, but the local churches took exception to it. It was a combination of pressure from the churches and the city using codes, violations and zoning ordinances to keep them from doing things. (With one club) they said they didn't have enough parking spaces and they would put such financial burdens on some of these venues that it was difficult for them to keep going."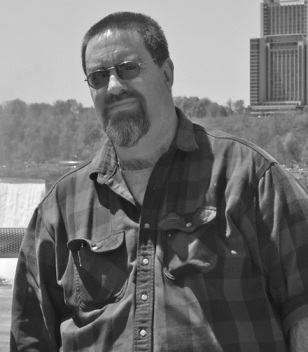 Mr. Gordon also makes the point that often when a main act booked as its opening act one of the bands that colored outside the musical lines of the traditional Nashville scene that they too encountered problems down the road. He says though, that by the late 1980s most of the shenanigans from the special interest groups had calmed down.
Keith Gordon who now lives in upper New York State considers himself to have been and to an extent remains a somewhat controversial figure during the thirty years he spent living in Nashville and writing for publications such as The Metro music magazine. Ironically, even though he has championed music genres other than Country Music, it was his outspoken piece concerning a Country Music figure that may have garnered him the most attention.
"In one way I was controversial, because I would challenge the status quo in the Country Music industry. One of the sticking points was there was an African American musician by the name of DeFord Bailey and he was the very first performer and the first star of the Grand Ole Opry radio program (November 28th, 1925) and then the weekly shows that they do in Nashville. He was a popular performer into the twenties and into the thirties, even though he was African American (with the racial prejudice that existed at the time). People would hear him on the radio and then they would go and hear him play at a country fair or something and they would say, 'We didn't know he was black.' They were just into the music. He was a harmonica player. He did some great old stuff, the Blues tradition and he would Country it up a little bit and put a twang in there. He wasn't in the Country Music Hall of Fame, so I did a big cover story for one of the publications that I wrote for, Bone Magazine. We raised a lot of Cain about why he wasn't in the Country Music Hall of Fame. People like Roy Acuff and Bill Monroe, well-known Country Music and Bluegrass legends were (already) in the Hall of Fame and they both got their start opening for DeFord Bailey. The Country Music industry doesn't like to be challenged and in particular for their perceived bias against an African American performer (editor's note: this is in the opinion of Keith Gordon). In 2006, BigO magazine in Singapore took the DeFord Bailey piece that I had written ten years earlier and they put it on their website and you know how things go on the internet. In that part of the world it went viral. In Australia, where there are a lot of huge Country Music fans, they started printing off the DeFord Bailey article of mine that the Country Music Hall of Fame had forgotten all about. They had swept it under the rug. All of a sudden they started getting all of these calls at the Country Music Hall of Fame. A couple of years later, DeFord Bailey was inducted into the Country Music Hall of Fame and it was not really because of anything that I did, because I had taken my shot and failed. It was because of the fans in Australia."
Keith Gordon's book The Other Side of Nashville An Incomplete History & Discography of the Nashville Rock Underground 1976 – 2006 contains 550 photos (all in black and white), some interviews, accounts of some more well-known artists such as The Kings of Leon and Steve Earle and serves as a resource for those wishing to know more about the development of other genres of music in Nashville, other than Country Music and Gospel music. You can purchase the book here.
Reviewed by Joe Montague
This interview is protected by copyright © and may not be reproduced in print or on the internet or through any other means without the written permission of Riveting Riffs Magazine, All Rights Reserved