Some people when you encounter them you just get this sense they are standing on the precipice of greatness. It has not quite arrived yet, but all the signs are there, your artform, whatever it may be and in this case with Canadian screenwriter and director Akash Sherman it is his internationally and critically acclaimed film. You have significant peers, who only seems like yesterday were not your peers, seeking you out for collaborations and you have two television and film stars who heap praise upon you after working with you.
As much as the entertainment industry is filled with stories of successful performing artists who grew up in places like Los Angeles, New York City and Nashville, there are an equal number of fabulous stories of artists who grew up in obscure places, not obscure, because they were unimportant, but more because one does not think of those towns, cities and villages, as an incubator for creatives. Edmonton, Alberta, Canada is one of those cities and this writer says that with warmth and sincerity, as it is still the city considered to be my hometown, even though I was born in Toronto.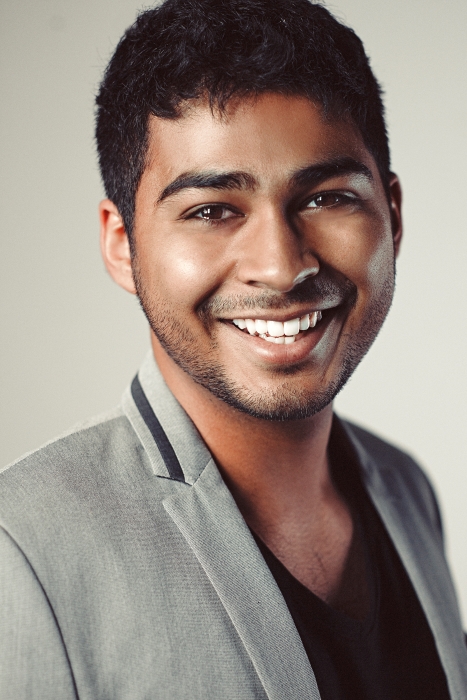 Akash Sherman, whose father and sister are both doctors and whose mother is a pharmacist, one might have assumed would have been headed for more of an academic career, in a cold, northern city, far removed from Canada's two Hollywood North cities, Vancouver and Toronto and where minus thirty and minus forty degrees Celsius temperatures keep most people indoors, unless you ski or snowboard. However, for the director and screenwriter of the feature film Clara, which is experiencing a renaissance on streaming platforms, and has been warmly embraced by mainstream audiences and the science community worldwide, alas, it seems all but in Canada, fascination with film started as a young child. This is where our story begins.
Akash recalls his early influences, "When I was young and my parents were busy and / or working they would plop my sister and I down in front of the TV. We would watch the Disney animated movies. For me the original Star Wars trilogy on VHS was pretty formative. It is a tale that is often told by filmmakers of my generation and other generations above me. Star Wars opened up so many doors in people's minds and made us think that anything is possible. As a young kid I was pretty entranced by what was possible.
Fast forward a few years to the age of ten (we should mention he still is only twenty-seven), I picked up my mom's digital point and shoot camera and I would play with Lego to create stop motion videos. I guess at age ten or eleven I was already making little movies in stop motion with Lego and Playmobile. Stop motion is taking multiple pictures of little figurines and moving them frame by frame and inch by inch, so that they are moving once you play all of the images back. What is amazing about stop motion is it exercises the muscles of the director of blocking for actors. You are pretty well controlling every frame. As a child that was the best exercise that I could have done.
I let my imagination run wild and it got me associated with the inevitable skillsets and toolsets of editing, having music and packaging a little child's dream into a video that can be shared. It is very much how I grew up." (Editor's note: it is not exactly the same as Claymation, which readers may be familiar with, but it is similar.)
A budding track star in his teens, who had to unfortunately give up that dream due to some health issues, Akash Sherman attended Strathcona High School.
He says, "There is Old Strathcona and then there is Strathcona. Old Strathcona is for the geniuses (he starts to laugh and says) I didn't even bother applying there. Then there is Strathcona, which we just called Scona. It is very renowned for its track and field team, which I was very interested in. I was a track runner, which is why I went there. I picked that high school, because they had a video class, which the other high schools did not have. I went to Scona specifically for track and field and that video class.
My teacher Mark Goodchild took a shine to me and he really encouraged me. I barely spent much time in the class. I would go home and edit on my computer at home, because I took it so seriously. For the actual class there were not a lot of tools at our disposal, but I had already accrued a lot of tools at my own house. I had been making videos from the age of ten or eleven and I made them throughout junior high, so when I got to high school, I used the class and the assignments, as a strict schedule for me to launch new projects.
The class in a way changed my life. The final assignment was to make a proper short film if you could. I had one written and planned, but then my paternal grandfather passed away. This is where I think I really was shaped as a storyteller. I wrote the story to infuse the feelings of loss. It is a dream sequence of a boy who loses a toy and he meets different iterations of himself and they represent the five stages of grief. At the end of the film, you realize that he didn't lose a toy, but he lost a person. My teacher said you need to submit this to film festivals. I did. It screened at the Edmonton International Film Festival and I think it played at a film festival in Michigan, which is where they do talent scouting of young filmmakers. I must have given them the wrong email address or something like that, because I never heard back from them. In the mail this MacBook Pro arrived and a scholarship. I apparently won that festival as the Best of Fest.
That really solidified for me that I had some sort of path. That MacBook Pro, which I used until a few years ago is what I used for a lot of my editing. That video as underwhelming as it was changed the course of my life, I think.
The film did pretty well at the film festival in Edmonton. At the end the whole theater was in tears. Storytelling has a very profound impact on people. My father frowned on the hobby of filmmaking for me, because it distracted from school and all that, but it was his father that I made that short film about. He (my father) was weeping in the theater and he didn't know that I had made that for grandpa. That short film pretty well launched everything for me, in terms of understanding why I am here."
After high school, Akash Sherman moved from Edmonton to Canada's largest city Toronto, and the most densely populated part of the country, quite a change from the greater Edmonton area, which has a population of about 1.2 million people. He enrolled in the film school at Toronto Metropolitan University formerly known as Ryerson University.
"At the time and this may still be the case it was the most prestigious program in the country. Ryerson was a full degree. It was highly competitive. I think they only accepted sixty people per year (into the visual arts program). It attracted me, especially at that time in my life, because I craved competition. I was in the midst of a Bachelor of Education at the University of Alberta. I majored in social studies and minored in French, which I enjoyed, while I was there, but I knew that wasn't what I really, truly wanted to do. My parents (he laughs lightly) wanted me to get a normal degree. It would have given me the ability to teach later on if I wanted to. They gave me their blessing to do film, if I was to do a degree.
The visual arts program was the shining jewel for visual artists. Also, the prospects of moving to the biggest city in the country, when you come from a much smaller city like Edmonton that was a leap to start my young life. I guess in America it would be Hollywood. In Canada it's Toronto or Vancouver, but I think Toronto was better suited to what I needed at that point. The prospect of moving to Toronto and studying at Ryerson was the end of the first act. It was also the beginning of act two in my life," he says.
In January of 2015 at the wise old age of eighteen (obviously stated with tongue firmly planted in cheek), Akash Sherman came up with an idea that would eventually blossom into the film Clara.
He recalls, "When I was eighteen there was this film accelerator and the competition culminated at the Banff World Media Festival in Alberta. If you won the competition, you would receive one million dollars to make the movie and a guaranteed Cineplex Odeon release. My friends and I applied and we went through nine or ten weeks of rigorous applications, gatherings and social media followings.
The top five (selections) got to pitch their (film) to five hundred producers. Even if you didn't win the top prize, you were still pitching your idea in front of all of these people. The exposure alone was pretty much unprecedented. Even at film school, the networking at university was nothing compared to this. It was pretty amazing, because we were just these kids from Edmonton. It was a golden ticket. When we pitched our film, the producers loved it. We ended up not winning, which in hindsight I think was the best thing. As an eighteen-year-old you don't want too much success too quickly. The opportunity to network was really where the meat was. That is when I met Ari and Robert Lantos (editor's note: Robert is the father). They were very effusive about the project and my team. Ari gave me his business card and his advice was move to Toronto if you want to be a filmmaker. I kept that business card (he laughs lightly) in a box of prized possessions for two years and then I pulled it out in February of 2015."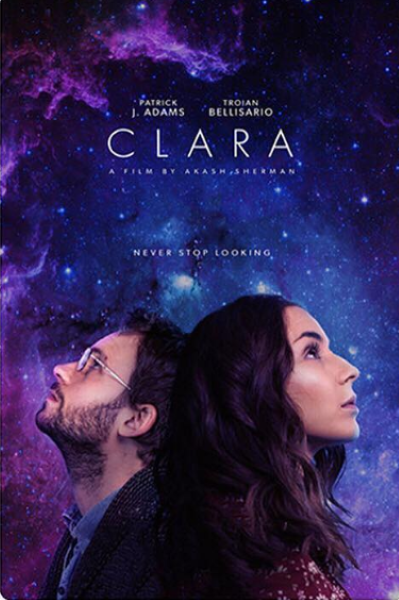 It is often said of creative writers, write what you know, so we wondered how much did Akash Sherman understand about the university, the great cosmos, prior to writing the screenplay for Clara? Afterall, this is a story with the twin themes of finding other life in the universe and the personal journeys of the two central characters, Dr. Isaac Bruno and Clara.
"I actually became an amateur astronomer, while writing Clara. I knew very little when the idea first struck me. I think the original spark for the idea was an affinity for space and what might be out there. That captures my creative soul. What could be out there? It is so infinite and beyond comprehension. That is something that everyone wonders at some point in their life. We have a natural built-in tendency to look up at the sky and to wonder. That was easily the propellant for where this idea came from.
Becoming an amateur astronomer was a side effect of having to do all of this research and realizing where my initial ideas went wrong," he says laughing.
There is a scene in the film and we will paraphrase it here, where Clara looks at Isaac Bruno and tells him there has not been a single day of her life when she has not wondered if something else is out there and then asks, haven't you?
"It is interesting that when I was writing that scene and workshopping it with both Patrick J Adams and Ari that is the jump in this scene where these two characters need to bond. The second that Clara says that, despite not being qualified for the job (as his assistant) that is the common denominator between these two people and I would say with pretty much everyone on the planet, but specifically with what he wanted to achieve. They both want to achieve increasing our capacity for wonder by looking up.
At the end of the day that is what the movie is truly about, human connection and how we grapple with that in pretty much every way, while people are present, when they are gone and we lose them. The film works, I think, because of these two people who are pretty much polar opposites. They would not truly be friends or in the same circles at all and yet they bonded over this human keystone of our spirits, which is not wanting to be alone in the vast cosmos and in life itself. That is what the movie really hinges on, this bond between these two people. I think when I was writing it, it was the left and the right side of my brain working together. Deep inside of me there is a highly, pessimistic, critical thinker who might look at all the facts and data and get weighed down by them. On the other hand, there is this young, spirited dreamer. I guess my life is always a conversation between both sides of my brain. I really wanted to represent that in these two characters," he explains.
How did Troian Bellisario and Patrick J. Adams become involved with the film?
"That was a pure instance of serendipity, getting these two fabulous actors. I had been a fan of the show Suits (Patrick J. Adams starred in Suits) for quite a while. When I moved to Toronto, I was blown away that they were shooting Suits in Toronto. You could find on Twitter where they were shooting and you would go downtown and watch them shooting on location. I was very much a fan of the show and a fan of Patrick. I had put together a dream list and he was at the top. Ari Lantos said, you know what, he is from Toronto and I went to high school with him. That is pretty much how we made that connection. We were able to bypass all the red tape surrounded by agents and all of that kind of stuff. We were able to get in contact with Patrick quite quickly and he read the script. Immediately we had a call with him. He had a ton of thoughts and ideas of how to improve the character from my original script. Immediately there was this kinship and the wheels were turning between the two of us. Patrick came on as a key creative. When I wrote the scenes and the dialogue, I always wanted his input.
At the time I didn't know about Troian Bellisario and I hadn't watched Pretty Little Liars (in which she starred). Patrick said my fiancé (before they were married) is also a writer and it would really help to get her opinion on this. Troian was pretty much a new friend that I made. She had amazing notes and thoughts on the script. At that point I don't think there was even an inkling of we should get her to play Clara. Then I started to watch a lot of her material. As I hung out with her a lot more, what really coalesced was how much like Clara she was. In many ways she was also a lot like Isaac, very logical and very intelligent in so many ways. There was (also) this Bohemian shine to her. I came to this epiphany, while we were out drinking Kombucha and I just asked her directly, do you want to play Clara? What are you doing next spring? She had just finished her show Pretty Little Liars and she said, well I am getting married to Patrick. It just all kind of worked out. We walked to the Suits set and told Patrick. I was friends with them for over a year, before we even shot.
I think what really made the film work is we had these two brilliant actors who already dear friends of mine at the time of shooting and we trusted each other and worked as a family unit," says Akash Sherman.
With the exception of Troian Bellisario almost everyone else involved with the film Clara is Canadian, which makes it even more perplexing why in both film industry circles and among critics in Canada it was either panned or simply ignored, while once again, being warmly embraced on the international scene.
"I do want to speak to the Canadian blood within this film. I also find it really interesting because it wasn't really embraced as a Canadian film within Canada. If anything, it was the Americans, agents and producers who were much more effusive than the Canadian industry. I think it is because the Canadian identity of the film is very much in the ingredients, but it doesn't present itself as a Canadian film. It is just a film that can transcend both borders.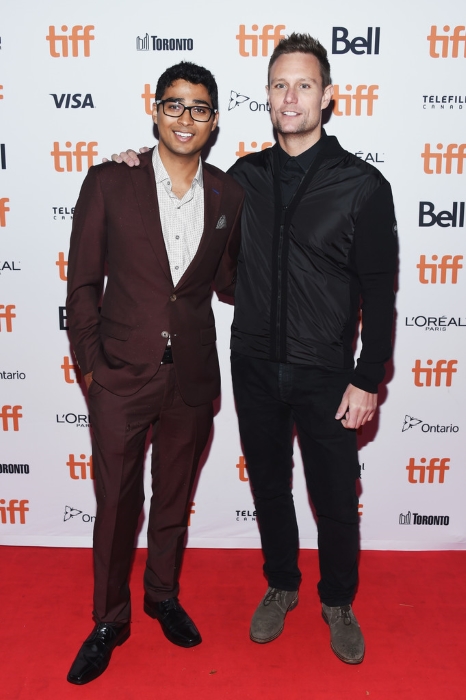 At TIFF (Toronto International Film Festival) we really didn't have the hot topic social issues that many films did, but we had this film about these two people who look up at space. It is interesting we never really penetrated the Canadian zeitgeist with this film. It is everywhere in the film. With the exception of Troian, it is pretty well entirely Canadian. We had who I consider to be Canadian royalty with (actor) R.H. Thomson.
Kristen Hager plays Rebecca and Ennis Esmer plays Charlie and both of them are fantastic actors. Ari had worked with Kristen Hager before on a movie The Right Kind of Wrong. I watched a lot of her work and I thought she was phenomenal. I had seen a few things with Ennis Esmer, but when we talked, he encapsulated who that character was. We got really lucky. Ennis is hilarious. There is a lot of ad lib in the film with his lines and his deliveries always make me laugh. I think he can easily be typecast as the funny man and I was worried about that, because I didn't want this character to just be the funny friend. He brought a lot of gravitas to the role.
There are scenes when the supporting characters inform the scene and inform the story. There is a scene when Isaac walks off from the pub and I just held on Ennis' look of seeing his friend in this utter rock bottom state and I wanted to hold on his eyes. That is when you get additional character development everywhere. You see your main characters through the eyes of your supporting characters. I really do love the character of Charlie. That character's frustration and sunken heart at seeing his brilliant friend in this position. Also, he is about to be a father, which is the main trigger for Isaac. They remain friends, as their lives take them in different directions. I think Charlie is a key component of the story. Whenever I watch the story again, I think wow, I don't think the story works without him," he says.
We wondered how the lack of recognition in Canada for the film Clara affected Akash Sherman.
"That experience really shaped me, because the amount of people around the world that I have now met, just because they reach out and tell me how the film made them feel or (they share) their ideas about the ending. I have friends all around the planet now and that is what I truly wanted for this film. It was never supposed to be just a Canadian movie in the limiting sense of the word. There is, however, so much Canadian vigor behind it. It was disheartening to see the (reaction of) Canadian critics and I felt it was a little overlooked. We weren't even considered for the CSAs (Canadian Screen Awards). That hurt, because there are performances in the film that I am so proud of and I would like to have seen more recognition in Canada. We won awards overseas and, in the U.S., so I can't complain, because that is amazing. I wish we had a stronger reception in my home country," he says.
As for the renaissance that the film is now experiencing Akash Sherman shares his thoughts, and attributes it to distribution through streaming platforms, "I remember when it came out I would tell people you can rent it on iTunes or you can rent it here, but I don't think there was much impetus for people to go ahead and do that. I think I am one of the only weirdos left who rents movies. When it shows up on something like Netflix it is so easy to click and watch it. It is the availability of that and I am quite grateful to the streaming services that Indie films have a chance to be seen."
A pleasant surprise has been how much support the film Clara received from the scientific community.
"As for the science behind the film, I did my own research, but once we brought actual astronomers into the fold, so much started to reveal itself. I wanted to set this film in the world of NASA and the forefront of astronomy. It was really cool that we got to talk to (the people) with the TESS telescope and the James Webb Telescope years before they came out. Now the James Webb is in space and it is the new Hubble. Everyone is sharing pictures. It is sharing a lot of stuff that couldn't be seen before.
For a movie to support two NASA telescopes was really interesting. I now have made quite a few friends at NASA.
I won't say who the person is, but I will say one of the heads of the TESS telescope saw the film and we are now very dear friends. That was a full circle moment for me. To have the people who inspired your work watch your film is wow," he says.
Even the special effects used in the film echo authenticity.
Akash Sherman explains, "It is an independent film and we didn't have that big of a budget. I have been a video effects artist by trade since I was seventeen or eighteen. I had a very specific vision for how I wanted things to look. I will say if things look really pretty it is not because of heavy use of CGI. It is because those are real images. Those are all public domain images of stars and nebulae. They were high resolution images taken by Hubble and the Solar Dynamics Observatory. Those were all real images and I enhanced them. I was working with the universe's canvas."
In recent years, especially during the pandemic Akash Sherman turned some of his attention to directing and producing music videos, as the film industry ground to a halt for two years.
"Since Clara I have written multiple feature screenplays. Now I am entering into the world of the film industry where you will be hired to write screenplays. Some of them will never get made. I was pitching a film in Hollywood that gained a fair amount of momentum. However, it had a bit of a viral, pandemic element to it. I was pitching it in 2019 and then I took a break at Christmas. I was going to go back in the spring to shake some hands and close some deals and then the pandemic happened. I think it was agreed by all parties that by the time this movie would be made no one would have an appetite for the word pandemic. That was interesting, because the film predicted a lot that would happen. That was going to be my sophomore film, but it is in a different timeline now.
I am working on new scripts, a TV pilot and another Sci-Fi. This is where I will give some hints. It is very much a spiritual successor to Clara. It is another space-oriented movie and my collaborator is someone very high up at a space agency. I met the (individual) soon after that person had seen the film. We met up on LinkedIn. We have been friends for three years now and we are pinning it together. That is a dream come true, because this person has been an inspiration for me. After making a film like Clara to have the opportunity to write with someone whose life work is expanding our knowledge of everything… (his voice trails off). It is another educational journey for me. Every question that I have can be answered in some way by someone who is so well-versed in astrophysics and astronomy. During the pandemic I still got to go to space in my mind again.
The two types of people I come in contact with through the film Clara are space lovers and people who have lost other people. That is something that bonds us. It has been heartwarming to see this story provide some kind of positive remedy for the hurt (that goes with loss). That has been the gas in my fuel tank during the last two pandemic years," he says.
As our conversation winds down, Akash Sherman shares this thought with us, his name Akash in Sanskrit literally means sky / universe.
Then he adds an anecdote, "A lot of Mayan astronomy was written in the Akashic records. It also had that whole Doomsday thing, with December 21st, 2012, being the end of the world, which was my 18th birthday. There are a lot of little weird cosmic coincidences going on there. (laughing he says) We had a nice end of the world celebration on that day."
You can watch the trailer for the film Clara here. We think you should watch this film, because not only will it change the way you think about the universe, but it will change the way you think about life.
Top photo on the set of Clara, bottom photo Akash Sherman with producer Ari Lantos
#AkashSherman #FilmDirector #AkashShermanScreenwriter #RivetingRiffs #RivetingRiffsMagazine #FilmInterviews #EntrevistaPelicula #EntrevistaDirectores #EntrevistaCine #EntrevistaDirectores #CanadianFilmDirector #AriLantosProducer
This interview by Joe Montague published October 31st, 2022 is protected by copyright © and is the property of Riveting Riffs Magazine All Rights Reserved. All photos are the the property
of Akash Sherman
unless otherwise noted and
all are
protected by copyright © All Rights Reserved.
This interview may not be reproduced in print or on the internet or through any other means without the written permission of Riveting Riffs Magazine.