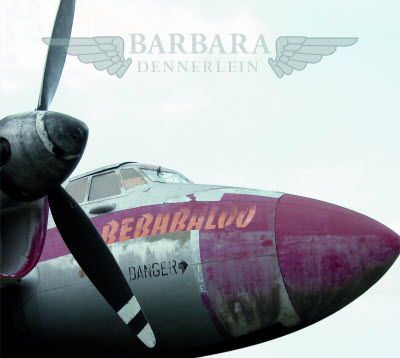 The album BEBABALOO also represents the first time that Barbara Dennerlein produced an album entirely by herself. "This is the first time that I had a studio in my house. For the last two CDs Change of Pace, with the orchestral philharmonic and the one with a pipe organ, Spiritual Movement No. 2, I did the editing by myself, but this time it is the first time that I did the mixing by myself. This is something that was very important for me. It was a risk for me, because I was not sure how I would be with the technique, as I had never really done that before with a band. I had (edited) my own music, which was just the organ and the synthesizer, but this time I had the drum set, saxophone, the organ synthesizer and my sampled bass sound. I'm so happy, as the sound is as I wished to have the sound, especially the organ. I don't think I ever (before) had the organ sound exactly as I hear it on stage and as I like it. Of course, when you are a musician you are working for a lifetime to have your own sound. It is also important not only to play your sound; you also want to have it on your recordings. Now I had the possibility to sit down and to turn the equalizers and to hear the organ sound as I really love to hear it. I learned a lot about how a drum and saxophone can sound, so this was a great experience for me. Some very well known technicians listened to the CD and they told me that it is very well recorded and mixed. That encouraged me, of course, so the chances are that I might do this again."
Barbara Dennerlein has demonstrated great musical dexterity throughout her career and that comes to the fore on BEBABALOO, as the influences of swing, Bach, boogie, bop, post bop and blues are evidenced in her songs.
"When I started playing the organ I started with playing swing standards and then I played a lot of bop tunes. I played Bach tunes and then I covered a lot of Latin things such as Bossa Novas and those grooves. Later funk and rock and everything came and was added to my music in a way. Rhythmically there are so many grooves that you can play. It is amazing. For me it is always a challenge to find new ideas about grooves, which I can play with my foot pedal technique, playing the bass lines with my feet, which of course is not so easy. You have to learn to be independent with your legs and with your hands," says Ms. Dennerlein.
Continuing along the same line, she explains, "I was always interested in the possibilities, to explore and to challenge myself, to learn more and to figure out what I can do with bass lines, and grooves. I also love odd meters. For example in "Cleo," (the 6th track) there are some 5/4 bars, 3 / 4 and 4/4 bars. It is so interesting, because for me, my music has to have a lot of tension. It has to be to be like a film or like a roundtrip. There have to be so many colors and things, which are all my music. The elements which keep everything together are my sound, my kind of playing and my kind of composing and my arranging. I want to tell a story in a concert and I want to give people different feelings, so that it is never boring."
Barbara Dennerlein certainly is giving her audience different feelings these days with her song "Organ Boogie," which originated within a conversation that she had with a fan a two years ago after performing in concert.
"Sometimes my songs are simple, like Blues, so they give you a lot of freedom. I also have songs which are very complex with complicated harmonies, so I think it is interesting to have fun songs like "Organ Boogie," on the one hand and then also having those really more serious songs that take more from the listener. The "Organ Boogie," was actually a wish from a woman who was at one of my concerts a couple of years ago. She asked me if I thought I could play a boogie on the organ. I said I didn't know, because a boogie is not something that is typical for the organ, because it is more a piece which has to be played on the piano, because you need this left hand figure going on. I thought about how I could adapt this to the organ, because I don't have a piano and I thought about how I can make this an accompanying line, which is so essential for a boogie. I got this idea of playing the accompaniment on the piano, just with my left foot. I had to practice that of course. It has turned out to be very nice. I presented it in public on stage and people enjoyed it very much. That is how my boogie got started," she says.
Barbara Dennerlein, one of the music world's most creative and intelligent composers, and arguably the best jazz organist today, is doing a boogie, a bop and listening to the ocean waves, as she unveils a masterpiece with her new album BEBABALOO.
Interview by Joe Montague, all rights reserved, protected by copyright © 2010 Return to Our Front Page