Barbara Payton Says Enjoy The View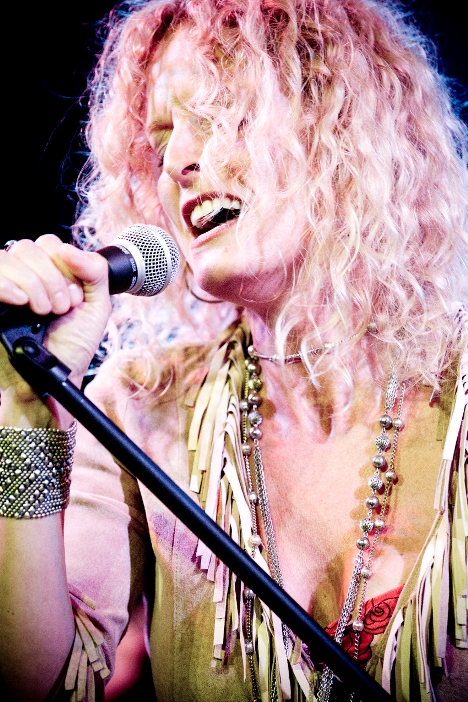 One might suppose that a person whose parents were music teachers and who grew up in the Salvation Army, playing a brass instrument and going to music camps, might have a better than average chance of having their adult life closely linked to music. What might come as a bit of a surprise for someone growing up in that somewhat conservative environment is when you learn that Detroit singer and songwriter Barbara Payton, in addition to carving out a splendid solo career, has also toured extensively (as a background singer) and recorded (Face The Promise – 2006) with Rock and Roll legend Bob Seger & the Silver Bullet Band, as well as Kid Rock. Payton has also opened for Joe Cocker, Pat Benatar, Lou Gramm, Eddie Money, Jonatha Brooke and Terri Clark.
"I grew up in a musical family in Port Huron (Michigan) and part of my family is still there. All of my cousins, uncles and grandparents are (musical). It was not expected necessarily, but it was a flow to go right into music, learn how to read music and to pick an instrument. I grew up in the Salvation Army, which had a brass band, so playing a brass instrument was very appealing to me. I picked up the equivalent to a French horn, an alto horn. The alto horn is an upright and it almost looks like a small baritone. It is not the sexiest instrument to play for Rock and Roll. I wish I had picked something else," she says laughing lightly, "but it was what I was drawn to at the time. I played the French horn in the band in high school and I had my dad as a teacher, but he certainly didn't play favorites. In fact I think he may have been a little tougher on me, as one of his students. In the Salvation Army they have a very impressive and developed music program and we also had a choir, so I started singing at an early age and going to music camps," says Barbara Payton.
As a teenager growing up in Port Huron Barbara Payton was drawn to the music emanating from the Colony Bar.
"I snuck into the biker bar. I remember going by and hearing this voice and Rock and Roll guitars. I wasn't really exposed to that music. I remember hearing a lot of Classical music and brass music in my home when I was growing up, so that really piqued my interest when I walked by and I heard it. Kathy Cole was the singer of the band and the band was called Jump Street. My friend and I were able to win the bouncer over and clearly we were underage, so we weren't going to get into too much trouble there. He used to keep an eye on us. We would sneak in and we did not try to drink or anything. We just wanted to hear this Rock band. I thought she was something else singing AC / DC, Led Zeppelin and Mott the Hoople. She was doing stuff that women were not doing a lot of then and she was really tearing it up. She had a huge influence on me wanting to be in a band and to sing Rock and Roll
I would still like to hear women represented more in Rock and Roll. I tested this theory with a friend of mine one time and we turned on a Rock station in Detroit. We decided to count every time we heard a female lead vocalist compared to a male vocalist and I think that it was every ten songs or so if you were lucky. I just really latched onto people like Ann and Nancy Wilson, the Runaways and Chrissie Hynde, all of those guys who blazed a trail for us. I had the pleasure of meeting Chrissie Hynde one time and I was just in awe of her for so many reasons, her humanitarian efforts, animal rights and just being a great Rock and Roll chick," says Payton.
"I started in a Pop band singing Madonna songs, because when I was in my early twenties, professionally Madonna was the hot thing that was happening. We were doing a lot of her tunes and my friend Matt Walsh who was the one who hired me for the band Pop 5, later became the bass player for many years in my band. He gave me the first break. No one was really writing in the top forties circuit bands. We were just trying to cover everybody else's tunes, because it seemed that is what the club owners and the audiences wanted at the time. The singer-songwriter thing hadn't really taken off yet, not in the clubs around Detroit.
After Pop 5 Barbara Payton became part of the band named Controversy, because as she explains at that time Prince was "the hot thing." As the band evolved and changed members it gravitated more towards having a Pop and R&B feel to their music. Payton says she was still on a quest to find her musical niche and eventually she was just going through the motions. She says she still had not found Rock and Roll.
Barbara Payton's desire to have a music career had nothing to do with her wanting fame. "I just simply love it. I love to sing, I love to be part of the creative process and it may sound hokey, but I have been inspired to continue on despite the difficult times. People come up and then tell me what my music or a song that I have written means to them. I am well aware of what it takes to hit the road with your music. I have been fortunate enough to tour with some national acts and I continue to tour. I watch what happens behind the scenes. It is a wonderful career to have and I feel very fortunate to be a part of this experience. At the same time you really give up a lot of your life. It can be pretty grueling and that's not what appealed to me about the industry. It wasn't really about that. I really like music and I really like performing."
"Enjoy The View," the title song from the album of the same name, is one of those songs that has attracted a lot of attention among music fans and for good reason. Barbara Payton's incredibly rich and emotive vocals are hauntingly beautiful, one of those juxtaposed descriptive phrases that she likes to question and she will no doubt query this writer about.
"The song "Enjoy The View," came from a personal experience and it was a very passionate, loving relationship that was only meant to be for a short period of time. It was also about reflecting back and trying to see yourself as the person who loves you does and to love yourself. That is what that song is about for me.
"I had someone contact me, because he wanted the lyrics for the song, so he could start performing it in his gigs and I was so blown away that someone wanted to perform one of my songs. I am really proud of that song, because it was the first song that I wrote alone. The guys in the Instigators they love the song too, but they wanted to put their spin on it and because I really didn't promote my albums very much we are going to re-record it with more of a Blues feel. That is going to be fun. We are going to go in (to the studio) when I come off of the road. We should be done with this tour (with Bob Seger) in the late spring, so I told the guys that I am not as concerned about playing gigs right now as I am with getting right into the studio. We are going to do a new album with that tune being re-released," she says.
After performing great music for many years, with her no-name band that often went under the name the Barbara Payton Band, eighteen months ago she decided to start a new band Barbara Payton & the Instigators.
"This (band) is my baby, my pride and joy. This is going to be the band (that will allow) me to focus more on my songwriting. I have a lot of really good musicians and songwriters surrounding me and who are encouraging me to write. I have never really taken the deep dive with that yet," she says.
About the musicians in her band, Barbara Payton says, "They're extraordinary and I feel so blessed to be working with these guys. I had this vision of the kind of a band that I wanted to craft and I have always loved the Blues, but I have never been exposed to them. I wanted to learn how to sing the Blues. I brought in Bobby Murray (Etta James) who contacted me a couple of years ago and said that he would like to work with me at some point. I was floored, who wouldn't want to work with Bobby Murray? He is a great Blues guitar player. I decided that I wanted to bring him into the group. There is another guitar player, a local guitar player named Kris Kurzawa and he is just a monster on guitar. He has a different approach, a different vibe then Bobby, but I just love the two of them. I thought it would be an interesting combination. Then Nolan Mendenhall is on bass guitar and we have been trying for many years. I have wanted to work with him in a project, so I brought him on and Ron Pangborn on the drums. From time to time Roscoe is on guitar and Dale Grisa is on keyboards. Some people thought that it was an odd combination with the people and the two guitar players that I picked, but they work beautifully together. We came up with the name The Instigators. We are definitely instigators (she laughs). They are a fun group of guys and they are all very seasoned and very accomplished players. It is interesting to see what we come up with. Bobby will present some Blues tunes to me that I have never heard before. Nolan has an extensive catalogue of music that he's knowledgeable about and they all do. They all bring something different to it. It is going to be interesting to see what we come up with in the studio. I have an idea what I want the record to be, but it is one thing to say what you want it to be and (it can) turn out to be a whole different thing.
Bobby Murray asked Barbara Payton to record the song "Rock My Soul," for his 2012 album Stickin' With You. Payton says that the lyrics spoke to her and she liked the nice slinky groove to the song.
In 2009 Barbara Payton faced her biggest challenge when she was diagnosed with thyroid cancer.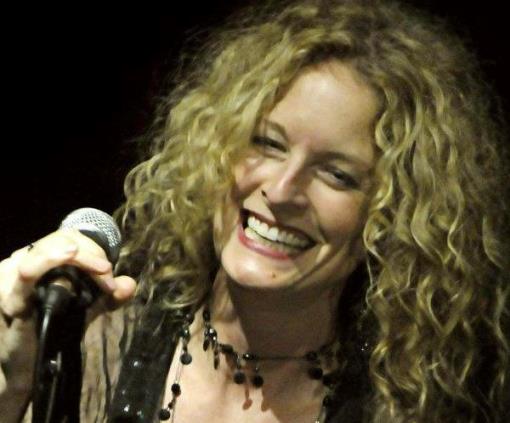 "I think that you would have to be unconscious to not be affected by a cancer diagnosis. My doctor called me to let me know that the tests were positive, which is a funny word to use with instances of cancer, because it's not a very positive thing to me and the first thing that I said to her, almost unconsciously in that moment was, 'What about my voice?' Your thyroid rests upon your vocal nerve. She said that is a big concern and that is why we have to get you a really good surgeon.' After going to several places in the Metro Detroit area I landed at the DMC, which is the Detroit Medical Center and I had a wonderful doctor. She was the one who guided me to the Cleveland Clinic. I met this wonderful surgeon and after reading her resume and after meeting her I wanted her to do the surgery.
She did a great job and it didn't impact my vocal nerve at all. Sometimes it can cause paralysis and I came to a point before the surgery that I had to let it go. The outcome is going to be what it is, I have done my homework and I have found the best surgeon that I could find for this surgery and if I can't sing anymore I will be very disappointed, but there will be something else in store for me. I just had to come to a point of peace with it. That is not to say that I didn't freak out for a while at first. It may sound like a cliché, but it really did change my perspective on life. I am so grateful for my health. I have lived a very healthy life and that was the first real roadblock that was put up for me from a health perspective. It is so true, if you don't have your health there is not a lot more that really matters other than live, love and caring for people. It is just so important and I really took it for granted. I don't anymore and LiveStrong helped me through that. I know there is a whole controversy surrounding Lance Armstrong and he has stepped down and that is another conversation. They are a great organization and they have great resources for you look up what your kind of cancer may be and how to get through it. I joined a LiveStrong ride last year and I rode my bicycle fifty miles. My partner (Kathleen) bought me my first real bike. I have ridden bikes my whole life, but this is really a kick ass bike and I fell in love with the sport. It helps me through tough times, because there is always the aftermath and the fallout of cancer. I fell in love with cycling and I went into that LiveStrong ride in Philly. Fifty miles is not a big deal for me, but try fifty miles on hills (she laughs). It kicked my ass, let me tell you. I digress. I believe in the organization and cancer did change my life. It touched my life in many other ways. I lost one of my dear friends to it last year, another friend of mine battled it last year and my aunt died of cancer the year before. This past year another aunt died of cancer. It is an epidemic. I feel part of why I went through it, is to help other people through it. I am one of the people that one of my friends called when they were diagnosed, because they know that you understand.
If you look at my Facebook page, I am vocal about many things and I am going to be, because I want (people) to know that I am a cancer survivor, not because it needs to be about me, but if they are diagnosed or somebody that they love is, (they need to know) it is not a death sentence. More people are being diagnosed with cancer, but more are also being cured of it. I want to give some people hope," says Payton.
Many years ago Barbara Payton struck up a friendship with Punch Andrews the manager for Bob Seger.
"I think the world of Punch. He is a really great guy and he has done really well by Bob. That was maybe fifteen or twenty years ago. I was working in the clubs in Detroit with my own band and a sound man by the name of Glenn Preston was running my sound for me and he happened to be working with Seger from time to time. He was also out on the road for many years with Cheap Trick, but when he was out on the road with Seger he suggested to Punch Andrews that he should come hear me sometime, because they always seemed to be looking for other singers. Shaun Murphy and Laura Creamer have always been his go to singers and understandably so. They were extraordinary and they were still looking for (additional) women (occasionally). He came to hear me in one of the pubs and we just hit it off. We kept the friendship up and I never thought that I would get the gig with Seger. I was shocked when I did," she says.
Payton says of Murphy and Creamer who had toured with Bob Seger & The Silver Bullet Band for many years, "They made it very comfortable for me and yet I was very intimidated. They are legends in their own right and in the background vocalist world. It is a very difficult job. I wish they were more of a household name, both of them, because they are extraordinary and like I said, they did make it very comfortable for me. Yet I was intimidated. If you look at both of their resumes they are very impressive. We have become fast friends now too and I have learned a lot from both of them. I am grateful for the friendships that we have struck up, because of that," says Payton.
Barbara Payton lists as some of her favorite Bob Seger songs, "Travelin Man," and "Beautiful Loser," neither of which she performs on and she also loves performing "Ramblin' Gamblin' Man."
Payton describes Bob Seger as a kind man for whom she enjoys working and she says that is so nice to be working for a legend that she respects.
As for her experience touring and recording with Kid Rock, Barbara Payton says, "He was a pleasure to work for as well. He treated me very well and I know he has the bad boy image, but if you step up and do your work then you are cool. It is if you try to cross him that he can have a temper, but he never treated me with anything other than with respect and I respect him as an artist. It is interesting to watch him grow and change, writing different music and performing different music. I enjoyed his catalogue, I really did. I didn't know a lot about his catalogue before I started working with him, but he has these infectious grooves that I really dug and I was happy to sing on "All Sumer Long," (from the album Rock & Roll Jesus – 2007). It is a great experience to work with him in the studio and I enjoyed being on a tour bus. I got to experience the tour bus world for four months when he did the Ballroom Blitz tour and I was grateful for it. I don't know that I would want to live on a bus for years, but it is a posh bus and they were a really great group of people to work with. I liked the experience. We are going to do some shows with him, so that will be fun."
When Barbara Payton decided to record the Patty Griffin song "Tony," a number of years ago it was very personal in a lot of ways. The song is about a gay boy who commits suicide and there are strong suggestions in the lyrics that he was bullied. Barbara Payton is open about being gay and she has been throughout her career.
"I chose (the song), because first of all I am a huge fan of Patty Griffin and I was really moved by the fact she had a song like that on her album. At the time (when Enjoy The View album was released - 2002) I knew of someone in the gay community, a woman, who took her life, because she just couldn't bear the thought of coming out. It is an uncomfortable topic and it is an uncomfortable word that I just wanted to put in people's face, so we could start a dialogue about it. It does happen and gay teen suicide is on the rise and that is a tragedy. That has to stop and the bullying of these kids has to stop. They have to realize that there are other people in the world like them. That is part of why I put it out there, so that when I play the gay bars people will request that song. They really appreciate that I put it on (the album).
I have been "out" for many years, because I feel that is one of the best things that we can do for our community is to be out and proud. I have faced some challenges and I have backed down (early in her career) from some fights. Is this the hill that you really want to die on? You have to pick your battles. When I was in other people's bands, one time they fired us from a gig, because they found out that I was gay, I chose to keep quiet about it. I wasn't very out at the time and I was still intimidated by the industry. I didn't want five other people to suffer, because of my lifestyle. I'm such a different person now and I wouldn't back down from a fight for a second. I wouldn't back down now, but at the time I was still figuring myself out and at the time not many people were out and certainly not around me in the Detroit music scene. I didn't know anybody that was. Now, like I said sometimes I am that noisy wheel and I will post things on Facebook when I feel that they're appropriate and are not disrespecting anyone else. It is just to let someone else out there that is struggling know that it is okay.
I am a little frustrated sometimes about that campaign, It Gets Better. I understand the sentiment behind it, but that isn't necessarily always going to help. It is like putting a Band-Aid on the wound. There is so much more that we need to do. We have made some great strides, but at the same time the more we push "out" the more people are going to want to push back. If I can be a positive voice for our community and also let people who are homophobic know that there is always going to be someone in your life that is gay, you just might not know that they are. I have changed some minds with that. My partner and I are very, very out and some people who were more homophobic before, have come to us and told us that they love us and never thought they would have thought that way about a gay couple. That is why I am such an advocate of people coming out. I would never out somebody, because I don't know what they're personal struggles are or their situation, but I really support people when they do and I applaud them. I was so happy when Jodie Foster did and I was, "It's about time." The gay community all knew that she was, but the straight people didn't. They need to see that we are not the creepy person that maybe they grew up believing that we are," she says.
On Wednesday February 27th, Barbara Payton begins touring with Bob Seger again and their first concert is in Toledo, Ohio.
"I am really excited about that. It is always nice to get the first show under your belt, because I still get butterflies every time that I get out there. It's quite a daunting experience at times, but wonderful. I feel very fortunate to be a part of this and I feel fortunate to have my band. They are waiting for me and they want to get into the studio with me. I am excited about re-recording "Enjoy The View," (the song) and writing with all of them. I am going to take advantage of some of the downtime on the road and try to write some songs for the next record that is coming up. I am looking forward to this like it is the second half of my career when I am going to be more of a songwriter. My getting back into the studio is long overdue and it is something that I have wanted to do for years. I am very excited about that. It is great to be around such a prolific songwriter such as Bob, it is very inspirational and so I am looking forward to what the future holds," she says.
Please visit the Barbara Payton website
Interviewed by Joe Montague, February 2013
Top Photo by Kate Levy protected by copyright © All Rights Reserved, Bottom Photo by: Marty Rickard protected by copyright © All Rights Reserved.
This interview is protected by copyright © and may not be reproduced in print or on the internet or through any other means without the written permission of Riveting Riffs Magazine, All Rights Reserved