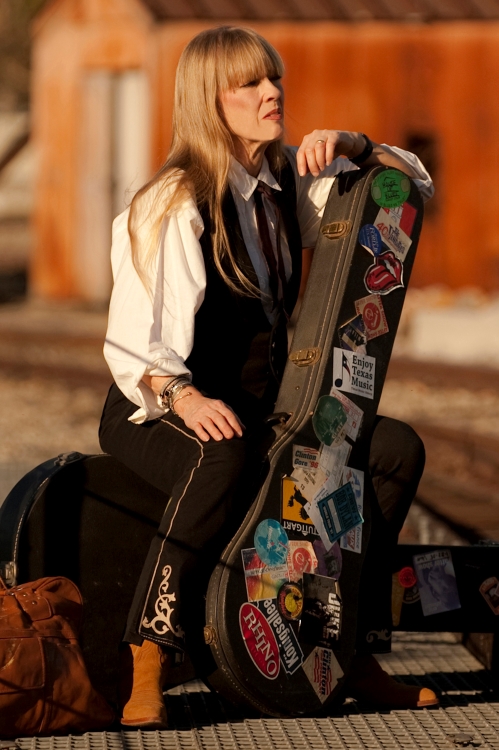 It is rare for an artist / musician / producer to have three almost simultaneous releases and even more rare to have those three be simply outstanding, while being considerably different and yet that is exactly what Carla Olson has accomplished this spring with first her album Americana Railroad, secondly with her cover of The Who's song "I Can See For Miles," with proceeds going to Teen Cancer America. The find project is a beautiful collection of Gordon Lightfoot songs, on an album titled Ladies Sing Lightfoot, featuring artists such as The Kennedys, Natalie Noone, The Textones, Susan Cowsill, IIsey Juber, and Carla Olson sings the closing song, "Ringneck Loon."
The seeds for Americana Railroad, the album, began to take root in the early 1990s with Carla Olson, Gene Clark and Saul Davis, Carla's manager and husband.
Carla Olson says, "It was a nice idea to be a vehicle for a couple of Gene's songs, one of which is "I Remember the Railroad," and not many people know about it unless you are a big Gene Clark fan. Also, his songs, "Train Leaves Here This Morning," and "Kansas City Southern." Gene was a railroad guy. I remember buying a package of shirt patches that they used to sell in train stations and train shops and I bought four or five of the Rock Island Line. I gave a couple of them to Gene when we were first hanging around together in the eighties. He said this is so cool I am going to sew them on my jean jacket as soon as I can. He was a huge reason why we tried to cobble this together. The other song was The Long Ryders' song that Stephen McCarthy wrote called "Here Comes That Train Again." Those were the songs that started the ball rolling."
We wondered what attracted Carla Olson to create a concept album around the theme trains.
She explains, "I am a child of the fifties who walked home with her buddies, while listening to The Beatles, the Stones and the different British Invasion acts. Also, with being from Texas as I am there was a lot of Rockabilly, Country and what we called Country music that rocked. I suppose that makes for a child who was partially fascinated with (wondering) where the trains were going. Why are they all writing about trains? Why are they all singing about trains?
When you are a kid and you are in a small town and at that point Austin was a small town, trains got you out of town. They got you somewhere besides your own backyard. You could walk along the train tracks and you could imagine. If you were an unhappy child or an unhappy adult, trains took you away from that unhappiness. I was always fascinated by travel and maps, not to just get away, but to go somewhere exotic.
I always find travel makes me feel more creative and I like writing about what I am seeing.
My husband and manager Saul Davis grew up in Chicago. The trains were everywhere and the elevated trains went around Chicago and the metropolitan area. The railroads all came through Chicago, so he was fascinated with trains as well.
Meeting Gene Clark, I bought The Byrds first album from the Columbia Record Club when it came out in (the sixties). It was an album that was part of my childhood. Meeting Gene Clark and singing and playing with him was like a dream come true.
When I came to LA it was not an easy decision to leave Austin. When I met my partner Kathy Valentine who is quite a bit younger than me, we started playing together just out of the need to have someone to pal around with and be part of the scene. She had already been to Europe and I had already been to Europe. When I came back from Europe there was this friend who wanted to hang out and play with me.
We put a band together and it was a flip of the coin when we decided we were going to get out of Austin. We flipped a quarter and if it was heads it was going to be New York and if it was tails it was going to be LA. It landed on tails and we came to LA. That is part of the fascination with travel and being somewhere foreign and different. You can get out of your neighborhood where everybody knows you. You really can't grow as an artist, musician or actor in your backyard if you want to put on some kind of a show. When you put on a show you become something other than what you were when you were in your own neighborhood. That is the growth. Coming to California wasn't oh wow it is Hollywood. It was let's get out of here and go find our record deal. Let's write our songs.
The idea of travel was always attractive to me. I spent quite a bit of time in Europe on trains. I love the aspect of being able to get on a train instead of an airplane. You can open up a book and look out the window."
The album Americana Railroad opens with the song "Here Comes That Train Again," featuring Carla Olson and Stephen McCarthy.
"Stephen wrote "Here Comes That Train Again." This album wasn't really meant to be originals, it was meant to be great train songs. He wrote this song while he was on the way to the studio to record it with us. "Southwest Chief," is by Dave Alvin. He used to do these train tours when he would go from Chicago to LA and back with the musicians. When the train stopped at stations they would play for people. The idea behind that song is the romance of the train.
Kai Clark, Gene's son recorded "Train Leaves Here This Morning." It was a song that the Eagles recorded and then Gene recorded it as well. Rocky Burnette is on "Mystery Train," well his dad was Johnny Burnette ("You're Sixteen") from the Rock and Roll Trio. Rocky lives here outside of LA in the desert. He recorded "Mystery Train," with our band and Mickey Raphael who plays harmonica with Willie Nelson.
Some of these songs are about train travel, some are about trains, and some are metaphors for trains and how they represent more abstract ideas," she says.
"Mystery Train," was written by Junior Parker and recorded by Elvis. James Inveldt joins Rocky Burnette on the song. It has previously been recorded by a galaxy of stars including Woody Guthrie, Eric Clapton, Ricky Nelson, The Doors, Bob Dylan, Emmylou Harris, Bruce Springsteen, Johnny Cash and Led Zeppelin.
Some of these songs have a personal connection such as "Steel Pony Blues," written by Dom Flemons in memory of Deadwood Dick, whose real name was Nat Love. The story of Nat Love is quite remarkable as he was born into slavery, as a child learned to read and write, survived the Civil War, was a cattle drover for twenty years, before becoming a pullman porter on trains for the next fifteen years.
There is even a song originally recorded and written by a real train brakeman, Jimmie Rogers and it captures the vintage sound of the 1920s.
Carla Olson explains, "That song is "Waiting For a Train." That's Paul Burch and Fats Kaplin and that was selected by the label that put this out B & G. They asked if it could be used for the record. There were several tracks that were brought to me by the label. I started out with were eleven tracks that were selected, recorded and produced by me. The other tracks were brought to me by the record label that wanted to put this out and they are wonderful.
The John Fogerty track "City of New Orleans," was one he wanted to put out on an album. During the COVID lockdown he recorded it with his kids. After it was done Mickey Raphael added some harmonica to it, because I thought it needed a little train push. "City of New Orleans," (was written) by Steve Goodman. Some of these songs have a story other than my story. The songs that I brought to the table were songs that I had been carrying around for a while.
"There was a band from Los Angeles called Rank and File, which (became) the evolution of a Seminole Punk into a Cow Punk. The two brothers Chip and Tony Kinman wrote "The Conductor Wore Black." That song is a metaphor for what happens if you are a bad person. You don't go to heaven (we both laugh). "This Train," which Peter Case recorded is what we would call a spiritual. Gary Myrick did a version of "Train Kept-A-Rollin'," which was a Yardbirds cover. He did it in the Rock and Roll tradition like The Yardbirds.
For some of these songs I was not in the studio with them to know what their intention was. Alice Howe did "500 Miles," and I used to do that as a Folk song when I was first starting to play. I got that from Joan Baez and Peter, Paul and Mary. I would play it for friends.
(The album) is a combination of real train experience songs and metaphor songs.
The music reaches new heights when Carla Olson and Brian Ray team up for "Whiskey Train," on which she sings and Ray, who plays in Paul McCartney's band plays the guitars. Brian Ray joins Carla Olson singing on the chorus.
Talking about "Whiskey Train, Carla Olson says, "It is a Rocking and Rollicking song. I knew that song when it first came out, because I was a big Procol Harum fan. It never dawned on me (before) that it was a song about alcoholism. The lyric is "I ain't gonna' ride that whiskey train no more / I'm gonna pour the bottle down the drain." We did a video for that too and it will hit social media somewhere around the beginning of June. There are a lot of trains in (the video)."
Trains were a big part of your childhood?
"When there was no urgency to get home from school, we would get into the creek, take off our shoes and put our feet into the cold water. We also used to hike down the railroad track where the trestle was and we would put our ears down to see if the train was coming (she relives the moment). We would put our ears down and we would either feel the vibration or we wouldn't feel anything. If we felt the vibration, we knew we had to get our butts off of that trestle. It was thirty feet down to jump into the creek. It was a dangerous game that we played hanging around the train trestles. Sometimes we would put a penny on the track and get it smashed and we would trade it with our friends. It was a big deal being around the trains. If there was a conductor and they slowed down at a crossing he would wave to us. That was really cool.
I was a tomboy who always wore shorts under my skirts and I wore penny loafers without socks. My mother used to say, we were the boy girls.
Great memories come rushing back whenever I hear or see trains. I remember when I saw A Hard Day's Night (The Beatles film) and I must have sat through five features of it, I always loved how it started with (The Beatles) on the train. They popped in an out of the windows and looked into each compartment to see who was there," she says.
Growing up in central Texas Carla Olson listened to music by The Moving Sidewalks the forerunner of ZZ Top, songs by Canada's Gordon Lightfoot, the Rolling Stones and…well we will let Carla tell the story.
"The reason you hear and see such a variety of music in my background, as a songwriter (and musician) and producer is because at that time from '62 to '66 in Texas we had Pop radio. We didn't have FM radio and they didn't play album tracks. They played double sided singles of The Beatles, the Stones, Dave Clark Five and Herman's Hermits. They played both sides of the singles, because if the A side was really a big hit, then after a couple of weeks, they would flip the record over and start playing the B side. At these Pop stations they had to please everybody, so you got everything from the Tijuana Brass, The Beatles, the Rolling Stones, Petula Clark and local R & B acts would get on the radio there if they were friends of the Disc Jockey. You would get the flavor of the Blues bands, (such as) Bobby "Blue" Bland. We had a lot of people like Tony Joe White who came through. You had this tremendous variety of styles. On my album Have Harmony, Will Travel Volume 1, which came out a number of years ago I wrote the liner notes, explaining why I loved these songs and why I wanted to record them, because the radio station KNOW in Austin played everything from Love Is Blue, by Paul Mauriat to The Zombies. You also had a lot of Mexican music, which was native to Texas. It mixed what I called Mexican Polka music with German Polka music in with the Rock and Roll. To get on Pop radio was a big deal. That is probably why my musical pedigree has such a wide variety of music. I also grew up on Classical music because my father was a Classical pianist. I took music theory from the time I was five. Both of my parents were very supportive in helping me to get educated in music.
I bought my first guitar with green stamps. I was twelve or thirteen years old. If you bought groceries or gas or dry goods or if you were buying things from the food store you would get green stamps. We had a ranch, so there was always grain or hay coming in and out. For a certain amount of dollars spent you got these redemption stamps. You pasted them in a book and when you got enough of them, they would give you a little pamphlet of the things you could buy. A lot of kids wanted a BB gun or a bow and arrow or something like that, but I wanted a guitar. I was able to put together enough green stamps that I was able to get a Teye acoustic guitar.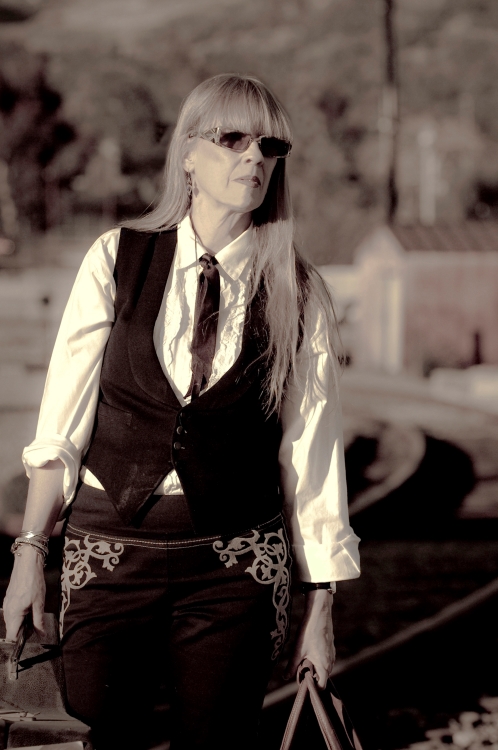 The records I listened to and tried to learn how to play from them were ones like The Ventures "Walk Don't Run," "Wipeout," "Pipeline," and very, very soon after that I discovered I wanted to play an electric guitar. I swapped my acoustic, because my dad thought I was getting good enough, so he bought me a nice acoustic guitar. I couldn't play power chords on it or Rock and Roll on it. I could play Folk music. It was great though and it got me off the ground.
When I bought an electric guitar, I started taking some lessons from players around town and people who were working musicians in bands. I got a pretty good musical education. When I met Kathy Valentine, she was playing Chuck Berry type Rock and Roll. That is when we decided we were going to get some gigs and we played around town. It was kind of crazy, but we did it.
When I met Kathy, I was in my mid-twenties and I had already been in bands. When I got out of high school, I traveled around Europe for six to eight months and when I got back, I started a band with a bunch of other guys. Then I bought my Marshall stack. The dynamic started to change, because back then there weren't really amplifiers that you could play through the PA. You played your amplifier and then your PA was separate. You had to have a big amplifier if you want to play big enough places to have any kind of an impact. I decided to change directions and play some Rock and Roll. We were totally into The Yardbirds, Jeff Beck and Jimmy Page. Then I discovered John Mayall & the Blues Breakers, with Clapton and Peter Green. Before I met Kathy I was more into a Rock and Rolls Blues kind of scene. It is funny how life works out and you end up meeting your heroes and playing with your heroes. I was very fortunate that happened to me" she says.
Kathy Valentine and Carla Olson formed The Violators (band) in Texas and later decided to move to Los Angeles after a coin flip helped them make the decision whether to move to LA or New York City. After moving to the west coast Olson and Valentine formed the band The Textones with David Provost (guitar and bass) and Markus Cuff (drummer), both of whom they met in Los Angeles. Later Valentine would join The Go-Go's.
Our conversation takes a new direction when Carla Olson asks, "Have you heard my album Ladies Sing Lightfoot, which I produced? It is all women singing Gordon Lightfoot songs. All of those songs were about women. That and the train album are concept albums that we have been talking about doing for years. When COVID hit it slowed us down a bit, but we had already recorded the train album and the Ladies Sing Lightfoot album and they were ready to be put out, but the labels put the kybosh on it, because of COVID. We had to wait to get them pressed and then put them out.
Susan Cowsill sings "If You Could Read My Mind." Susan's version will make you weep. It is just acoustic guitar, vocals and cello.
One of the last gigs that I did before COVID lockdown was with Susan and it was a benefit for autism here in LA. Every year they pick a theme and that year it was the Love and Spoonful. John Sebastian and three members of the band were together for that show. Susan was on the bill, I was on the bill and I sang "Stories We Could Tell," with John. That was February 29, 2020. It was a leap year. Then March 15 was when LA locked down.
The Textones do "Early Morning Rain," which is another one of my favorites of Gordon's songs.
Most of the band members who played on that album also played on the railroad album, because I was doing them at the same time.
I met Gordon Lightfoot several times. Every time he came to town, I would go see him play. One time we went to what we would call an old movie theater and they had turned it into a concert hall. The next time he came to town I told him I was working on this album Ladies Sing Lightfoot and that was in 2019. He was very sweet."
Carla Olson talks about the role social media plays for artists, "Nobody would know about "I Can See For Miles," (covering The Who) single that I recorded for the Teen Cancer America charity if it wasn't for social media. There is a learning curve to it and things change dramatically all of the time. I am just grateful it came along at a time when it could be helpful. Also, I have met some really, really cool people on social media. What would we have done during COVID? I couldn't perform anywhere and I couldn't meet my friends anywhere. You couldn't even meet your family anywhere. I haven't played a proper gig since February of 2020, at least not a place with a decent sound system.
As for her single "I Can See For Miles," she says, "It was recorded at the same time as I recorded Ladies Sing Lightfoot and the Americana Railroad album. My husband (Saul Davis) is involved with Teen Cancer America. When you go into hospitals in England there are actual wards that are setup for that age group. Their cancer is accelerated, because quite often they are going through puberty and any number of issues that can cause the cancer to grow faster. Roger Daltrey decided to do payback for all the kids that supported The Who when they were coming up. It was the kids who bought the records and made them famous. He just wanted to give something back to teens. He started this charity, Teenage Cancer Trust in the U.K. They put these wards in dozens and dozens of hospitals in the U.K. that are specifically designed to nurture teenagers. In America they tried to do the same thing here. Trying to raise money for that is difficult, because people don't understand what it is. My husband Saul and I came up with the idea Women Sing The Who and to do it as a download where the money would go to the charity. The idea wasn't for me, it was to get somebody bigger like a Joan Jett or Adele that would really pull the numbers in, but they didn't seem to be able to pull those people together.
I recorded "I Can See For Miles," in 2019 and I showed it to the charity and I said this what it sounds like with a woman singing "I Can See For Miles." We let it sit in the can and didn't do anything with it until the last two or three months, then we set let's just put it out. We will tag it Teen Cancer America and any money that comes in like that we will send to them.
I have received some great feedback about it. If we get women who have more fans than I do to record some more songs… It is all over on radio. It took off like wildfire. Who knew? Radio stations with what they now are, it is all over the world. It was on Bandcamp only for the first two weeks and now it is everywhere, Deezer, Tidal, Amazon and all those places and you can actually buy it now."
There is so much more to Carla Olson's life, story and music and we could have written a lot more, and talked for another hour or so, but we will stop here.
You have three new musical choices to make from Carla Olson and it will be difficult for you to choose one, so we suggest you invest in all three, Americana Railroad, Ladies Sing Lightfoot and the single "I Can See For Miles," in support of Teen Cancer America.
Photo Credits: Top photo by by Gary Nichamin; All other photos by Markus Cuff
#CarlaOlson #CarlaOlsonMusic #AmericanaRailroad #RivetingRiffs #RivetingRiffsMagazine #EntrevistaMusica #WomenInMusic #MujeresDeMusica #TrainSongs #LadiesSingLightfoot #TeenCancerAmerica #TheTextones
This interview by Joe Montague published May 19th, 2022 is protected by copyright © and is the property of Riveting Riffs Magazine All Rights Reserved. All photos are the the property of
the producers of Carla Olson
unless otherwise noted and
all are
protected by copyright © All Rights Reserved.
This interview may not be reproduced in print or on the internet or through any other means without the written permission of Riveting Riffs Magazine.