Carolyn Striho From Patti Smith to the Movies and Now Her Word Attacks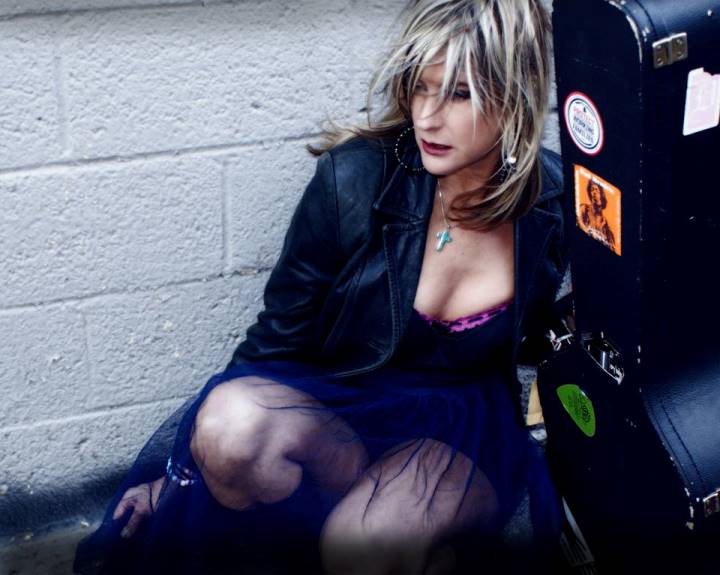 Detroit singer-songwriter and musician Carolyn Striho has toured with Punk legend and Rock and Roll Hall of Fame member Patti Smith, Striho shared the stage with Iggy Pop and she fronted the Detroit based super group Detroit Energy Asylum, a band whose members went on to careers with Kid Rock, Eminem and Was (Not Was). Carolyn Striho has toured England and Italy and plans are in the works to revisit both countries with her music later in the year. Recently, the eclectic artist has appeared in two different documentaries about Detroit. The first, a film called Tough Luck: Detroit Stories is directed and produced by Chicago's Mary Sommers. The second film, Detroit Michigan – Motor City Music, is by German director and producer Claus Bredenbrock and has already appeared on television in Europe. Striho, who it often appears seldom takes time to savor one accomplishment, before moving on to the next project, just released a new album, Word Attack and it is her most eclectic collection of songs to date.
Whereas Carolyn Striho often invites other artists to guest on her albums, the recipient of numerous Detroit Music Awards, wanted to capture in this recording a sound and a vibe that most closely reflects her live performances, so she opted for an album recorded entirely by her live performance band consisting of guitarist and vocalist Scott Dailey, percussionist / vocalist Ron Wolf, Bonnie Kaye (violin) and bassist Dave Dion.
The album Word Attack opens with a Pop love letter "Always In My Heart," written for Carolyn Striho's cousin Katrina. The song is written from the perspective of Katrina and what she would have liked to have said to her husband who died suddenly while river rafting. It is a mid-tempo song featuring the outstanding guitar work of Striho and her husband and bandmate Scott Dailey (who also plays dobro, bass, percussion, mandolin and drums on the record). Striho also plays keyboards throughout the album. As a singer, Striho strikes a good balance between portraying the loss, but she also recalls the joy of special moments spent together.
Carolyn Striho talks about how and why "Always In My Heart," was written. "We were all shocked (when it happened) in 2003. The funeral was coming up and Katrina lives outside of Ann Arbor (Michigan, not far from Striho). I wanted to do something outside of the funeral. I felt so bad for her, because they had been together forever. The song just came out. It was instant. It was very weird. I wanted to write something and all of these words came out. I played the song on the guitar. I just wrote it that fast and it turned out really good. People love that song.
I have wanted to (record) it for years and I don't know why I didn't do it. I thought it sounded different from my style and I didn't know if it would fit into what I do. We open with it in the show. The song is cool and it just sat there for a little while. We finally recorded it, because everyone loves it live.
"Always in My Heart," is a real human interest story. I want to respect my cousin, but I also want to honor her husband. "Always in my Heart," is universal, even though it's personal – "you are my hero, always in my heart." It really celebrates long lasting love at first sight."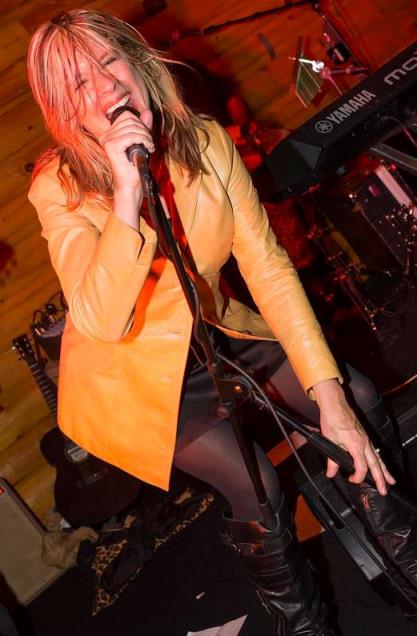 "Enchante," the third song on the album thrusts the listener firmly into a European village as an accordion introduces the song and there is that constant, plodding percussion backbeat. When performed live "Enchante," is a fun song that gets the audience involved immediately and Carolyn Striho's energy and creativity is what makes this tune work so well.
She says, "(The song) "Enchante," was recorded before (CD- Is This Me? – 2009), but this version is more true to life for how we actually perform it. We were frustrated, because even though the other version won Billboard Magazine Honorable Mention, which was big and it featured members of The Ragbirds from Ann Arbor, it was a great version, but it didn't really speak to the liveliness of it. It is crowd favorite and people just love that song. It goes over well everywhere and when we played it in Italy the people just went crazy.
Sometimes people refer to "Enchante," as a beer drinking German type of a song, like a polka. To me, it is not like that. It is like an Italian, Venetian song or French Provencal. It reminds me of the Gypsies. I loved accordion as a child and my grandparents were from Eastern Europe. My Dad and Mom played all kinds of music, and I loved the style of Csárdás (Hungarian folk dance that originated in the 18th century), Gypsy and Polka. The French language, which always entices is great to study and it also inspired the song.
It is a raucous song, a sing along and everyone can sing the chorus. It is a universal chorus that is bigger than life, with everybody going for it. It goes one, two three, oomph, oomph, oomph. The crowd loves that."
The mood really changes with "Tiara," a song which juxtaposes a Classical styling with biting lyrics, contrasting two sisters, the good, sweet sister and the one portrayed as a little less desirable, to put it kindly.
"The song "Tiara," was really beautiful the way that we recorded it before (on Is This Me?), but it needed a little bit of drive. It is not a fast song, but I felt it needed a bit more of a band push. We had a member of the Detroit Symphony, a cellist, playing on it (previously) and he was really good. We wanted more of the band this time," explains Striho.
"Bonnie, my violinist and I worked on "Minuet," and it is new, short and Classical. Bonnie and I love Classical. I wanted to do something that sounded like a minuet and that is where that came from. It is like a music box. It has that ¾ waltz that soothes and expands in a Classical, dramatic, movie score like piece.
The second song, the title song, from the album Word Attack is Carolyn Striho at her best, rocking the stage and airwaves with a song that she describes as, driving, sneering and exciting. It was, she says, inspired by time spent on the staff of a writer's workshop.
"The song, "Word Attack," comes from my work as a poet and from hearing poets word attacking. "She's The Kind Of Girl," was the alternate title, (taken from) the chorus. The title comes from the work that I have done with teens and students and their word attack skills," says Striho.
We went directly to producer and director Mary Sommers to ask her why she decided to make Tough Luck: Detroit Stories and why it is important to her to have Carolyn Striho appear in the film.
"The film Tough Luck: Detroit Stories covers individuals who have a point of view concerning Detroit. They have lived in the city, have a sense of belonging to the city and they have a hope for the city's future. The film has an emphasis on artists and activists, most of whom are from my generation and neighborhood and that gives a flavor to the history and a sense of identity with being from Detroit. Carolyn is the epitome of a Detroit centric artist. Her work is flavored with both the hope and the grit that makes up a Detroiter. She also has an interesting story to tell. Her music is part of the soundtrack and it is beautiful and haunting in its melody, much like her hometown," says Sommers.
The film Detroit Michigan – Motor City Music, by Claus Bredenbrock takes a look at the history of music in Detroit up to the current day and it features interviews with people such as Mitch Ryder, Martha Reeves and MC5 manager John Sinclair. Bredenbrock spotted an online video of Carolyn Striho and her band when Don Was invited her to perform at the 2011 Concert of Colors. Bredenbrock got in touch with Striho and mentioned that he was coming to Detroit and he would like to film her band. He incorporated into his film, a video of Striho performing "Enchante," at the Magic Stick in 2012. The documentary has been broadcast on ARTE, a European arts channel that can be viewed primarily in France and Germany and also on WDR a German television broadcaster. The film has already made its debut at several German film festivals and this spring it will make its debut at film festivals in Montreal and Detroit.
You can visit Carolyn Striho on her website or her official Facebook page.
All text protected by copyright and is the property of Riveting Riffs Magazine © All Rights Reserved. Photos are courtesy of Carolyn Striho and they are protected by copyright ©, All Rights Reserved
This interview, published February 14th, 2014 by Joe Montague is protected by copyright © and may not be reproduced in print or on the internet or through any other means without the written permission of Riveting Riffs Magazine, All Rights Reserved