There is something about listening to a singer who knows how to infuse each and every phrase of a song with authenticity and when she is accompanied by superbly orchestrated musicians playing exquisite arrangements that puts you right in the middle of the scenes that she has vividly brought to life. Celia Berk's interpretation of the songs on her current album Manhattan Serenade accomplishes all of that. The collection of thirteen songs by composers and lyricists such as David Heneker, Irving Berlin, Richard Rodgers / Lorenz Hart, Cy Coleman and David Zippel and others is Ms. Berk's love letter to the city she has lived in and around her entire life. This is home for Celia Berk and in the midst of the hustle and bustle and masses of people she finds beauty and peace. That is really what this album Manhattan Serenade is all about.
It is about a woman who was born in Manhattan and grew up on Long Island, before eventually moving back to New York City, as an adult. As a young girl her mother would take her to the Opera on Saturdays and Celia Berk's father inspired within her a love for the Great American Songbook.
"My mother took me to the Opera and she started out when she first came to the city and they had a subscription at the Metropolitan Opera. My father, because he commuted all week long into the city, the last thing that he wanted to do (was come back to the city) on a Saturday afternoon. Frequently I was the one who went with my mother. I saw some of the absolute greats doing the Opera repertoire. That was my whole life," she remembers.
Ms. Berk is a mezzo-soprano with a three octave range who has become celebrated in New York City as a Cabaret singer, but whose lavish vocals are genre bending and threaten to break those boundaries altogether. For Manhattan Serenade she is expertly guided by producer, arranger and conductor Alex Rybeck and Tony Award winner Scott Lehrer who acted as the sound engineer and co-producer. Both gentlemen also worked with Ms. Berk on her debut album You Can't Rush Spring.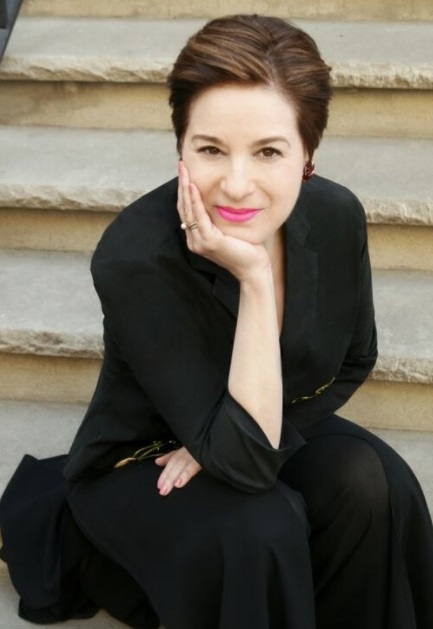 Celia Berk notes, "I don't think that it has been a coincidence that both albums have been well received, because they were shepherded by those two people. Some of the musicians who were on the first album are on the second album, but not all of them."
She also nods to Larry Moore and Jeff Klitz who orchestrated some of the songs on the album and Vince Giordano who co-arranged the song "Manhattan Madness," and assembled the Nighthawks, the musicians who played on the song, whom she describes as "amazing musicians."
"Manhattan Hometown," opens the album and the best way to describe Celia Berk's performance is that is like being in the front row of a major theatrical production, without being overhyped or overly dramatic. Our questions are when is Hello Dolly going to be reprised on Broadway and when is Celia Berk going to be cast as Dolly Levi? She is simply superb while singing David Heneker's "Manhattan Hometown," originally performed by Ann Morrison in the 1984 musical Peg.
Celia Berk talks about selecting this song for the album, "Alex knows Ann Morrison very well. There was not any sheet music for "Manhattan Hometown," but when Alex reached out to Ann she very kindly sent us her marked up original score.
Ann Morrison's story behind the song "Manhattan Hometown," is encapsulated on the website for Celia Berk and we have permission to share it here.
Ms. Morrison says, "Peg was American-produced but British-owned. The music and lyrics were by dear British composer David Heneker, known for his musical Half a Sixpence. When I was cast as the lead, Peg O'Connell, he hadn't finished the score. I was asked to do backer auditions and to spend time at the Cooperstown, New York, home of Louis Busch Hager, the American producer, along with the creative team.
We had to raise more money for the production that Mr. Hager wanted for London's West End. One evening over dinner, David Heneker told me that he was stuck on a song he wanted to write about Peg's homesickness for her New York hometown. Since the story took place in 1912, David thought Peg would describe Manhattan like a small town. He began to describe Manhattan as he and I imagined it to have been in the early 1900s, yet reminiscent of a small town. The next morning I awoke with David calling me into the parlor where a baby grand lived. He played this song for me. I learned it very quickly and boy was I thrilled to be a part of the hit showstopper of the musical. In 1984 we opened at the Phoenix Theatre in the West End to tame reviews, but "Manhattan Hometown," was considered hands down the favorite of the critics."
Celia Berk talks about why this song is personal for her, "For me it talks about where I was born, because I was born in Manhattan. When I heard it I said not only are we doing this, I am pretty sure it is the opening track on the album. It sets the premise. I am not somebody else from somewhere else who came to the big city. I am someone who was born in the city and please a long time from now (she starts to laugh) will die in the city. They are going to take me out feet first, because this is where I belong. What could seem big and overwhelming to somebody else is just what it looks like to me. (She now refers to some of the lyrics) The Hudson is a little stream and the buildings aren't that high. Central Park is just a little park. Everything about it matched me."
Ms. Berk talks about her relationship with New York City, "The fact that it is so big and that there are so many people that if you want to disappear into it and just be one of millions of people you can do that. I have been lucky enough to travel all over the world and there are places that if you aren't dressed like everybody else people turn around and look at you and you feel very exposed. You can do anything; wear anything (in New York City). If I am walking down the street singing lyrics and if I look like I am talking to myself nobody pays any attention. You can have that anonymity.
You can find your solitude in various ways and your privacy even when you are surrounded by lots of people and in some ways, because you are surrounded by lots of people. It works for me.
Once you are in the city you realize that it is a sequence of interlocking neighborhoods. You can find your neighborhood and you can find in each neighborhood the things that you like to visit and revisit. You can break it down into manageable pieces. I also say I have to live where I am only one block away from Haagen-Dazs (ice cream) twenty-four hours a day. I don't know that there are that many cities that can do that like Manhattan can or New York City can."
She continues, "Each one of these songs (from Manhattan Serenade) was a doorway into a relationship or an acquaintance that I didn't have before. Just the idea that I would start corresponding with Ann Morrison was a kick and one-half. She was so wonderful about it and so generous. She loved hearing a second recording of it. There wasn't a license for it. I had to write to London to get the license. I think that it had been sold to (the Warner Music Group) and I ended up talking to Warner in Los Angeles. They loaded it into the website, so I could take the mechanical license. Some of these things are so obscure that it is a bit of an adventure to get the rights to record them."
As for the contributions of Scott Lehrer, Ms. Berk says, "He is a Broadway sound designer and he has done some incredible cast recordings, so he gave us that (live Broadway) sound. He didn't do the orchestrations and he didn't do the arrangements, but there were decisions that were made and craft that was brought to the process (by him) that you respond to."
Celia Berk has a penchant for recording what she refers to as hidden gems, songs that are less known to audiences in general.
She explains why, "It is partly because the better known standards have the most incredible recordings and it is hard work to push some of those iconic voices and interpretations out of your head and for you to create space for what you think the song is about.
When I do not have to push some of those interpretations out of my head then the listener does not have to push them out of their heads. That clears the space for a song to be heard for the first time. Even with well-known standards I imagine what it must have been like to hear these songs for the very first time. I imagine having heard them for the first time in whatever context they were in, whether they were a part of a score or they were individual songs that had been released.
It doesn't mean I can't do it and it doesn't mean I haven't done it, but it's nice to have virgin territory or lesser known territory to work with. Mostly, I sing songs that interest me. You can put all kinds of lesser known songs in front of me and it doesn't mean that I will sing them just because they are hidden gems. They may be somebody else's hidden gems and they won't be mine. I think it is a combination of those two reasons."
Yet as committed as Celia Berk is to recording and performing hidden gems she decided to include on Manhattan Serenade the very popular Gerry Goffin and Carole King song "Up On The Roof."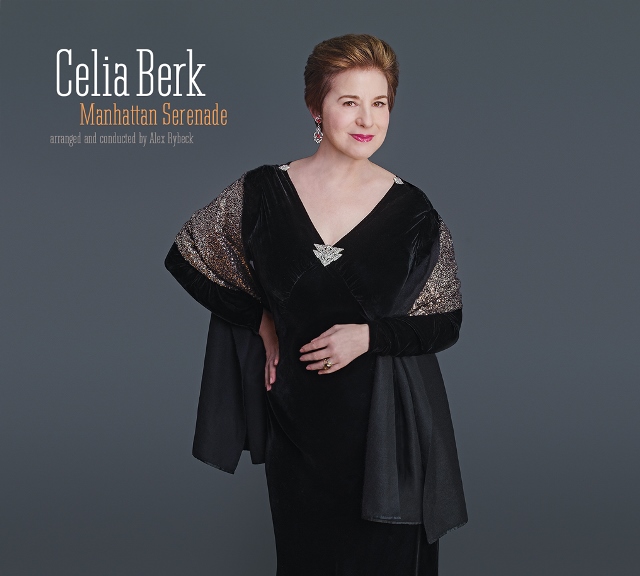 Ms. Berk talks about why she made that decision, "When you are giving the listener or an audience a lot of material that they are not familiar with you need to give them a break mentally (and let them listen to a song) they know really well. That was one of the reasons that we went looking for something that was familiar to people. Because it was familiar you can do things to it that you might not do to a song that people might not know yet. If it is something that hasn't been recorded or hasn't had a lot of recordings you want to give keep it true to the way the writer wrote it, but with "Up On the Roof," you can strip it down and do something different with it.
When I do my live show you can see people relax and smile and say now this one I know. They relax into it and that is some of the thinking behind it. You let them feel really smart and that they know things, because there is so much that they don't know that is coming at the (with the less familiar songs)."
"Seconds," with a song written by the mostly unlikely of co-writers, Burt Bacharach (music) and Neil Simon (lyrics) is a song that to an extent is set in another day and time, before wristwatches and clocks were replaced by cell phones, computers and other devices. The song was written for a planned, but never produced film version of the Broadway musical "Promises, Promises." It is a beautiful song and Ms. Berk's performance is worthy of a standing ovation. Can you give a standing ovation to a record? There must be an emoji for that! If there isn't there should be. This is a song about missing that one to whom you hoped your heart would belong to forever and missing that person by mere seconds. The last line of the song expresses a longing for what might have been touched by a faint smile, while remembering that romantic figure from the past.
Celia Berk says, "That ("Seconds") is the one that I always cite as the ultimate compliment that Alex could have paid me, because he just venerates Burt Bacharach. I can't think of any other word. When he handed me this song, I said you are going to let me sing a Bacharach song? I don't think anyone would think that is exactly the vibe that I instinctively bring to a song. He trusted me with this song and it is a hidden gem. It is sophisticated (without) necessarily being a New York song, but it is a New York song about getting caught in traffic and not being able to get to the person that you are (supposed) to meet. I also like it, because it is frozen in time. Today you would just pull out your cell phone and text somebody and say that you are stuck in traffic. That song wouldn't even exist the way it was written anymore.
Those kinds of misconnections and missed opportunities take a different form now. It is really interesting to see. It is all of those connections and misconnections, as we go by each other. Nobody would be looking up from their phones long enough to notice somebody driving by. The person on the elevator was just not present on some level. It is bizarre to me. There is a whole generation that thinks that is how you will go through life. It is really weird what is happening."
"Manhattan Madness," well it is simply mad! We don't mean angry, we mean crazy in a good way! It is a very quick tempo song by Irving Berlin and featuring Vince Giordano and the Nighthawks.
Ms. Berk recorded her own backup vocals, all four parts and as she says, "that's not so easy to do. We did some scratch vocals and in the afternoon Vince came in with his musicians. It was just amazing. They started playing and when I heard that song it was like oh my! That sound of his is so distinctive."
The last track from the album that we talked about is the pairing of two songs "The Romance of a Lifetime," and "The People That You Never Get To Love." The former is a Kurt Weill and Sam Coslow song originally written for the film You and Me. It was a song that Celia Berk first heard while attending a concert with a friend. "The People That You Never Get to Love," was written by Rupert Holmes. It was at the suggestion of Alex Rybeck that they paired the two songs. They later sent the pairing to Rupert Holmes who liked what he heard.
"I frequently get I didn't know that "The People That You Never Get to Love," has another verse. I go it doesn't, that's Kurt Weill, but they look like they were looking for each other across a crowded room. They just belong together. These two songs are star-crossed lovers. They might have missed each other if we hadn't brought them together," then we suggest that Ms. Berk and Alex Rybeck are a dating service for songs and she laughs and says, "Yes, that is a great observation. I think we are.
On the first album we've got "Penthouse Serenade" and "Stairway to the Stars," (paired). When you put two songs together and they complement each other, They are not just two songs that are exactly the same. It is like you are turning the lens and looking at the same thing from a slightly different angle," she says.
As we write this Christmas 2017 is just around the corner and for some Christmas is a time for creating new memories, while for others it is a time for nostalgia. Celia Berk's album Manhattan Serenade presents you with the opportunity to do both. It sounds like a great Christmas present to us, if not for someone you know, how about an early Christmas present for yourself.
Please visit Celia Berk's website here.
#CeliaBerk #ManhattanSerenade #AlexRybeck #ScottLehrer #rivetingriffs #rivetingriffsmagazine
This interview by Joe Montague published November 22, 2017 is protected by copyright © and is the property of Riveting Riffs Magazine All Rights Reserved. All photos are the the property of Celia Berk
unless otherwise noted
and all are
protected by copyright © All Rights Reserved.
This interview may not be reproduced in print or on the internet or through any other means without the written permission of Riveting Riffs Magazine, All Rights Reserved