In 1975 when Cherie Currie was fifteen years old and sitting in the Sugar Shack, a popular Los Angeles nightclub for those twenty-one years of age and younger she was approached by sixteen year old guitarist, singer and songwriter Joan Jett and her producer / manager Kim Fowley, about being the lead singer in a band that would later become known as The Runaways. The band also featured the late Sandy West on drums, guitarist Lita Ford and bassist Jackie Fox (during Currie's time with The Runaways). The fifteen year old Cherie Currie, a native of Encino in the San Fernando Valley had already built a reputation with her classmates as being edgy and having a chip on her shoulder. For the next two years of her life she would tour the world as the lead singer of an aggressive all-girl Rock band whose signature song "Cherry Bomb," as well as "Queens of Noise," and "California Paradise," would capture the imagination of teenagers worldwide. Some of the bands that opened for The Runaways included Cheap Trick and Tom Petty and the Heartbreakers.
Recently, Cherie Currie from her home in California took time out from her busy schedule, which includes a soon to be released new album and her chainsaw art business, as well as being mom to her twenty-two year old son, producer, musician and singer-songwriter Jake Hays, to talk to Riveting Riffs Magazine. In recent years, there has been somewhat of a renaissance, a renewal of interest in The Runaways and the role that they played in terms of paving the way for women musicians who would follow them. The feature film The Runaways starring Kristen Stewart as Joan Jett and with Dakota Fanning portraying Cherie Currie, was released in 2010 and Currie's biography Neon Angel A Memoir Of A Runaway was published. The book is intended for a more mature audience than her more tone downed biography Neon Angel: The Cherie Currie Story, published in 1989 specifically for young adult readers. Although the more recent book contains coarse language and is more graphic in terms of describing violent acts, including multiple rapes that were inflicted upon Cherie Curie, while still in her teen years, the book is never sensational, never gratuitous and always appropriately within context.
Currie says, "I was always confused for the last twenty or thirty years as to why The Runaways didn't get more attention, especially when Madonna came out wearing a corset and people were saying Oh My God she's the first. I was thinking God was there some sort of black hole vortex where people just excused us and that we didn't exist or that we weren't important. I thought that was a shame."
Fans of The Runaways will recall that fifteen year old blond haired Cherie Currie rocked the stage and danced, while singing "Cherry Bomb," dressed in a corset, stockings, panties and a garter belt, all of which by the way were her idea. For much of the rest of the show she would dress in a shiny gold jumpsuit.
"After we (The Runaways) broke up I was very sad about it and I couldn't even listen to our music for twenty years. Then when I started looking at some of these videos and listening to the music again, I was like Oh My God, we were good. To look at us on stage, we had something. We had something very unique and it was just the five of us. There was some magic there and the music was really good. When interest started coming for the film and people started taking notice of us it was a relief really, because I was thinking I was in the twilight zone for so long.
It is great that we are getting the credit that we deserve, because we went through hell doing it (editor's note: the abuse, broken promises and near slave like work schedules and tours to which The Runaways were subjected are detailed in the 2010 biography). It was a constant battle and it was all males (in the music business) except for Heart and Suzi Quatro, who has been a mainstay in my music from '73 – '74 up to now. I still love Suzi Quatro, but there just weren't any other women out there and the fact that we were teenagers, I just thought it should have got a little more of a boost from the music industry. I loved "Your Mamma Won't Like Me," (Suzi Quatro, from the 1975 album of the same name). I loved that album. She was just amazing. It (The Runaways) is still like a dream to me. I don't think I have quite grasped how fortunate I am to have had this happen. My son (Jake Hays) is a musician, an excellent musician, singer-songwriter, producer and he has a mom that…he now listens to The Runaways' music and he loves it. That is important to me too, because he is the most important thing in my life," she says.
Asked to comment on whether or not The Runaways made it easier for all-female bands that followed them Cherie Currie says, "Yes and it is always nice to hear it from them. The Go-Go's I remember were doing an interview a couple of decades ago and they mentioned The Runaways and how we influenced them. Those little shots in the arm were really nice. One thing I do want to say is there have been fans that have stood by us for the past thirty some odd years and who always thought we should have got more recognition. I want to thank them for that, because I thought we had been forgotten and that we were a cliché to the majority of the music industry and to the world. It's nice to know that we still have those fans. If it wasn't for them I don't think that any of this would have happened either. I know that Art Linson the producer was a fan of mine (John Linson and William Pohlad also co-produced and Joan Jett, Kenny Laguna and Brian Young were executive producers.)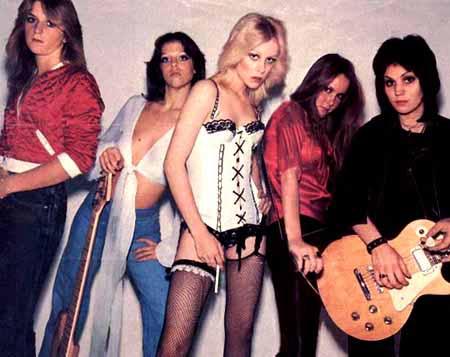 Currie says the renewed interest in The Runaways has also created a new legion of fans that weren't even born when The Runaways were rocking the world. "When I opened for Joan (Jett) in 2010 at the Pacific Amphitheater over there in Orange County it was sold out, 12,000 people came to see this show. I walked out on stage with my son in the band, which was so great too, in front of 12,000 people. Joan was doing some autograph signing and there was this little girl and she couldn't have been more than seven or eight, crying her eyes out, reaching up to me, this baby. I was just blown away. I get a lot of fan letters from very, very young, usually twelve or thirteen and up, who say how much we mean to them. The movie has really made a big difference. It really hasn't happened since. There really hasn't been a teenage all-girl Rock group like The Runaways."

The film The Runaways was inspired by Cherie Currie's first book, as well as the material that she had already written for the second book.

"What was really cool is we got to go into the studio and re-record the songs. It was amazing. We did "Queens of Noise," (as well as some other songs). It was incredible and it was like we hadn't missed a beat. It was just as if thirty-five years melted away. We were as good in the studio together and we sounded exactly the same as we did back then. We remembered the songs and it was really a thrill. We have those tracks and that is really neat. These tracks were used for the actors for Kristen (Stewart) and for Dakota (Fanning).

Cherie Currie has always seemed to create that sense of magic when she is on the stage, whether as a teenager or during her performances years later, some of which can be found on YouTube of her performances in the years in between.

She recalls one of The Runaways earlier performances at the Starwood Nightclub in West Hollywood,

"There was an overall feeling that we were doing the right thing and that we were in the right place at the right time. Also, I think we were pretty astonished by the reception of the audience and by these kids reaching up. We were filling some need. We were filling the need within ourselves of course, but to see them embracing us was very empowering for all of us."

Cherie Currie's recollection of the Punk music scene and some of those fans that came to the concerts of The Runaways, particularly in the U.K. is not as endearing, "I was not a Punk person and as you know from my book, I loved Don McLean, Dean Martin and Barry Manilow. My dad was a big Dean Martin fan. The Punk thing really scared me. When they said we were a Punk Rock band I thought we were not, because Punk at that time in the late seventies, when we showed up in Europe it scared the crap out of me!

It really was terrifying actually, terrifying. It took Joan and I by surprise. Joan and I would room together and I recall her awaking from this terrible nightmare that she had been shot on stage, through her guitar. She would go (Currie imitates a wail) out of her sleep. I didn't want to go on stage. When we were at the Apollo (a music venue) in Glasgow and that Bowie knife was thrown it landed just inches from my foot and this thing was vibrating. I literally just ran. It was something that you didn't expect. The kids had all the pins in their faces and they were beating each other up. They were spitting and they were throwing bottles. I guess that was their way of saying that they liked us. I don't know, but to be honest when we tried to flee from the place, they tried to turn our car over. They were literally rocking the van to the point where they were going to tip us over. The driver took off and we ended up hitting a kid. It was just terrifying. I didn't expect that at all and literally it was like arriving in The Walking Dead or something. You have all of these people around you who want to tear you apart. It was scary."

After two years of grueling tours, two studio albums and a live album the end was near. "We were working all of the time and it was a couple of years of not having a break. We had toured the U.S. and we went to Europe for a couple of months. This was very hard on me, because I was sick at the time and I was pregnant and I didn't even know it. It was horrible, horrible and I was very ill. I didn't like Europe. I think we saw the sun twice when we were there. It was a real culture shock, as I had never been away from home. I had never been out of the States and neither had any of the other girls. Although I could be wrong… maybe Lita. I think Lita was born in London. I was getting very homesick and I was very tired. We came home and did another U.S. tour and then we went to Japan. The thing is we weren't being taken care of. We weren't communicating. There were a lot of problems with Kim Fowley (the manager) pitting us against each other and making up stories. The fact that we (the band members) stopped talking and being friends affected me, because I was a very family orientated person. I was exhausted and tired of the fighting."

Two weeks after leaving The Runaways, Cherie Currie was pressured into recording a solo studio album Beauty's Only Skin Deep. She was told that she had to do this to fulfill her management contract.

"I wasn't (a fan of the songs). This was me fulfilling my contract. Of course I really didn't read the contract and we were so young. Immediately when I left the Runaways, it was that day Kim said, 'Well we have to make another record and here is what we are going to do. You are better off without them (the rest of The Runaways), blah blah blah. He had done nothing to help us. I wish we had just been able to have a break to take a few weeks off, have a couple of meetings, be friends and to talk about things that were bothering us. We could have survived it, but then I knew we were going right back to Europe and to be completely honest with you, I was just not prepared for that in my tired, exhausted state. Literally, we were in the studio within two weeks (to record Beauty's Only Skin Deep) and I had a 102 degree fever in the studio, while recording this record. I didn't like it. The only song that I thought was half decent was "Science Fiction Daze," and that was just iffy as it was," she says.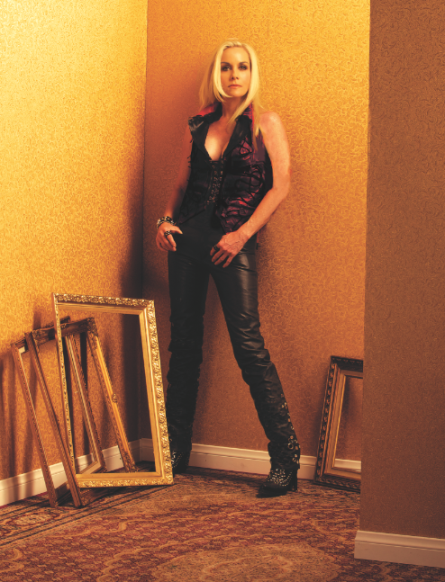 The teenage queen of Rock came close to meeting her final demise in 1984. By then in her mid-twenties, she says, "I was freebasing cocaine or what they call crack these days and as a result I had a movie career that went down the tubes (she starred in Foxes with Jodie Foster, as well as appearing on popular television show such as Murder She Wrote). I had been doing drugs since I was fifteen years old and to me it was something that you just did. Benzedrine to get up, quaaludes to come down and then I found freebase cocaine and I was dying. I never saw it, until this one moment when I happened to look in the mirror and this ash gray skeleton was looking back at me. It scared me to death and it was at that moment when I really saw what I looked like and what my life was. I was living with my then boyfriend drug dealer and I just got all of my clothes, anything that I could throw in my car and I went back to my Aunt Evie's house and that was it. I ran. I ran for my life."
Cherie Currie started to rebuild her life and took a job working in a linen store for minimum wage or actually for less than minimum wage, because when asked by the owner of the store how much she wanted to make, she had said an hourly wage that was lower than the law required and not realized that. When she realized her mistake she confronted the owner who adjusted her hourly wage appropriately. While working at the store she was recognized by actress Rosanna Arquette, with whom she had once worked.
"For that part of my life, a lot of people would be embarrassed, but I was starting from the ground up as a sober human being and I was starting over. I really wanted to know what it was like to be normal. I had to appreciate my life. I am glad that I did that. I had to do that. It tore down all of the ego and that is something that I needed to do to stay sober. I had to take ego out of the equation, because it is ego that gets you into this mess sometimes.
About 1986 and after a couple of years of sobriety, I started working as a tech first at Coldwater Canyon Hospital, (working with) adolescents. There was a psych ward and a drug ward and I worked both of those units. A lot of the counselors took note of how I dealt with the patients and they asked if I would be interested in becoming a counselor, so I went to school and I did all of that. I was a counselor for about a year and one-half and that was with teens," she says.
Cherie Currie had not intended to be an author or an artist and yet her time at Cold Water Canyon Hospital was indirectly responsible for her becoming both.
"The only reason I got my first book published, is because I went to Price Stern Sloan as an artist. When I was working at Cold Water Canyon Hospital as a tech, I had to sit in all of the school rooms with the kids for two hours a day. I was bored, so I started sketching these very whimsical knights in shining armor and princesses in castles. My dear friend Rick took me to Price Stern Sloan. It was a kids book company and they were branching out to do young adult books. I went there as an artist and I brought all of my drawings and the president of the company asked how long I had been drawing and I said about a year. He said how is that? I kind of told him the story about The Runaways and he said my God, we have been looking for our first young adult book and this is it. I walked in as an artist and I walked out as an author. The book might not have ever happened, had I not picked up my color pencils when I was working at Cold Water Canyon Hospital. I continued to draw when I was married to Robert Hays (actor, director and producer). When we got divorced I started painting things and really knick knack things, no big grandiose stuff (she laughs). I had picked up an oak table top that was in somebody's trash and I painted a deer skull on it and I thought I want to carve this thing out. I ended up going and buying a pine table top at Home Depot and I started doing relief carving. Then from that, I was driving to the beach one day and I passed a couple of guys doing chainsaw carving at the side of the road. I did not stop, but I could not get it out of my mind. You know that little voice that constantly tells you to turn left and turn right, it just kept saying to me, you have to go back and the following weekend I did. I walked into their gallery and I saw these beautiful pieces. In fact Stacy Poitras and Rio de Jarnett have a chainsaw reality show going on right now called Chainsaw Gang. I learned (how to carve) at Rio's house in 2001," she says.
"Six months ago I ended up doing a bench for Ron Thomas, Kelly Thomas' dad and I'm not sure if you know Kelly Thomas and if that name rings a bell. He was a schizophrenic man who was beaten to death by the Fullerton police. I was asked for some memorabilia or something for a fundraiser for the homeless and I ended up carving a bench in his memory and that one is extraordinary. They sold it. They didn't even let it go to auction. They sold it for $4,500 right off the bat, which angered me, because I wanted to raise more money for the homeless. Regardless, it is a beautiful bench.
Mainly I have been doing special orders for the last three years and sometimes I get an opportunity to carve what I want. You get an idea in your head or you are told what they want. You visualize it and you have to be able to see it in the log to be able to do it. Not everyone can do that and it is a lot harder than I thought it would be.
I use a very high quality spar (varnish) and it depends on whether it is an indoor piece or an outdoor piece. For an outdoor piece I use something called Timber Pro, which I find keeps the finish nice for a number of years, because the elements just kill wood. It just depends. Sometimes people don't want a glossy finish. I do what the clients want me to do. I used to use what a lot of carvers use now, which is linseed oil and mineral spirits and I spent as much time refinishing these things for clients, as I did creating them. I try to avoid ever having to refinish things again," says Cherie Currie.
Although, this is only March, 2013 is already shaping up as a busy year for Cherie Currie. She appeared in film Hansel & Gretel: Warriors of Witchcraft, which was released earlier in the year. At the time of publication, an episode of the television series Celebrity Ghost Stories, with Cherie Currie in it, was being shot and on May 10th – 11th at the Girls Got Rhythm Festival in St. Paul, Minnesota she will be performing. The festival will feature some of the world's top bands, which are fronted by women.
The icing on the cake for Cherie Currie's 2013 is going to be her brand new album. Riveting Riffs Magazine was granted a sneak preview of four of the songs and we are already drooling with anticipation after listening to the sensational "Blvd of Splendor," a duet with Billy Corgan (The Smashing Pumpkins). The song "Mr. X," signals in a huge way that Cherie Currie is definitely once again a force on the international music scene and at home here in America. Backed by Guns N' Roses alumni Slash (guitar), Matt Sorum (drums) and Duff McKagan (bass) the tempo is quick, the instruments have bite and Currie's vocals are strong, edgy and she sounds really good. Matt Sorum is in the producer's chair. Currie's son Jake Hays (guitar), Brody Dalle (vocals), bassist Grant Fitzpatrick, Nick Maybury (guitars) and The Veronicas also appear on the album. Buckle up music fans and hold on tight, because 2013 is going to be quite a year for Cherie Currie. We hope you are along for the ride, we know Riveting Riffs Magazine will be.
You can follow Cherie Currie on her Facebook page. You can also view Cherie Currie's chainsaw art by visiting her website
Photos two and three of Cherie Currie courtesy of Cherie Currie. Top Photo by Patty Balaz. All photos are protected by copyright © All Rights Reserved.
This interview by Joe Montague published March 13th, 2013 is protected by copyright © and is the property of Riveting Riffs Magazine All Rights Reserved. All photos and artwork are the the property of the photographers as noted and Cherie Currie
unless otherwise noted
and all are
protected by copyright © All Rights Reserved.
This interview may not be reproduced in print or on the internet or through any other means without the written permission of Riveting Riffs Magazine, All Rights Reserved