Earlier this year Cindy Alexander released her album Deep Waters, a collaborative effort with Colin Devlin of The Devlins. It is Cindy Alexander's best album yet. It is a collection of songs that are original tunes, with two exceptions a cover of "Heaven's Wall," by The Devlins and Jann Arden's "Good Mother."
The new album opens with Cindy Alexander covering "Heaven's Wall," a 1990s song by the Irish band The Devlins, from their 1997 album Waiting. She has always had a good voice, but this song fits very well with Alexander's vocals and her phrasing is excellent. As the song builds to a crescendo at the 2:30 mark Cindy Alexander's connection with this song is evident as she repeats the chorus "Come on, take my hand, we'll rise above it all / Then we can meet as planned outside of heaven's wall."
"When I was going through Colin's material, before we were going to start writing together, I was listening to his music and I came across this song. It is a Devlin's song from the '90s and it hooked me. I loved the groove and I loved that the beat was relentless, but there was this slow and steady build. It kept going through my head and it was an earworm. When it came time to put the songs together I thought it would be nice to cover one of his songs. I love the guitar solo by Colin," says Alexander.
The album Deep Waters was difficult for us to get through the first time and only because each of the songs is so well presented that the tendency is just to keep replaying them, before finally convincing yourself to move on to the next song.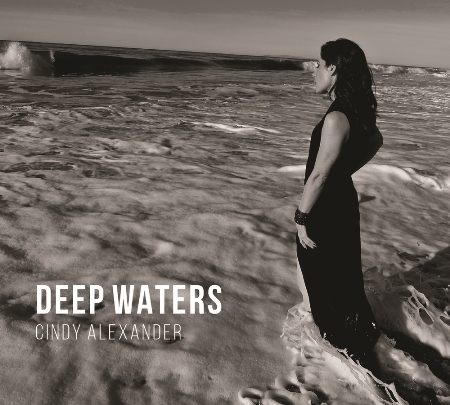 The current album originally started out with the premise that there would be a series of EPs with different songwriters and producers with which Cindy Alexander would collaborate. Colin Devlin was one of them.
"It is completely the brainchild of Kirk Pasich, the President of Blue Élan (Records). He happened to be a fan of both of us and we had never met, so he introduced us. I have only had two steady writing partners throughout my career. One was Paul Trudeau who I started with and he introduced me to Dave Darling. Other than that I pretty well wrote on my own, except for a few trips to Nashville, where I had some great meetings with some great songwriters and turned out some tunes. On a regular basis it was only two people.
If you tell somebody to go and write with somebody else, unless you are a songwriter, I don't think you really understand that it either works or it doesn't. It is kind of like sending somebody on a blind date. You are either going to click or you're not. For me the chances are very slim. I have had a hard time trying to write with a lot of people.
Colin came in with a great idea. He came in with the idea of Deep Waters and writing with him at the start was very easy and it flowed really well. We were good collaborators and as we started, our habits and the places that we normally go became clear to each other. I would say that I was definitely pushed to try different things and to abandon my previous notion of form and my lyrical identity, because I was now writing lyrics with somebody else, which I had never done before," she says.
What started as an EP ended as a full album, because when the record label heard the first five songs that had been recorded the label, Colin Devlin and Cindy Alexander all realized they had something pretty special and they should forge ahead and finish the album.
The album was completely produced by Colin Devlin and engineered by Eric Milos. In addition to Devlin on guitars and vocals, the record features Randy Ray Mitchell on dobro ("Deep Waters") and on electric and acoustic guitars ("Fireball" and "Heaven's Wall), Jeremy Ruzumna (piano, keyboards and Hammond organ), cellist Michael Bacon on "Forever Bound," drummer Chip Moreland, Peter Devlin on bass, Delious Kennedy lent his vocals to "Hands," and of course Cindy Alexander as the lead singer. Cindy Alexander says that the result has been "a completely new sound palette."
"It was a fresh experience and it was completely different. The dynamic in the studio is very different and I have always been very, very comfortable working with Dave (Darling). We have been working together since 1998. We have our way and I love it, but with this I was pushed past my comfort zone many times when creating and recording this. I eventually got there if that makes any sense. I got pushed into a new sweet spot if that makes any sense. As challenging as it was at times, I am grateful to Colin for pushing my boundaries, giving me a new palette of sound, and taking my artistry to a new level. I've grown," says Cindy Alexander.
The second song on Deep Waters is "Fireball," a Rock song that packs a punch! Cindy Alexander is at the top of her game and the musicians really rock this song.
She says about the song, "I had this chord progression for years and I brought it out before Colin was going to come over for a writing session. He came over and I said I think I have a great chorus, but my voice is sounding like Uncle Cracker. He said don't play let me sing. We finished that song in about 15 minutes."
The song "Hands," is one of the more tender songs that you will listen to this year.
"The song seems to make everybody cry when I play it live. When we were told that we were going to make a complete record and I had to finish this by a certain date I reached out to Dave Darling. Actually, we both did and we did so separately, not knowing that the other one had done that. Dave sent us a chord progression and a melody idea. We sat down one morning and I wanted to write something for Chip (Cindy's husband).
I remember when I was going into surgery (a double mastectomy) and I was waiting in the pre-op. The doctor was late and Chip was massaging me and rubbing my feet. It occurred to me just as much as the doctors were going to heal me that his (Chip's) love was part of that process. It was one of the most important things to pull me through. That's where "Hands," comes from, it's for him. It came pretty easily. Colin and I wrote it in one morning. That is the one song that is written by the three of us, Colin, Dave and me. I was happy that part of my musical past could be infused into my musical present.
The song is about the love of somebody allowing you to transcend. It is going to mean something to someone else that may have nothing to do with my story and that's the beauty of music and that's the goal as a songwriter. I put my stories out there, but I want the listener to find their own stories in my songs. I want them to be able to say this is my song," she says.
As for how Delious Kennedy's background vocals came to be on the song "Hands," Cindy Alexander says, "He is a very good friend of a friend of mine, Jenna von Oy and I remembered Delious singing at her wedding. He had one of the most gorgeous voices that I ever heard. When we were talking about somebody to do backups on this song, Colin said, I think we need more of a Gospel sound. Delious' voice came into my head and I called Jenna. I said do you think that you could do me a huge favor. That's one of those times when you just have to ask to get what you want. Delious was so gracious and he came in and he did an outstanding job. I think that he added so much to the track."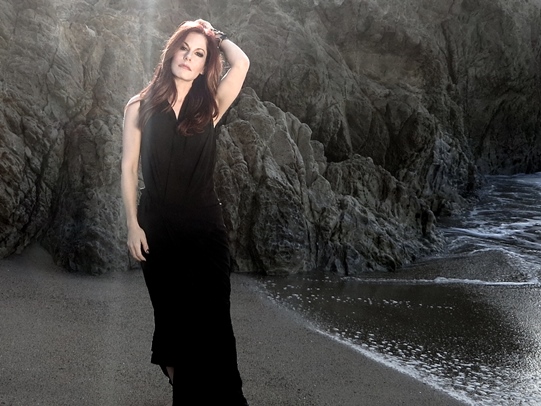 The song "Forever Bound," is for Cindy Alexander's twin daughters Jette and Perry. Anybody who has spent time having a conversation with her knows that without a shadow of a doubt the most important priorities in Cindy Alexander's life are her daughters and her husband Chip.
She talks about the song, "Colin was very insistent that I go to the most personal and the most vulnerable spots and it had to be emotional. That was one thing he was really going for. My kids have had a really hard time this year when I have to go out of town. There have been a lot of tears and the questions have come up, mommy why do you have to go on tour? Why can't you just mail them your CDs? I had to explain to them that this is mommy's passion and part of her purpose in life and it is a really amazing thing when you find that and you can honor it. I am a better mommy, because I nurture that side of myself. I wrote this song for them for when I am gone.
I recorded it the night that David Bowie died, so it took on a different meaning. I just realized that everything I write and everything that I sing and everything I put out there is a legacy. It is something that they will have forever."
As for the addition of Michael Bacon's cello to the song "Forever Bound," "We (Colin Devlin and Cindy Alexander) both thought that strings were a great idea and I of course wanted Michael Bacon to play cello. If ever there was a tune on the record that called for it, it was this one. Michael's cello to me is a heartstring and it was a no brainer."
As to the question about allowing herself to be so vulnerable in the writing of this song and then performing it before an audience and once again allowing herself to be vulnerable, she says, "It is what I do. That's my job. When I get up there, I am sharing myself. That's what I do. These are very personal (songs). That is something that I look for when I go to a show when I am watching performers. They are putting into words life experiences that may not be mine, but I am sure that I have experienced something like it. When they feel, it makes me feel. I would never hold back. There are moments when I am on the edge of tears and as a performer you have a certain control of how far you let it go. You don't want to let go so much that you can't perform the song. It's real and it brings up a lot every time.
This year has been such a tragic year with the loss of so many incredible artists, so I am not only thinking about myself. Last night when I sang it I was thinking of the father of one of my children's friends who passed away unexpectedly. I was thinking of little Amelia and what she must be going through. The stories change when I am singing them and it is not always the same one. They are always real and when a song is real and true it moves people and that's my goal."
The seventh song on the album is Jann Arden's "Good Mother."
"Again this is one of those situations when I had to finish the record by a certain time. With being on tour so much, there was only so much time that I had to write the rest of the record. That's why we decided to do a cover. When I first started writing music, I used to go to the Troubadour and I remember a show where Jann Arden was playing a show with Jackson Browne, a double bill. My friend Kevin Montgomery was on the bill too. I heard that song and it struck a chord with me, because my parents have always said be yourself.
The other thing that struck me was the turn at the end of the chorus, because I never wanted anything. My parents gave me everything and I never wanted anything so bad. There was still that idea of not being completely fulfilled. I think there is something about the creative personality and definitely about me. There is always more and there is always something just beyond my reach. There is always more that I can do and I can do it better," she says.
Deep Waters is not only Cindy Alexander's best album in our estimation, but we are now nearing the end of July and it is the best record that Riveting Riffs Magazine has listened to in 2016.
This interview by Joe Montague is protected by copyright © and is the property of Riveting Riffs Magazine All Rights Reserved. All photos are the the property of Cindy Alexander unless otherwise indicated and all are
protected by copyright © All Rights Reserved.
This interview may not be reproduced in print or on the internet or through any other means without the written permission of Riveting Riffs Magazine, All Rights Reserved