David Forlano is an art couture jeweler who collaborates with longtime friend and artisan Steve Ford and Maryanne Petrus to create designs that are displayed and available for purchase in upscale craft galleries throughout America and fashion design studios such as Allie-Coosh in Dallas, Texas. Several of the pieces, that are created by Santa Fe, New Mexico based Forlano and the Philadelphia based team of Ford and Petrus, and which are comprised of polymer clay and precious metals, can be viewed on the Ford / Forlano website. David Forlano is also a sound designer who has worked with choreographers on numerous theatrical productions and along with his wife, actress, Debrianna Mansini (Crazy Heart, The Burning Plain) and some friends, he co-produces the suspenseful web series Cyphers.
"I was talking to a filmmaker about Cyphers and I said, what seems to be important about Cyphers is it is not a film, it is an unknown, film like, web like thing. It is on the web and it is a webisode. It very much reminds me of when I forged the way with my jewelry business as a complete unknown. I stepped into this world that was kind of known, but I got to step into it and say I'm going to redefine the rules about what jewelry is. That is my position with making jewelry, so with Cyphers we can redefine what filmmaking and what storytelling is with this project. To take it even further as to what Cyphers is, there is this concept called trans media, which is storyboarding or storytelling across all media, whether you are making a novel, a film or a song. All of these pieces constantly tell the story. The web is a place where there are a lot of different types of media and where people tell stories. The video of Cyphers can act as one aspect of the story and then we can branch out from that and we can continue to tell the story and we can flesh out the details with other sources and in other ways," says Forlano.
Forlano and Ford have developed solid relationships with designers such as Alli-Coosh, "She has been interesting and she is one of our really unique clients. She sends us fabric swatches, thread swatches for everything that is up and coming and what she is going to have next season in her store. She sends us the colors and in some cases the fabrics may have a certain texture that we want to refer to in our jewelry. We will make things specifically for her line and to work with her clothing, which I think is a fantastic way to work, when she has access to the maker of the jewelry and when the jeweler is willing to work with that kind of a palette, which we are. We love the challenge and it is really great that she does that," says Forlano
David Forlano says that the art jewelry that they create is properly defined as couture, as it very unique to them and each piece is different. "Our challenge is to stay on top of the game and to keep inventing. We have a certain look and when people see us they know us by name, just as it is with famous dress designers. People, who know that world, will look at a dress and they will know the designer. That is where we stand, in the American craft jewelry world.
David Forlano and Steve Ford have come a long way from when they first met at the Tyler School of Art in Philadelphia. "We were both painters and I think that jewelry was the last thing on our minds that we would ever be doing. When we got out of art school, for a few years we did painting, roofing and construction jobs, just to keep ourselves in some money. It was totally the starving artist scenario. Steve Ford and I were actually living in a laundromat in Norfolk Virginia. We were out there doing odd jobs, but we were never really getting ourselves out there as fine artists. We were involved in the process of the making, but as is the case with a lot of artists that come out art school, we didn't know the first thing about how to get ourselves in front of the galleries. We know how to make stuff. It is a funny thing that takes time to get your head around and to become comfortable with it. I felt weird for awhile selling my own work and I probably would have done better selling someone else's."
"We found the polymer clay through a friend of Steve's and we said, let's get some of the clay, mess around with it, figure out what it does and find out what is interesting to us. That is what we did day and night and we were obsessed with this idea that we were going to make a business and that we were going to make a jewelry business out of it. That is how we were introduced to it, because a friend of Steve's who was making little earrings and pins out of it said, that we might come up with some interesting ideas, so he introduced us to the material and some of the technique. Steve and I are the types that are never satisfied with the last thing that we did, so we kept pushing the technique further and further and it really just snowballed into a business, before we knew what we were doing as a business. We were selling stuff to every little surf shop, craft galleries, museum shops. We made things, put them into a cardboard box and we walked into galleries cold and we said, 'We made these, do you want to buy them?' (he laughs) We didn't know. Are there channels that you go through? We just walked right up to the counter and a lot of the times we were talking to someone who really wasn't in a position to do the buying for the store. They would say, call so and so or come back on this day when the owner is in. We didn't know anything about the whole craft jewelry industry, but we were open to learning, so when we did sell things, we would go back to that store and we would ask what people liked. Did they like more things in red or purple? That helped hone in on what was working and what was not. We did that for the first ten or twelve years of our business," he recalls.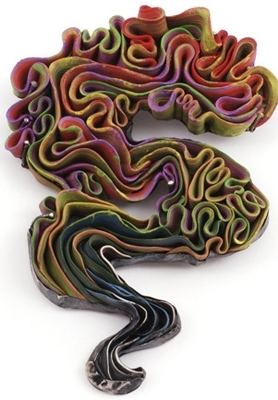 Continuing to describe how Steve Ford and he work together, David Forlano says, "Steve thinks about the structure and how things go together, sort of the three dimensional qualities of the objects. This was true of his painting when I met him. I thought it was really interesting, because he wasn't thinking as much about surface and color, as much as he was thinking about the object of the painting and I think that follows right through to the jewelry. He will say to me, you are the color guy, I don't really know color. I will say that is interesting, because it is not that you do not know color, you have a very unique and interesting window on what color is. I find that intriguing and a good springboard for me. My part of the work tends to be the surface, patterns, colors and that kind of thing. We work well in that kind of tension, but we also cross over now and again and we sort of riff off each other, which yields very interesting results as well. We are always going to do it differently than we think the other person did it, so it blossoms into a whole new line of work or a new way of working with the material."
For those who may not be familiar with polymer clay, Forlano takes time to explain that it comes in a wide range of colors and from what he recalls, it originated in Germany, where it was used for making the heads, feet and hands of dolls. Part of the attraction for working with polymer clay is it will bake at 300 degrees Fahrenheit, it is readily accessible in craft stores and he says with just one lesson, children can usually make something with which they are happy.
Recently, David Forlano and Steve Ford have drifted back to their roots. "Steve was actually more of a print maker than a painter by the end of art school. I started focusing on painting. Steve started getting back into printing and I was simultaneously getting back into painting on my own and he was on his own. I said to Steve that we should consider collaborating on the print painting concepts. I said send me your prints and I will paint on them or I will paint into them. He was really excited, because he was just printing to get the ball rolling and he really didn't have a focus yet. We are such good collaborators and we have been collaborating for so long that it was a very easy transition. We are still exploring that and it is something that we are having a great time with. It is nice to come back to painting and I really enjoy that. We are exploring that right now. They are printed on very heavy paper. We draw a lot of inspiration from textiles and patterns."
You can watch this video to see how the jewelry is made. Visit our main fashion page to see a slide show of the Ford / Forlano print paintings.
To learn more about where you can purchase the David Forlano - Steve Ford art jewelry and print paintings please visit this page.
Bottom Photo: 1964 Ribbon Pin, 2010 Polymer Clay and sterling silver
Interview protected by copyright © All Rights Reserved by Riveting Riffs Magazine. This interview may not be reproduced in whole or in part, in print, on the internet or otherwise without the written permission of Riveting Riffs Magazine