Double Down Cosmetics

One listens to Marvin and Kristen Speller talk about their married life, about Doubledown Cosmetics, the work they do in the community and Kristen's music and you are immediately struck by how supportive they are of one another and the warmth of their love for one another.
The seeds were sown a long time for their cosmetic line, as Marvin explains, "I will give the shorter version of this. Almost nine years ago when we first met, I was in North Carolina and I had custody of my daughter and she had a dance recital that weekend. As a guy I knew nothing about makeup. I didn't know what I was going to do. I put my thinking cap on and I called Kristen up and I said I need help and lots of it. She knew a lot about makeup and I thought she was an expert. She was always so passionate about it.
Fast forward down the road and she was always sharing makeup tips with people and always watching people and the gurus. I have always been of the mindset that when you are with someone that you love, a close friend or family member and definitely a significant other you try to help them make their dreams come true.
I kept saying to Kristen you really need a product, because this is something that you are so passionate about and you are so great. She was a guru from my perspective. She was really into it. Last year (2018) we just decided to go for it. The first product was a makeup bag. It is vegan and cruelty free and it coincided with what we do with wellness. It was a great product and there was a market out there for that."
Paloma del Pozo - Spanish Designer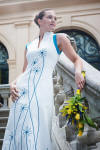 It was a Friday afternoon in February when I left the Melia Princesa Hotel in Madrid walked to the estacion de metro Ventura Rodriguez and made my way by train to another station Gran Via – Pedro Zorolo. It was a sunny day and the open square, like so many in Madrid was bustling in a good way. There was energy, laughter and a lot of people in this city of seven million. I was on my way to Calle de las Huertas, Number 5, fashion designer Paloma del Pozo's shop. Like many of the shops in this neighborhood of narrow winding cobblestone and pavement streets, the shop Ojalá Paloma del Pozo has a somewhat modest storefront, but it is full of treasures inside.
My journey to interview this warm, delightful woman began several months earlier when I noticed a fabulous blouse that was worn by Spanish television, film and stage actress Silvia Marso. When I commented on Ms. Marso's Instagram account about the blouse, she immediately without my asking directed me to Paloma del Pozo. The interview was arranged by her equally warm and personable assistant Sara.
So here I found myself thousands of miles at home surrounded by blouses, skirts, dresses and slacks rich in texture and colorful and in the presence of two fabulous women.
"We don't make a collection," says Paloma del Pozo, "We make what we want. We don't have the same
Head of Fashion Odd Molly

In 2002 Per Holknet, a former skateboarding world champion, former drug addict and previously homeless person got together with designer Karin Jimfelt-Ghatan and financier Christer Andersson and co-founded the Swedish clothing company Odd Molly, with a shared vision inspired by a real life girl named Molly. The Odd Molly brand is now sold through a combination of boutiques and Odd Molly owned stores throughout the world. (Editor's note: Holknet and Jimfelt-Ghatan left Odd Molly in 2013 to pursue other business ventures.)
Recently, Anna Bonnevier, the Head of Fashion for Odd Molly took time to talk to Riveting Riffs Magazine from her home in Sweden.
Ms. Bonnevier elaborates on the story behind Odd Molly, "The Odd Molly brand would not exist if there was no Molly girl. It is a true story, because one of the founders Per was a skateboard pro in the '80s and at that time he lived in Los Angeles and there was one girl called Molly, just hanging around the skate parks and so on. It was her personal look and style that really inspired Per to start this brand. I know that Per and Karin bumped into each other in L.A."
We wondered just who is this Molly girl and is she still an inspiration for the designers today?
"Per often talked about her as the girl that everyone wanted to be with, because she was just having her own way of doing everything and also because of the way that she dressed. I think it is the spirit of this girl that is the most inspiring part, because