Interview with Joe Montague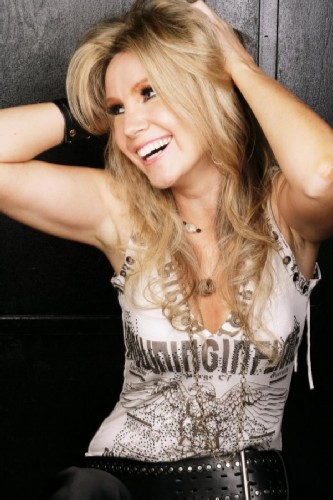 There is a line in Australian singer – songwriter Dianna Corcoran's country music song "Thank You for Cheating On Me," in which she talks about how she is walking on air and it serves as a reflection of the relationship she now enjoys with her partner Tom, one of the two hunks that appear in the companion music video. The two-time winner and three-time nominee for the Golden Guitar Awards or as they are also known, the Country Music Association Awards (of Australia), took time out recently to talk to Riveting Riffs Magazine, from her home in New South Wales Australia, as we discussed her fabulous new album Keep Breathing.
Talking about her song "Thank You for Cheating on Me," Dianna Corcoran says, "I think that people see the title and they think that it is going to be sarcastic, but it is not. It is a genuine thank you. It is thank God, because you did me a favor, otherwise I might still be with that terrible person if he had not done that to me."
As for the video, "One of them is my hunk, so that was not hard at all (being in the video). The other guy is a model that we hired and he did an amazing job. His name is Bo and he was the bad guy. Bo is the guy who gets thrown into the swimming pool. He was a pretty good sport, because I don't think that anybody wants to play the bad guy. My guy (Tom) played the good guy. Bo and Tom got along really well and it was good fun."
Another one of the songs from the album Keep Breathing that speaks to the place where Dianna Corcoran finds herself these days, is the tune "Wrong Girl," and the lines, "You walk into the room / Like you own the moon / You think the world revolves around you …You are expecting me to fall for you / Because you can give me everything that matters / Everything that matters / You've got it going on / Everything about you / Is what a shallow girl would want to cling to." Ms. Corcoran wants it clearly understood that she is not the shallow girl and what she values in a man is considerably different.
"I have been in many situations where a guy thinks that he can pick me up by showing me his car, or by telling me how much money he has got, or telling me what he owns in terms of real estate and that is where I look at him and say, 'You know what, I'm not impressed. You've got the wrong girl.' That's what this song is about. It's about guys who I guess feel (those things) are important and knowing that there are girls out there who think that they are important as well. The inspiration for that song came from my partner, who is certainly not like that. He doesn't waltz around telling people how much money he makes or anything like that. He is in the army and he is deployed to Afghanistan. Their pay gets bumped up a little bit while they are overseas. I was devastated to hear that he was getting deployed and I just couldn't stop crying. He thought that he would make a bit of a joke and he said to me, 'You are doing your album and everything, think of all the money.' I stopped crying for just an instant, looked up at him and said, 'Wrong Girl! That is not who I am and I don't care how much money you make over there, I would rather that you stayed here.' That is actually where the inspiration (for the song) came from. It was the wrong girl to say that to," she says, ending with laughter.
"I even have friends who are beautiful people, but you would be surprised at how important it is to them that a guy earns a lot of money. It's incredible. It is one of those boxes to be checked when they are going through all of the things that they require in a man. It is important to me that my man has drive and he wants to succeed in life, but it certainly doesn't bother me if he doesn't earn a lot of money, as long as he is happy and he is successful in what he wants to do," she says.
Dianna Corcoran was experiencing some major career transitions following her second album Then There's Me, released in 2007, "I actually broke ties with my record company over here and I know that a similar thing is happening in the United States, but in Australia especially, record companies are becoming a thing of the past. It is all relative, CD sales are going down and digital sales are going up. My record company was slowly going bust and I made a decision that we were on very different paths and I wanted to get out. I got myself a really good manager and we managed to break the ties quite amicably. There were no hard feelings or anything like that. We are just on a different path now. Obviously that was a big deal, because it now meant I had to go and do everything myself and even though that is the in thing to do and everyone wants to do things independently, it is not an easy road. You have to find the money yourself and you have to do all the (work). It is one of the major transitions that I have had over the past three years since the last album. Also, relationship wise I have found the man of my dreams, since releasing my last album and I guess that has made other relationships make sense now. I used to look back and think, 'Oh my gosh, Why was I with that guy?' Now it makes sense, because now I realize why it was that I was going down that path. It is like the Rascal Flatts song, "That God blessed the broken road / That led me straight to you." ("Bless the Broken Road") I think that goes for everything in my life, not just relationship wise." Read more