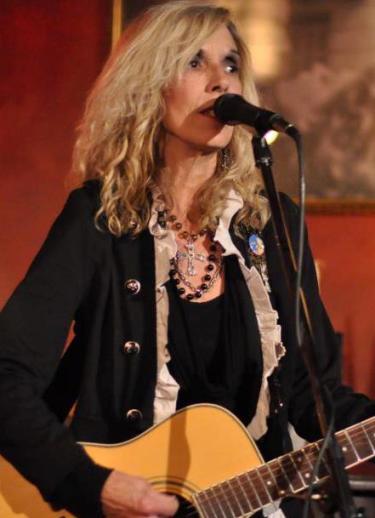 Two songs from Tennessee singer-songwriter Donna Frost's album Girls Like Us, struck a chord with women around the world, the title song, that was inspired by Sheila Weller's book of the same name and the song "Dancing With Bruce," a song about feeling special while time stands still.
Sheila Weller's book Girls Like Us explored the lives of Carole King, Joni Mitchell and Carly Simon, from the perspective of them being strong women who blazed the trail for other women during the 1960s. Donna Frost says, "I liked the book, because as a teenager growing up I would listen to Joni Mitchell, Carly Simon and Carole King, as well as James Taylor, Paul Simon and Cat Stevens. I had so many influences, Jim Croce and a lot of the singer-songwriters really shaped who I am today and I bought the book and thought it would really be a good title for a song. After Beth Travers and I wrote the song we thought it would be an even better name for an album. It was all very inspired and it is like an anthem for female musicians. It is not the easiest lifestyle in the world, especially if you have a significant other, which I don't and I haven't in a long time, but it's like Janis Joplin said, when you are a female singer, there are a lot of things that you sacrifice like home and family and things like that. It (career) does consume all of your time and there are things that you can't do when you are on the road like I am or like a lot of female artists. You aren't going to be there to take the kids to school or to go out on a date or to hang out with your husband or to take the kids to this or that or the other. I never had children, because I have always been in music.
The song really struck a chord with a lot of women, everywhere, not just with musicians, but I find in my shows, with people that I meet, women in general, regardless of their walk in life or what their career path is, it seems like it strikes a chord with them, because it is a song about self-empowerment; that I am able to do things myself and it is a strong woman's song. I think women can connect with it whether they are in entertainment or not. It seems to have touched a lot of people in a good way. I am hoping that my songs inspire people in some way. A lot of the new things that I have written are that way and I try to connect with others. I think that "Girls Like Us," connected with a lot of women."
The song "Dancing With Bruce," on the other hand is very personal to Donna Frost, "Now that's a true story. Everything about that song is about my experience in 1981. I was the kind of kid in school who wasn't so great in athletics, people made fun of me, because I was a little bit different and when I came to school with my guitar, nobody laughed at me anymore. This is the story of a person who got to have the spotlight for a few minutes and who got to dance with Bruce Springsteen. It was 1981 and I had gone to his show in Nashville. I had been going through a rough period in life and my uncle who I was close to had just passed away. I had some different things going on and I was in the front row at his (Bruce Springsteen's) concert in Nashville. He got me up on stage to dance with him. I really did feel like Cinderella and he really did lean me back and he gave me a kiss. I can even tell you the song that we danced to. It was "Sherry Darling," from The River album (released 1980). A bunch of my friends were in the audience that night and they got to see me dance with Bruce Springsteen. I got to do it and people saw me. It wasn't something that I dreamed, this really happened and lucky me. It was five years before Courtney Cox did it in the video (she laughs). Again people have connected with that song, because as kids they may have been called a dork or maybe they weren't so athletic or maybe they weren't so popular and then they have this little moment. Dreams come true for everyone at some point in life hopefully. I am proud of that one (song)."
Donna Frost grew up in Franklin, Tennessee and her musical roots go back as far as her great-grandparents. That musical lineage was passed down to Ms. Frost's grandparents and her parents and now Donna Frost wears that mantle. Her grandparents and great-grandparents were active in Southern Gospel circles and in fact, her parents met at a concert at which their grandparents from both sides of the family tree were performing. When Ms. Frost was born, her parents would take her with them when they performed. She said for the most part her cousins, siblings, aunts and uncles have been musicians and / or singer-songwriters. The musical span within her family includes Classical, Rock, Gospel, Country and most things in between.
"It is all we ever knew. I saw these people singing at the Grand Ole Opry when I was little, like Skeeter Davis, who later I became friends with and sang with. To grow up in a city where music is encouraged and embraced and where so many great artists have come through, all through the years and who have influenced us. I love being from here. I really do," she says.
"This town's not the same, it doesn't have soul anymore / I feel like a stranger, when I walk out my door." are the words that introduce us to Donna Frost's song "Anywhere Tonight," a song she wrote about Nashville. It talks about the business side of Nashville's music scene and for Donna Frost, it is a reflection of the city and culture she grew up loving and from her perspective how it has changed.
"Back in the old days with Patsy Cline, Johnny Cash and when all of the traditional Country artists were around, usually the artists could record and still be important even when they got old. Today, people like Hank Williams, Johnny Cash, Patsy Cline and Tammy Wynette, would not get a deal, because either they did not look right or they were too Country or something. It is all about youth and manufactured images if you will, and cookie cutter songs. I have become disgusted with the American Idol mentality, which seems to have infiltrated a lot of the music today. It's not about artistic quality anymore, it's about looks, selling millions of records and then it is on to the next person and you don't really remember that artist a year from now. Think about some of the people in recent years who have been so popular, can you remember anything that they have done of late? The song is a commentary of how it has become. There is still a lot of great music being made here and there is a lot of great talent that the masses aren't going to hear. I say a lot of the best music being made anywhere in the U.S.A. is by people you will never hear of.
I think the internet has been really helpful and it has certainly given everybody more outlets, the independent labels, radio, all of the websites, Reverbnation, MySpace and Facebook, there's so many outlets now for us to be heard, to promote our shows and to promote our CDs. You don't have to have a major label anymore and you don't have to have the big deals. Really you're better off not to. There is so much good talent out there now. Some of my favorite CDs are by people you will never hear of, because I meet them on the road," she says.
Using Hollywood as an analogy for the music industry, Donna Frost says, "In Hollywood, Marilyn Monroe would be considered fat, because she was a size 12. If Marilyn Monroe walked in today, they would throw her off of the lot, because she was too big and I think someone like Patsy Cline would have been (rejected), because of her weight or Johnny Cash, George Jones, Merle Haggard or Willie Nelson, because they weren't the pretty boy (look). None of those guys would get signed today. That is such a shame. Today it is more about smoke and mirrors. It is not about quality anymore, it's a shame. I get so sick of all of these singing shows and I just think it is glorified karaoke."
Donna Frost knows a thing or two about quality music, her uncle, Felton Jarvis produced records for Elvis Presley from 1966 until 1977 and he also produced artists such as Tommy Roe and his # 1 Billboard hit "Sheila," in 1962. As a producer he worked with Gladys Knight, Fats Domino, Charlie Pride, Willie Nelson, Skeeter Davis and Carl Perkins.
Ms. Frost remembers Felton Jarvis as being, "very funny and he was very humble. He was very down to earth. My uncle worked for the biggest star in the universe and he never let it go to his head. He was in real close quarters with Elvis all of the time. He worked with him and he hung out with him. My uncle was just down to earth and just as real of a person as you would ever find."
It was through Felton Jarvis that Donna Frost met James Burton (Rock and Roll Hall of Fame, performed and recorded with, Elvis Presley, Johnny Cash, Merle Haggard, Glen Campbell, Elvis Costello, Roy Orbison, Suzi Quatro, Joni Mitchell) and Carl Perkins ("Blue Suede Shoes") when she was a little girl. "There is an album that James Burton released, an instrumental and I have it on disc. Elvis came to the session and they recorded James at my uncle's house. Like the crazy girl that I was, I would bring my guitar over and I would play guitar with him and I would pick his brain. Carl Perkins would also come to my uncle's house and we would just sit around picking songs. I picked his brain for stories and asked him to show me how he did this and tell me how he wrote that. Carl and I stayed in touch until he passed away. All of that came about, because of my uncle and I am very grateful. I got some rich musical lessons from some of the greats and they were so nice to me, some little novice with a guitar who was trying to figure it all out. They took time to let me play guitars with them and they asked me to play something for them."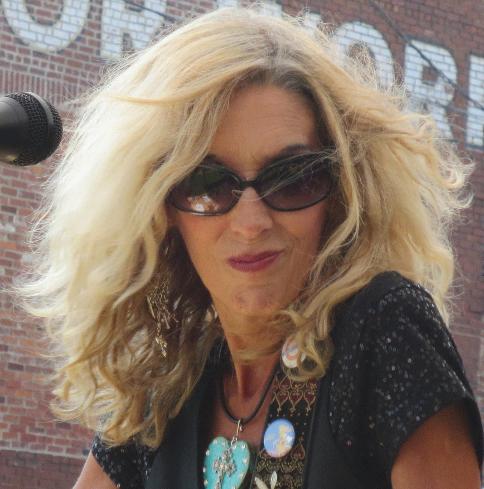 Coming from such a rich musical heritage, one would suspect that Donna Frost got her start in music at a young age and that would be correct. At nine years of age her Aunt Mary who worked for Chet Atkins, paid for her to take piano lessons. "A lot of kids take lessons, because they are forced to, but I did it because I wanted to. My parents both had jobs, but a piano for the house was a bit of an expense that we could not really afford. It was a bit exorbitant. Do you remember the comic books that had the little ads on the back, as to how you could make money? There was an advertisement for selling Christmas cards on the back of this comic book, so I got the Christmas cards and I took them to school. I took them to church and my parents took them to their places of employment. My aunt took them to RCA and we sold enough Christmas cards for me to buy a piano.
I decided I wanted to play guitar (when I was eleven) and my Aunt Mary once again found me a guitar teacher and bought me a little Classical guitar. I started taking the guitar lessons and when I came home from school, I would sit in my room with my phonograph player, my albums and my 45s. I would practice the songs that my guitar teacher was teaching me, but I could also play by ear, so I would just sit every day with those records and play my guitar, just soaking up everything that I could from all over the place.
My first real show was at age thirteen at the War Memorial Auditorium in Nashville. It was a benefit show for the handicapped children of Nashville and the headliner was Jerry Reed. My dad and his brothers, The Frost Brothers Quartet was on the show, and my dad organized the show as well. I was singing with a friend of mine, Harriet Moran and we were booked as the opening act. We sang two songs, "Today," and "Both Sides Now," "she recalls.
Donna Frost rocked Nashville so to speak when she went against the grain of the entrenched Country Music and Gospel Music scenes to become the lead singer and the rhythm guitarist for the Punk Rock band the Bunnies. A few years ago the Bunnies were reunited and they continue to perform in Nashville and Chicago. The band also, often backup Donna Frost's for her original and mostly Americana music, as well as her solo career and the Skeeter Davis, tribute shows that Ms. Frost performs. The Bunnies derive their name from two sources, a sign at a pet store in New Orleans that her brother Tony Frost (drummer for the band) and Todd Andrews (original bass player) saw. It read "live bunnies." She said the moniker is also a tip of the hat to Bun E. Carlos, the drummer for Cheap Trick.
During her career, Donna Frost also, "worked on an album with BJ Thomas that he was recording in Nashville. My brother Andy was working with him on the road, for five years at that time. I got the call asking if I wanted to come and sing some harmonies and it was the album B.J. Thomas: Back Forward, which they were re-cutting for a Japanese label or something. It was a big thrill.
From 1996 to 2002, Donna Frost toured with Skeeter Davis, as her background singer. "She was my hero when I was a little girl and my Aunt Mary and Skeeter were close friends. I loved Skeeter Davis, I worshiped her, I listened to her music all of the time. I would go into my room, play her records and I would sing the harmony parts. When I was a little girl I told her, 'I am going to sing with you when I grow up.' I was out traveling with my music and I got a call from her and she said, 'It's time for us to do this.' We had stayed in touch over the years. She had just been diagnosed with cancer. She had breast cancer in '83 and it had gone into remission and it resurfaced in 1996, so she thought the time was right for us to do this. The very first show that I was with her was in St Lucia on New Year's Eve 1996 going into '97 and after that I worked with her in Barbados, some cities in the U.S., New York, Nashville, Miami. During those years, she would let me open shows for her when we did concerts. She was so supportive of me too. We used to sing all of those hits. She was so loved even in the Caribbean. Nashville has never given her the credit that she deserves. She has never been inducted into the Country Music Hall of Fame and we have been trying to get her inducted. She has had all of these hits and "End of The World," was one of the biggest hits ever. Those years that I got to sing with her were some of the most special times of my life. A lot of people dream of working with their idol and I really got to for several years. I think that Skeeter belongs in the Rock and Roll Hall of Fame too, because "End of the World," (1962) was such a big crossover record. In fact, it was # 1 on Billboard in every genre at the time (actually it was # 2 on Billboard Hot 100, # 2 on Billboard Country Singles Chart, # 1 on Billboard Easy Listening – Adult Contemporary Chart, # 4 Billboard Rhythm and Blues Chart), and no other female singer has eclipsed that since (editor's note: Chart history verified through Billboard. No other artist in the history of Billboard charts has ever duplicated the four chart top ten accomplishment, according to Last FM and Wikipedia). That record was in 1963 (released in December 1962, peaked on the charts in 1963), so you are talking nearly a fifty-year old record that still gets played on radio today and it has been used in movies and TV shows. I hope someday she gets her due."
Donna Frost has contributed to the books Tales From The Rock and Roll Highway, by Marley Brant and The Other Side of Nashville by Rev. Keith A. Gordon, released in October 2012, which takes a look at the Rock music scene in Nashville during the 1970s and 1980s. She is also preparing to record her fourth solo album and collaborating on a Rockabilly record.
Please visit the Donna Frost website Return to Our Front Page.
Interviewed by Joe Montague October 2012
This interview is protected by copyright © and may not be reproduced in print or on the internet or through any other means without the written permission of Riveting Riffs Magazine, All Rights Reserved