Ellen Johnson Discusses Her Book - Jazz Child A Portrait Of Sheila Jordan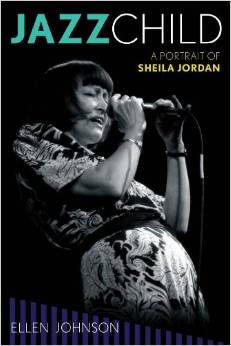 Sheila Jordan is one of Jazz music's greatest innovators and as a singer she has more than once influenced the direction and styling of singers who followed in her footsteps. In 2012 the National Endowment for the Arts gave its most prestigious award in Jazz music, the Jazz Master to Sheila Jordan. The recognition that Jordan received is particularly noteworthy, because she made her mark in bebop music at a time when it was a difficult path for most women. It was not the first time that Sheila Jordan had a prestigious award bestowed upon her. In 2008 Jordan received the Mary Lou Williams Women In Jazz Award and she has been honored as the recipient of numerous other awards. In late 2014 Ellen Johnson, a vocalist, lyricist, actress, writer and educator had her book Jazz Child A Portrait of Sheila Jordan published.
Ellen Johnson says, "Sheila Jordan was the only singer at that 2012 award and she was the only woman (to receive the award that year). That is significant, because there are not a lot of women (who have received) the NEA Jazz Master award. It was a very, very important award for her. I think more than anything it was the acknowledgement that she stood with her peers at the same level. I know how much she loved Charlie Parker and how she loves all of the musicians who are here, but who also those who have passed away. Think about the people that she was with, the people she was hanging around with and whom she was influenced by, Charles Mingus the first bass player that she ever played a live performance with, you have Lennie Tristano, Charlie Parker, Sonny Rollins, George Gruntz and George Russell. These are some of the heavyweights of our Jazz world. To be recognized (with the Jazz Master award) was a huge, huge thing for her and it was an important thing for Jazz that she got that recognition."
Ellen Johnson's book is much more than a historical account of a Jazz icon's life. She has written an entertaining biography, which provides humorous moments, poignant turns in Sheila Jordan's life and provides insight into the person and personality of the now eighty-six year old singer. Sheila Jordan rose from a life of abject poverty as a child and she spent time in an orphanage and being shuttled back and forth between relatives. Jordan is transparent about the time in her life when battled with addiction issues and when she was the victim of domestic violence in her relationships. There are also humorous moments in the book like Jordan's account of her singing to cows with astonishing results.
Jazz Child A Portrait of Sheila Jordan is a book that Riveting Riffs Magazine highly recommends to those who have chosen a career in music, but to those who are also outside the music community. We posed the question to Ellen Johnson as to the people that she thinks should read this book and this is what she said.
"I see that on two levels. I would say on a non-musician level, anybody who is struggling and who has a really serious problem in their life that is making them feel like they may not be able to make it through. That would be one. As far as musicians go, definitely singers should read this book and instrumentalists who want to gain an insight into the world of a singer and someone who was so dedicated to the music in Jazz. Instrumentalists always love her anyway, because they always sense that. Singers by reading this book will understand why the instrumentalists feel that way, which may help them to understand how to approach music as well. It is a way to bridge some of the gaps that (have existed) between singers and instrumentalists and that is a whole other topic (she laughs). The instrumentalists will see how women of that time and still today, struggle with this gender discrimination in the music world. It is important for those people to read about that," she says.
Whether she chose to be or not, she (Sheila Jordan) is a leader. Going back to your previous question of who should read this book, another area would be of someone who is getting older and who feels like they don't have anything to contribute. She said to me when they went to lay her off at her job (editor's note: Sheila Jordan also worked for an advertising agency for twenty-eight years, while pursuing a career in music) and they said to her you can stay here (in another position) in the typing pool or we can give you some money for severance and she said she was really scared. This is where you go back to her history and of course she was scared, because she never wanted to go back to poverty again.
Now she was getting laid off at her job and feeling like, what should I do? They offered her the opportunity to work in the typing pool, which would have been more security for her or she was going to get the severance pay. She said she struggled with that, because it was frightening to her and then another part of her said, what are you talking about, all of these years you have wanted to do your music and here are your opportunities to do that. She took it and it was a risk again. She was still that risk taker and she took a risk when she could have just stayed with a part-time situation or whatever. She said it was the best choice that she ever made, because things started to open up. She was always doing music while she was working, but now she had the opportunity to go out and to do it fulltime. The teaching helped too, because she had these teaching positions that brought her into some places where she could make some money as well. That opportunity for her maybe changed her life and (perhaps) had that not happened things would have been different. I don't think it was ever an issue to her about her age. She believed in something so much that it didn't matter to her and that is a message to people who are also getting older, I am something that I really believe in. Just because you are older doesn't mean that you can't find something that you don't believe in or you can't continue in something that you believe in and transform it into something. She may be an exceptional person in that area, because she so believed and she is so dedicated that she will go and travel around the world and she will continue the journey, no matter how old she is or how she feels. She just keeps doing it. She always says the music keeps her young and music keeps her alive. She found something in her life that keeps her alive.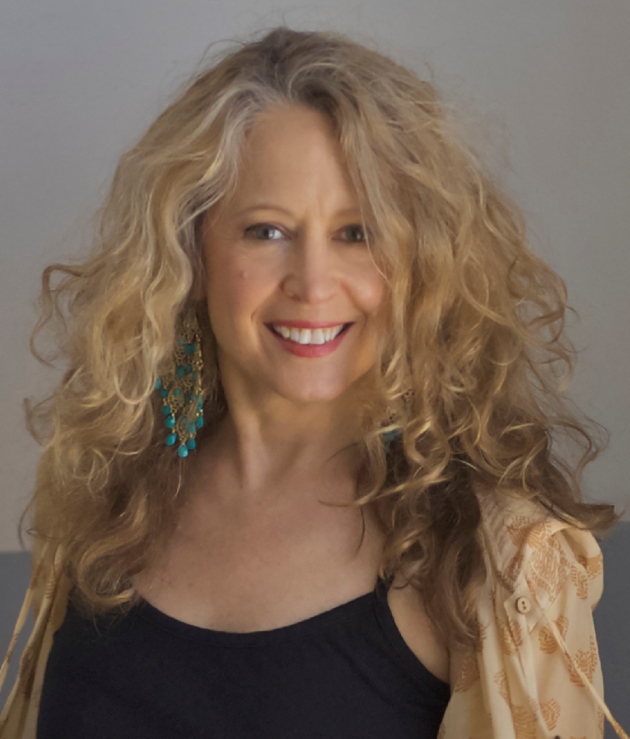 It is extraordinary and that is why I was so interested in writing this book, because she is a leader in a lot of ways and she is a really positive example, but a truthful example. It isn't like Mary Poppins where everything is wonderful for her. She is not a perfect person, but she is able to take hold of her demons and work with them versus letting them destroy her life. That is a message for everybody, because we have both. I think it was Tom Waits who said, if my demons go, my angels may go too. There is some truth to that, we have to have both, but we need to know how to balance them she has done a pretty good job during her life of walking that line. Sometimes she has gone a little too far in one direction, but then she has come back and that really is the walk of life," says Johnson.
Ellen Johnson says, "One of my purposes in writing this book, aside from covering the life of Sheila Jordan a wonderful Jazz icon is I also wanted it to be an enjoyable book for people to read. There is a lot about her life story, along with the music that informs it. They actually inform each other, the things that she has done in her life and of course her music. It was also important to me that it wasn't just purely academic and that it is something that anyone can pick up and enjoy reading even if they didn't know all the people or all of the historical information, so I am really glad to hear that is how it is turning out. I hear that comment from most people and I am very glad."
This is the first biography that Ellen Johnson has penned and in fact she did not have any intention of writing Sheila Jordan's biography either even though they were already friends.
"I would bring Sheila to the west coast to tour and perform and things like that. She would stay at my house and we would visit a lot. At one point she had mentioned somebody who was working on her biography, but it never seemed to come to fruition. Every time that I saw her there was never very much movement on it. I believed that she should have a biography written about her, because I thought she was an amazing story and I thought she contributed a lot to the Jazz world. That would be a good book to write. I encouraged her every time about that process. At one point it just became a flippant thing and I said, well if you can't find anybody I will write it. Be careful what you say, because that is exactly what happened. I had never written a book before. I have written articles, I have done interviews with magazines and of course I had writing experience through my schooling and my Master's program. Throughout my life I was interested in writing poetry and lyrics, so I had experience writing, but I had never written a book. Writing a biography was something that I had no idea of how to even take on.
When I took on the book, one of the things that was really important to me was that it conveyed this person Sheila Jordan and who she was, so if somebody picked it up and read it they got a feeling about her and that you walked away with that. I set it up so people would have that sort of understanding if they didn't know her. People who know her very well say to me, wow, I thought I knew her and now I realize how much I didn't know. Now I know her better. People who didn't know her say, I feel like I know her really well, like she is a friend. That is what I wanted to accomplish when I put the book together," she explains.
Ellen Johnson says at first Sheila Jordan was reluctant to talk about her battle earlier in life with drugs and alcohol and she did not want to talk about the abuse she endured in some of her relationships. Johnson was able to convince Jordan that it was far better for Sheila Jordan to give an account in her own words than to have someone come along later and interpret certain events in her life without Jordan's input. It is important to note a couple of things here, that Ellen Johnson was also respectful of certain things that Sheila Jordan did not want to discuss and secondly that when referring to the relationships when she was physically abused that they did not give the names of the men in those relationships. In Johnson's words they wanted to avoid the biography becoming "a sleazy tell all."
"It was not a problem for her to talk about the racial relationships, because she felt very strongly about that. She never felt like she was not accepted in the black community (editor's note: Sheila Jordan is white). She felt that she wasn't accepted in the white community. If there was any feeling like that in the black community she didn't know about it or feel any repercussions from it. In the white community definitely she did and that was a horrible situation. Those conversations were fairly easy for me to get her to talk about. There were other things that were not as easy to talk about, her love life and the drug abuse. She realized that her story could actually be of help to people and that she was a success story and was someone who made it through by her courage and her tenacity. When I framed it in that way that she could be helpful to other people, she really got onboard and she was more forthcoming in those areas. She is always honest and truthful about things that she talks about," she says.
So what about those bebop cows to which Sheila Jordan used to sing?
"She has an extraordinary sense of humor. (I asked about the bebop cows). Yes that is really the way that it happened. I have to tell you that between the two of us we have had situations happen when we are together that we still have running jokes about. If someone else heard them they would think what are they talking about? We got into these little things that happened and we made jokes about them. She has such a great sense of humor and I think that is what makes her such a delightful person to be around. She takes things seriously that are serious and the things that are not she can laugh at. I really enjoy that about her and I think other people do too. The bebop cows story is true. She has more stories and if you are around her you will see that these things come out of her and they become humorous. She just goes with it," she says laughing.
Ellen Johnson says that as she spent time with Sheila Jordan and as she started to write this book, one of the things that struck her about Jordan is how courageous she is. Jordan is not a conservative person and when she believes in something she goes all out in pursuing her goals.
"You see it through her desire to go into Jazz music, to do bebop and to be a singer. We don't think about it much now, but at the time it was pretty unusual that she was a white woman in music that was primarily African American musicians and that created a bunch of situations for her. She grew up in poverty and she was able to get herself out of that situation. She worked a day job for all of her life to support herself and her daughter and she had to take a lot of abuse in different ways and that never stopped her from continuing on. Whether she would became famous or whatever happened to her that wasn't an issue for her she just kept going. She shows people that you can make it through life and hard times.
I was attracted to her by The Bass / Voice Duets and that is how I got to know her. I love bass and voice and I love to do it myself. Again there is courage in doing that. Who goes out with just a single bass instrument and sings? Back then it was more of a novelty. She was ridiculed and people couldn't see where she was going with this. She was attracted to innovative musicians and they in turn were attracted to her. To me that (demonstrated) that she is always a person who is thinking a little bit out of the box and who was always willing to take chances and risks with her music as well," says Johnson.
"Sheila Jordan should be considered as one of the top Jazz vocalists of our time. Her bass and voice duets by far are incredibly innovative and they should be part of her legacy. It wasn't like other people didn't sing with bass and voice, but it was what she created with that single instrument and what she continued to create. That alone puts her in a really high standing as an artist and with other great artists. Sheila was always attracted to bebop music. She wasn't a big band singer. If you look at bebop music it is always small and it starts off with small trios, quartets and stuff like that. That is who Sheila is. Her voice is not a voice of looking at power, but her voice is a voice looking at subtlety. That is something that in our society we overlook, because we are so slammed with bigness and loudness, but the gift that Sheila gives with her music is hearing the subtleties. Betty Carter was like that too, so that type of singing was something that was a forte of hers. She certainly has influenced many, many Jazz singers with that type of approach," says Ellen Johnson.
Jazz Child A Portrait of Sheila Jordan provides the reader with great insight into the life and career of one of America's most influential Jazz singers and Ellen Johnson has fashioned an entertaining book that will keep you up late at night in anticipation of what is coming in the next chapter.
Please visit the Ellen Johnson website.
This interview by Joe Montague, is protected by copyright © All Rights Reserved.
This review is protected by copyright © and may not be reproduced in print or on the internet or through any other means without the written permission of Riveting Riffs Magazine, All Rights Reserved