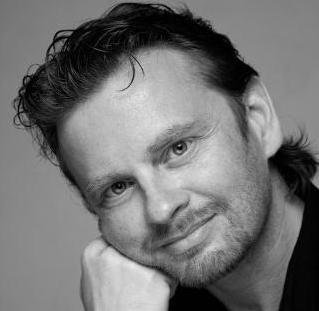 Fans of Fabrizio Pigliucci's music may be surprised to learn that he has a university education in computer sciences, however, his love for music has deep roots and it was nurtured early in life. "I grew up in a house that was always filled with art, thanks to my father who played the guitar. He was also a painter and my mother wrote poems. During my childhood, I listened to tons of good LPs and surely in those moments, the first musical schemes started to grow in my mind."
While his love for music was growing, so was his love for computers and as he studied piano and harmony, he began to use the old Commodore 64's with its three-voices synthesizer, the Commodore Amiga, the first computer with sampling capabilities and then he used an Atari with sequencing applications. He says that at one point, while still in school, he prepared some text sequences and sent them to what he describes as "an old impact printer" to produce rhythmic sequences that were too strange for his professors. Today he still makes great use of software in his creative process. Mr. Pigliucci says he considers that it his merging of and his affinity for both music and technology that gives him and edge over others when he is being considered for new music projects.
"Today, the use of computers for producing music is intensive, for sound creation to writing, recording, editing and mixing and to have these skills is very important for me. As a musician and as a technician, I can "sell myself" as the full package and I can get all of the work, instead of it going to two or three people. I also have to say thanks to Myspace and Facebook for new ways of communicating, because it can sometimes (result in) new collaborations.
While at university, Fabrizio Pigliucci was introduced to Jazz through the renowned Italian pianist Amedo Tommasi who some may remember as being a member of the Chet Baker's band, which recorded the album Chet Is Back and which also consisted of Giovanni Tommasso, Franco Mondini, Rene Thomas and Bobby Jaspar.
"Amedeo is a great Italian pianist who worked with Ennio Morricone and I am proud to have had the opportunity to study with him! I studied with him to learn some Jazz piano and more importantly to learn wonderful and interesting Jazz harmony. I began to listen to Bill Evans, Duke Ellington, John Coltrane, Miles Davis and Keith Jarrett, however, I cannot be defined as being a Jazz musician," says Mr. Pigliucci.
To put things into perspective and to appreciate the trickle down effect of skill and experience, to which Fabrizio Pigliucci has been exposed, the Italian composer and conductor Ennio Morricone, twice received Academy Awards, as well as two Golden Globes, composed and arranged scores for more than 500 films and television programs. His body of work includes; Sergio Leone's A Fistful of Dollars, The Good, The Bad and the Ugly, Once Upon A Time In America, Brian De Palma's The Untouchables and Mission To Mars, Roland Joffe's The Mission, Oliver Stone's U Turn and Giuseppe Tornatore's Cinema Paradiso.
"Paolo Vivaldi is a friend and he is a great composer and he was one of my most important teachers. I studied composing, harmony, orchestration and the link between music and images. Then I started to work with him on soundtracks and I eventually collaborated with him as an arranger and orchestrator," says Fabrizio Pigliucci.
Noting the importance of music to a film, Mr. Pigliucci asks, "Have you ever seen a film, before the soundtrack's realization? It usually, with very few exceptions, seems empty, strangely silent and it has less emotional peaks. A single note can deeply affect the colors of a scene. From my very beginning as a musician, I have always thought of music as a link to images. It is extraordinarily expressive. For me, a soundtrack is the most interesting way to do music and it is the best way to express my creativity."
Fabrizio Pigliucci's film credits include; "Titoli di Testa," a blending of orchestral music and electronic sounds, to create the title track for the suspense movie Non Aver Paura, several orchestral pieces for the film Thy Kingdome Come, and his compositions can be heard in the 2007 film Ghost Son, starring Laura Harring, John Hannah and Pete Postlethwaite. Mr. Pigliucci also wrote the title song "Fly On The Beach," for another 2007 film, the comedy Sweet, Sweet Marja, starring popular Sicilian actress Maria Grazia Cucinotta, who also appeared in Il Postino and the James Bond movie The World Is Not Enough. A medley of Fabrizio Pigliucci's music credits from his film work, appear under the title Suspense Atmospheres on his myspace site.
The music of Fabrizio Pigliucci is finally getting the recognition that it deserves outside of Italy and on the larger world stage. In addition, to his film composing, he recently collaborated with American singer-songwriter Kara Johnstad on her soon to be released album Moon In Capricorn, which features a full orchestra, with arrangements written by Fabrizio Pigliucci and the orchestration carried out by him as well. Other recent albums for which he created the strings arrangements include; Italian singer Grazia Di Michele's Tutto L'Amore del Mondo for Sony Music, the group Volume for Ruggine and he collaborated with Filippo De Laura on "Why Does Time Go By," for Gil Ultimi Della Classe.
Interview by Joe Montague, all rights reserved, protected by copyright © 2010 Return to Our Front Page