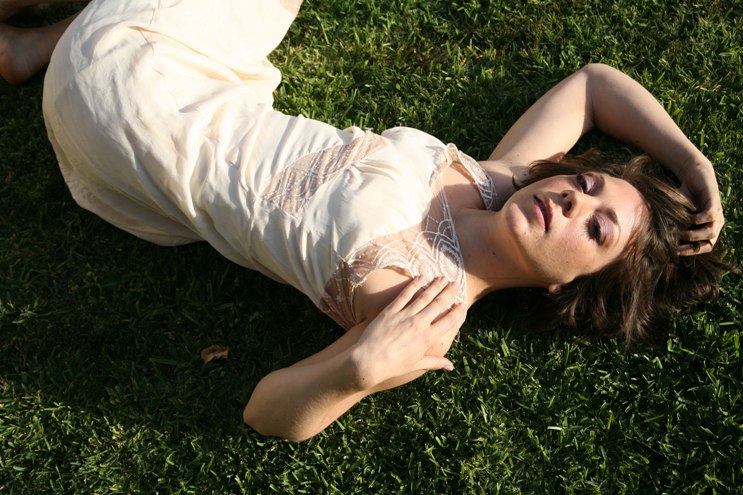 Interview with Joe Montague
"The goal of art is to reflect who you are and to reflect your life. It has been a process for me to get to that place and to realize that it is okay to not try to sound like anyone else or to try to be like anyone else. It is just being completely honest, and open and vulnerable. I want to be versatile, but I always want to sound like me. Every artist should be very distinct and you should be able to hear that first note and know who that is and to know that no matter what style they are doing that it is that specific artist. Every note that comes out is very reflective of me. It is about being in the moment. It is not only about me, but it is about the most effective way that this is going to become beautiful music and how I can connect my own life to that," says contemporary Jazz vocalist and songwriter Gretchen Parlato.
Parlato is set to release her new album The Lost And Found on the music label OBLIQSOUND on April 5th, a collaborative project with pianist-composer Taylor Eigsti who was nominated for two Grammy Awards in 2006 for his album Lucky To Be Me, bassist Derrick Hodge (Kanye West, Jill Scott), drummer Kendrick Scott, Alan Hampton (guitar) and saxophonist Dayna Stephens (Wayne Shorter, Salvador and Carlos Santana, Stevie Wonder, Quincy Jones). The album takes its name from one of Stephens' compositions and it promises to be the most personal collection of songs from Gretchen Parlato yet.
"About four or five of the songs are my own complete compositions, with music and lyrics and another handful are lyrics that I have written to other musicians' music. The title song "The Lost And Found," is Danya Stephens', that was his music and I wrote lyrics and Taylor Eigsti wrote music for me, so I could write lyrics," says Ms. Parlato, noting that in some cases the songs already existed and she added lyrics to the music.
"Every single song (on the new album) is reflective of my own life and experiences. My lyric writing of course, is very personal. You could say it is revealing, but then again it still has some mystery to it. I have been told that some people know exactly what I am talking about when I write and (yet) it can be interpreted differently by different people and I like that. I like that it is not always obvious. Someone is able to connect their own life story to what I am singing about. I put together a complete piece of art and that is what I feel an album is. It is like a painting. It is a complete piece. Every song is very dear to my heart," she says.
As our conversation continues, you can sense the maturity in Gretchen Parlato both as an artist and in her confidence, since we last spoke four years ago. Her gifts as a vocalist have never been in question evidenced by comments from iconic musicians such as Herbie Hancock who refers to her as, "a singer with a deep, almost magical connection to the music," and Wayne Shorter who lavishes her with praise, "In an inconspicuous way, Gretchen Parlato knows how to play the same instrument that Frank Sinatra played. There's no one out there like Gretchen."
Inconspicuous is one way to describe the music of Ms. Parlato and elegant would be another apt description. She is not a singer who fills up a room with her voice, but she seduces the listener with her effortless and graceful vocal style and she never sounds like she is reaching for a note, nor does she wear out her audience with pounding rhythms and hard hitting phrases. The elegant vocal styling is evident even in her scatting and during our conversation her dialogue often contains the word thankful, suggesting that her stage presentation is a reflection of her offstage persona.
"I like to say that I stepped out in my own way with this project (The Lost and Found). For a long time I was almost in my own way and being a perfectionist and scared or fearful of writing my own music. When you grow up singing standards, it is a pretty high standard to come up to. It is like well you want it to sound like Ellington and Gershwin and Cole Porter. These are exquisite pieces of music and for a long time I thought if it is not going to sound like that I can't do it and I don't want to do it. I am not good enough and I don't have enough to say. You realize that the only person who is blocking you from being creative is yourself. I stepped out of my own way and I allowed the music and the stories to come out. I realized that everyone has something to say and everyone has life experiences and an opinion. If we can figure out a way to share that it becomes a really healing and transformative thing. I am so thankful for all the people and the teachers in my life that encouraged me to write and to keep trying, because it can be a really scary thing. It is healing. It transforms you. You are releasing a lot," muses Gretchen Parlato, as she reflects upon her musical journey.
Gretchen Parlato's journey started as a child, "I grew up as a Valley Girl, but I also grew up around Jazz, because of my father and everyone in my family is an artist. I was born into music and art. My grandfather on my father's side was a singer and a trumpet player and my mother is a visual artist and she studied music as well. Her father was a recording engineer, who recorded The Beatles, Ella Fitzgerald and Louis Armstrong. One grandfather had a radio show in the forties and it was really loved. He was the one who (introduced) my sister and I to musicals and we grew up on musicals. He used to play Ella (Fitzgerald), Sarah (Vaughan) and Nancy Wilson. I was hearing Jazz, before I even knew what it was."
Continuing to build on her musical education at home and in elementary school, Ms. Parlato enrolled in the LA County High School for the Arts where the curriculum was divided into mornings focusing on academic subjects and afternoons in which the students developed their artistic side in one of four areas; music, theater, dance or visual arts.
Gretchen Parlato says of her experience at LA County High School for the Arts, "It was an amazing place to be and it was when the music turned from a hobby into a career."
Telling us that while she was in school, music was her passion and there never was any doubt in her mind that this was not just a hobby that it was a career that she would pursue, Ms. Parlato took the next step and she became the first singer ever to be accepted into The Thelonious Monk Institute of Jazz.
"I think that it was Herbie Hancock who wanted to open it up and include some vocalists in this program, so I auditioned and thankfully I made it in. I think we were all trying to figure it out, students and teachers included. I was the only female, so that was a different energy and I was also the only singer. I learned differently and there were things that I needed a little bit more time with figuring out what my method would be to get on the same level. There were lots of holes and gaps in my education that I needed to fill. At the same time there were things that the instrumentalists could have learned from me as a singer. As long as the end results are the same, the methods you use to get there can be different. It was just a matter of figuring out how to do it. It was very emotional and very challenging and I was thrilled to be there, but I was also petrified. It feels like you are in therapy and that you are under a microscope. Your strengths and weaknesses are magnified and you are very aware of what you are capable of and what you need to work on. That can make you feel a little crazy as an artist. I think a lot of people go through a soul searching time and I know that I did. I am really grateful for that experience and it really helped me to learn what I can do as a singer. It is using my voice in a more instrumental way, using it as a horn in the horn section or using it for texture, singing with the guitar. There are many ways that I can use my voice and it was really eye-opening and a thing that I could take with me to use in my own music," she says.
Just a couple of weeks before Jazz musician and singer Esparanza Spalding accepted her first Grammy Award in February of this year, Gretchen Parlato appeared on The Tonight Show With Jay Leno, singing background vocals for Ms. Spalding. It probably is not too much of a stretch to suggest that Gretchen Parlato is not very far removed from claiming her first Grammy Award as well.
Please visit the Gretchen Parlato website.
Interview by Joe Montague, all rights reserved, protected by copyright © Feb 2, 2011 Return to Our Front Page