Hilary Scott Is Living Freight Train Love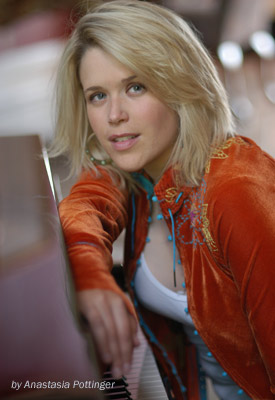 Hilary Scott, from St. Louis Missouri has a new record out and it is called Freight Train Love. The album is worth buying for a lot of reasons, but in our minds at Riveting Riffs Magazine one of the most significant reasons is Scott's cover of Nicolette Larson's "Lotta Love," (written by Neil Young). Hilary Scott who demonstrates a lot of vocal and artistic diversity with her new album gifts us with an incredible interpretation of the song. The tempo is slowed down, Nicolette Larson's louder, Pop vocals have been supplanted by a more sensuous, romantic and quieter performance by Hilary Scott.
"I give credit to Michael O'Neill for saying, have you ever thought about covering "Lotta Love." I just feel like you could really reinterpret this. It would be a tribute to Nicolette Larson too. I love Neil Young. I think that he is a really great songwriter, but I probably would have thought of other Neil Young songs before that one. I did not want it to come across as anything like what it was before. To me it is a really profound love song and I didn't feel that necessarily it had been done that way before. That is why I decided to sing it this way. It came out easily and it is a song that was very short and there is not a lot to the lyrics. I felt that I could vocalize on it and I could bring out some emotions that weren't necessarily tied to what I was saying," says Scott.
Hilary Scott who has released numerous records during the past decade says about her new album, "For me it is a pivotal record, because it is the first time that I have really tried to get a bigger team together. We have a publicist and we are doing radio and for an independent artist that is a big investment. I feel like it is a safe investment, because I am very proud of this record and the sound of it and I don't feel like it sounds like an indie record. It sounds like a big record. I have a lot of hope invested in it, but I have also been doing this enough that I know successes come in increments. I haven't hit it big on the radio, but I have all of these successes that to me make up a career. It is not that I put all of my eggs in one basket or that I am expecting the world is going to explode and suddenly I am going to be on top of it. I feel like this has a chance to propel me to the next level. If any of my records have had that chance, this one does."
Hilary Scott's fan base continues to grow and she completed a very ambitious tour during the summer of 2014, with gigs in Colorado, Wyoming, Idaho, Washington State, Oregon, Iowa, Minnesota, Indiana and her home state of Missouri. Her fan base is definitely growing and with a solid album as her calling card the future looks bright for the vocally gifted singer, songwriter and arranger.
Hilary Scott, who adopted her surname to honor her late brother Scott, also is very popular in Europe, particularly in Italy where she studied opera.
"I traveled extensively in Europe, before I ever started performing music there and marketing music there. I feel like they embrace different kinds of music and especially American music. We are used to English being spoken in so many different places, it is the language of business and of technology and we tend to have a lot of musical options available to us, because so much music is available in English. I feel like other countries embrace many different kinds of music in many different languages, because they already have to do that in their day to day lives. I think there is openness to new things over there.
I love Italy, because I lived there, I speak Italian and I am able to feel like a real part of the culture, because there is not a language barrier for me. I would say that Italy is near and dear to my heart," she says.
There is also another music connection between Hilary Scott and Italy. In 2011, Scott entered her song "And Just," in the international section of the Festival Degli Autori, a songwriting and performance competition that was held in the city of Sanremo, Italy. She won the international section of the competition and was rewarded with a five song EP, for which the costs were underwritten by Sanremo Productions.
"Freight Train Love," the title song from the new album opens gently with Mike Finnigan's (Jimi Hendrix, Cher, Peter Frampton, Etta James, Leonard Cohen, Rod Stewart) piano, which later segues to the organ and drummer Tony Braunagel's (Rickie Lee Jones, Eric Burdon, Bonnie Raitt) subtle drumming and features Johnny Lee Schell (Barbara Blue, Bonnie Raitt) on guitar. Schell also engineered and mixed this album. The mood is contemplative, as the singer considers her relationship. "Freight Train Love," is one of the best songs that Riveting Riffs Magazine has listened to this year. Hilary Scott has been a secret that has been kept from too many for far too long. She knows how to turn a phrase and her vocal technique is excellent, while her tone is clear. Backed by a stellar cast of musicians, Scott and co-writer and producer Michael O'Neill have created a gem.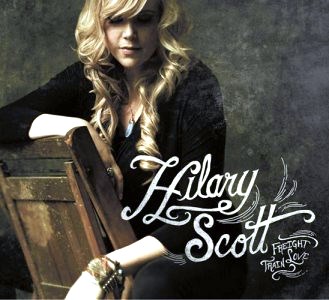 Talking about "Freight Train Love," Hilary Scott notes, "This particular song is a diversion from most of my music, which has been in the Americana and Folk Rock realm. I feel like this is a little more Soul and R&B. I really tried to push in a different direction. I was proud of that and it was really exciting to hear myself in a different way. Also the energy of the freight train represented this album for me. It has a lot of energy and it is an exciting set for me. It seemed really fitting and with the album as a whole everything plays back to love, although it is many different angles and interpretations of love."
The fifth song on the album, "Losing You," is a beautiful love letter, as love slips away and the heartbreak is evident in Hilary Scott's vocals. Mike Finnigan provides the most prominent accompaniment, on piano and organ and his experience shines through with his playing best described as tender.
The mid-tempo song "Flowers On Mars," which appears as the sixth song on the new album takes what some might describe as a cynical look at love from a woman's perspective ("There's no good men upon the earth.") and questions societal standards such as, "why do boys have to be brave," "what if we've got it all wrong?" and little girls shouldn't behave." The song was originally released in 2013 on a four song vinyl of the same name.
"The National Traditional Country Music Association gave us the Americana Folk Album of the Year for that one. We reinterpreted "Flowers On Mars," for Freight Train Love. I wanted to take what I felt were some of my best new songs to these players in LA to see what they would do with them. I am very happy," says Scott.
The twangy "If You Don't Love Me," written by Kevin Fisher and performed as a duet on this album with Hilary Scott is track number eight.
"The version that he had worked up and that I had heard was completely from the male perspective. It had a bridge and a key change and all of this. I thought it really needed to be simplified, so my only contribution to the song was I changed the arrangement. I thought that it really needed to be straightforward and I figured out how to make it a duet between a man and a woman," Scott explains.
Hilary Scott describes her time in the studio, while creating her new album Freight Train Love as, "one of the most enjoyable recording experienced that I have had. You had musical legends in the room and they had performed with all of these other musical legends. They were humble and funny and I got to hear a lot of great stories from their lives and from what they had done. It was a very inspiring few days that I spent in the studio with them."
Please visit the Hilary Scott website. Return to our Front Page
This interview by Joe Montague published October 19th, 2014 is protected by copyright and is the property of Riveting Riffs Magazine © All Rights Reserved. Top Photo by Anastsia Pottinger and is
protected by copyright ©, All Rights Reserved
This interview / review may not be reproduced in print or on the internet or through any other means without the written permission of Riveting Riffs Magazine, All Rights Reserved