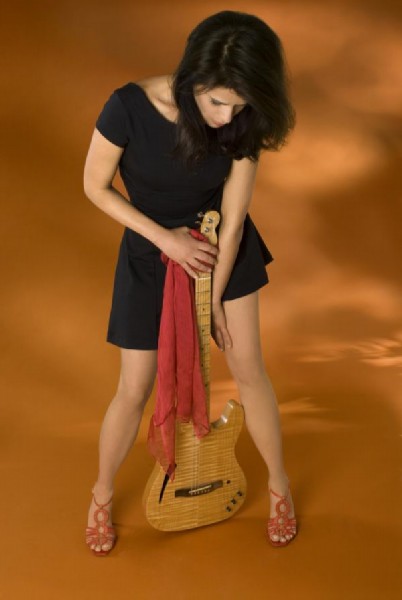 "I am poking fun at myself and the rest of us, because we have become so voyeuristic. The lyrics are tongue and cheek. I am poking fun and they are fun. I am not finger poking. I am pointing the finger at myself too. Do you think that we have become more voyeuristic as a culture?" Cooling says as she poses the question, and then takes a moment to consider it herself.
She then explains how the song came to be, "It started at a coffeehouse. I love coffeehouses and I like to write songs and lyrics at coffeehouses. I was sitting in this coffeehouse, when I heard these two people having a really animated conversation; 'No Kidding! What! No Way,' that kind of thing. I assumed it was a family member that they knew or a friend that they had in common, but it turns out they were talking about a TV show. I was floored and then I got into this whole thing about how we live so vicariously through other people and the media. Sometimes I wonder if we are neglecting our own lives. The reason that I keep it tongue in cheek, is I am sure that when those two people left the coffee shop they went on and lived their lives. Who am I to hear one smidge of someone's conversation and then to judge their whole lives for it. I never want to be an artist who is judgmental, but it is a funny thing that we do. I am sure that there are people out there who are a little too involved. Maybe at that moment when we have a choice to live vicariously, we can choose instead to do something interesting and rewarding for ourselves."
To that end Cooling sings the bridge for the song "Chit Chat," "It's so amazing to be free / We can choose what will be / We can write our own life's movie script / The trip is so much better…than chit chat."
For several years now, Joyce Cooling and Jay Wagner have been writing their own movie script and enriching their lives and the lives of others by their quiet involvement with the National Alliance on Mental Illness. In the fall of 2009, two of Cooling's concerts, one in San Antonio Texas and the other in Austin Texas, had a portion of the proceeds from the ticket sales and merchandise sales given to local NAMI chapters. This is not the first time that Cooling has given up a portion of her income in support of NAMI as her Revolving Door album also had a portion of the proceeds donated in support of NAMI.
Creating more awareness for funding and education surrounding mental illnesses is something that hits close to home for Joyce Cooling, as her brother has a mental illness. She talks about her involvement as a spokesperson for NAMI, "It really is about getting the word out, breaking the stigma. Mental illness is not something to be feared. Mental illness affects the brain, jus as, and here is the classic example, just as diabetes affects the pancreas. Because it (mental illness) affects behavior, people are really scared of it. They don't know what to make of it. There is a lot of shame attached. People don't want to admit that a family member, or perhaps they, or a spouse or whoever, is struggling with mental illness. This is really a no, no and they shrink away and go ohhhhh those crazy…"
"Also, in San Francisco, there is a staggering homeless population, and the city is lenient towards the homeless, but I like that, however, it does bring a plethora of problems. It brings their whole deal to the city as well as a lot of cleanup, but a lot of the people who are homeless on the streets, they aren't lazy. They have a mental illness. If my brother didn't have us, he would be on the streets. That's where you end up. It's for my brother, but it's also for everybody else out there. I started digging around with the homeless population and the abject poverty and a lot of it comes from mental illness," she says.
Joyce Cooling has seven albums to her credit, five of which have charted on Billboard. She has enjoyed two #1 radio singles, six in the top ten, and in total had thirteen singles chart. Along with her partner Jay Wagner, she continues to find new ways to stir the creative juices and like most dynamic songwriting teams whether they are a Hal David and Burt Bacharach or Daryl Hall and John Oates, Cooling and Wagner continue to produce songs that capture the imagination of the listener.
Cooling credits their success to, "a total submersion and lack of egos. It is not about two separate egos at all. We're not the freakin' Bobbsey Twins; I like what you like and we're just exactly the same (she says in a bit of a cutesy, but mocking voice). We aren't like that at all. We grew up three thousand miles apart, but we had almost identical record collections. It was amazing. We could listen to almost a whole solo, a long straight ahead jazz solo and we could ask what's my favorite measure in that solo, what are my favorite two notes in that solo and it was uncanny, because we could pick them out. It just stayed. It remains. We are both coming from the same place, but he's Jay with his twist on it and I'm Joyce with my twist on it. When it comes together, it's fun. I would rather song writer than anything."
That is a good thing for the rest of us who enjoy listening to Joyce Cooling play her guitar and sing the songs that she and Jay Wagner create.
Interview by Joe Montague, all rights reserved, protected by copyright © October 2009 Return to Our Front Page