Kaitlin Wolfberg may not yet be a household name, but the people in the Los Angeles music community know who she is and she is highly respected. She appeared on stage playing violin with H.E.R at the 2019 Grammy Awards. It is Wolfberg's versatility and her ability to shine that have seen her garner praise for her playing (violin and viola), as a conductor, arranger and composer. Oh and did we happen to mention recently she donned the producer's hat and she also sings. Could there be drums or an electric guitar in her future? We do not know, but Kaitlin Wolfberg did have this to say about her appearance on the Grammy Awards stage.
"Working with H.E.R. and her team on her Grammy Performance was a real treat. Everyone wanted to make the performance perfect and we were all on the same page. So much positive energy swirling around that performance, it was a very special, inspiring and memorable moment for me that I will treasure forever. Also, being on that stage, in front of The Academy and so many legends was certainly a humbling experience."
Perfect is not a word that you hear very often when Kaitlin Wolfberg describes one of her musical endeavors, as she continually seems to be pushing herself to achieve a higher level.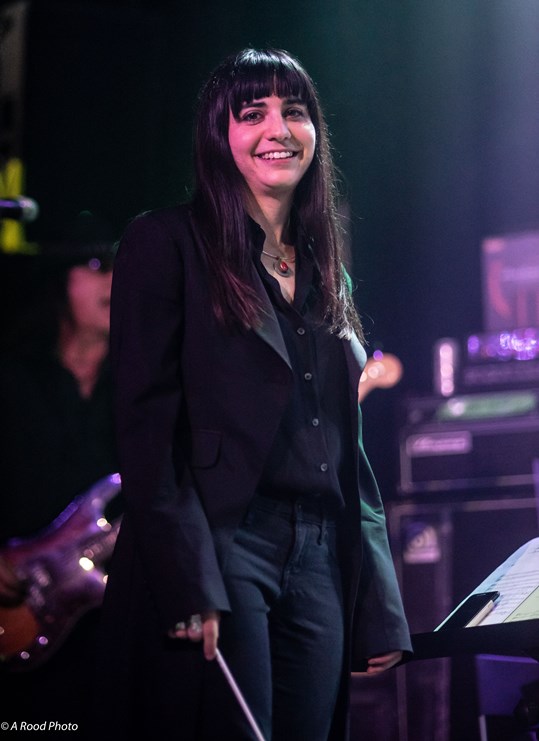 When asked however, which of the many areas of music that she works within that brings her the most satsifaction she says, "Lately, I get a lot of satisfaction out of arranging and making big, beautiful arrangements. I guess that would be it. Recently, I did a bunch of arrangements on Alice Wallace's record that I am pretty happy with. I did two string quartet arrangements for Junior Thomas and the Volcanoes (record). I have been working on this new record with Man's Body, which is my friend Greg Franco's band and I got to (wear) the producer hat on at least one song. I really like having that control and making the song as beautiful, as I can. It is like a painting. It is like getting the whole finished product, because often when I do arranging I don't get to have a say in what the mix is going to be and I don't have a say in how to edit it. Very rarely do I say oh wow, I really like what I did (she laughs lightly)."
One of the music collaborations that has been another factor in Kaitlin Wolfberg's star rising in recent years is the work that she has done with the Wild Honey Orchestra a collective of very gifted musicians in the Los Angeles area. In fact, Wolfberg says that she is really proud of being a part of the 2018 Wild Honey Orchestra's tribute to the music of Buffalo Springfield.
"We did it as a team and I really pushed myself. I decided to conduct it and I got some pushback from other people. I stood my ground and it came out about where I wanted it to be and how I had envisioned it. That was a really cool experience for me," she says.
She continues, "The Wild Honey Orchestra is a collective of musicians who are like minded and handpicked musicians who have played with everybody. They love The Beach Boys and that was the original concept. We did the music of Big Star and the first two shows that I did with them we did The Beatles. We did Abbey Road and Revolver, which I am still proud of, but I know I could have been better (There's that always pushing herself to a higher level again). After that we did The White Album, which went great. We did certain years of The Beach Boys, the latter years. They do these cool shows with people like The Bangles' Debbi and Vicki Peterson and the Cowsills. I got to see Laurence Juber (In addition to his solo career, Laurence Juber is also noted for being an original member of the band Wings.) perform and now I have performed with him a couple of times. Last year we did the music of Jack Nitzsche, which was really interesting. He was the composer on the Buffalo Springfield records. He did the string arrangements and he did some movie film scores (Editor's Note: Jack Nitzche was nominated for an Academy Award for his original score for the film Officer and a Gentleman and he received a Grammy Award nomination for his musical contributions to the movie One Flew Over the Cuckoo's Nest.)"
As for her approach to conducting, Kaitlin Wolfberg says, "It is a lot more responsibility, but you also have a lot more control. I feel like the pressure is on for me to know what is going on and to lead everybody. It feels good, but sometimes I get jealous and wish that I was playing the part (she laughs). (I will think) oh I love that juicy string line and I wish I was playing it right now. I am in charge and I am going to make sure that they do it right (she laughs again). It was fun and it was really a highlight of my life. I couldn't believe that I did it. Am I really going to do this? Yes, wow I am going to do this (she giggles)."
"I learn from everyone. One of the reasons I wanted to play with Calico (now disbanded) was, so I could really hone in on my vocal stuff. That was super good for me working with those ladies and getting it tight. From the beginning I said, we're going to have to rehearse every day for a week, if I'm really going to get this right. They were like okay and I was okay. They were onboard with me. It was really cool to do that," she says, before turning her attention to another artist, "One of the women that I have learned the most from is Ruthann Friedman who wrote the song "Windy," (Recorded by the Association and a # 1 hit in America in 1967) and that is one of the songs from my childhood, so when I met her I was oh my goodness and then I got to play with her and we really developed the mind meld technique, as I call it. I learned how important spontaniety is in music," she says.
Growing up in Cleveland, Ohio, Wolfberg says, "I came from a lot of visual artists. My grandmother was a visual artist. She was a painter and a sculptor. She still takes lessons as a portrait artist. My grandmother started taking me to the orchestra when I was a baby. She took me to the art museum and to art class. She was the biggest cultural influence. My grandmother gave me art. I definitely love the visual arts. I have never been great at it, but I am a big appreciator of it.
When I was really young I sang in the choir at my temple. My first real instrument was the violin when I was nine and in the fifth grade. I wanted to play the violin since I was really little. My mom said no, but she said if you still want to (when you get older) you can take it in school. The minute it was offered in public school I was there. I was I love this and I want to do this forever. That is how I started.
I think (school programs) are extremely important. I would never have been able to start with the violin if it had not been for public school and the music program. Even in elementary school we had an amazing music teacher, Mrs. Tuttle, with whom I am still friends. She taught us a specific method of music. It involved a lot of clapping and a lot of rhythmic oriented musical endeavors. I think that is a really neat way to learn.
When I started playing the violin I immediately wanted to do this all of the time. I took it home and I did a lot of practicing. They gave me a book to take home. I breezed through the book way faster than anybody else. Then my mom said it is time to get you a private teacher. She found a teacher for me. My mom is not a musician and she didn't know. She found a student of one of the violin teachers from the Cleveland Institute of Music, Linda Cerone. I had a direct student of Linda Cerone. He helped me to progress further. (Editor's note: The highly revered Linda Cerone made her debut as a violinist when she was eight years old and performed with the Dayton Philharmonic. She toured extensively for the next fourteen years, before shifting her focus to teaching.)
In middle school I was in the orchestra and I was the principal violinist for two years. Cleveland has a really good Classical world, so once I got to high school I was no longer the first violinist. We had a lot of competition, which was good for me. If I had gone to a smaller school, I probably would have been first, but I am grateful that I wasn't.
When I was in high school I wanted to play out and I joined a Jazz band, but I couldn't figure out how to amplify myself live, so it sounded terrible and I only did it a couple of times.
I was in the Contemporary Youth Orchestra, which is an amazing orchestra. When I was a part of them they only did music of the twentieth century. We played a lot of cool contemporary Classical stuff, like Joan Tower. Having a woman composer was pretty rare. She came to our concert and it was pretty neat to meet her. We did music by The Doors. We did The Doors Concerto at the Rock & Roll Hall of Fame. That blew my mom away. Mark Wood came and played with us once. We ran the gamut from Bernstein and West Side Story and all of the way to Led Zeppelin. That was a cool experience. The lady who heads up the orchestra is Liza Grossman.
I wanted to go to Berklee since I was a sophomore in high school. I had my sights on it. I majored in Professional Music. I know that (sounds like) a weird major. I wanted to be a violin player. I didn't want to be a performance major, because I was scared."
We first met Kaitlin Wolfberg when she was embarked on a North American tour, as part of the band Calico and we found her to be very personable. Watching her perform on stage we were struck by how emotive she is as a violinist, so during our recent conversation we decided to ask her about that.
"Well, I like to say it is from my roots. I am Jewish on both sides of my family. I feel like the Jewish suffering of my ancestors comes through my instrument. I try to play like I am singing. It is my voice and it took me a long time to develop that voice and to accept it," she says.
Our conversation shifts to the renaissance of string sections during the past ten to fifteen years, "I feel that strings have always been there and that they are always changing and evolving with the music. In the nineties Nirvana had a cello player. Lori Goldston was playing cello on the unplugged series. Oasis had strings. I think in the last ten to fifteen years strings have changed. A lot more dissonance and contemporary Classical techniques are being used in our Pop and Rock genres. It has been a really interesting shift," says Wolfberg.
Considering her immense talent and her vast musical palette we could not resist asking Kaitlin Wolfberg one final question, would you like to get into creating film scores someday?
"I play on other people's film scores, but I haven't done one of my own. Now that I have a good studio happening in my house, I think it is a possibility. I would have to actively seek it out unless someone said I really want you to do my movie," she replied
We think somebody should ask her to score their movie.
Top photo by
Sage Etters Photography. Bottom Photo by A Rood. Both photos are protected by copyright © and All Rights are Reserved. Return to Our Front Page
#KaitlinWolfberg #WildHoneyOrchestra #RivetingRiffsMagazine
This interview by Joe Montague published March 17th, 2019 is protected by copyright © and is the property of Riveting Riffs Magazine All Rights Reserved. All photos are the the property of Kaitlin Wolfberg and
all are
protected by copyright © All Rights Reserved.
This interview may not be reproduced in print or on the internet or through any other means without the written permission of Riveting Riffs Magazine, All Rights Reserved