California singer, songwriter and musician Katie Garibaldi is not a rocker, not a twanger and nor is she a jazzer. Her pretty and ethereal vocals and her relatable songs are self-described as being gentle Americana or orchestral Americana. Certainly the gentle Americana description is appropriate for the five songs from her new EP Rooted Clarity. Nathan Lowry's beautiful violin and cellist Emily Nelson give a fuller sound to "Bird In A Cage," and help to create a breathtaking beauty that compliments Garibaldi's vocals.
"I have heard that a lot of artists sometimes think that louder is better and I don't fit into that belief. I think the way my voice is naturally and pairing it with the string players and the orchestral sound is what comes with that description. The gentle and ethereal (description of my music) comes from my voice and how it is naturally soft.
Americana to me is music from the heart, it is storytelling and it is truth from your heart. It is all about showcasing the lyrics and the emotion behind the lyrics. It is always most important just to get the story across," says Katie Garibaldi.
The other common theme throughout the music of Katie Garibaldi is that of love. It is evidenced on several of her albums in songs such as the upbeat and fun, "Lock the Door, Lose the Key," and "Always Kiss Me Goodnight," both from the Follow Your Heart album, "Hey, Hey Darlin'," "Love Without Chains," "and "Falling For You," (all from Next Ride Out), and her single "Baby We're In Love."
"I think I am a romantic at heart. I grew up listening to a lot of Pop music and Rock and Roll, (such as) The Beatles, Elvis and Huey Lewis and people like that who were really big on love songs. I am happily married and I get a lot of inspiration from that, with the different little facets of being in love and falling in love. It is an endless bucket of inspiration that I can just grab songs out of and lyrics out of. For my album Follow Your Heart, I wrote most of those songs during the time that I was engaged or newly married, so a lot of those songs revolve around being in love and being a newlywed," she says.
Rooted Clarity is Katie Garibaldi's seventh recording and she explains why she settled on this title for the EP, "Rooted Clarity came from the fact that these songs are very much focused around faith and self-discovery. I was searching for a title for a long time, while we were recording it in the studio. Nothing ever felt right, but a couple of months after we finished mixing I finally (settled upon) this title, because we all have a foundation of love and we come from a place of love. A lot of that is covered up by the day to day worries and the hustle of the day to day running around. Sometimes we forget about our true authentic selves or our true foundations as human beings and to honor the light inside of us. I think that is in everybody.
These songs sprang from that concept of remembering the rooted love inside of me and in other people. Love is the foundation of everything. Believing in love and continuing to believe in it even in the darkest moments and when things don't necessarily pan out the way you thought they would and to continue to have hope and to have faith."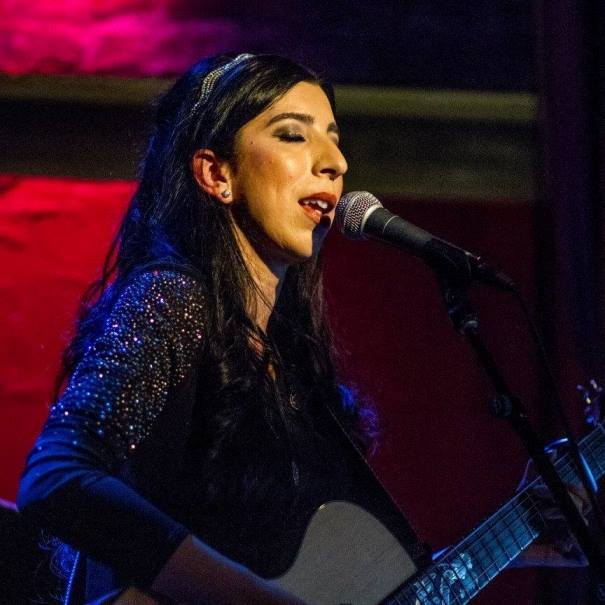 Rooted Clarity opens with "Delightful," a song that has a companion music video and Garibalidi takes a moment to talk about the video, "We filmed in Nashville, because I wanted it to have that Nashville energy. That is where we (recorded) the EP and the lady who directed it Anna Haas she lives in Nashville. We started talking about different ideas way before we filmed it. I was just picking her brain, because I had seen some of her previous work, which is gorgeous. "Delightful," the song is not about a romantic relationship. The inspiration is coming from a darker place where I was feeling a little bit out of control of my feelings and I had lost some confidence and then when I started writing the song the choruses turned into a call of action to not give into those negative feelings and to turn it around. I made it more about healing and to find the delight in myself and others. It is a deeper song, but when I came to Anna with it she gave me this relationship story for the video. I was not sure about using it, because it is not based on a relationship, but I know that the video is a whole different visual medium than the song, so I trusted her.
We went with the idea for the video of my heart getting broken and I end up taking a me day, so I go out and do things that make me happy. I agreed to it, because the whole underlying theme of the song is to choose your own happiness. No matter what is going on in the world around you or what other people do or say you have the power to still be happy. That is what I think the video story conveys the most.
I was in town for only a couple of days, so we scheduled the video. It was a sixteen hour shoot. We ran around to different places in Nashville and we got it all done. It was in May. It was beautiful weather that whole week, but that one day it was a rainstorm. Nashville gets those summer thunderstorms. It was unexpected and we had to change a couple of things, but at the end of the day the rain added to the video's charm and the storyline. It started out pouring rain when I was sad and reflective. As the video progresses and I get happier, the sun was coming out and it was gorgeous visually, so everything worked out. I had a lot of fun and I just worked with the best team. They were a joy to work with. I got really lucky.
Lately, I have been receiving awards for the "Delightful," music video. It has been cool, because it is a whole new world of film festivals, which I was never really a part of before. I attended my first film festival or screening (recently) in L.A. I think it is called the California International Shorts Competition. I won for best music video and it was really exciting, because I got to go to the screening and I saw "Delightful," up on this huge screen in this theater. I was sitting among very respectable filmmakers and people in the film industry. I was crying through the whole video, while I was sitting there. It was an emotional experience."
JF Shafer who also plays fiddle on Rooted Clarity opens the song "I Am," with some wonderful mandolin playing. In the opinion of Riveting Riffs Magazine "I Am," is the best song from this EP. It moves sprightly, Katie Garibaldi's soprano vocals soar and Shafer is incredible on both the mandolin and the fiddle.
"(The song) "I Am," is very close to my heart, because the inspiration is much like "Delightful," I was coming from a bit of a darker place when I first sat down to write it. I grabbed my guitar and the song just really flowed out. It was like the lyrics were coming from God's perspective in talking to me, so it was very healing in that sense. I felt like I was coming from this lonely place and I had this question in my heart. The lyrics came back to me as an answer. It is much more of a spiritual song, but it doesn't speak to that. It doesn't have God in the lyrics or anything. It is just my own inspiration behind it. A lot of people interpret it as a love song, which is totally fine too.
I wanted to keep it lighthearted and playful in a sense, so it is a happy song, but I also wanted to keep it very soft and pretty," says Garibaldi.
As for the fourth song "On My Own," Garibaldi says, "It is a story about leaving a small town and going out into the world and it is basically a song about finding yourself. I think this song came about, because I was travelling a lot and seeing different places and seeing new places, (as well as) expanding my horizons. It means following your dreams even if it means saying goodbye to some old beliefs or people you had in your past. You go out and expand and grow.
In the studio we kept it pretty simple production wise and we made it all about the lyrics and the strings. There is tambourine on there. There is (some) percussion to spruce it up a little bit, because there is this down home Country vibe to it. That was a fun one too."
This is not the first time that Garibaldi has used strings on one of her recordings, she explains, "There were a couple of songs on Follow Your Heart when I got to work with a few string players and I worked with an orchestra director. We put together arrangements when I was humming the parts that I would hear in my head. She would write the string arrangements around it, which was really cool. It gave me the itch to want to work with them again. I didn't record with the same string players, because I recorded in Nashville for Rooted Clarity. It gave me the itch to keep that sound up. It brings the most out of my voice as a singer. I felt like I had these songs and something was missing. When I thought about it more I just kept hearing string arrangements, so we went for that for the whole EP this time around."
Other musicians who appear on Rooted Clarity include, Kevin Blair on electric and acoustic bass, Tim Fellow on drums and percussion and keyboardist Arturo Garza. Kevin Blair and Katie Garibaldi produced the EP, with mixing by Robin Applewood, mastering by Justin Weis and the music was recorded by Buck Jarrell.
Katie Garibaldi grew up in San Francisco with one older brother and her parents were very supportive of her when she expressed an interest in music and later when she decided to pursue it as a career.
"My dad is not musically inclined at all, he just appreciates it. My mom is very musically inclined. She grew up playing the piano and she still sings and she writes songs at home. She was always a huge inspiration for me, because before I learned the guitar or anything I always wanted to be a singer. I just wanted to have music around me all of the time. I would give her songs that I was listening to and she would play them on the piano, so I could sing them, because I did not have an instrument to (accompany) myself. She taught me the piano when I was a kid early on, but it never really stuck with me. It didn't feel natural to me to sing and to play the piano at the same time. It was always a separate thing. I would play other people's songs, but it didn't really inspire me to write. That came when I learned the guitar when I was about eleven or twelve years old and I took guitar lessons. It was just an instant connection for me. It was very natural and when I picked up the guitar that was the turning point for me as a songwriter. I had my own songs pour out of me once I had that tool," she says.
The catchy "Follow Your Heart," from a previous album has become, "my anthem and my theme song, because it is such a huge belief that I have. I think that we all have a voice inside of us and sometimes it is really loud and sometimes it is really, really quiet and hard to hear, but I think we all have it, whether you want to call it intuition or something spiritual. We all have dreams and "Follow Your Heart," is all about listening to that voice, but also being brave enough to follow through with it. Sometimes it's scary and sometimes it's hard, but it is always worth it in the end. The song is an anthem to being brave and following your heart," she says.
Music fans everywhere should be glad that Katie Garibaldi pursued her dreams and followed her heart, because she is only going to get better and she is already very good.
Please visit the website for Katie Garibaldi.
This interview by Joe Montague published February 5, 2017 is protected by copyright © and is the property of Riveting Riffs Magazine All Rights Reserved. All photos are the the property of Katie Garibaldi unless otherwise indicated and all are
protected by copyright © All Rights Reserved.
This interview may not be reproduced in print or on the internet or through any other means without the written permission of Riveting Riffs Magazine, All Rights Reserved