It has been a long time since Riveting Riffs Magazine has said of any young artist that she or he has superstardom in their future. In fact, the last time we said that was when we sat down in April 2005 with then little-known singer, songwriter and guitarist Kimberly Perry of The Band Perry and that is exactly what we predicted. Here we are almost sixteen years later and having recently spoken with sixteen-year-old Leah Belle Faser from Atlanta, Georgia, we are saying the same thing. She has the voice, the songwriting skills and the maturity to become a really special artist, one that we suspect someday will receive serious consideration for and could possibly be the winner of any of the top music awards in Country music.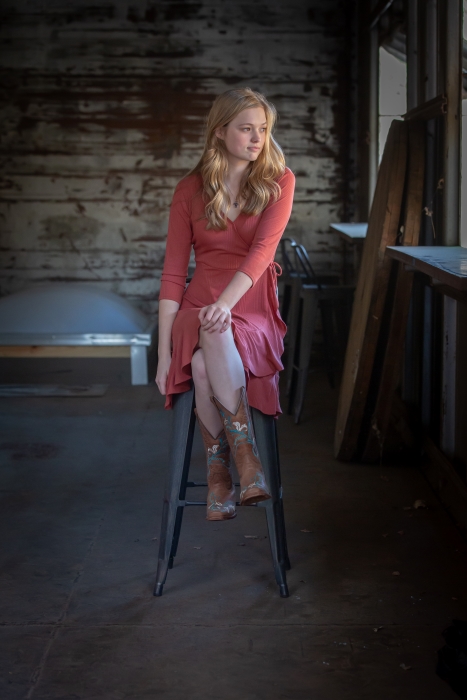 When you first listen to songs such as "Better Than Mine," "Back Home," "The Lift," and "Second-Hand Store," from Leah Belle Faser's new album Crossing Hermi's Bridge, songs about relationships and longing for home, the first thing you want to do is go to the album credits to find out who co-wrote these songs with her. Surely, you think, a sixteen-year-old could not write so insightfully about such mature themes and compose such well constructed songs. Then you think there must be information missing from the album credits, because all of these songs are attributed to this affable teenage girl who answers your questions thoughtfully and you realize not only are her songs mature, but so is she. Yes, she has all the exuberance of a sixteen-year-old, but she also is wise beyond her years.
Leah Belle Faser says, "There is only so much that has happened in my life at sixteen, so there are only so many things that I can write about. There are ideas and concepts, but I like to observe things and people around me. They are not happening to me, but it is what is happening to other people in my life and even to strangers. It is like listening to the booth behind you in a restaurant (you can hear the smile in her voice), not in a creepy way, but as you observe what people are going through. They may not be my age and they may be older than me with problems that I might not experience at this age. I think that is a really cool way to approach writing.
We share a joke about your writer imagining her slinking around restaurants with a wig and dark glasses looking for new stories. She replies with a laugh and says, "Everybody better watch out! I am on the hunt for hot new stories!"
"I worked with my mentor Phil Barnhart, a veteran songwriter up in Nashville and he gave me that piece of advice, to observe the things around me. I think it holds true with my writing today and it is a great piece of advice. He also told me that not every song is worth writing. When you write songs, a lot of songs have the same core idea, heartbreak or love or happiness and it is important to write (the songs) in a fresh way that nobody has heard before. It is why I like to weave stories into my songs, because you can follow along with the melody and the lyrics and it (becomes) a new story you have never heard before. I think it is important with songs like "The Night the Lights Went Out in Georgia," that has so much detail packed into that line and all of the lines in that song. You can see yourself in that position. I try to write like that, so people can invest themselves in the stories of my songs, as well as inserting their own truths at the same time. I think that is really cool.
As far as writing things that are true to yourself, I have heard so many people say the best songs come out of your own experience and I think that is true. I have written a lot of songs about experiences I've had, but not all of the time. A lot of the stories and songs on this album come from things that I have observed.
Anybody who is a writer is thinking about new stories all of the time, so when you go to a restaurant, when you go to a laundromat, when you go anywhere you are looking around to see what a new, cool and fresh thing is there to write about and what is this person's story. Everybody has their own life and their own story. Most of my inspiration comes from writing about those things," she says.
Continuing to talk about stories Leah Belle Faser says, "I am a person who not only loves melodies, but I am also a person who loves songs that move me. I am a person who loves emotional songs and being able to put myself into the music that I listen to and the songs (that I write). It is something I want my own listeners to do. The music that really speaks to me is when I can see the story play out with imagery. A lot of older music, especially Country does that as well. That is why I was attracted to Country and Pop Country in the first place. I love raw instrumentals in a song and being able to feel that music in a song. I also love the story telling of the Country songs and how there is so much detail packed into every single line. You can see a story start to play out. Then you have this chorus that feeds the song, and the second verse gets you deeper into that story. It is like you are following along on this song journey. I think that is awesome and it is something that Country music really does. I am a freak for storytelling."
The song "The Lift," is a good story song and if we had not already told you how old Leah Belle Faser is, you would think this is someone, well a little bit older, because lines like "Kiss me like you met me in the pouring rain," and "Make me your ever after," are words to which we can all relate.
"The song started when I was listening to my mom and her friends talking about how they met their husbands and all of the funny stories. It got me thinking about how your true love can meet you. I heard some interesting stories and what you might call normal stories. I wanted to write a song about an unexpected love and a love that came out of nowhere. That is where this story came from. When you break down on the side of the road and the person who stops to help you is your true love. That is something that I wanted to write about, a love that comes out of nowhere.
As for the melody, I am the kind of person who likes to drive and listen to music for hours. It is very freeing for me, so I wanted that driving melody and that easygoing feel that I have when I am driving. I wanted something very chill, laidback and that is easy listening. It is a happy song. I like the chorus. I wanted some guitar fills in the second verse to switch it up. The message of the song is love can come out of nowhere and that is how I wove all of that into the song. I want everybody and of all ages to be able to listen to my song and relate it to their own experiences as well," she explains.
We ask Leah Belle Faser to tell us about the title of her album, Crossing Hermi's Bridge and she says, "Hermi's Bridge is an old blue steel footbridge, and it is right down the street from my house. It is named after Hermi Alexander who was a civil rights activist in the sixties and there is a plaque on the bridge that says she built bridges across gulfs of prejudice and ignorance. That is a message that still holds true today and I think it is a wonderful message for the times that we are in now. It is a really cool bridge and an awesome story. I also crossed that bridge to go to the small private school I once attended. While I was at that bridge I was trying to keep up with the Joneses and it was starting to get hard, so I was ready to take that leap of faith and start a new journey at another school. It is a large public high school in my area with 2,000 (students) and I didn't know anyone. Even though I had made some wonderful friendships at my old school and I loved a lot of the teachers, I was ready for a new opportunity. These songs were written during that transitional period when I was taking that leap of faith and not crossing Hermi's Bridge anymore."
The song and companion video for "Better Than Mine," keep the listener engaged from the onset and that in itself is a miracle considering the music video was filmed in Florida, in August of 2020, when it was 105 degrees (Fahrenheit).
Leah Belle Faser says, "I was always told that when you are breaking up with someone to end it with grace and to make sure that when you are breaking up with someone that they don't walk away angry or feeling that they were mistreated. You should try to soften the blow. Sure, there will be some disappointment, because you are breaking up with someone that you thought you had a connection with, but this song is when there is no disappointment at the other end and that person that you broke up with goes out the next night. It is sort of a revelation that you might not mean as much to that person as you once thought. Even though you broke up with them and you knew the time was over that time still meant something to you. Having time with someone still means a lot and to realize that time did not mean anything to the other person is disappointing. That is where that song came from.
Having that big Country chorus, I just wanted to incorporate the emotion that this storyline feels and walking through that process of seeing that person go out the next night and watching them do things you would not have thought they would have done. You think that is not the person I thought I was in a relationship with. When you end a relationship you wish them the best, but do we really wish them the best, like right away? You want them to stay in, one night at least. "Better Than Mine," is about that feeling."
As for the video, "When I was ten or eleven, I used to do these little acting auditions. I took some acting classes. I used those skills in the music video. I insert myself into the songs. Even when I sing cover songs, I like to pretend that the story is happening to me. Singing with that kind of emotion when you are on stage is a great way to perform, because it transmits the idea to an audience much better. When filming this music video, I tried to channel the emotions I had when I was writing the song and then I put them into this music video when they were filming me. I used a lot of that intense emotion that I felt when I was writing the song," she says.
The producer for Crossing Hermi's Bridge was Casey Wood and the album was recorded and engineered at Insanery Studio in Nashville.
"I was referred to Casey and I recorded a couple of songs with him about two years ago. He has a real appreciation for the (type of) instrumental backing that I love, and he brings in amazing A list musicians to the sessions. (There was) John Lancaster (keys on "Ruled") and Billy Nobel (keys on all other songs), Nick Buda (drums), Tim Marks (bass), Kerry Marx and Eddie Heinzelman (guitars). My brother Hoke (Faser) sang background vocals on three of the songs.
They are just fantastic people and getting to work with them was awesome. Casey is a great guy and producer. When he heard my vision, he was able to incorporate all of the things that I wanted in the song and more. I am super happy with the way the album turned out.
Recording during COVID was so weird too. It went great, but it was definitely a different experience. The recording session for the album was initially supposed to be in April, but it got pushed back to May due to some COVID delays. While we were recording everybody wore masks and everybody stayed in separate corners. I think the only time that I took my mask off was when I was in a vocal booth and alone. It was great that we could create music even in such weird times.
All of the songs on this album were written solely by me. I attend the National Songwriting Association chapter meetings in Atlanta. Now we do it on Zoom. We do a group critique. I have played some of the songs from this album for them and they always give me great feedback. I also play them for friends and family for feedback. All of these things gave me great ideas for rewrites. I have a lot of great sounding boards in my life even though I do not co-write these songs," she says.
Leah Belle Faser talks about when and how she first started writing songs, "My first memory of creating music was when I was age seven and I created a melody. It was during my guitar lessons. I always wanted to play for my guitar teacher these little songs I made up, but he wanted me to practice the songs that were in the curriculum. I did not do that. I played my little creations for him instead. A few years ago, my vocal coach suggested that I should start writing in a more disciplined way.
I always loved to write, but I wasn't sure if people would love my songs. I was ecstatic when she told me that. I sat down and I started to write songs and I started studying songwriting. There is still a lot that I have to learn. At the end of the day songwriting isn't just creating a melody with lyrics that you put out in five minutes, at least for me it's not. Songwriting for me is an art and it takes me a long time to write a song, because I feel that it can always be better. I do so many rewrites of songs, because I always feel I can get it a little bit better and I can tweak this line, so it feeds the chorus better or it makes it new and interesting and fresh. I have come a long way with my songwriting, but I still have a long way to go and I want to learn."
The song "Second-Hand Store," melodically and lyrically is in our opinion the best song on the album Crossing Hermi's Bridge, and once we return to artists touring this will not only be a concert favorite for fans, but it will be the breakthrough song for Leah Belle Faser. It is up-tempo, Pop Country at its best. This is an anthem for women of all ages, whose message is you thought the grass was greener on the other side of the fence and you went for all the glitter and the fast, glamorous lifestyle for a brief, but do not think you can come back to me now, because I am not your "Second-Hand Store."
Leah Belle Faser describes the song as, "It is a really cool, fun, upbeat and sassy song. It is the kind of song every teenage singer and songwriter wants. Every teenager wants that kind of sassy tune on their album to bring it up."
The flip side of that theme is expressed in the song "What Could Have Been," something most of us have experienced with a chance meeting, in a fleeting moment or two and wondering what might have been if we had more time to spend with that person.
"This is a super storytelling song. I feel like we have all met a person, whether it was while we were on vacation or at camp or somewhere else and you share an experience with that person and you feel a connection with that person. There is something or some reason why the two of you have to part from each other. Everybody has wondered, what could have been if we had been able to stay together for longer? Could we have had a blossoming love that turned into something more serious? A lot of people have experienced that. I have experienced that. I wanted to write a story around that feeling," she says.
The mood changes with "Back Home," a song about wanting to reconnect with the things you left behind and that you discover you cherish the most.
Leah Belle Faser explains, "When I was younger, I had these big dreams of living this super glamorous life, living in the big city and living in a high rise. Now that I am a little bit older, I realize that may not be what I want. I love the ties to my family, and I love the ties to my hometown. I am not sure I would want to move to a big city and live the way I (thought) I wanted to when I was younger. This song is about that wondering."
The past year has been a challenge for even the most established singers and songwriters, due to the pandemic, so we wondered how a young artist, still in the early stages of her career was handling things.
"I love the way that music brings people together and I love the way that music inspires me when I am listening to it, so I want to be that for someone else. I think it is so cool the way music can bring people together. Music can be a conversation starter, or it can be a bonding moment for two people that have never met before. Music is also for whoever wants to listen to it. You do not have to be rich or poor or this race or this religion. There is nothing that holds us back from the music that we love. That is why I want to be a creator of music, because I love that it brings people together from all different backgrounds. That really encourages me to be an artist and a creator of music.
With COVID and all of the struggles that everybody is going through we all need to come together. Music is a creative outlet. Music is a place when you can sit back and listen and you do not have to worry about all of the things that are happening around you in the world," she says.
Is there a Leah Belle Faser fan club?
"Does my family count? There are a lot of amazing people who believe in the music and who listen to the music, Tod Elmore my manager, Mike Farley my publicist and my mom is the biggest believer and she stuck by my side. She can be the president of the Leah Belle Faser fan club. She is so wonderful, and she helps me so much. There is no way I would be where I am today without my mom. My brother and my dad support me so much and I could not ask for a more wonderful family. I am very fortunate to have them," she says.
Please visit the website for Leah Belle Faser and you can also listen to her music here. You can follow Leah Belle Faser on her official Facebook page or Instagram or Twitter.
Photos: All Photos By - Deborah Celecia Wagoner
#LeahBelleFaser #LeahBelleFaserMusic #LeahBelleFaserSinger #GeorgiaSingerSongwriter #RivetingRiffs #RivetingRiffsMagazine #GeorgiaCountryMusic #AtlantaMusicInterviews #AtlantaSingerSongwriter #CountryPopMusic #CrossingHermisBridge #CountryMusicAlbum
This interview by Joe Montague published January 13th, 2021 is protected by copyright © and is the property of Riveting Riffs Magazine All Rights Reserved. All photos are the the property of
Leah Belle Faser unless otherwise noted and
all are
protected by copyright © All Rights Reserved.
This interview may not be reproduced in print or on the internet or through any other means without the written permission of Riveting Riffs Magazine.