Jazz Composer and Pianist Lisa Hilton: Dolphins, Waterfalls and American Impressions
In the six years that this writer has known Jazz composer and pianist Lisa Hilton and become friends with her, perhaps nothing else has quite captured the essence of who she is both musically and in her personal life, as much as her original composition "Waterfall," from her current album American Impressions, and the companion video for the song. That is a pretty bold statement to make, considering Ms. Hilton has recorded fourteen albums during the past decade. Lisa Hilton is passionate about nature, she loves to hike and to run and a few years ago she was troubled by how much of the natural habitat for animals near where she lives, had been lost due to fires. The video for "Waterfall," begins appropriately with the sound of a waterfall and we see the spray against the rocks. A line appears across the screen, as Ms. Hilton begins to play the piano and it simply says, "I have always been inspired by what I see in nature."
"The whole idea of the script is how I feel. I was hiking and I saw that the water was moving at different rhythms and speeds as it came down the hill. This was in the Rockies in Colorado. I hadn't really noticed that before. That's life, it comes in puddles, pools and swirls and rushes and I think that (director) James Grant was able to portray that in the video. Everything isn't literal either. He was trying to take the ideas that I was trying to express. Today we need to have a broader definition of nature, because most of us live in urban areas, but we can find that same kind of stillness or peace. (We can find) beauty even in an urban sky, it doesn't have to be in a rural place like a waterfall. I'm lucky to have one near where I live (and where the video was filmed), but you can still get that sense of peace and beauty in nature, even in an urban environment," she says.
Sitting outside her home in Malibu, she says, "I find peace and I find answers in nature. I feel close in spirit to nature. It is so uplifting and it is my own film out there. There is so much to see. Right now I see a dolphin (she laughs) and there are seagulls flying overhead. Nature is always there. I just like to see the world around us."
"I noticed that water travels in a stream at different speeds and rhythms. I've seen that life is like that too," more thoughts appearing across the screen and Lisa Hilton's playing reflects the feel of water flowing, bubbling along.
"This was the first time that we created a story around a tune. It is something that I have wanted to do for a while, but you need to get the performance video first and then behind the scenes video. I felt that I had the freedom to do that (the song) this time. Whatever I do, I want it to be my art and so it was great this time to have that freedom. I got to do, what I thought would communicate what this tune is about," she says.
As for the title of the album American Impressions, "The title of an album is always the most difficult process. That's just a given. I thought when I finished the album that the (songs) seemed to be impressions or vignettes. Several critics have said that I am an impressionist and I think maybe that's true. I seem to want to paint pictures or vignettes or solos or short stories about everything. I also feel very strongly about our birth place for Jazz and Blues and I realize that so much music has come out of the United States including minimalism and all sorts of music. I feel pride in that and so often we are trying to find the next thing that is coming out of this country or that country that I think it is okay to appreciate the music here in North America. We have a lot here that can still be explored, embraced, cherished and savored. Let's just allow it to grow, instead of always looking for the next thing, we have to find the next flavor, we have to add the next texture. There is more to explore with what we have right now or where we are with American music. I thought about all of the great composers that I have been inspired by from Miles Davis to Count Basie to Thelonious Monk , on and on, Muddy Waters, all of the way up to Green Day. I thought that I would like to honor that and give it that flavor of America. When you think about Gershwin and the New York that (George) Gershwin wrote about in his music, I have only seen it in movies. That is the New York of my grandparents' time and that is not New York today. He was able to create such a flavor of that bustling and of the huge growth that was going on at that time, but New York has a different flavor now and so I put some (music) in there to reflect that kind of flavor. It is just that idea of embracing what we have in America and not just always looking over our shoulders for something different and new (editor's note: George Gershwin was the composer and Ira Gershwin the lyricist).
I have been a fan for a very long time (of Impressionism) and now I am searching for new art. In music and in art I am looking for some new things. What about new Impressionist painters today? What are they doing? I think they are doing something that is typical, but different. What I do as an Impressionist and as a musician is something that is similar, but it is different. Who knows what I am going to do next though (she laughs softly).
Introduced by Lisa Hilton's piano, supported by longtime friend, Larry Grenadier's upright bass, joined by J.D. Allen's moody saxophone and accompanied subtly by drummer Nasheet Waits playing with brushes, "Accidental Romance," is a beautiful Standard, but an original one. One might add that what Ms. Hilton has created is a timeless treasure that will be enjoyed by future generations of Jazz lovers.
"I wanted to write a Standard and of course it is not a Standard, because it was not written in 1928 or 1932, but I wanted to write something with essentially that kind of structure and I wanted it to be romantic. We aren't romantic anymore. We aren't romantic like we were in the 1920s or the 1930s, so I thought I need to make it real for today. I can't fake it and I can't pretend that I am someone whom I am not. What would be romantic today? If you can be "friends with" a couple of thousand people couldn't you have an accidental romance? I tried to create a romantic Standard type of piece that is seated in real life and something that could happen. It has the flavor of a traditional song, but it has a twist, it is different. We love the past and I am not trying to create an old school tradition. I am trying to reference our history, but to look forward in a new fashion. Our art needs to reflect what is going on today. There are so many amazing things that went on in the 20th century, but I really believe they have reached their fruition and now that we are well established in the 21st century…the first few years, I didn't really feel that there was much change or action going on, but the last couple of years it is whew, we are not looking back, we are looking forward. I think everyone in the arts feels that this is new and this is different. I hope that we are (living in) what at some time in the future will be called The Age of the Arts. We will find peace. We will find new inspiration and direction through the arts. So much went on in technology and I think that the arts took a backseat and that's fine. There is a lot that went on and I think that there will be a rediscovery of art. I think that art is a salve for the soul. I think that we will see more need for art as we keep progressing. It is going to be an exciting time," she says.
One of the prettiest songs from American Impressions is Lisa Hilton's "When It Rains," a song on which Larry Grenadier's bass playing is exquisite and I am not sure if we have ever referred to a drummer as elegant, but that is the feel that Nasheet Waits creates and Lisa Hilton's playing casts a magical spell over the listener.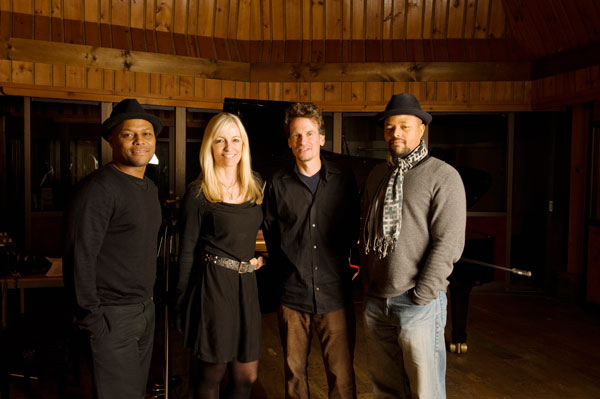 I thought it was a pretty song and it came to me easily, but my goal in life is not to just write a pretty song. My goal in life is to write something that has some challenge and interest on a musical level for me as a composer and as a player. It should also be able to express something emotionally or personally. My goal is not simply putting pretty notes together. That is how that song started out. I thought, I don't want to do that. It is a pretty song, but I don't just want to do something pretty, I want it to be meaningful. I want it to have guts. I want it to be something adventurous musically for me. I worked with it and I came up with it and when I came to the studio, I didn't know what my very cool New York musician friends would think of it. I looked at my drummer Nasheet and then I said to Larry my bass player, I don't know what we are going to do and Larry said I don't know either. We ran it through once and I looked over at the drummer and he had the look of pure bliss on his face. If you listen, (when Larry plays) he has this beautiful bowed bass in there that he just came up with in an instant, because neither of us knew what was going to be the right thing. There is a part at the end that almost sounds like a seagull or something. It sounds like a bird. It was just beautiful. The first take was great. I always do more than one take, but it went down really easily. Many people have said that "When It Rains," is their favorite track. Yay!
A side of Lisa Hilton that a lot of people do not get to see, as she quietly goes about volunteering her time and talents, is her work with inner city children and with the visually impaired. "I wanted to get involved with something that had to do with children and that wasn't far from my home, so I got involved with a program that reached out to inner city kids and I also got involved with a camp for blind children. I thought this is perfect, we can bring the blind kids to the music programs and I kept suggesting that, but the university suggested that having the blind children at the camp would be a liability for the campers. That didn't sit very well with me, so I made that personal commitment to reach out and to lend a helping hand to people who can use a helping hand and who frankly don't even ask. Along the way, I have been inspired by so many incredible people. I can tell a million stories, about the kinds of people that work with people who are visually impaired. The things that I have been able to experience and the very talented blind children and musicians and people that I have been around. It ended up being something that really enriches my life. It started in an unusual way and I just felt that I was going to commit and to stick with it and one thing has led to another. It is an incredibly rich part of my life now. I love the kids. I love them. I feel really lucky. I feel like heaven on earth when I experienced the kind of openness that I normally do when I am around people who have visual impairments. It is a very special experience and I think that we need to understand that we all have some kind of disability or "impairment." We see their exterior, but there are many of us who have issues inside of us, or problems that we grew up with or things that we are trying to work on. We are able to see someone with a physical disability, but we all are made equal and we all have things that we have to struggle with. We are perhaps able to hide it sometimes. It is very inspiring sometimes to see those who are brilliant, funny, great individuals and human beings and that happen to have visual impairments. It has been great to work with them. One thing has led to another. It has been fun. I ended up getting more out of it than I have extended.
When asked what she thinks her legacy will be, Lisa Hilton replies, "I hope that I have a legacy (she laughs). I don't know, that isn't for me to write. All I can do is what an artist does, to be open to what is going on in the world and then try to translate that to a different medium. What the impressionists did was to represent the fervor and the passion of what was going on and to look at things in different ways and (they used) different colors in their art. That was reflected in a wild and crazy new style of painting that people were incensed with at first. That is what I am trying to do, is to look at different ways, almost like a sponge to what is going on in the world and to try and represent our world through my language of music. If people say they hear what is going on in the music then I feel that is what I have done is to communicate it. My goal is never to be the flashiest or the fanciest or 'oh look at me and my solos.' I really care about communicating our lives and to share what is going on with a waterfall or a subway or an accidental romance (her voice becomes whimsical and again she laughs softly). That is what I hope."
Please visit the Lisa Hilton website
Bottom Photo: L - R J.D. Allen, Lisa Hilton, Larry Grenadier, Nasheet Waits. Photos by: Michael Weintrob
© Protected by copyright, All Rights Reserved.
Interviewed by Joe Montague August 2012 Return to Our Front Page
This interview is protected by copyright © and may not be reproduced in print or on the internet or through any other means without the written permission of Riveting Riffs Magazine, All Rights Reserved