If we told you that Madeleine Davis has lived a life full of adventure some might easily argue that is an understatement. She grew up the daughter of a Gospel singing mother, and a pharmacist father in Columbus, Georgia, near the Chattahoochee River, with one sibling, a brother at home and a sister eighteen years older, who had pretty much left home by the time Madeleine appeared on the scene.
Madeleine Davis had a lengthy career with Boney M (By the Rivers of Babylon, Rasputin) and a small sample of her work in the studio and / or live performances includes artists such as Precious Wilson, Hoyt Axton, Peggy March, Terence Trent D'Arby, Rick Astley, Klaus Doldinger, La Bionda and Amanda Lear. She was in demand by producers such as, Ralph Siegel, Tony Monn, Michael Kunze, Sylvester Levay, Giorgio Moroder and Frank Farian.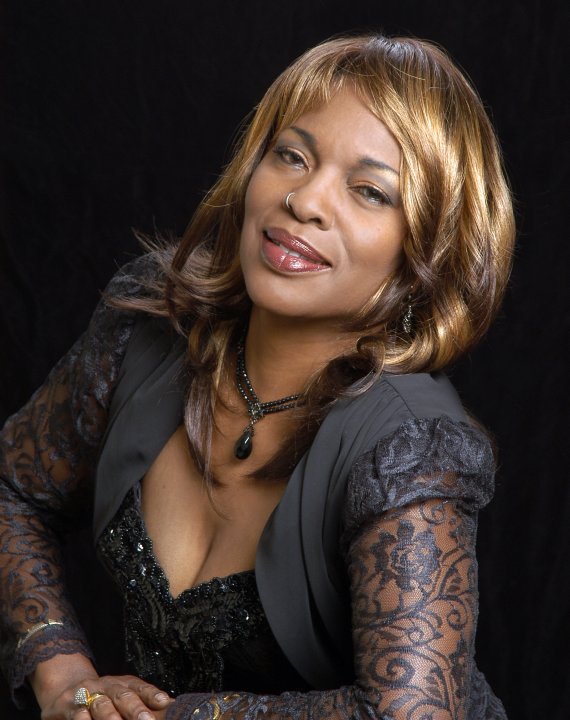 She sang in church as a young child, acted on stage as a teenager (there is a motorcycle story we will get to in a minute) and she was a soloist with the Atlanta Symphony Orchestra while still in university.
"My father was a lot older than my mother. He was fifty-nine when I was born and he was seventy-five when I was eighteen.
I grew up with a father who was in World War I. He had so much information for me when I went to school. When he was a paperboy the Titanic sank, so he knew the information from the newspapers of that time. He told me information about the Titanic and I went to school with this information. In my day we only had encyclopedias and my teachers said to me, this information is not in encyclopedias where did you get this? I said my father was a paperboy at the time and this is the information that he gave me that was in the newspapers. The kids thought this was a hoot. These days you would call my father Wikipedia (she laughs heartily)."
As for her childhood she says, "My mom was a Gospel singer who would do concerts in churches. She was well-dressed and she had a wonderful accompanist. I saw from the beginning how to (present) concerts even though she was not a professional.
When I was little, I sang a lot with my mom, because I had a natural alto voice to her soprano. I said to various people that I did not want to be in show business and my father said that is what you are for. I told him I wanted to be a doctor and I thought that would stop him from talking about show business, (because he was a pharmacist), but it didn't. (She laughs and says) he said, no you are not cut out to be a doctor.
I was adamant about being a doctor and I joined the Red Cross as a candy stripe nurse at the age of twelve. I went to Martin Army Community Hospital not far from my hometown in Fort Benning.
My father was friends with colleagues all over and he happened to call someone at the army and (convinced them) to play a mean trick on me, but it made me think I am definitely not for the medical profession. My father and one of his nurse friends cooked up a little scheme. I wondered why this nurse wanted me to help her draw blood. That is not what candy stripers did. We were mostly comforting patients, giving them water and magazines."
Let's just say twelve-year-old Madeleine Davis passed out and fell on the floor at the sight of blood.
"From that day on I thought maybe dad is right, I am not for that. I found out later that they had cooked up this scheme," she says.
Now let's get to that motorcycle escapade that took place in the Children's Theater at the Springer Opera House, when she was fourteen.
The Springer Opera House was an entertainment staple in my hometown. It had been abandoned for about a decade and I don't know why, but on the outside, it was still the same as it had been in the 1800s. There were a lot of famous names on the plaque outside. They raised funds to reopen it and it became the State Theater of Georgia. It is not a regional theater. It is actually a community theater.
I was cast as Mad Mouse a (takeoff) from Aesop's Fables and the show was called Aesop's Fallibles. I was the hippie mouse. In the fable he had the city mouse and the country mouse, so I played more the city hippie mouse to my cousin the country bumpkin mouse.
The script called for a motorcycle to be driven on and off the stage. My parents went and got the bike that was going to be donated to the show and it was just a small motorbike, but it made a lot of noise. When I was practicing in our neighborhood, my mother could hear it all over. I finally got the riding down pat, but it was so loud on the stage that you couldn't hear our lines or the songs, so I had to cut it off when I entered. One of the funniest things was I couldn't start it up, so we had to push it off. One time I started it up so fast that they had to open up the backstage door so I could go out into the street. Then I could stop the bike (envisioning this happening we both laugh). I had seen all of the side stage doors close and then when they saw me coming, they opened them all again, because I couldn't stop for some reason. It was outrageous and the director said we just are not going to use the bike. We will just use a regular bike and you can do what you regularly do. We just used a regular bicycle and they used noise effects from offstage."
That was not Madeleine Davis' first introduction to the Springer Opera House however, "I saw an audition in the newspaper and I had already done a high school production for The Sound of Music. Everyone had told me how good I was, so I decided to audition for the part of Mother Superior (in a play) at The Springer Opera House at fourteen years old. I had no idea that most of the performers there were adults and the only part I could get was in the nuns' chorus. That was the main stage production, but for the children's theater the director came to me and said you are just fourteen? I said yes, I am and she said I need you for the children's theater at The Springer. She said we are doing some great plays and I would like you to come in and audition. After that I became a staunch member of the Springer Children's Theater," she recalls.
There are so many different creative directions that Madeleine Davis' life has taken, it is almost like finding yourself in an enchanted forest and wondering which pathway to take next. We opt for the one about The Sound of Music, but once again she surprises us by telling us this was not her first acting performance before an audience.
"I performed in front of a TV audience when I was four years old. It was in my hometown and on a local cowboy show. It was Cowboy Bob who I found out later in life was Mr. Robert Woodruff. He owned the station and many other things. He called himself Cowboy Bob. I sang on that television show at four years old. I kept this up by singing with my mother in church until I auditioned for The Sound of Music. I didn't think anything about it, but I sang "Climb Every Mountain." I hit a high C at the end and the director said you just have to do this. I said I don't know how to act and he said I'll teach you how to do that. He said right now we don't have anybody who can sing that song. He said we have got to have you do it. I said okay I will do it. I was the first black nun that The Sound of Music ever had, even before Audra McDonald and she is a great singer. When I told her that I snuck in before her she said, high school? I said yes. She said you must have really had a voice back then."
As for how she felt when the audience applauded, "I thought oh my god. I couldn't believe it and I thought maybe my father was right. I should train myself to do this more. It was encouraging and exhilarating. I was a little insecure, so when people said they really liked it, I said do you really mean that and you aren't just saying that? They said we love you. That encouraged me to get training and to go further with it."
Madeleine Davis' mother found a voice teacher to classically train her daughter when she was seventeen.
"She taught me a lot of European art songs. She suggested that I go to college and that I study music. In high school I received a scholarship to go to summer school at Florida State University. At that time Florida State was the number one school of music in the entire United States.
I was also accepted at my parents' alma mater at a historically black college, Morris Brown. They had a dynamite choir and a wonderful music department. After I did the summer at Florida State, I headed back to Atlanta to attend Morris Brown College. After Morris Brown I went to Bowling Green State University College of Musical Arts in Ohio, for further training. It was the first time I ever saw snow and I loved it.
I then decided I liked theater and I was going to try and stick with that rather than Opera, even though I love and adore Opera. I just felt better doing musical theater. Once I got to Bowling Green where all voice majors were required to perform in an Opera, I was the first to initiate a musical theater credit for voice majors. I told my professor that I love Opera, but I didn't think I should be forced to do an entire recital of Opera. I wanted the freedom of musical theater. They finally decided that voice majors could decide what they wanted, legitimate theater or Opera. I did musical theater and what they called Third World Theater at that time, which was basically black theater.
While I was at Morris Brown College, I also did work with the Atlanta Symphony Orchestra. I was good friends with Robert Shaw the distinguished director who was in a residency at that time. They asked for a couple of Morris Brown students to come for college credit. I thought I am going to audition and I decided to go. I had great sight-singing skills, so I performed with the Atlanta Symphony Orchestra chorus when they had concerts. For my entire senior year, I was a student teacher at a popular performing arts school in Atlanta and also was a soloist with the orchestra. I was so active and when I think about it (she begins to laugh) I don't have that energy now. My goodness classes all day and then after classes, Morris Brown choir rehearsals and then seven o'clock at night going down to symphony hall for that choir rehearsal. Then I got up in the morning to student teach. Boy I had a lot of energy (more laughter). That all happened while I was at university. I was an alto soloist with the symphony. That was really incredible for an eighteen-year-old kid. It was the highlight of my college life to do all of that," she says.
So, we had to ask, Madeleine why did you decide to move to Munich, Germany in 1978? That is a long way from home.
"While at Bowling Green I got to talk to Stanley Cowell, an excellent Jazz pianist and I loved Jazz. He started training me in Jazz. I thought this is a great thing to do and he said you should come to New York. He was teaching at Rutgers University in New Jersey. He said start looking for work in New York.

I didn't finish at Bowling Green, because I thought I needed to go to New York. I got into musical theater in Harlem. It was a great experience. Stanley told me to try Jazz. I started singing Jazz and I thought it was the greatest thing for me. I met an agent who said he was looking for three ladies to go to Munich Germany to sing with a big band. I thought it was right on for me and it was something I always wanted to do. I was being absolutely mindless and blind about it. I just wanted to go right away. I had no idea that when I got there the band was not a Jazz band. It was a Polka band! I was so shocked. I thought I can't sing this. The director said, well we do a Pop segment and that is what he needed me for.
I got to sing with this band and I wanted to do really good stuff. They couldn't do the big band Jazz stuff. They couldn't get with it. It was all Polka. I thought I will just do the Pop stuff and that is it.
I wanted to come home, but I met an American soldier who was stationed there. He said why go home. Munich is great. This is where Donna Summer (got her start). I thought, I have all of these Donna Summer albums and he is absolutely right. I read every liner note and name for her albums. I thought my goodness those people are here in Munich. He said just look around for those people and see what you can get into.
I (decided) to go around to the studios and introduce myself and the first people who picked up on me were the Germans. (She laughs again) I though oh my goodness I am going to be stuck in this Polka stuff for the rest of my life! At that time, I couldn't speak German, but I could pronounce it well, because of my Opera training. The beer is the best in the world, so I had a good time.
The first studio that asked me to come in and do backup for their artists was a German language recording company. I thought I was going to be speaking and singing in German for the rest of my life. They said they could cover up my little bit of an accent when they did the mixing. He was the top producer in Germany for many years. His name was Ralph Siegel. He won the Eurovision contest (Editor's note: for his song in 1982 translated in English as A Little Peace, performed by Nicole Seibert).
I started working with Ralph on the recordings for a lot of his German artists, including an American icon named Peggy March ("I Will Follow Him"). She was singing in English and in German, but it was for her German recordings that I started working with her and later on her English language productions.
I became one of the go to people for ideas, for arrangements, for translating German songs into English. I thought this was happening in a way I had not imagined, but I just rolled with it," she says.
Madeleine Davis, Patricia Shockley and Kathy Bartney, three Americans living in Munich met through recording background vocals in studios and producer Frank Farian told them he liked their harmonies, vocal ranges and quality of their voices. Farian requested a meeting with them. Frank Farian worked as a producer with Boney M, No Mercy, Far Corporation, and Meat Loaf, to name a few.
"Once Frank Farian got us, (the three ladies now known as LaMama) he didn't want that sound on anybody else's records. The other producers didn't like it, but he was wielding the big bucks back then. We thought we would give it a try.
That lead directly to my becoming involved with Boney M. At that time Boney M were already superstars. When Frank Farian called us in, he had us work directly with his groups. I met Boney M and Terrence Trent D'arby who was also recording for him at that time. Once Liz Mitchell decided to leave Boney M the first person, they called was me. I had already done studio sessions for them.
It was great touring with Boney M and I enjoyed being with them. It was one of the highlights of my life," says Madeleine Davis.
She considers touring and recording with Precious Wilson to be one of the highlights of her career, "She is an excellent singer and the songs that we did gave us a chance to show ourselves as a singing group. We also toured with Precious. That allowed us some freedom as backup vocalists. It wasn't like ohhh baby ah, we actually had to sing. On Precious Wilson's version of "Killing Me Softly," I think that was the greatest feeling to sing that with her. It was a Disco version of "Killing Me Softly."
During the pandemic, while waiting for things to open up again Madeleine Davis recorded and wrote some new songs.
She is also gearing up for the Ma Rainey Blues Festival, an event she founded, to honor the legacy of the Blues singer for whom the festival is named.
"Ma Rainey is often called the mother of the Blues. She didn't really start it, but she heard it down in the Mississippi Delta and she started doing it herself. At that time there weren't any women (Blues) singers. She was also a songwriter and from what I (understand) she couldn't read or write. How she explained to the musicians what she wanted was by using pictures and she (communicated) her lyrics by pictures. When she said she was going to shoot that man, there were pictures of an eye, a gun and a man. They knew how to phrase that just from the pictures. She was from my hometown.
Ma Rainey is the one who really encouraged women to perform (the Blues). She was the first one to have her own tour bus and musicians, so I thought why doesn't this town do a festival? I know my hometown (Columbus, Georgia) is in the deep south with heavy racial karma, heavy misogynistic thoughts and totally against gay people. Ma Rainey was all of that. She was black, a woman and bisexual. She often wrote and recorded about her escapades with women. She deserved to have a festival named after her. We know things about Chuck Berry and Jerry Lee Lewis and there were some things that weren't pretty about them either.
I petitioned a few corporations in my hometown to sponsor the festival and they didn't do it. They led me around the bush. I had to get my own money and I had it on a much lower scale and what I could afford. I want the festival to be about the old Rock and Roll, the old Roots, the old Blues and the old Folk music. I also want Gospel music. Ma Rainey's keyboard player became a minister and he left the Blues, but he wrote and recorded the song "Precious Lord Take My Hand." The reason I want to include Gospel, is because in some of those songs you hear the Blues format.
We are going to try and get back in business again. When things are better. I am going to have a fundraiser and get things going again. We want to put women upfront in the Blues.
Now you know a little bit more about Madeleine Davis and all that she has accomplished and one gets the feeling she still has a lot more dreams, goals and things she intends to accomplish.
#MadeleineDavisSinger #MadeleineDavisMusic #RivetingRiffs #RivetingRiffsMagazine #BoneyM #LaMama #PreciousWilson #MadeleineDavisBlues #MadeleineDavisJazz #MadeleineDavisPop #MunichGermanyMusic #PeggyMarchMusic
This interview by Joe Montague published January 29th, 2022 is protected by copyright © and is the property of Riveting Riffs Magazine All Rights Reserved. All photos are the the property of
Madeleine Davis
unless otherwise noted and
all are
protected by copyright © All Rights Reserved.
This interview may not be reproduced in print or on the internet or through any other means without the written permission of Riveting Riffs Magazine.