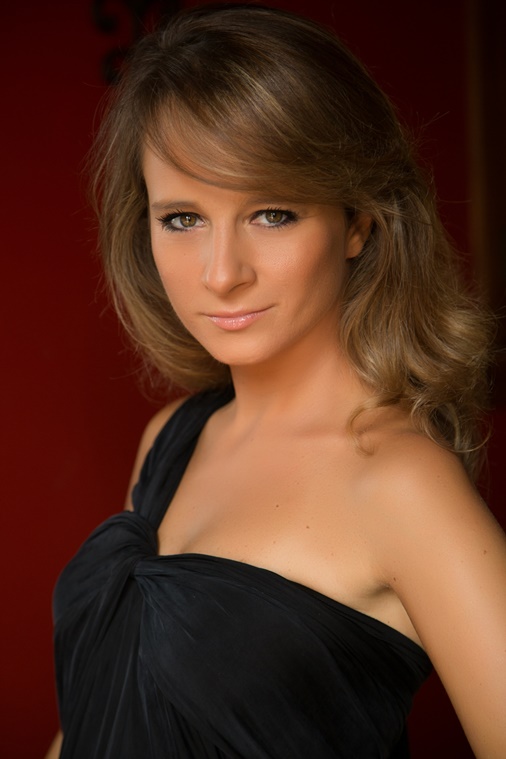 Singer and actress Maria Elena Infantino will be performing on November 3rd (2017) at the Egyptian Theatre in Hollywood for the opening ceremony of the ARPA International Film Festival's screening of the film Dalida. Dalida is based on the life and career of the legendary singer by the same name and as Infantino notes, of course she will be performing one of Dalida's songs.
Maria Elena Infantino's performance at the ARPA International Film Festival could not come at a better time, as she continues to develop a new one woman show (she is well celebrated for her Édith Piaf show), this time featuring the music of Dalida.
Infantino says, "Dalida sang in fourteen languages. She was the Disco queen and she was huge in the seventies. She inspired me in the sense that it is so dramatic and theatrical to represent her life on stage. This year marks the thirtieth anniversary since her passing. I met the actress and the director from the movie Dalida, which was filmed in France and I thought why don't I do this? She had such a wonderful life and for two years I have already incorporated some of her songs into my show. I sing "Bambino," and "Paroles, Paroles," the famous duet that she did with Alain Delon. I think I will be doing a show about her very soon, because everyone claims her. The Lebanese love her, the Armenians, the Egyptians, the Italians and the French. I would combine all of these cultures together and you can imagine the audience I would get with such an international flavor. It would unite all of the nationalities together.
The interesting thing about her is while I was choosing the material, what do you choose? Every song has fourteen different versions in fourteen different languages. There is a song that is originally in French, is also in Italian, but it doesn't speak to me in Italian. Do you know which language it speaks to me in? It is Japanese. I will have to learn (Japanese). I will also be singing in Arabic, in Spanish, in French, but the pluses of this show will be Japanese and Arabic, because it is something I am going to have to work on.
They say that you learn most of your languages by the age of seven and those stay with you somehow. I am not seven anymore (she laughs), but once you know five languages (as she does) then you have an ear for languages and the pronunciation. I won't know until I get into this, but I have already learned a couple of songs in Arabic. It probably took me longer than it would have taken me when I was seven. Yes it might take longer, but I will get around it. It is a work in progress. You are not talking about a whole language, but you are just talking about a song, so I think I can do it. I will let you know once I get there (she laughs). It might be a little longer."
The Dalida performance comes on the heels of Infantino unveiling a duet recently with her father at Herb Alpert's Vibrato Grill & Jazz in Los Angeles. Her father, the famous Italian tenor Luigi Infantino passed away when Maria Elena was seven years old, so this was both special and a magical moment made possible by modern technology.
She explains, "I did a duet just like Natalie Cole did with her father and Lisa Marie Presley with Elvis. Now apparently is the right time to do it. I had this idea for a long time, but it was an idea that shaped up now. I met this DJ and together we mixed a couple of my father's songs, modernized them and I did a duet with my father. I thought why not just make it a funky new modern beat and duet with him."
It was not the first time that Maria Elena Infantino shared the stage with her famous father (we should also point out that her mother Raina Nikolova is also a well-known Opera singer).
"At Royal Albert Hall I was on the same stage that my dad had sung on thirty years before that (Luigi Infantino passed away when his daughter was 7.5 years old). It was very emotional at the time in the sense of oh my god I am where he walked. That is all I could think of. It was not emotional in the sense that I could feel his presence, but that I knew wherever I was he would be there with me and we were doing this together. I had the notion that I was putting my feet where my dad had sung before. That was my debut and so I thought it was a blessing and it was his way of telling me to go for it. I was starting in style with my dad's blessing and the way he began."
It was while she was visiting Robin Gibb at his home that she met Rocco Buonvino and it turned into a very fortuitous meeting, as she gave Buonvino her CD and he turned invited her to sing at Royal Albert Hall concert in honor of The Beatles fiftieth anniversary.
"Later on Rocco said to me, your father was a big star in England and he did a show at the Covent Garden, why don't we do a show about your father. I said why not? It was twenty years from his passing at the time. We put this together and I contacted all of my father's friends. I got them a flight to London and they gathered as Infantino and Friends and we sang my dad's music.
There were Sicilian songs. I had my dad's scrapbooks of his adventures all around the world. It has a lot of cuttings from newspapers and he would comment on them. I would read passages of his thoughts from around the world. Then I would have my dad's friends sing a few of his favorite arias and that is how the show shaped up. That was the show at the Leicester Square Theatre in the West End. That was my first producing experience. I think it was in 2011."
Because I have so much material from the scrap books and the recordings maybe we will do a documentary about my dad and possibly a movie. These are the projects that I have planned about my father.
I have something I am going to do about Julie Andrews. She started her career in Leeds and I have the first page of the program where you seem my dad's photo, saying Luigi Infantino world-renowned tenor performing tonight in Leeds town hall. Then you turn the page and there is a very young Julie Andrews, at eighteen I think. She was singing in her debut. My question to Julie Andrews would be how was it working with my father? Did you actually duet with him? Did you just meet him? She was in touch with my father, so I would like to know what it was like. It was her very beginning.
It would be interesting to know these things and that will be part of the documentary. Who knows? It is all out there, but it is shaping up.
My dad was very good friends with Laurel and Hardy. I have a photo of my dad in the middle of Laurel and Hardy making them laugh. I have telegrams on their letterhead addressed to my father. Then there is another fun story, as my dad was friends with Peter Ustinov. A few years ago I met Pavla Ustinov his daughter. She lives here in LA and we have a joke, because my father and her father were very similar in shape and lineage and the traits of the face. They were born the same month. There is a funny interview that I need to find and they say to my father you look very much like Peter Ustinov and he said, no, no he looks like me. I have letters from Peter Ustinov to my dad and letters from my dad to Peter. Peter would draw the Ustinov family wishes you Merry Christmas. He would draw the Ustinov family and in one of them Pavla is holding a balloon. When Pavla saw it she said that is me. She said I didn't know they were friends. I said since your father and my father always wrote to each other and called each other hey my brother and my Sicilian brother etc., she said that makes us cousins. Pavla and I are cousins, there you go," (she says laughing).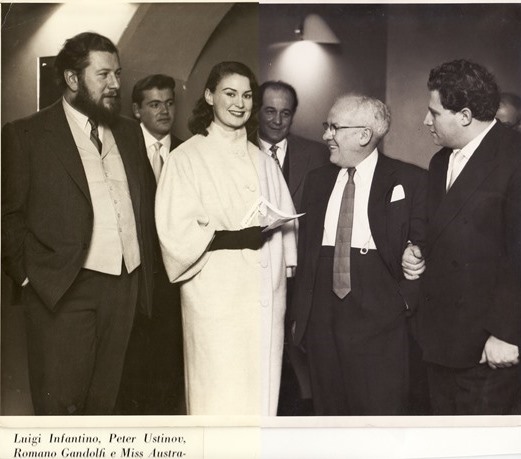 Conducting an interview with a gifted Italian singer and actress who has a distinctly British accent is quite an eye-opener or ear-opener if you will and that is exactly what this writer experienced during my conversation with the delightful and superbly talented Maria Elena Infantino who explains that her accent was shaped during her time in drama school in England.
"They couldn't understand what I was saying with my Italian accent, so in drama school in England you do RP, Received Pronunciation lessons and I felt like My Fair Lady. On a Monday for two hours it was ahh, ohh, ooh (she laughs lightly). That is how they shaped my accent," says Maria Elena Infantino.
Infantino's ties to the U.K. are strong, but we are getting ahead of ourselves a bit, so let's go back to where this all began.
"I was born at Lake Como, Italy, because my mom was recording and my dad was working for radio in Lugano (Switzerland) and then we lived in Milan until I was three, then at four my mom got a job at the Opera house in Vienna (Austria) and I went to kindergarten there for a year. (Next) I went to Bulgaria to live with my grandparents, my mom's parents for a few months, while my mom was relocating in Rome and finding a new place. When I was four or five we moved definitely and permanently to Rome," she says.
This writer was ready for a nap after all of those moves, but Maria Elena Infantino was not finished yet.
"My mom wanted me to have a French education, because my mother had a German education. She had a German governess at the house in which she grew up in Bulgaria. She said no, no, no too strict and I would rather that you have a French education, so you can read (she names a few French authors). I went to French school in Rome (she starts to laugh), because that makes sense right?
Also, my mom started sending me since the age of seven to England for two weeks every summer to study English, because she wanted me to be fully immersed in the language. At seven she sent me to Yorkshire and to summer school. When I was fourteen she started sending me to Ireland, to Dublin, because we had family friends there and we are still friends until this day. From the age of fourteen until eighteen I would go every summer to Ireland. I spent my summers there for the language," she says.
Infantino describes her childhood as, "My normality was the Opera House, because both of my parents were Opera singers. When you are a child of two Opera singers (her father was tenor Luigi Infantino) you think that it is normal when there are a lot of people living at your house and lots of people who are passing through. You get used to meeting a lot of international people who are in the industry and who were Opera singers.
We would have so many parties at the house. When I was a child I would see all of these Opera singers, violinists and pianists coming through. At the table you would hear about seven languages and even if they didn't have a language in common. Someone would speak in German and the other one (might) respond in French. To have that kind of upbringing when you are not bound by just one language or one culture is very, very eclectic and interesting. That is why singing for me is no big deal. I don't take it for granted, but it is normal for me to sing. After dinner we would just get up, get our instruments and get by the piano and start to sing.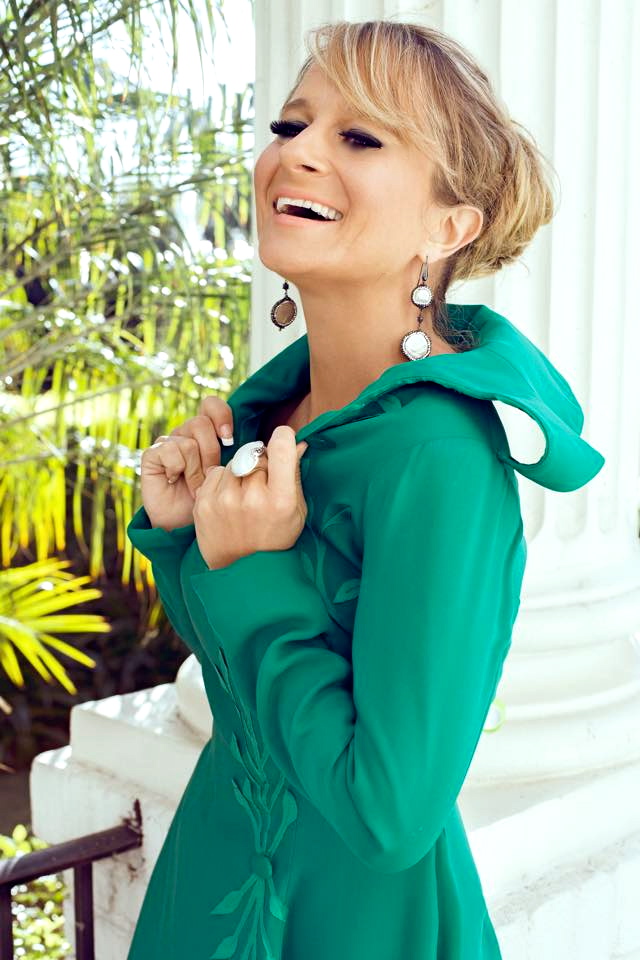 For me singing is just normal and it is normal for me to go to the Opera House and to hide behind the curtains, while listening to Pavarotti sing and then go and say hello. I remember with Plácido Domingo we would have a joke kind of thing. I would bump into him at the Opera houses of the world. At first it was in Milano and then it was at Covent Garden in London, then every time that we crossed each other it was like hola hola, so we would say hola to each other all of the time. I saw him when he sang here in LA, but then he almost didn't recognize me, because I had grown up. He remembers that little kid. I reminded him that it was me who said hola. He sang with my mom in Mexico for the earthquake in '84, so it was oh yeah, yeah, yeah. That is my childhood summed up, international with all of these artists around me, many languages around me and just getting up and singing whenever the time is right.
The normal thing in the family was always singing, but I did not think it was a career for me, because I knew what the Opera world was and frankly I had it all of my life, so why go there?
I loved acting and ever since I was fourteen I went to the theater group in Rome. On Saturdays and Sundays I would study acting. When I turned eighteen my mom took me to London and I auditioned and I was accepted into the Academy of Love and Recorded Arts (ALRA).
They said, you are Italian and you are eighteen. They were concerned mainly, because of my accent. It was an Italian accent like this (for the first time in our conversation we here a very strong Italian accent) and you can't do Shakespeare like that. (Your writer suggests that Romeo and Juliet was set in Italy) You can't do that for an entire year," Maria Elena Infantino says, while laughing.
She continues, "I went to the ALRA, because it also had the television program and it was in a castle. The location was great (she laughs). Imagine getting trained in a castle. It was a dream come true and the teachers were amazing. The program had television and musical theater. It had it all and it was one of the top ones. I did Tennessee Williams and I did (Anton) Chekhov. It was from nine to five every day.
Every trimester we did a play and we did a role. They started giving me the leading roles, so I never had really small stuff, even with the American plays that we did. We did sword fighting in case we ended up in a movie in the real world, such as Zorro or something like that. It was very preparatory for actors, but we also had musical theater four hours each week.
When I graduated from ALRA my first job was at ITV Yorkshire Television in the television series Emmerdale. The big job after that was singing at the Royal Albert Hall in front of 5,250 people for The Beatles fiftieth anniversary in 2010 and with Shirley Bassey, but I didn't get any preparation other than rehearsal. I was twenty-three and at that point my big break was singing in front of more than 5,000 people. I had no previous training other than my background and the musical theater that I did in drama school. I rebelled against a (career in music) until I couldn't rebel anymore, because people knew I could sing."
Maria Elena Infantino has already established her celebrity with one woman shows, while performing the music of Edith Piaf and in fact she experiences a rather convincing physical transformation as well, for her performances.
How did that all get started Maria Elena?
"It started by chance when I was attending the Beverly Hills Playhouse and I was taught by Howard Deutch. He said to me why don't you do some international stuff. I did a wonderful scene from the Woody Allen movie Vicky Cristina Barcelona with Penelope Cruz, and funny enough the character that Penelope Cruz was playing was called Maria Elena just like me. I did a scene when she speaks half in Spanish and half in English and it is a crazy, crazy scene. I started throwing things and speaking in Spanish. It was hilarious. It is a dark comedy. Howie said this is the most fabulous scene that you have done in class. Then he said I would urge you to do more scenes like that with the languages that you use, because you will also get parts for the different languages that you know and the accents that you do with them.
I had an idea to do La Vie en Rose, the movie and a scene from that. I took it to the next level and I transformed it and did this as Édith Piaf to the point that Howie didn't recognize me for the first thirty seconds. He told me in the feedback, I didn't recognize you. You have the wig and you sing like her and so I had to look at the schedule to see who was doing the scene, because I had no idea that it was you. I think that you should start a one woman show on Édith Piaf. Me, Piaf, I don't know. Then I discussed it further and in the class there was this fabulous director named Mandi Riggi and she took it upon herself to direct it and we came out with the play (concerning) Édith Piaf's philosophy of life.
You can't in two hours encompass a play about the life of Édith Piaf. We are talking about history and a French icon. I chose the songs that suited me the most and that I got the most in my gut. I chose about thirteen songs. Then I saw that it related to the concert that she (performed) at Carnegie Hall, which by the way is another venue that my dad sang at. People in New York didn't speak a lot of French, so later on she did Carnegie Hall in English and French. I did the Piaf show with La Vie en Rose half in French and half in English, "Autumn Leaves," half in French and half in English. The people got a better sense of what she did when she came to the States.
From there I got to sing in Washington for the ambassador of Bulgaria, at their residence in Washington. Then I did it at the Rubin Museum in New York and that is where I met Mike Stoller (of Leiber and Stoller fame) and Corky Hale. Corky Hale was the first harpist female player for Billie Holiday and she played the piano for Frank Sinatra, she did a recording with Michael Jackson. Mike Stoller (of course) wrote for Elvis as Leiber and Stoller. I met them (Stoller and Hale) at that event.
From then on I sang Édith Piaf's songs (including) and at a big celebration for Mike Stoller's 80 th birthday. Tommy Tune was there, The Coasters, Steve Tyrell and Ben E King. I still keep that email to this day that said please brush up on your "Stand By Me," which was written by Leiber and Stoller (King also was a co-writer of the song) and sung by Ben E King, because you will be required to join Ben E King on stage. I was like what? Are you serious? Yeah, okay I'll do it," she says with a tone like are you kidding, me? Do you think you really have to ask me if I want to do it?
Maria Elena Infantino appears in the Jacqueline Murphy film The Admired.
She talks about the movie, "I was an associate producer on it and we are in talks of making the sequel. It is something that is coming up very soon. Probably in February we are going to start shooting. The Admired is set in the 1930s and it is about this actress played by Jacqueline Murphy and she is a bit like Veronica Lake with costumes by (designer) Sue Wong. My character is Starlet Moore and she is a rising star. It deals with the drama of Hollywood that hasn't changed since the thirties when some rise to fame and some fall from fame. It is the business (side) and all of its ups and downs with its drama. It is a good project and we won quite a few festival awards.
I have another one that has won a lot (of awards) The Secrets of Joy and then The 86 was shot in Caracas, Venezuela and it is about a gang that existed in the eighties. It was dangerous when I went to Caracas two years ago to shoot it, but we got it made. Now Caracas is even more dangerous than what it was two years ago. I was told not to bring jewelry and to bring the oldest clothes that I had and not to show off. I was told to be just plain and simple if I wanted to go unnoticed."
Maria Elena Infantinio is a star on the rise. She is a gifted singer and actress and she has personality in abundance. If you do not laugh at least once while having a conversation with her, you probably are grumpy or having a bad day.
Please take time to visit the website for Maria Elena Infantino.
Bottom Photo by: Monika Garsia Photography
#MariaElenaInfantino #rivetingriffs #rivetingriffsmagazine
This interview by Joe Montague published October 27, 2017 is protected by copyright © and is the property of Riveting Riffs Magazine All Rights Reserved. All photos are the the property of Maria Elena Infantino
unless otherwise noted
and all are
protected by copyright © All Rights Reserved.
This interview may not be reproduced in print or on the internet or through any other means without the written permission of Riveting Riffs Magazine, All Rights Reserved