Michael-Ann Azoulai Releases New Album - Heavy Load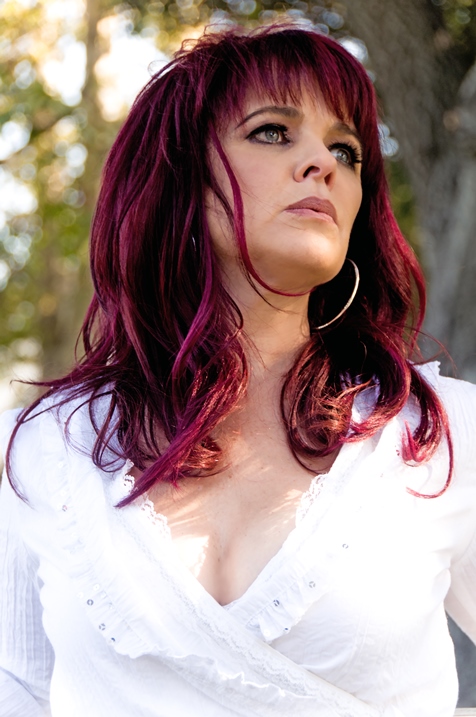 The fall of 2013 was very busy for Los Angeles based singer-songwriter and musician Michael-Ann Azoulai, with gigs that saw her opening for Country music legend Mark Chestnut and also opening for iconic balladeer Don McLean ("American Pie," and "Vincent"). By this time in her life, Michael-Ann Azoulai should be used to busy, as her life has been an adventure, so it seems, almost from birth. She was born in White Plains, New York, as a young child, moved with her family to Ridgefield, Connecticut and then she completed the later grades of elementary school in Kansas City, prior to moving to Israel for a year, as an adult, getting married, moving to Nashville, getting divorced, finding time to have two children along the way and eventually settling with her children in Los Angeles. Azoulai released her album Heavy Load and on January 22 (2013) she officially launched the album with a concert at El Cid on Sunset Boulevard in Los Angeles.
About her new album she says, "It has been a process and I won't go into detail. There have been several attempts to make a record and for various reasons they failed (she laughs). It has been several years in the making. "Heavy Load," (the song) is my Pièce de résistance if you will. I have had great response to that song and I wrote it as homage to my musical roots in the Ozarks. I wanted something that carried that feeling and I was also going through a difficult time. This record is more of the classical Michael Ann stuff. It is more classical Country / Bluegrass music that you hear on the record."
Azoulai believes that the songs on her album Heavy Load appeal to fans of more traditional Country and Bluegrass music. "I really love that genre of music. I like some modern Country. I love Dwight Yoakam, I like a lot of what Miranda Lambert does and Patty Loveless, absolutely. It is so funny, my friend said you remind me so much of Patty Loveless and I had never heard any of her stuff before and then I loved her Mountain Soul CD (released in 2001) and in fact I think I drove my kids crazy, as I played that for months in a row every day. Was I informed of Patty's music back then when I was writing? No. I was very into the classical (Country) and very influenced by Dolly, by Emmylou Harris and by Linda Ronstadt, those three specifically. I loved The Judds back in the day. I think I have most of what Emmylou put out there. The first time I heard Emmylou I really gravitated and latched onto the truth in her voice, the depth and the soul that she has when she sings. It just shocked me and it is so beautiful. I wanted to do something that was congruent to that."
"Hard To Breathe," is reminiscent of very traditional Country music songs and draws its heartbreak from a personal relationship of Michael-Ann Azoulai that came to an end, "…Weren't we supposed to be together / Why can't true love last forever?...forever / You've been away so long / I ache so when you're gone."
She talks about the musicians who play on the song, "Dave Pearlman (pedal steel) was recommended by Randy Mitchell (who in addition to playing electric guitars also produced the album). Randy has played with Donna Summer and Billy Bob (Thornton) and I just respected his opinion. It is so fabulous, because on this record, with players that were brought in, it just gave me chills up and down my spine. I was, ya' this is what I am looking for. This is what I've wanted. Over the years, it has been a blessing in disguise, because I have never quite reached what I wanted in previous recordings for some of these songs. Finally, with the players on this record I feel I reached that. It is such a great feeling. Mark Christian plays the guitar a lot on that song and then the lead on the solo is played by Randy."
Michael-Ann Azoulai plays acoustic guitar on "Hard To Breathe," Randy Mitchell also plays the bazouki, Phil Parlapiano is the keyboardist and organist, Taras Prodaniuk is the bassist, Erik Eldenius is the drummer and Susan Sheller provides backing vocals.
"Mamma's Sleepin," sounds like it came straight out of Pigeon Forge in the mountains of Eastern Tennessee, or as is the case with Michael Ann Azoulai it was more accurately influenced by the music that she heard in the Ozark Mountains when she was first developing a serious interest in music.
"I wanted to write something that was sort of back porch, downhome with a jamboree feel. I also wanted it to be a song that was an anthem if you will for people that had gone through abuse, child abuse and to just put it out there that it was not okay to be treated disrespectfully and to stand up for yourself. It is in defiance as far as what I experienced growing up with my dad. The beauty of art is you can say what you want to say. I had the opportunity to portray something that was painful and to standup for myself in singing this song and in delivering it through my music. It was also, emotionally a great release. It was cathartic for me to be able to write that song. So many people loved it (the song) and I think I shocked a lot of people when I told them the real story behind it, but my theory in life is, if I can bless someone else and give them an opportunity to grow or to touch something divine in their lives, if it helps them in a positive way then I am delighted. I feel like my music has some worth. I am grateful and that's the key," she says.
In college, on the weekends, I started to go to (the home of) my friend's family, in the Ozarks. It was during the summer and that had a big influence on me. I felt this family was very salt of the earth and I appreciated how genuine the people were and the music that I learned from them. They were songs that I certainly had never been exposed to or heard of. It was a little bit Country, Bluegrass and Folk. I look at it more along the lines of the Carter Family. On Saturday night they (her friend's family) would literally put on a show with a generator for power and all of the family members would come, play and sing several tunes. Some of them were old Country song, some of them were spiritual and others came from different backgrounds, but they were definitely Country or Bluegrass or Gospel.
When I first learned how to play the guitar it was an old guitar and when you play guitar it is best if the action is closest to the fretboard. You work a lot harder with the fingers on your left hand if the strings are farther away from the fretboard. I had this guitar given to me down there to learn how to play. The first song that I learned how to play was called "Teddy Bear," which was an old song. Anyway, the strings were off the fretboard considerably and it was a painful experience to learn on strings that were a heavy gage. It was a thicker string. I would practice and my fingers would bleed. I just thought to myself how does anybody ever learn how to play the guitar, if this is how it happens (she laughs lightly). Everybody learns that way, but certainly it was my first exposure learning how to play guitar. I just wanted so desperately to learn how to play the guitar and to accompany myself when I sing that I pushed through it and I eventually learned. Once I had got home I eventually learned that there were other people with guitars and the strings were a bit closer to the fretboard," she says.
"I Would," is unmistakably the most beautiful song from Michael-Ann Azoulai's new album Heavy Load. "It is written for my children, Itai and Ariana. I wanted to write something…sorry I am getting all emotional…I wanted to write a song that would be meaningful to my children. They have gone through a divorce and gone through the breakup of a boyfriend. They have gone through so much that I wish I could have protected them from. I wanted to write a lullaby or something as a gift from my heart for them and what I wanted to say to them. That is what "I Would," is all about," she says.
In 2011, Michael-Ann Azoulai had a scare when the school that her children attended was locked down, because there was a gunman in the area.
"It was a (scary experience) and it made me think; what am I doing in Los Angeles? Should I be raising my children out here? Things like this have also happened in Colorado and in various parts of the country. I thank the Lord that my kids are grounded. I was worried and thought; if this is an appropriate place to raise my children. I try to instill in my kids what is really important in life. It is not about the external, it is really about relationships and the internal. It is a hard city to come to grips with that. I am really grateful that I grew up on the east coast and in the Midwest; because it really gives me a sense of what is important in life. I hold that today as being crucial," Azoulai says.
For the song "I Would," Michael-Ann Azoulai made some great choices when it came to the musicians. "Dennis Caplinger (mandolin and fiddle) is so brilliant, brilliant. I was so lucky to have him. I cried when I heard him playing on that. I was weeping in the studio, just so you know. To have a player like Dennis, he is an amazing, amazing Bluegrass musician. He is beautiful on fiddle and mandolin. I heard cello on "I Would," (before it was recorded) and Evan Smalley has a great sense of musicality. I've known Evan for years from (living in) Missouri and Kansas. I wanted to bring him, as part of that song. Every time I hear the cello come in during the chorus I start crying. Amilia K. Spicer came in and she did the backing vocals," she says.
When it is pointed out to Michael-Ann Azoulai that music fans might more readily identify her style of music as being centered in American cities like Nashville and Austin, she responds, "Let me answer that question by saying, when I was growing up I had an appreciation for the music that my friend was doing and hence I gleaned from her the types of songs that we were playing in the Ozarks. I had a friend back then who introduced me to (the music of) Linda Ronstadt, Emmylou Harris and Dolly Parton. I loved them, but really a lot of what I was listening to back then was more Folk Rock. (I was listening to) Shawn Colvin, Patty Griffin and I just had a varied taste. When I moved to Los Angeles I was not doing Americana / Country. I was writing a lot more Folk Rock and I started more in that genre. My ex-boyfriend put a band together and I started singing. I noticed that there were a lot of Folk Rock singers at the time and I thought, I want to do something unique and different and true. It occurred to me that when I practiced I would go back a lot of the time to songs that I learned in the Ozarks and they rang true to me. I felt a genuine sense of peacefulness and it just made sense to me. I thought this is really a part of the truth of who I am and affirming that. I love singing that genre and it has so many good memories for me. It is a part of my history as well. I think I got a little appreciation of that by moving to Los Angeles and having a unique background. After spending so much time in the Ozarks, learning that style of music and being around people that I call the salt of the earth. They are genuine, people who have values, but who don't have any pretenses. I really valued that in coming out here. I thought this is what I really want to do. The Ozarks gave me this beauty that I have in my life. I wanted to transfer that and to write music that is congruent with that. Hopefully, I can transfer that spirit to people out here or wherever I may go. Just having that experience I want it to be embodied in what I am writing and what I am playing. To me it has purpose and meaning. I want my music, not to just be something that is nice to listen to, but for it to have some sort of spiritual significance."
You can visit Michael-Ann Azoulai on her website or her official Facebook page.
All text protected by copyright and is the property of Riveting Riffs Magazine © All Rights Reserved. Photos are courtesy of Michael Ann Azoulai and they are protected by copyright ©, All Rights Reserved
This interview, published January 2014 by Joe Montague is protected by copyright © and may not be reproduced in print or on the internet or through any other means without the written permission of Riveting Riffs Magazine, All Rights Reserved