Singer, songwriter, musician and suspense novelist Nilla Nielsen may be the best kept secret outside of Sweden or at least to North American music fans. The very congenial Swede has just released a brand new album Good Day and it opens with a fabulous the fabulous title song. It starts out slowly, before hitting stride as a mid-tempo song and Nielsen's vocals are backed by strong musicians, Bengt Johnson on drums, Niklas Ekelund (electric and acoustic guitar, mandolin), Erik Urban on bass, Tomas Pettersson on Hammond organ and Nilla Nielsen also plays harmonica.
Nielsen describes "Destination Unknown," in this way, "It is about a true adventure. I was traveling around in Sweden with my best girlfriend at the time and we met so many wonderful people. When I sing this line about, "Angels in worn out shoes," it was a homeless person that we met on the street and it just moved us. We had a very special connection. The song is about us traveling around, all of the meetings, how open the feeling was, how open the world was and how it felt. We were never alone. It doesn't matter where you are, (because) it is about who you are there with."
Most of the songs on the album were both mixed and mastered by Nilla Nielsen, with the exception of a couple of them that are from older recordings, but she mastered those ones as well in her own studio. The album Good Day showcases Nielsen's ability to easily transcend genre boundaries.
"It (the album) is put together from different sessions in different places and different collaborations. The bonus track ("Dark Side of the Moon") is an old recording with my friend Lasse Lindbom who produced it and I just put it on, because otherwise it will never come out and I have very good memories of the song. I love the song. The production is a little bit different and that is why I put it as a bonus track. I thought it fit well on this album," she says.
"Dark Side of the Moon," is a really good Rock song and Nilla Nielsen's vocals are outstanding, as she combines sensuality with edginess. Mats "MP" Persson's and Lasse Lindbom's guitars provide a strong accompaniment for Nielsen, but never compete with her vocals and that is a good thing. Since this is the bonus track for the album Good Day we are suggesting that you should purchase the entire album, so you can get the bonus track, because it is that good!
The song "Bite Me," is aptly named, because it has a lot of bite to it, in a song, Nielsen describes as a break-up song. The music is jagged, rocky and the lyrics cut like a razor, with words such as, "You would call me freak / and I would call you punk," and "You are treating me like junk." Nielsen played all of the guitars for this song and of course her vocals are once again incredible.
Nilla Nielsen provides some insight into the inspiration behind the song "Bite Me," when she says, "All of my songs have an original background. They are all true stories, not always from my own life, but sometimes from a friend. It is a strong breakup song. Well what can I say? I think the feeling of the song is just perfect. It exactly captures the energy and the mood and everything that I was feeling at that time. I was a little bit disappointed and pissed off (she is laughing). I was not jaded, but... I have not been so lucky in love a few times and I think this was one of the times. I don't know what to say about it anymore. The lyrics are very …
I used to say in my concerts sometimes when I was making small talk yes it is dangerous if you date a girl who is a singer and songwriter, because eventually you will end up in a song. Usually I think I am good with what I write, not overly strong, but sincere."
The sixth song on the album "Good Loving," is also a break-up song with a Country twist. Niklas Ekelund's mandolin adds to the mood.
Mikael Underdal has a great harmonica solo on "Only One Crying," another good Rock song. What becomes apparent when you listen to the songs on the album Good Day is how versatile of a singer Nilla Nielsen is. She has the ability to change the mood, the colors and the tone of a song with her vocals. She can come across as reflective in one song, razor sharp, as in "Bite Me," and if you are looking for a reference point for the song "Only One Crying," she is reminiscent of Sheryl Crow.
"The song is about a lot of things at the same time and usually my songs are in different layers, usually (concerning) what I am doing at the moment. It is a happy song, but there is also the sadness beneath. You know I am a troubled soul and I think a lot about the situation that the world is in and how people are evil to each other and all of these things. Sometimes you feel lonely in it and (you ask) am I the only one who thinks about it? It is crazy how people are acting and we don't wake up. Why do people keep on talking at parties about how they are going to change the kitchen? How can they talk about these things when there are people who are killed and children are dying, because they do not have enough food? This song is a little bit about that also when I sing "It seems the only one who is crying is me." It also has a lot of hope in it and energy. At the same time life is a big adventure and a beautiful place. You can do so much. I think a lot of times my songs are this mix. They are about the good and the bad at the same time. It is a lot about hope and the energy and the power to make a change. The frustration is always there, that it is not going fast enough," says Nielsen.
If we think "Bite Me," is edgy, the meandering Rock song "Filthy Man," is brash and in your face and for North American audiences it comes with a language warning.
Nielsen says, "(The song) "Filthy Man," is one of my strongest songs ever and I actually wrote it a long time ago, but I never released it until now. For me it is a heavy Rock song. It is not fast, but it is strong and both in the music and how I sing and play it, it is very true from the core of my being. It is also very raw and explicit. It is about my experiences in the music industry and how society is built up so men have the most power. It is how they are in charge in many industries and also in the music industry and in the rest of the world. In most societies it is the men that are the strongest voice or who are allowed to have it.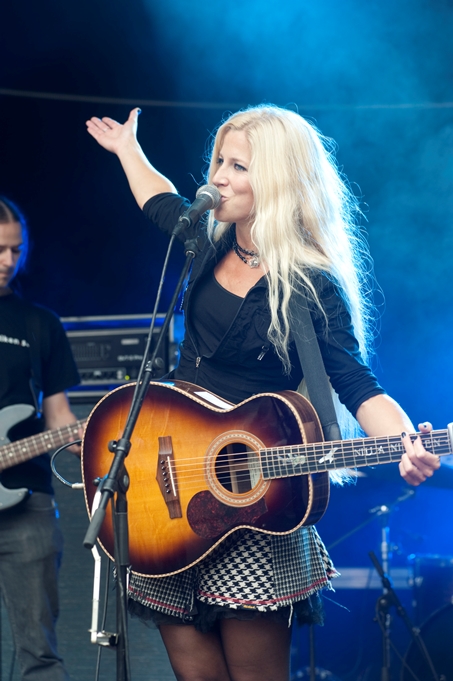 The song is about being used by somebody who has more power than you. Someone who is in a position that is higher and who tries to use you and doesn't see you for what you are and who is really numb about the truth about life, love and arts. They think mainly about money and maintaining power and changing something into what they have an idea about. They don't feel the life and they don't see the beauty.
This song is about being pushed around and being pressed down because you are a woman and as a girl in the music industry I had a hard time. It is not easy to be in the music industry. (It was not easy) when I started out and I started to play in school. Now in Sweden it has changed a lot. There are more girls that play and who have more space. When I started to play in my school there were only guys playing. I think there were only three girls in the whole school who were in a band or something like that. Also, when I was in the music industry I started to (see) a lot of the dark sides of it and people who tried to change me and who talked about how I should dress and things like this. This is so not me.
It also relates to my situation when I was offered a record deal when I was just starting. I had been on TV for the first time solo playing my guitar. There was a record company that called the next day and they wanted to sign me. At the start it seemed interesting, but then more and more I didn't have a good gut feeling and I had the feeling that he wanted to change me too much. Eventually I turned the offer down and he flipped like a coin. I saw how he really was and he was completely a very angry and terrible person. I am very happy that I didn't sign the contract and that is my point."
Nilla Nielsen refers to her Rock song "Revolutionary Love," as a Jimi Hendrix tribute "in my small way." The song features a lot of dazzling guitar riffs by Andreas Gustafsson, as well as hard slamming vocals by Nielsen.
"I wrote "Revolutionary Love," about a dear friend of mine and her situation and life. I was quite angry about what she had to go through and that is why I write, "She deserves love and she deserves much better." It is so much high energy. I love the song.
One of the most poignant songs in Nilla Nielsen's repertoire comes from an earlier album Shellshocked. The song is "Black Water," and it reflects upon the tsunami that hit Thailand in December of 2004 and how Nilla Nielsen and her mother almost lost their lives on the Phi Phi Islands of Thailand.
Nielsen recalls that day, "We were on the beach when the tsunami hit and some people felt the earthquake before, but we hadn't been told about it. We were up early and we were snorkeling and swimming with the sharks. My mom and I used to do that before breakfast. We were in the water at the time of the earthquake and that is why we didn't feel anything when we were in the water. We got up to have breakfast after snorkeling and then the water disappeared. There were fish lying there and of course I ran down to try and save the fish, because I felt sorry for the animals. Then the water started to come back and it was all black, murky and completely dirty, filthy water. It continued to rise. At first everybody was trying to collect their things and we were also trying to get our snorkeling gear and my underwater camera. There was another Swedish girl and she was lying on the beach and looking after her things. It was all chaos.
We thought that it was only the high tide, because we had been to Phi Phi Islands many times before and when it was a full moon, which it was at the same time. (At that time) the difference between high tide and low tide is so extreme that we used to be able to walk the ocean bed into the village. We had seen this before when the water was completely gone. We thought it was because of the full moon and that is why we didn't react. The only difference was this time it went so fast. Then I saw when the water came back it was so fast and it was so black. It didn't stop at the usual high tide mark, I said oh no, it is not stopping and something is really wrong. Then I thought we have to run away, but it was too late and there was this big wall of water that just came. I was thrown maybe thirty meters (98.4 feet) onto the shore. They were building new bungalows and things and I was thrown up there and my mom was pushed into a palm tree and she passed out.
It was just awful. I held my breath and I waited. I felt everything that happened, how I hit my head and my leg. Eventually, I felt the ground under my feet. I thought my mom never made it. Before it hit I didn't hang onto anything. When I saw it coming, the big wall, I just ran to save my mom, because I thought that she could never make this and of course I couldn't make it either. I just wanted to help her and save her, but then it hit and I didn't reach her. We got lost and when I felt the ground under my feet, I didn't know if I had a leg. I couldn't feel my left leg. I didn't know if I had anything under my left knee. I didn't look. I just tried to go back to where I last saw my mom. Fortunately, we found each other pretty soon. We are very lucky to be alive. She broke her back in two places, but we survived."
It would be accurate to describe Nilla Nielsen as an activist, very much in the vein of the 1960s artists, but focusing on today's issues concerning the environment and preservation of wildlife.
"How I am as a person has a lot to do with my mom. She is also my best friend. She brought me up with so much respect and feeling for nature and also my grandmother. My mother came from a very poor background. My grandmother and my mom when she grew up they lived in the countryside in Sweden. They lived very close in connection with nature and how they worked with the farming. I have been walking in the forest since I was a kid and also picking berries and mushrooms and seeing nature. I was close to animals. Later I was shocked when I found out that other people did not have the same feeling as me about nature and they don't (think) that animals have feelings. For me this is completely natural and it took a long time, before I understood that. This was not something that everybody could see. That was really a shock for me when I was growing up. My mom is an amazing person and she is so warm hearted. She taught me so much about the world and how to be and how to live," she says.
Nilla Nielsen also recently released her first suspense novel called Tiger. Right now it is only available in Swedish, but in the future it may also be available in English and we are hoping that it is, because we would like to publish a review of it.
"(The books) is about a woman. She is strong, but at the same time she is very human. The novel is about her journey, both inside herself, spiritually and soul wise and also in the world. She gets recruited by a secret organization. They are people in the entertainment industry. There are actors and musicians who are fed-up with how the world is. They think the progress is good, but it goes too slow and they want to speed it up a little bit and they have the money and the connections. She gets recruited to go on special missions and she fights against, for example trafficking of endangered species. She makes special missions to stop it. Her first mission is called shark attack and it is about stopping the poachers who fish for shark fins illegally.
There are also parallel stories with her family. She is Swedish, so some of the setting is in the south of Sweden in Skåne (pronounced Sko – nah) where I am from and also in Stockholm. Her father dies and connected with this she travels back to Sweden and then she is more connected with her family whom she has been disconnected from, because she had lived in New York for a while. There are mystical circumstances around her father's death. That is how I should put it in English," she says, while giggling.
As for her music, Nilla Nielsen says, "When I write songs and I produce them the songs become what they are supposed to be. Every song is a small short story, like a part in a novel or a bigger book. For me they are all alive and they are like small movies. When I write songs and I play them and I perform them, I see them like a movie. I see them with the colors and I feel the mood and the sounds or the birds around or the wind in the hair in the car."
Please visit Nilla Nielsen's website.
Photos: Top photo by Ulf Stjernbo, Middle photo by Britt Mari Olsson, Bottom photo by: NPP Photo Sweden. All photos are protected by copyright © All Rights Reserved
#NillaNielsen #NillaNielsenTiger #BengtJohnsondrummer #MikaelUnderdalharmonica #NillaNielsenmusic #RivetingRiffsMagazine #SverigeMusik #NillaNielseMusik #RivetingRiffs #RivetingRiffsMagazine
This interview by Joe Montague published January 2, 2017 and is protected by copyright © and is the property of Riveting Riffs Magazine All Rights Reserved. All photos are the the property of Nilla Nielsen unless otherwise indicated and all are
protected by copyright © All Rights Reserved.
This interview may not be reproduced in print or on the internet or through any other means without the written permission of Riveting Riffs Magazine, All Rights Reserved