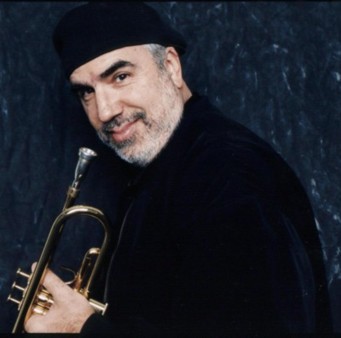 Alluding to the two sets in which he would be performing later in the evening Brecker says, "Trying to play the flugelhorn with this band is a difficult choice, because it is a loud band. Sometimes in some of the softer sections, I will pick it up and try to get away with it. This really isn't a flugelhorn band. I just brought it for the heck of it."
He has also been a champion for European jazz fans. Long before it was fashionable for jazz artists to tour in European and Asian countries, Brecker was in demand, beginning in 1989 when he toured Eastern Europe, prior to the fall of the communist government in the former Soviet Union. In 1994, he teamed up with his brother Michael to become the first contemporary jazz musicians to tour the People's Republic of China. In 1995, Randy Brecker performed before audiences in Japan and Poland.
"The audiences are pretty good all over, but the audiences in Eastern Europe are more (enthusiastic), because they were starved for music, and starved for freedom for so long, particularly the people in Russia. They were enslaved for seventy years. They are very emotional about their music, and I find myself going to Russia, Poland and Hungary a lot more than I used to. They are the people who go 'Wow.' It's like you are a Beatle," says Brecker.
One can assume that the jazz musician came close to maxing out his travel rewards program in 2007. If I counted correctly, only including his fall 2007 tours, Brecker made three trips to Europe, including stops in Germany and Sweden, plus he toured Japan. In between each of those trips he flew back to North America to perform, including a one-week stint at the Lincoln Center's Dizzy's Club Coca Cola in New York City. As 2007 came to a close, Brecker performed in concert in Turkey, on Christmas day, with Turkish guitarist Timucin Sahin.
Whether he is at home in the United States or touring abroad, Brecker still finds great enjoyment in playing with good musicians, before an appreciative audience. "I love to play with piano players, and I love to play the piano myself, because it is a harmonic instrument, and you can coax so many different emotions out of it. I am a big fan of saxophone players, and drums. I like rhythm, and I like rhythm bass players, so I don't know if I could really narrow it down to one instrument. I do love spending a lot of time listening to music. The trumpet still has the edge over other instruments. I don't really have a preference for another instrument. I spend a lot of time on the trumpet, and that still seems to stand out over the other instruments, but I am sure a lot of saxophone players, piano players and drummers would disagree with me. Jazz is the sum of its parts, and what I enjoy is listening to how each instrument interacts with the next one. That is what makes it fun to listen to," says Brecker.
The trumpeter notes that the gigs that he enjoys most, are, "The ones where we really hear each other, and everybody feels like playing. It is all in the moment. If the audience gets involved, and you get really good feedback from them (it makes it more enjoyable). Audiences have a way of really ticking you off, by being nonexistent, or they can really spur you on. If you have an audience with a really good vibe, that will add to the music and the whole evening."
These days Randy Brecker finds support from, and is inspired by his wife Ada Rovatti, an accomplished tenor saxophonist, who in addition to her own two albums, has recorded with several notable artists including John McLaughlin and The Mahavishnu Orchestra. Often Rovatti and Brecker will play on each other's gigs, which allow them to spend more quality time together.
Brecker who often enthusiastically extols his wife's musicianship says, "We look at things the same way, and when we are together, we practice together. The trumpet and the tenor saxophone are both B flat instruments, so nobody has to transpose, and we can do duets. Having two horn players is fun."
If Ada is reading this she ought to be glowing, as Brecker concludes out time together with some final thoughts concerning his wife, "She is a great wife, a great tenor player and a great cook."
A little over an hour after our conversation ended, Randy Brecker took to the stage at The Triple Door, and along with the other dazzling musicians who comprised the Brian Bromberg Downright Upright All Star Band, he time after time, performed spectacular solos, that were greeted by enthusiastic applause from the appreciative audience.
Photo by Merri Cyr, protected by copyright
©, All rights reserved, Interview by Joe Montague, all rights reserved, protected by copyright © April 2011 Return to Our Front Page