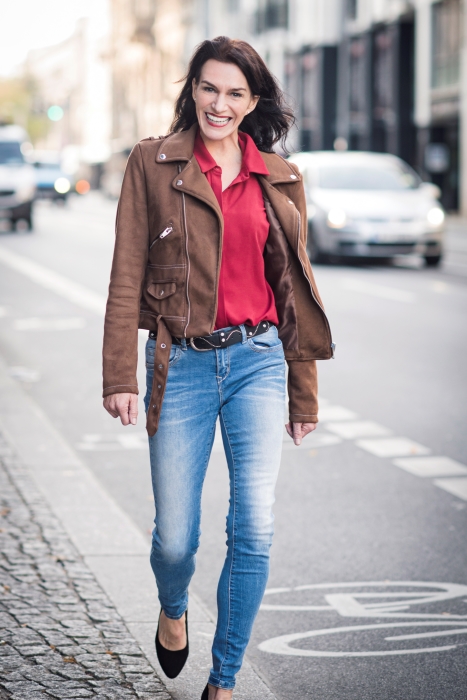 Germany's Stefanie Früchtenicht checks all of the boxes for the entertainment industry and is a casting director's dream. The film, television and theater actress is trilingual, German, Spanish and English and fluent in all three languages. She worked for several years in musical theater on the Spanish islands of Mallorca and Ibiza. She is however much more than an actress as the mezzo-soprano singer performed with singer Jeffrey Staten. Her favorite genres are Jazz, Soul and R & B. She counts U.K. singer Katie Melua as one of her favorites.

As if all that talent was not enough, Stefanie Früchtenicht says, "I was born to dance as well. I've been dancing since early childhood. When I dance, I can forget the whole world and I can get lost in the passion.

I prefer Latin American dances because they are more in line with my temperament, but I also know many other European and worldwide dances and techniques. A few years ago, I won a competition, and I am the German Champion, the reigning Queen of Lambada."

In addition to the Lambada dance, Stefanie Früchtenicht is also accomplished in modern dance, Salsa, Argentine Tango, Tap and several other Latin American dance forms.

Like many who have made a strong statement in the arts, Stefanie Früchtenicht grew up in what she describes as "a very small town," in Hessen, Germany. She finds herself in good company with others who began their journey in small towns singer, songwriter, musician Joni Mitchell (Fort MacLeod, Canada – 2,967), Lili Babs (Järvsö, Sweden 1,407), actress Jessica Biel (Ely, MN, U.S.A – 2,460) and one of the most well-loved celebrities of all Dolly Parton (Pittman Center, TN, U.S.A. – 502).

Continuing, Stefanie Früchtenicht says, "My family were not artists. My father worked in a bank. I was the first (creative) person in my family.

The town was so small that the kids really knew each other and we played outside (including) football.

When I was growing up I had a flute and an accordion and twice each week my mother took my brother and me to get lessons. It was really fun to play the accordion."

As for when she started to perform, she says, "My dancing teacher and I created a show and I was paid for it. We showed people how to dance during the (era) of Dirty Dancing and Mambo. I was about seventeen. A lot of people attended the performance and they liked it. My family was also there.

Two months after I did my test another person asked me if I wanted to have my own dancing school. It was during the time of Lambada and I was the queen of Lambada. Everybody knew me, because of competitions. I opened my own dancing school. It was a great success and it was really, really good. It was ballroom dancing. We had a show called Let's Dance. In the beginning people came, not only to dance, but to get to know each other (she laughs lightly). It is a social event to go to a dancing class. My job was to entertain the people and to show them how to dance."

Now, in her early twenties, she was invited to go on a holiday in Ibiza, "…and I worked again as a dance instructor, even though my dance school in Germany had been a success, I wanted to live and to experience more of the world. On Ibiza I also joined some shows. The circumstances on Ibiza were not very good as there was a lot of mobbing (bullying) and other bad things going on. There was so much mobbing going on it was not easy to live there.

After a few months I was asked invited to go to Mallorca and that was much better. I worked in a hotel near Palma both as a dance teacher. During the second year on Mallorca, I was part of a team of people who would start to rehearse before the season started and we created our own musical theater. I was at that hotel for two years, before moving to another hotel for the final year that I was in Palma. It was exhausting, but I wouldn't have wanted to miss it! When I do something, I do it 100%. After the third year of going back and forth between Germany and Mallorca I was out of energy.

I thought it must be nice to have a job when you work from eight to four pm and then you get your money. I wanted to do something normal. I decided to get an education in physical therapy. I loved to do fitness and sports. While I was getting my education as a physiotherapist, I met my husband Lars. He was my teacher. (She laughs)

I was in some big shows and I had some big roles when I was performed at the State Theater in Kassel, Tic Musical Theater, Dock 4 and Theaterstübchen (Germany). Then I went to Schauspielschule in Kassel to study acting. I then was cast in some small roles for television. In the beginning they were supporting roles, but that is when I found my passion and love for acting in front of the camera. I returned to Schauspielschule to better prepare for acting for film and television. I still use the techniques I learned and teach them for our workshops at Salt and Pepper Art (where she teaches with her husband Lars)."

So far this year (2021) Stefanie Früchtenicht has appeared on the television shows K11 - Die Neuen Fälle as Martha Hofer and she was in Der Spieler under the direction of Hannu Salonen. In 2020 she appeared in the films, Wir, Die Kinder, directed by Christopher "Bobby" Roth and A Perfect Enemy directed by Kike Maillo.

We wondered what Stefanie Früchtenicht thinks when she watches films or television episodes that she is in.

She says she watches with mixed emotions, "I am happy and proud, because whenever I do my work I do my best and have fun with it. I trust my team and I believe in the director, my editor and the all the others to find the best takes.

For the film or television stories that I appear in it's not easy for me to watch them for pure entertainment value. I have to admit I have a very critical eye, but this is also a very creative and open eye. This helps me to improve and to create new ides for the future."

Playing bad or nasty characters seems to be appealing to Stefanie Früchtenicht, "The perfect character for me (she laughs) is a bad person. I like to play bad characters, because the person has a history. I know how to see people and I don't say oh you're a murderer. I look behind the person and I get to know their history (backstory)."

She had that opportunity in the Constantine Entertainment television series, K11 – Die Neuen Fälle, as her character Martha Hofer murders her colleague. She does however, occasionally come back to the good side of the law, as she did in a German television series directed by Anja Enders and she played a good police officer.

She quickly adds, "I think it is more fun to play a bad person, even though I am not a bad person."

To which we might add, how many people remember the good witch in The Wizard of Oz or remember the nice characters that Jack Nicholson played, as he did when he became Melvin Udall in As Good As It Gets and The Bucket List when he played Edward with Morgan Freeman. They instead most often remember him for characters like Colonel Nathan R. Jessep in A Few Good Men or as the Joker in Batman. To that end we are hoping there are more dastardly characters coming Stefanie Früchtenicht's way in the future.

Please visit the website for Stefanie

Früchtenicht.

This interview by Joe Montague published July 26th, 2021 is protected by copyright © and is the property of Riveting Riffs Magazine All Rights Reserved. All photos are the the property of

Stefanie Früchtenicht

unless otherwise noted and

all are

protected by copyright © All Rights Reserved.

This interview may not be reproduced in print or on the internet or through any other means without the written permission of Riveting Riffs Magazine.