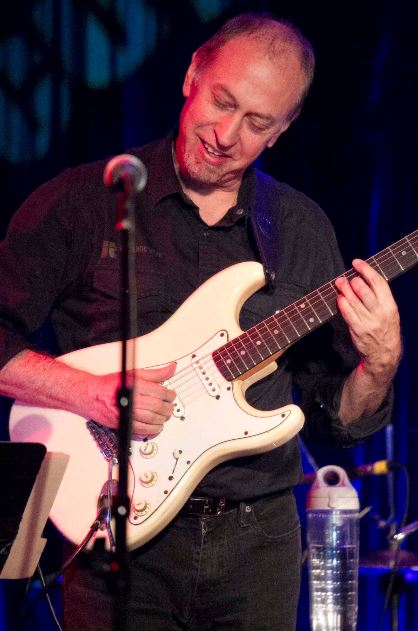 Drop on in every Sunday night and hear us play. After listening to Stew Cutler's album Every Sunday Night that is exactly what you will want to do and you will be checking out his website to figure out where he is playing his next gig. For the first time in more than a decade (our fault not his) we sat down with the affable guitarist / composer and talked about his new album.
The album opens with "The Grind" introduced by Nick Semrad's organ, percussion by Bill McClellan and a scintillating guitar solo by Cutler. If you like Funk and you salivate over a good groove with a late night nightclub feel then you are going to love "The Grind."
Cutler talks about when he first started working on this album in 2015, "I was trying to arrange for somebody to come into the club and to just record us there, but for a variety of reasons I couldn't get it to work. I went to a studio where I had previously recorded and I was very comfortable with the place, plus the engineer (Rich Gaglia) is brilliant. I thought it could flow pretty well if we came in and just more or less played live. It was recorded in one and one-half days. There aren't a lot of overdubs. "The Grind," was done in just one take.
I met Rich when I was still involved with Fountainbleu (Entertainment Inc., the record label) and I recorded a record there called So Many Streams. We played these songs and we didn't do it piece by piece. There were no overdubs and there were no songs when I decided I would add acoustic guitar or there was a second synth track. There was none of that, but at the same time Rich Gaglia did his tinkering. He's tremendous."
The hybrid Funk / Jazz groove continues with "Gumbo Trane," the second song on the album Every Sunday Night. Cutler's guitar playing are the only reason you need to purchase this album, as he keeps serving up gems and as the album progresses you think he cannot possibly top this and yet he does. Then you add in Julian Pollack and Nick Semrad who both appear on the organ, as well as drummer McClellan and you have a spectacular trio who keep the listener engaged. "Gumbo Trane," has good rhythm, rises and falls naturally, never overstaying with intensity and never wallowing in mellow.
"I have played so many genres of music and I know when performing or recording with somebody you don't want to play Rock on a Jazz album and you do not want to play a Country lick on a Funk album. There are some rules and you want to keep your playing genre specific. (However), I don't really adhere to that in my writing. I don't intentionally try to break those rules. It is just what comes out. I don't like to edit myself, by thinking these are Jazz changes here, but this is more of a groove tune. If to me the two parts flow together then they become one song.
With "Gumbo Trane," the trane is spelled "trane," because it is a little nod to Giant Steps and Coltrane. The B to A section of the tune is like a New Orleans kind of groove and that is the gumbo. The trane is the (he mimics the guitar).
I also like to put different soloists in different settings, so on that song there is a guitar solo and a keyboard solo, but the drum solo is in another setting within the song. That's at the end and we really go towards the Jazz kind of thing. We let Bill solo over that.
Bill is a great player to begin with, so if you have a great sounding drum kit and somebody (Gaglia) who mics the drums beautifully, plus someone who is tweaking them musically that really helps. That is one spot when we really benefitted from being in a recording studio, because that is a lot harder to capture in a live performance in a club. Getting the drums to sound like that in a studio setting really balances all of it out," he says.
Those guitar grooves were born in Manhattan and raised in the Bronx.
His parents split up when he was nine years old and although his early recollections of his father were as a violinist who enjoyed everything from Classical to Jazz flutist Herbie Mann, Cutler took an interest in the guitar.
"When I became interested in the guitar my cousin just showed up one day and she gave me a guitar. It wasn't a very good guitar, but I took to it right away. There were a bunch of friends in the building that I grew up in who were getting interested in music at the same time. We started discovering the Allman Brothers and that live record that they did. There is so much great guitar playing on it," which provides a nice segue to, "As for the Greg Allman song "Not My Cross to Bear," on this album, I never worked in that scene, but it is really great Blues tune. Greg Allman passed away and I guess it comes off a bit as a little tribute to him, but it definitely was not planned that way. I just thought it was a cool tune and maybe a little unnoticed."
While still in his late teens, Stew Cutler left New York City, which he has since returned to and made it his home.
"I hitchhiked out to California with my girlfriend. I ended up living in San Francisco for a little while. I came back east and I really didn't want to live in New York. I had a friend or two in Buffalo and I thought it was a nice place. There was a music scene there," he says.
For the song "Before I Go," Cutler collaborated with singer Bobby Harden. Cutler explains, "I had this line and a groove for it and I wanted to do some writing with Bobby Harden. We should be doing more than we are doing, but everybody is so busy. We got together a few times and we just hammered this song out. It came out really well. Bobby wrote the lyrics and being a lyricist is not something that I make a great claim to or anything like that. A lot of the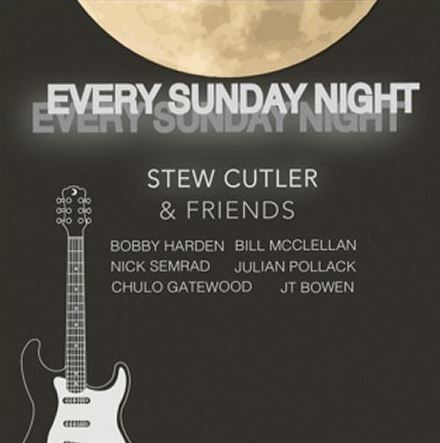 music that I write is instrumental and when there is a song that has lyrics it tends to be a co-write and generally the other person wrote the lyrics."
Cutler turned to the Isaac Hayes and David Porter tune, "When Something is Wrong with My Baby," to change the pace on Every Sunday Night. The song was originally recorded on the Double Dynamite album for Stax Records in 1967 and charted on the R&B charts at #7.
As for why Stew Cutler decided to record "When Something is Wrong with My Baby," he says, "We started fooling around with it live and it was not my idea to start doing that song. It was either Nick the keyboard player or Bobby that said let's play it. We went for it one night. I thought of the idea of Bobby and JT Bowen who are so great and putting the two of them together on this (as a duet). I think it is one of the strongest songs on the recording and they sound amazing together."
As for his philosophy concerning covering a song, Cutler says, "If you are going to do a cover of something and you are going to go through the pain of recording it then if you don't have a little bit of your own spin on it, then what is the point? What is the point in doing it if you like the song so much that you want to record it (the same way).
There are certain things that pop up on the radio and I don't want to diss anybody in an interview, but I have that thought if I hear such and such a person's cover of say a Motown tune. Why? Is your bass player going to be better? I don't think so. Is your rhythm section going to be better? I don't think so. Is your vocal going to be better? I don't think so. Do something different with the song or leave it alone, because I know when I hear it I will just end up thinking turn this off and put The Four Tops back on or put The Supremes on."
The song "TV Preacher," should have you bobbing your head, tapping your feet and moving to the music from the first bar of music. This is a song that invites people to dance to it. It is a cover of a song written by a former bandmate of Cutler's Kenny Gwyn, who recorded it at Muscle Shoals. The song is a parody of television evangelists. We suppose it depends on which side of that television evangelism spectrum you fall on that will dictate whether or not you warm up to the song, but we liked and we agree with Cutler when he says, "the lyrics are so clever."
"It tells the story of a crooked television evangelist. This guy is looking for a way to get over and he discovers for himself that he is pretty good at preaching. He gets his whole business scheme together," he says.
The song "Brookline," is a mid-tempo Jazzier instrumental tune that once again showcases the amazing musician on this album and in particular Stew Cutler's playing. He is a generous bandleader giving plenty of space for his fellow musicians, such as organist Julian Pollack to shine (Note: Julian Pollack is the organist for this song and for "Gumbo Trane"). As for the story behind the song, we will leave that for another day, because it is not for the weak of heart.
Please take time to visit the website for Stew Cutler.
#StewCutler #JulianPollack #BobbyHarden #rivetingriffs #rivetingriffsmagazine
This interview by Joe Montague published December 4th, 2017 is protected by copyright © and is the property of Riveting Riffs Magazine All Rights Reserved. All photos are the the property of Stew Cutler
unless otherwise noted
and all are
protected by copyright © All Rights Reserved.
This interview may not be reproduced in print or on the internet or through any other means without the written permission of Riveting Riffs Magazine, All Rights Reserved