The new album Cover to Cover by The Brother Brothers, released on Compass Records is a solid album pulling songs from diverse genres and artists and as the title suggests all of them are cover songs. Although, it is not unusual at some point during a band or a solo artist's career to release an album of cover tunes, this is the first time The Brother Brothers have done so, because they are usually recording their original songs, as they are skilled songwriters and arrangers.
David Moss, one-half of the duo sat down with Riveting Riffs Magazine recently, "I think you can tell this from this record that most of the songs are older and not that modern. We really cherish the songs that we grew up with. We listen to a lot of new music too, but when we are making music, we gravitate to older music and an older sound.
Any musician has an arsenal of songs that they didn't write, even if they are songwriters and I think when you are sitting on so many songs, you do them yourselves and when you do them in your own style, you go man, I should really record one of these. I like my version and I want to share it.
During the pandemic we released our album Calla Lily and we had not been able to tour it, so we barely played those songs out on the road. Calla Lily slipped by the wayside, but we thought if we put out an album of covers, we could fill a concert with both albums at the same time. It also seemed like a very good time to come into the studio and put out (a covers album) with the pandemic and the way touring had been.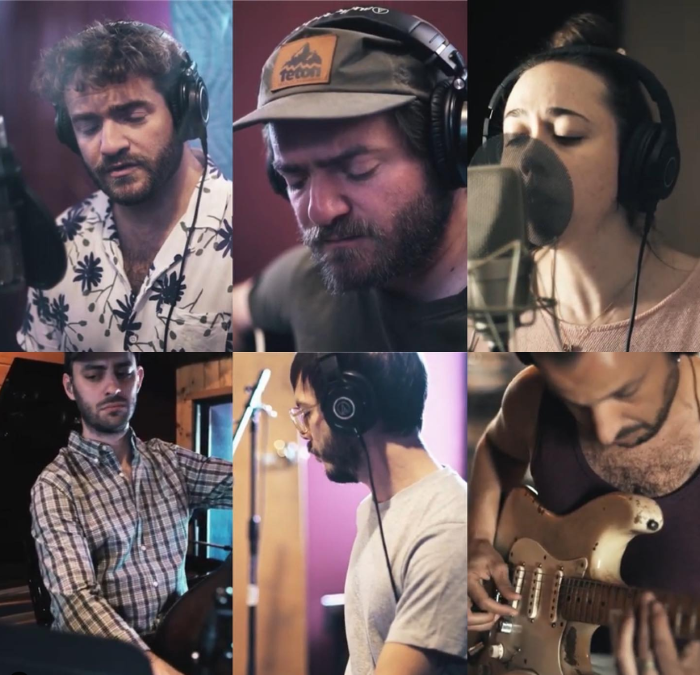 As for the diversity of songs on the album, David Moss says, "We wanted to make a good album that people would want to listen to and that we wouldn't mind listening to. The other thing was we wanted to introduce people to (things like) you might know who Richard Thompson is, but I bet you haven't heard this song (Waltzing's for Dreamers"). You might not have heard of The Revelers, but this is one of their great songs ("If You Ain't Got Love"). The James Taylor song ("You Can Close Your Eyes") some people might have heard that song, but I felt like I hadn't heard it. Adam had brought it up and he knows more James Taylor than I do. Judee Sill's "There's A Rugged Road," if anyone hasn't heard of Judee Sill that they might think I need to dig into that. It was the idea.
This is a collection of songs that we have always loved and we just do them our own way."
The album Cover to Cover opens with the Tom T. Hall song, "That's How I Got to Memphis," which at first listen sounds like a love song, but listen more closely and, "It is a song about why people go to places they go and that is the way I have always seen it. It is also a song about somebody who is always chasing something they can't ever have. In this case it is a woman, but he talks about how he follows her to Memphis, but I think it is also a metaphor for why people go to (those) places. It is not always for the best or for a happy reason," explains David Moss.
Continuing he says, "I love the melody and I love the way it feels when you sing it. I also love how it can be interpreted, because it is so vague and yet also specific at the same time. Every word counts."
The second song from Cover to Cover is "These Days," a gentle, reflective song written by Jackson Browne when he was sixteen years old.
David Moss talks about how he was attracted to the song, "I had just moved to Brooklyn and I stumbled upon a St. Vincent YouTube video and she was doing the Nico (Velvet Underground) version of it. I was just floored by that version. I find myself watching it all of the time. I started researching the song as so many musicians do and I found out that Jackson Browne wrote it. I then looked at a live version of Jackson Browne doing the song and he was playing it finger style. Then I listened to probably thirty different versions and this version (on Cover to Cover) is an amalgamation of all of those versions. I always wanted to capture the St. Vincent performance, but I will never be able to so.
The wisdom of each line and the turn of the phrase, it is just such a wise song. It says everything perfectly. It captures a complete and fully formed mood. Some of those lines are just so well written."
With the fourth track the tempo really picks up with the quick paced "If You Ain't Got Love," written by Chas Justus of The Revelers from Lafayette, Louisiana. Oh, this writer would love to be at a live performance of this song by The Brother Brothers, because the dance floor will be full that night!
"We tried to make it as danceable as the Cajun version. We swung the tempo differently. We had trouble arranging it and getting it feeling good with the band. There was actually a picture hanging up in the studio of Johnny Paycheck and the drummer Matty (Meyer) was like we could just put a Johnny Paycheck thing on it and he started playing a drumbeat. It was ahh there it is. Once he started playing that groove, we thought, that is a good version!" he says.
From the distance in his own words Adam Moss reaches through the veil of Riveting Riffs Magazine and sheds light on the Hammond B3 organ for the song, "If You Ain't Got Love."
"That's me playing a sick solo!!!!" yes Adam really did add all those explanation marks and it is an incredible solo and the solo alone, as they say is worth the price of admission.
Ryan Scott serves up a fabulous electric guitar solo.
David Moss says, "Ryan Scott is one of my favorite guitar players in the world and luckily he had just moved to Nashville and he has a really good album that I think everybody should hear A Freak Grows in Brooklyn."
Step into The Brother Brothers' time machine and Hoagy Carmichael's 1939 song "I Get Along Without You Very Well," and inspired by the recording by Chet Baker in 1954. This is crooning at its best with Adam and David Moss in perfect harmony, David singing the melody and Rachael and Emily Price providing incredibly beautiful background vocals, while the entire song is done a cappella style.
David Moss wanted to take a moment to acknowledge the other people who came together to create this splendid record.
"Everybody who is on the album are the musicians we respect most in the whole world. We have a great community and it spans across the country from Nashville to Brooklyn to LA and Texas and everywhere else in between. We can always find someone incredible to be on the record.
Jeff Picker the bass player is one of our great friends too and he is such a great musician that you never have to give him directions. He just does the things that you would have directed him to do, but you are not a good enough musician to do that. You have to rely on his musical taste to make the moment.
Matt Coles (recorded and mixed) the record and we used our label Compass Records' studio, which is a really good studio in Nashville," he says.
Randy LeRoy mastered Cover to Cover.
Singer Michaela Ann joins in on "High Sierra," and David Moss explains why, "When we did the song it was obvious that we needed a third part. We were combing through all of our (friends) and Michaela Anne was a no brainer. She also happened to be in town. She had just had a baby and hadn't done anything for a few months. She said if I can get off of my couch and into the car I will come and she did."
"High Sierra," is a beautiful three-part harmony, written by Harley Allen and now is tenderly sung by David and Adam Moss and Michaela Anne. Adam serenades us with a pretty fiddle solo.
Sarah Jarosz harmonizes on the James Taylor song, "You Can Close Your Eyes."
"Sarah has one of our favorite voices and it is just so pure. She is an amazingly talented musician (she also plays mandolin on "Feelin Good Again") When she came in it was so easy and it was even better than anyone could have imagined. That is going to be the best song on the album. We were really glad to have her," he says.
Albums and singles of songs that are covered, inevitably draw comparisons to the originals or other versions of the songs that someone has heard, but we guaranteed you that will not be the case with The Brother Brothers record Cover to Cover. First of all, most of the songs are not necessarily ones that you have heard before and secondly, these songs are played so beautifully and sung so impeccably that perhaps someday people will be comparing the originals to the collection of songs of this very good album.
Make sure you check out The Brother Brothers website for their concert tour schedule for Europe. You can also follow them on their Instagram page.
#TheBrotherBrothers #DavidMossMusic #AdamMossMusic # #RivetingRiffsMagazine #CoverToCover #SarahJarosz #MichaelaAnne #RachaelPrice #EmilyPrice #JeffPicker #MusicInterviews
This interview by Joe Montague published August 8th, 2022 is protected by copyright © and is the property of Riveting Riffs Magazine All Rights Reserved. All photos are the the property of
The Brother Brothers
unless otherwise noted and
all are
protected by copyright © All Rights Reserved.
This interview may not be reproduced in print or on the internet or through any other means without the written permission of Riveting Riffs Magazine.