Circe Link is a California Kid - Christian Nesmith is Her Deviner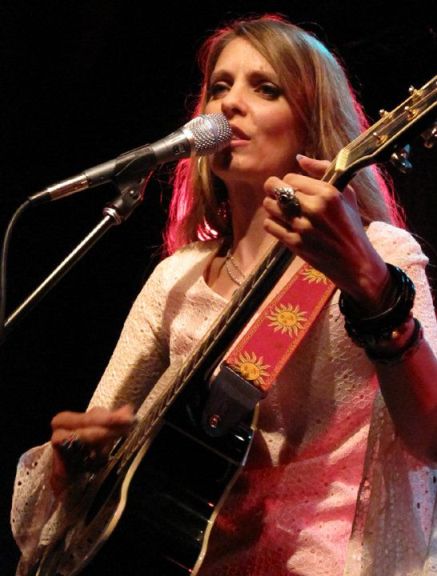 Circe Link is the name on the album and hers are the vocals that you hear, but she would be the first to tell you that Christian Nesmith her partner in life and partner in music is equally responsible for the success that she enjoys as an artist. Link's music is as diversified, as it is excellent, ranging from what she describes as Cowboy Jazz to Alternative to Americana.
When the two of them were asked whether or not it was a fair observation that Circe Link's music is quite eclectic, Christian Nesmith says, "Let me prime the pump and let you know that Circe's tastes run from ABBA to Zappa and while she loves Sarah Vaughan, she's also a huge fan of Ozzie Osbourne and Judas Priest (Circe pipes in with "and Captain Beefheart.")."
"I can sit down and write a Jazz song right now or a Country song or a Prog song, it's all there. I just think it is like tuning into the right radio station. Because I am fond of a lot of different flavors and a lot of different styles I don't resonate with songwriters who have the same palette their entire lives, I don't understand that. I don't understand how someone would want to write the same kind of song over and over again. It's not that I am knocking it, because there is probably something incredible (about the) perfecting of one thing, but I can be all over the map. I like to try and explore and do all of the things that I can possibly do. It's like traveling to different countries. I want to see it all. I want to do it all, so musically, there is so much out there to be had that writing in every style, just seems so natural. The first stuff that I started with, I call it more Cowboy Jazz. It's like Bob Wills, Sarah Vaughan or Patsy Cline or maybe even a little Patti Page. As I became more confident in my writing, I was able to tackle more difficult sounds and when I met Christian, which was pretty early on in my career, the doors were totally wide open. He's a human jukebox. I can say hey let's do a Django song and he will say okay. I am pretty fortunate that I can do a lot with not only my voice, but with my writing style. Maybe that is why some songwriters stay in one genre, because they are afraid to go deeper into the pool and afraid to screw up a little bit. I certainly have written songs that I look back on and I go eehhh not so much, but that is the adventure of just getting out there and doing it," she says.
"I would say that there is certainly a throughline or a commonality to your sound even though you are reaching into Rock and Roll and reaching into some Country and reaching into Jazz, it all has kind of a cohesion, which I think is the mark of a great artist. If I may give another example of somebody who has always sounded like themselves, although they have explored other areas, is a band like U2. I think that is why they have stood the test of time and they are one of the few bands that started in the eighties and they are still going as strong as ever and I think that Circe has that same quality about her," says Nesmith.
The versatility in Circe Link's music is evident in songs such as, the gritty "Bad Taste," from her Vonnegut's Wife album, a song about making bad choices in relationships or the suggestion might even be of making toxic choices. Then there is the song "You Are The Stars," (from the album Let's Go Together) an Andrews Sisters type song, featuring the beautiful harmonies of Link, plus Laura Drew and Debra Tala. "Tiger Swami," is introduced with a big orchestral feel, which segues into suggestions of South Asian percussion, before featuring more of a Pop / Rock vocal by Link. "Little Hobo," also from the album California Kid is a mid-tempo song with a strong but not overpowering guitar accompaniment that creates lots of room for both the musicians and the singer to shine. Allis' drums and Sherwood's organ are in the background and create a peaceful mood for a song that leads us to believe that the person in the song is looking to find his or her place, is looking for a sense of belonging, but destined to return home.
The title song from Circe Link's current album California Kid is a very good Americana song and for a gal that grew up in Los Angeles she serves up a genuine sounding southern drawl, on a song that talks about watching the comings and goings of the people of LA's entertainment scene and in particular those striving to make their dream come true.
"I love that song. Being raised in Los Angeles, I have watched people come and go a lot. It is such a transient town…city and so many people come here looking to be someone they're not, looking to discover themselves, looking to forget the people they are, looking for opportunities. There is every kind of storyline here. You can imagine why people come to this town, whether it is for fame or escape or whatnot and I think that sometimes I feel like an anthropologist in the sense that I see so much happening around me. It really helps to inform those kinds of lyrics. That is what "California Kid," is about and in a way I am a California Kid to, because I'm in the field. I am an entertainer. I am a musician and there is something about me that has the need to contact the world and to see if anybody else is out there. While it is a critique of people who come to LA to get discovered, it is also pointing a finger back at me in the industry and what it means to be somebody who wants to connect on that level. That song is pretty important to me and I really like it quite a bit," says Link.
"I came pretty late to music. I was not a musician all of my life, I only started playing music, gosh about eleven years ago. I had a lot of time to listen to a lot of different kinds of music. I worked in record stores before, I knew musicians, I was a big music fan, but I never did music before then. It just kind of showed up for me, I just started hearing songs. I still do. I dream a lot of my songs too. I will wake up in the middle of the night and I will go off in the corner with a recorder. I think that when you allow the creative impulse to go through you completely you become a pawn to it and it is like going fishing.
One morning I woke up and I had a song in my head and it was a song called "Three Bells." I got up and I wrote it and then I wrote "Oh Lady!" I think at lunch and I think that I wrote "Travelin' Daddy," on the same day. It is like the radio station. It just turned on and there it is. Those are the first three that Christian heard and I had recorded them with a couple of guys. We all stood around a mic and we recorded it. It came out pretty good and it just took off from there. It is a lot easier to sing songs than it is to hang paintings. You only have so much space on your walls for paintings," she says laughing and referring to her former career as a painter."
In contrast to Circe Link's entrance into music, Christian Nesmith got his start quite early in life. "I think that it (music) chose me as well. I remember learning my first few songs on piano at the age of five or six and I seemed to just "get it." Not only did I get it, but I loved it. I started on piano and my mom was very tolerant. When I was thirteen years old, I saw The Song Remains The Same (concert film of Led Zeppelin) and I saw Jimmy Page up there and doing his thing. I was like that's it, there's the guy right there and I have been a guitar player ever since. There is a scene in Good Will Hunting, where she asks him how do you understand all of this stuff? He says, 'can you play piano?' She says, 'yes a bit.' He says, 'I can't play a lick, but Beethoven and Mozart, they just got it.' I am not comparing myself to those guys, but the analogy is the same. It is something that I just understand and I do naturally and again, I love doing it. I have guitars all over the house and we are constantly writing, playing and making music and it just never gets old," he says.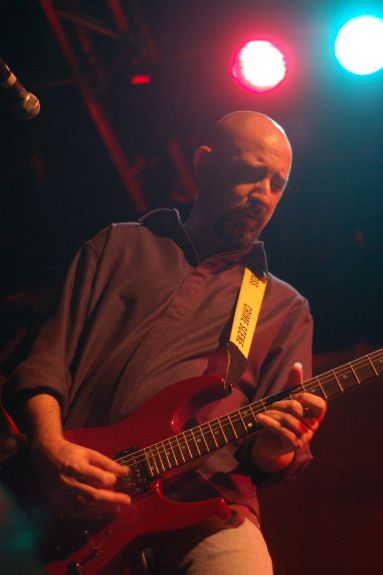 Another song from the current album that causes the informed listener to sit up and really take notice, that song being the seventh track "What Goes Around," and Link's vocals are fabulous – did we happen to say she is a fabulous singer? The musicianship on the this song is superb and that word is not even adequate to describe just how good Christopher Allis (drums), Jason Chesney (bass), Christian Nesmith (guitar) and Bart Ryan (guitar) are and Michael Sherwood is spectacular on the keyboards and organ! Background vocals are by Laura Drew and Debra Tala who you will be reading more about later. Christian Nesmith served up a terrific arrangement and engineered and mixed a really great tune. The song moves along quickly and Circe Link's passionate vocals drive the song. "What Goes Around," is as good as or even better than a lot of the top ten songs you will hear on most radio stations in America.
As for the songwriting, Christian Nesmith says, "Circe writes 98% of the lyrics. I am not the primary writer of the music (either). What I am is the primary diviner of the music (Circe laughs and says "I love that."), as in a diving rod. It is my job to figure out what the music is that Circe hears in her head and it is very interesting that I will discover as she sings the songs to me that she will often have a more complex and richer chord and musical structure than she knows. When we finally get the song fleshed out, it is definitely a testament to her musical abilities, so I would say I am not the primary musical writer. "
Link picks up the conversation from there, "I think putting together a collection of songs is like curating an art show. I was a painter for a long time, so I think about things visually. We don't sit on anything around here for a couple of years. Christian and I are both overachievers (she laughs). Nothing gets cold around here. If it is hot, it's hot and we are working on it and we get it out the door. I think that is one of the reasons we are productive. When it comes to putting songs together for a record, we certainly want there to be a collection of good songs, the best of the batch hopefully. I don't think about sitting on a bunch of songs for a number of years, particularly with the way technology is now, you can write a song today and put it up later this afternoon. I think there should be cohesion of some kind through the record. For instance when we did California Kid, I wanted to have the whole record to have a consistency and tonality, so we recorded it live. We got as many of the beautiful organic tones that we were looking for and we were going for the sound that you would hear on records by The Band or even the Joe Cocker Mad Dogs and Englishmen era. Sonically, I tend to think more about structure or a throughline as Christian would say. Topics, not so much, I want to make sure there aren't too many downers and there aren't too many up songs as well. If you have a large set, if they are all downers, I don't enjoy singing a whole set of downers and I don't want to have a record that is a whole set of downers either. I definitely don't think that it works. I would like to do a concept record sometime, but then, why not just turn it into a musical (Christian chuckles)."
Speaking of musicals, Nesmith was the musical director for Hair at the Met Theater in Los Angeles in 2007, "Circe was in that and it was my fourth production of Hair that I have been involved with. The music was incredible. I was enthusiastic to do my own take on Galt MacDermot's music (composer for Hair). I thought that original music could have had a lot more power to it and the director Bo Crowell concurred, so we were able to do things that were a little larger and to take into an even more psychedelic place. It is really fun. I would be involved with that musical anytime, anywhere. It is really an amazing piece. Not only is it cool musically, but is has such a huge social statement, which ironically, is still applicable today. The entire piece is divided up into vignettes if you will, just little teeny ideas that James Rado and Gerome Ragni had issues with, various topics of the time, whether it be civil rights or sexual revolution, the war, drugs (Circe joins in "homosexuality and gender identification certainly.") It was a very interesting piece, because the flow through of the storyline is actually kind of thin, but it gives just enough for these ideas to hang onto, so that the tribe, the cast can comment on all of these sorts of aspects that were so prominent in 1968 and just a few years before when this first came out. Again, tragically with the wars in Afghanistan and civil rights and bigotry and many things being crushed once again under our current political climate it seems very applicable," says Christian Nesmith.
Link and Nesmith also have some current musical projects underway. Circe Link explains, "We have two musicals that we are developing. We were contracted by a producer to play some songs on a musical last year and we ended up parting ways with them, but we are probably going to continue that and we have one of our own that we have written from the ground up and it is halfway done. The one that we were contracted to do is more about a legendary religious figure, so it really stretched us to write outside of our comfort zone, as far as content. I am pretty much the lyricist in everything that Christian and I do, although he writes phenomenal lyrics as well. It really presented an interesting challenge to try to bring something to a period piece. The one that Christian and I are writing is based on the story of Orpheus and Eurydice, which fits perfectly for musicians, because Orpheus was a musician and that is how he got Eurydice out of hell, so the story goes. We kind of thought it would be a neat way to bring that legend or lore into a Rock and Roll format. Obviously there is Black Orpheus the film, with late fifties, early sixties Bossa Nova style of music, which is based on Orpheus and Eurydice as well, only that takes place in Carnaval. Ours is going to be more of a Hollywood type of setting, so we can take advantage of not only a lot of different looks for the show itself, but also all of the music that we really love, specifically big Rock numbers, singer – songwriter type stuff and also delving into the snarky musical type stuff that we like. It is really fun and it is really a different type of writing than sitting there writing for a record, which as an artist, you can put out whatever you feel like. There is no requirement to walk into a scene and say something, as opposed to needing to tell a story or to move a story along."
Both Christian Nesmith and Circe Link are quick to express their gratitude to the musicians both current and past that they have worked with, as well as singers Drew and Tala. From where we sit it almost appears at times as though the music is like a giant mural that is being painted, with Link and Nesmith establishing the direction and creating the main scene, while the other musicians and singers add their brushstrokes to the mural as well.
Recently, Christian Nesmith and Circe Link celebrated their tenth year as a couple and as partners in their music endeavors. Link recalls how they met, "I was looking for a pedal steel (guitar) player for my first record and I had a couple of songs already recorded. I am a big fan of the early fifties pedal steel sound. Someone gave me Christian's phone number and I called him up and I said do you play this? He said no, but I can get you some phone numbers. Then we started talking and we went from there. Luckily, he was so versatile that even though he really wasn't interested in doing that kind of music he was certainly open to it. I sent him my first three song demo, "Travelin' Daddy," "Three Bells," and a song called "Oh Lady!" and they resonated with him. He started helping me from there and helped me with the producing and the writing and stuff like that."
Please visit the Circe Link website Return to Our Front Page
Interviewed by Joe Montague
This interview is protected by copyright © and may not be reproduced in print or on the internet or through any other means without the written permission of Riveting Riffs Magazine, All Rights Reserved